Entertaining
Summer Entertaining: A Casual Get-Together with Heirloom LA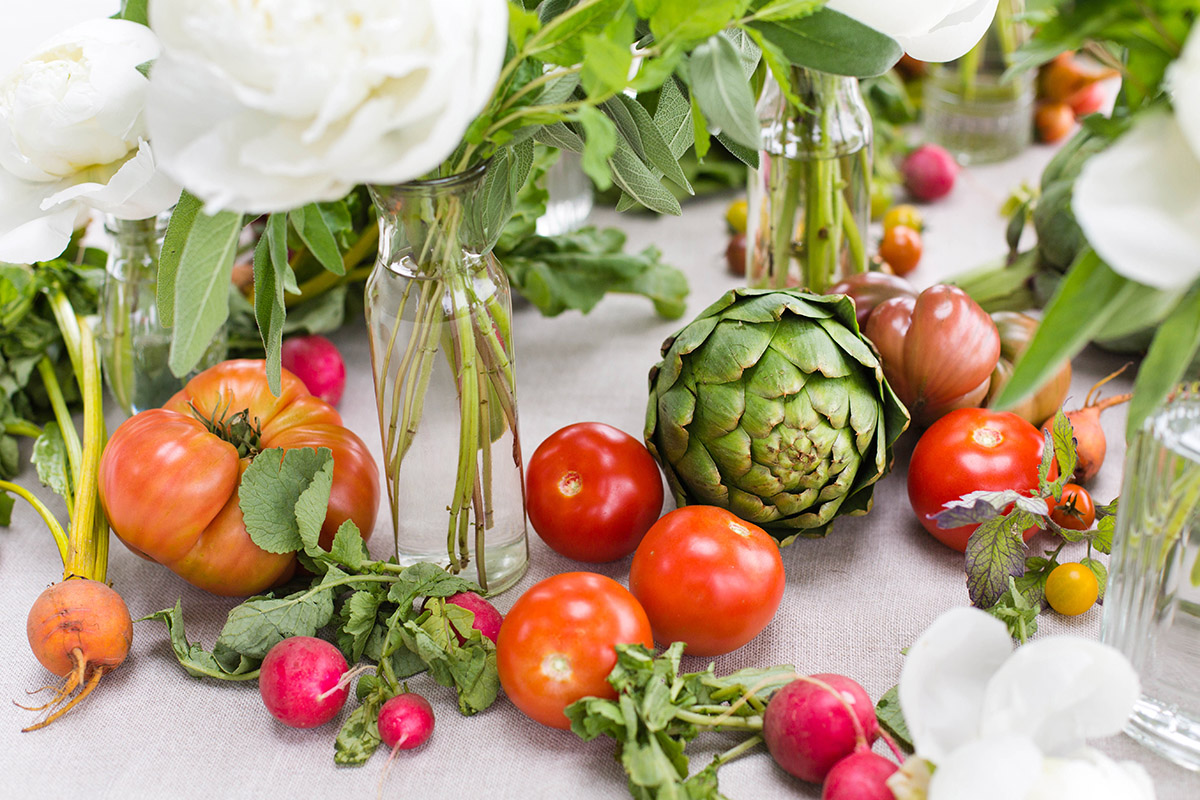 By now you know that I love an excuse to throw a get-together, no matter what the occasion. That said, it doesn't always have to be a labor-intensive affair. In fact, the casual, no-fuss gatherings are often some of my favorites. With this in mind, after being reminded of Heirloom LA's next-level food at our most recent In The Kitchen, I knew I wanted to use their Drop-Off catering service for a laid-back dinner with friends. Basically, most of their full-service menu, made with beautiful, carefully sourced ingredients (including the seasonal menus that change each month) can be delivered to you hot (ready to eat) or with heating instructions provided.
Not only was the food so delicious, it came accompanied by craft paper and labels to create an easy and appealing buffet. And our dinner table, adorned with natural elements and seasonal vegetables, herbs and blooms from Finch Floral, shared the same casual chic vibe. The evening was so nice, and so relaxed (see below for all the details), and I look forward to a summer filled with get-togethers much the same. XXJKE
THE TABLE
Florals – Rachel Thibodeaux of Finch Floral
An assortment of seasonal farmers market vegetables including artichokes, radishes, golden beets, heirloom and cherry tomatoes placed at the base of vintage bud vases in varying sizes, filled with single peony blooms, mint and sage.
Linens – Burlap table clothes, striped linen napkins from Linge Particulier
Plates & Utensils – Easy and chic bamboo plates and forks
Glassware – Mason jars from Acme Party Box, accompanied by their red and white striped straws
Serving Dishes – And assortment of wood platters and bowls from Rolling Greens
THE MENU – Heirloom LA
Fresh and flavorful seasonal fare, perfectly prepared and packaged for a casual get-together.
Oro Blanco & Treviso Radicchio Salad: Bitter Greens and Treviso Radicchio Salad with Oro Blanco Grapefruit Segments, Sliced French Pink Fingerling Potatoes, Marinated Feta, Toasted Spiced Sunflower Seeds, and Green Fig Vinaigrette.
Regier Farm Stone Fruit and Assorted Maggie's Farm Lettuces Salad – Date and Eureka Lemon Dressing, Rutiz Farm Purple Butterleaf and Endive, toasted Santa Barbara Pistachios and Bellwether Pecorino Pepato
Mini Fried Chicken 'N Waffles: House Made Belgian Waffles with Buttermilk Fried Jidori Chicken, Brown Butter and Sea Salt. Served with Blueberry Maple and Creme Fraiche
Harissa Sweet Potato Salad: Sweet Potato Salad with Harissa, Chestnut Honey, Ginger, Cinnamon, Lemon, and Parsley
June Menu Fresh Pasta – Ricotta Cavatelli with Blistered Tamai Farm Cherry Tomatoes, Fried Oregano, Roasted Eggplant and Bell Pepper Coulis Sauce with Shaved Bellwether Pecorino and Fried Capers
An Assortment of Heirloom LA Signature Lasagna Cupcakes: Baby Artichoke, Heirloom Tomato and Basil, Sharp Cheddar Mac 'N Cheese and Wild Mushroom
Photos: Brittany Wood