Style
Studio Visit: Simone LeBlanc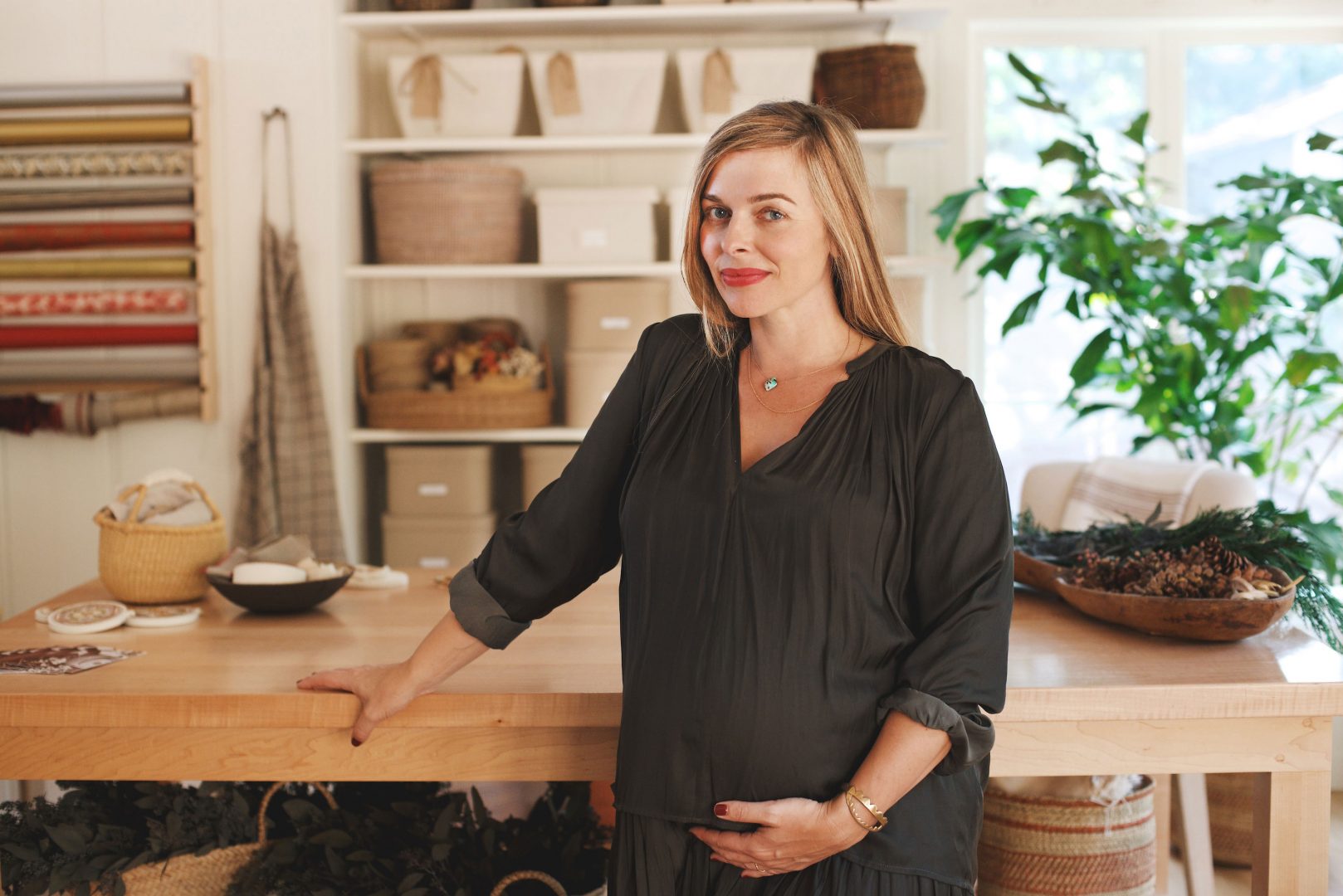 As with earlier this week, I've often sung the praises of Simone LeBlanc and her amazing gift-giving services. When she welcomed us into her home earlier this year, she gave me a sneak peek at the incredible new studio that she was creating in the backyard – and I begged her to let us come back and feature it when complete.
The finished product is everything that I had imagined and more, and a true reflection of Simone and her work – light, bright and inspiring. I asked her to share a bit about the space and her creative process, and hope you enjoy this look inside. XXJKE
R+T: Tell us about your studio… What were the most important considerations when creating the space? Where did you look for inspiration? And how long did the process take (from inception to completion)?
I have had a repetitive vision in my mind for years where I see myself standing in my creative space, looking out of a window onto a garden with a big cup of tea in my hand. I knew just what I wanted my studio space to look like – it had to be filled with natural light, have a wall made entirely of windows, and high, arched ceilings. I created the space to have windows in all directions so that from sun up to sun down the space is filled with light. I added ribbon windows so I could access the great Southern exposure light. The space is all about the fluidity and flow – open windows and natural light don't allow for any stagnation – which is ideal for a creative space.
For inspiration, I knew what I needed for functionality in the space; a wrapping table on wheels that was standing height, a wrapping paper and ribbon rack to hold my most used rolls, and an open shelf on wheels for stacking gift boxes. I also wanted open shelving to hold my tools and materials, as well as a closet to hold my gift box components. I wanted light maple and white walls – the space is the canvas, of course! And, I looked to Northern European spaces for detail inspiration; they are genius at creating minimal, natural, functional spaces.
The whole process happened rather quickly. I knew exactly what I wanted, so construction and install took 6 weeks. Decisiveness paid off!
R+T: Your inspired gifts are all about the details…what are some of your favorites in this space?
Some of my favorite details in the studio are my collection of baskets that I fill with dried foliage. I love to color coordinate these for each season. I use these florals in my gift boxes, so they are an endless source of inspiration. I also love my collection of natural twine. I collect twine from many different countries in a variety of different weights. Each has a purpose and I love that together they create a collection. I am also very proud of my scissor stockpile. This may sound a bit absurd, but I have had some pairs for over a decade and I still use them to this day. Scissors are by far my favorite tool. They will last for ages if you treat them right.
R+T: How would you describe the atmosphere in your studio?
Fluid, creative, bright, fresh.
R+T: Tell us about a typical day in the studio…
I typically head up to the studio at about 7:30 or 8 am. I straighten up the space a bit – this gets me in the flow of the workday before diving into my computer. I love silence in the studio first thing in the morning – it helps me get focused for my day. Rachael, my superstar assistant, comes in at 9. We get some music going, connect on the short + long term priorities for the week and get to work. This generally involves a lot of client communication, vendor + fabricator calls and check-ins, and all of the other day-to-day duties to keep the business running and on top of everything. We work ahead of the seasons, so for example, we are planning for Mother's Day in February. I try to block out time each day for some sourcing or to work out a new design idea I have happening in my head. Oftentimes I'll pop out for a lunch meeting with a client or new vendor. Our days typically end around 5 pm but can often extend into the evening depending on what we're working on. Holiday Season is another story entirely – we staff up and are working intense hours from September to December.
Now that my daughter Lillian has arrived, I pop down multiple times a day for nursing and try to shut down at a reasonable hour so we can have some focused time together. I'm working on this balance – it's still very new!
R+T: What are the plusses/minus (if any) to having your studio so close to home?
Honestly, the plusses and minus are one in the same…I can pop up any time of the day or night to work out an idea. My work is always near me – an extension of me. I am accessible for the day to day needs in my home.
One complete bonus, however, is that I'm close to my newborn daughter, Lillian.
R+T: Top five workspace musts?
Natural light, greenery/plants, a proper work table, ample storage (preferably hidden), room to make a creative mess.
R+T: If you had to, could you pick your favorite gift ever created? Is there a particularly challenging but rewarding project that also comes to mind?
Honestly, each gift is rewarding for a different reason. Sometimes a client may be particularly hands-on and the reward comes through the process of showing them that they can trust me and feel confident that I understand their point of view. That's an achievement. Other times, a client may be hands-off, and the beauty is that I have complete creative freedom and that they're just excited to see what I dream up. Each situation is unique and has its hidden gems.
This holiday season, we created a gift for 60 recipients that was incredibly ambitious. Every aspect was completely customized and we had 10 days in the height of holiday season to make it happen. The gift included custom artwork, letterpress, calligraphy, importing perishable items from Italy, custom wax seals, multiple gift tiers and a highly produced wrapping theme. In the end, it was a success, but that process was particularly challenging because of the time frame. Receiving the final email from my client that she was blown away by the gift, as well as the gratitude from all of her recipients made it all worth it in the end. These are the types of rewards that I love.
R+T: What is the most rewarding part of your work?
The fact that I am building a business that solves a problem for my clients and customers. I love that I am able to create something unique that makes their life easier and brings them gratitude from their gift recipients. How amazing is that?
I also love that this business thrives on creativity and is dependent on me bringing new ideas to the table and continually evolving. It is an unending source for expansion and growth. That is what keeps me inspired each day.