Style
Studio Visit: Pilar Wiley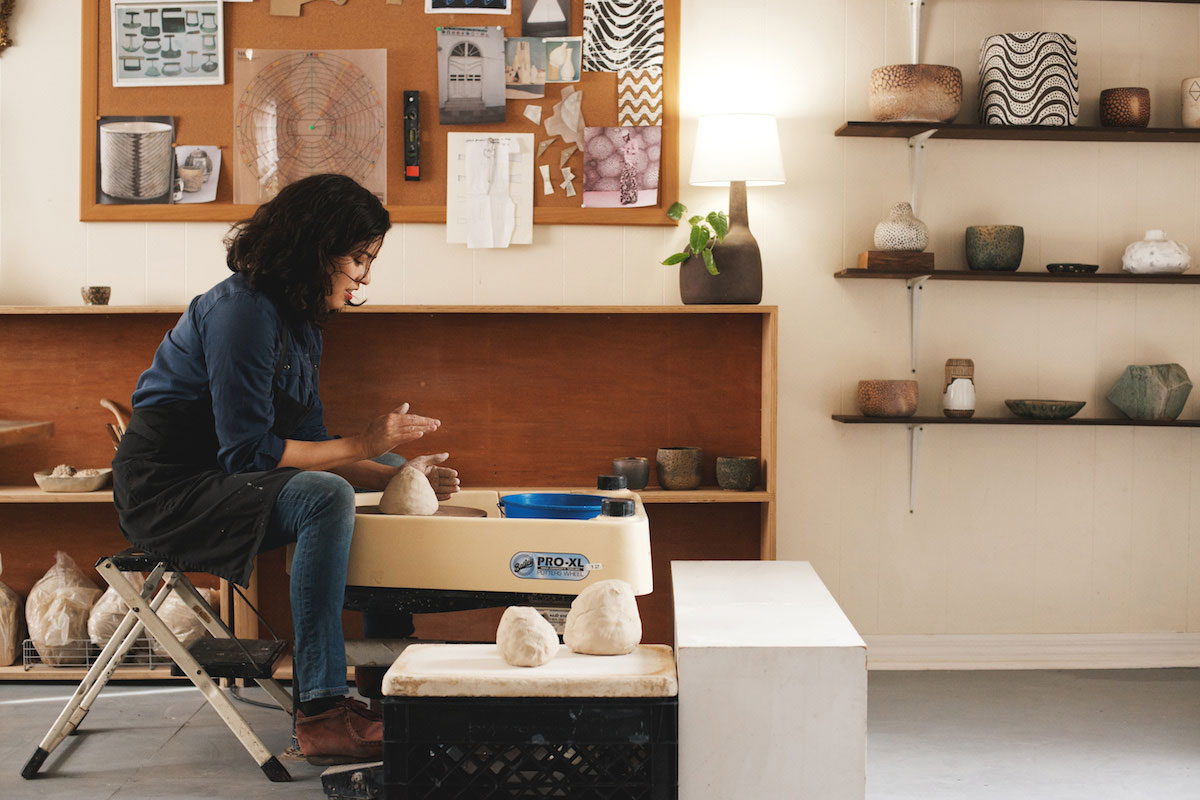 I was introduced to Pilar and her gorgeous ceramics years ago by the wonderful Maurice of Bloom & Plume, and loved everything about them. Soon after, she began making pieces for my stores, and we have been fortunate to carry them ever since. Her inspired use of color, texture and design make her work wonderfully distinct, and though I love everything that she creates, her small pots are my favorites – I have succulents planted in them all throughout my home, and they always make me happy. Pilar was kind enough to welcome us into her LA studio for glimpse at her creative space and process. I hope you enjoy this look inside. XXJKE
R+T: How and when did you enter into the world of hand-formed ceramics? What was it that drew you to this art form?
I started doing ceramics about eight years ago. At the time, I was spending countless hours editing documentary video footage and was feeling a deep pull to get my hands dirty and have a more direct, tactile relationship to the media I was shaping. I also had a out-of-control plant collection and wanted to make vessels that related to the sculptural and textural qualities of the plants. I learned the basics in city college courses, then continued via YouTube videos and lots of trial and error.
R+T: Can you share a bit about your sources of inspiration?
Plant life, decaying architecture, Vlisco fabrics, minerals and rock formations, West and South African pottery techniques, tumblrs such as Manufactoriel and dg-dk, my family and my friends.
R+T: What does handmade mean to you?
One by one! No way around it. I guess this just means an awareness and cultivation of time.
R+T: Tell us a bit about your process… Do you have a clear idea for each of the pieces that you create, or do they tend to evolve as you go?
 
There's usually a flicker of a silhouette, color, or pattern that I'm after, but the hands-on process contributes a lot to the final result. I work in batches and think of each group as a kind of family, with developments through generations.
R+T: The texture, color and design in your pieces is so wonderfully distinct. Can you share a bit about your materials and techniques?
A lot of my technique stems from a frustration with traditional glazes. I'll paint wax resist patterns or add texture to the clay to try and gain some control and variation. I'm attracted to matte surfaces and tend to use a lot of engobes that I mix up from raw materials. I love the wheel but also use a variety of hand-building techniques to get different forms.
R+T: If you had to, could you pick a favorite piece or collection?
Right now I'm gourd-obsessed. They are such funny, squat companions in a room.
R+T: What is the most rewarding part of your work?
Getting to spend my day making.
THE STUDIO
R+T: Tell us about your studio space… How did you find it? What drew you to it? And what impact does it have on your work?
My studio is a little room behind my house. We got our place a couple years ago, and studio space was my primary criterion when house-hunting. When I saw this room looking out onto a dirt patch and persimmon tree, I got anxious with the potential. The studio gets light from three sides, which allows for a sense of ease and helps me understand the three-dimensional forms as they materialize on the wheel. The space was formerly a glorious man-cave replete with sports murals of Kobe, Muhammad Ali, and L.A. Raider Marcus Allen. It took me six months to have the heart to paint over them and give myself some neutral territory. Prior to that I worked outside, which I still love to do when the weather's good. The studio's connection to the garden is the ultimate decadence for me, and makes me want to spend all my time there. Working in the garden is continuous with my work in clay.
R+T: How would you describe the atmosphere in your studio?
Nerdy.
R+T: Tell us about a typical day in the studio… 
It varies a lot depending on what part of the ceramic process I'm in. I could spend the morning throwing, and the afternoon trimming pots from the day before.  Or the day might be devoted to pattern-making, kiln tests and mixing glazes. And don't forget the joy of admin! Email, inventory, photography, packing and shipping all take their fair share of time.
R+T: Is music a part of the process? Who might we hear playing on any given day? 

Yes, there tends to be lots of Brazilian music – Elis Regina, Jorge Ben, Tim Maia, Gal Costa, Rita Lee e Tutti Frutti, Midnight Magic, Yma Sumac, Douglas Armour, and Jeremih's Late Nights mixtape are also in heavy rotation. Sometimes the studio can get a little isolating and I'll switch up to some podcasts. The Slate gabfests make me feel like I'm hanging out with a bunch of friendly, irksome brainiacs.
R+T: Top five workspace musts?
Wax resist, drywall work surface, running water, headphones, and (not essential but I love my new) MKM decorating disks.
Photos: Yaho Ahumada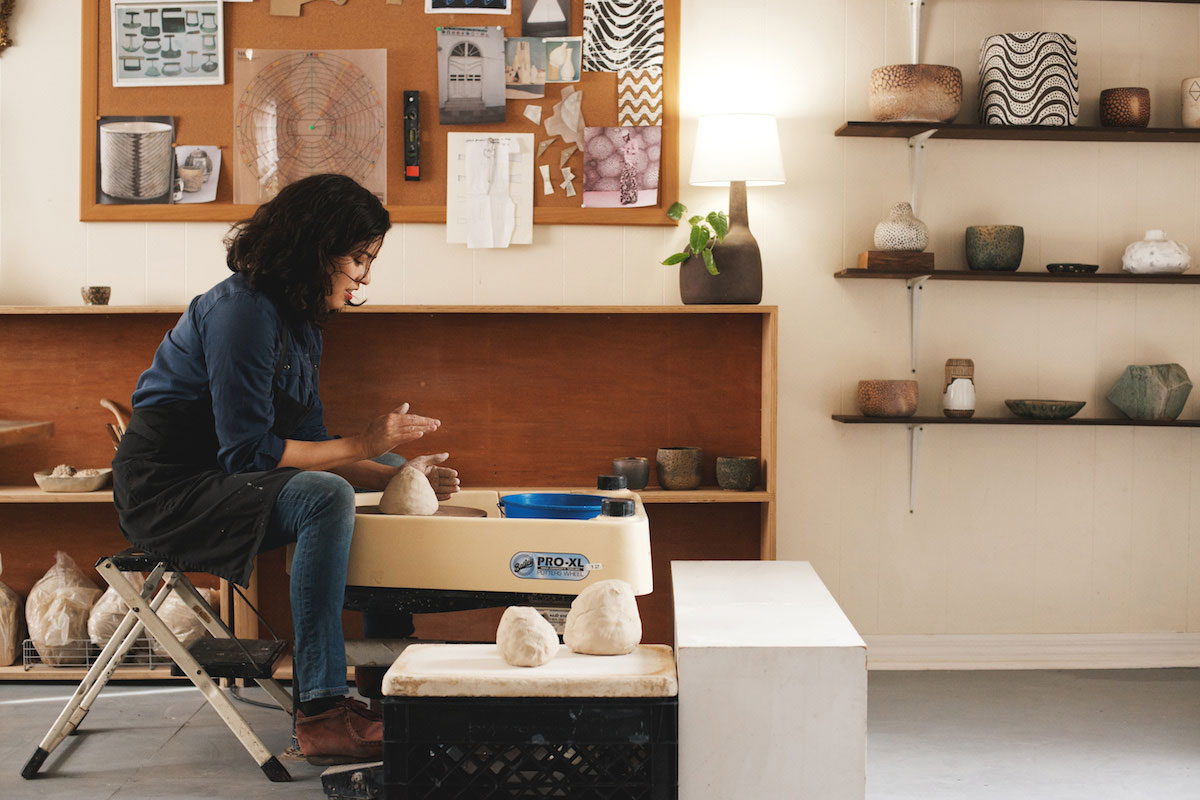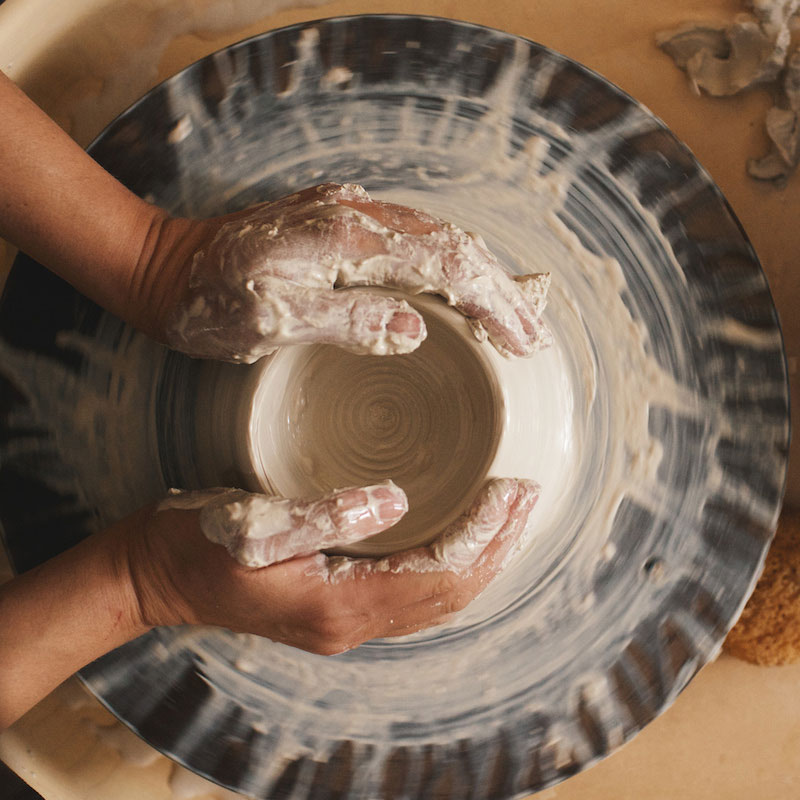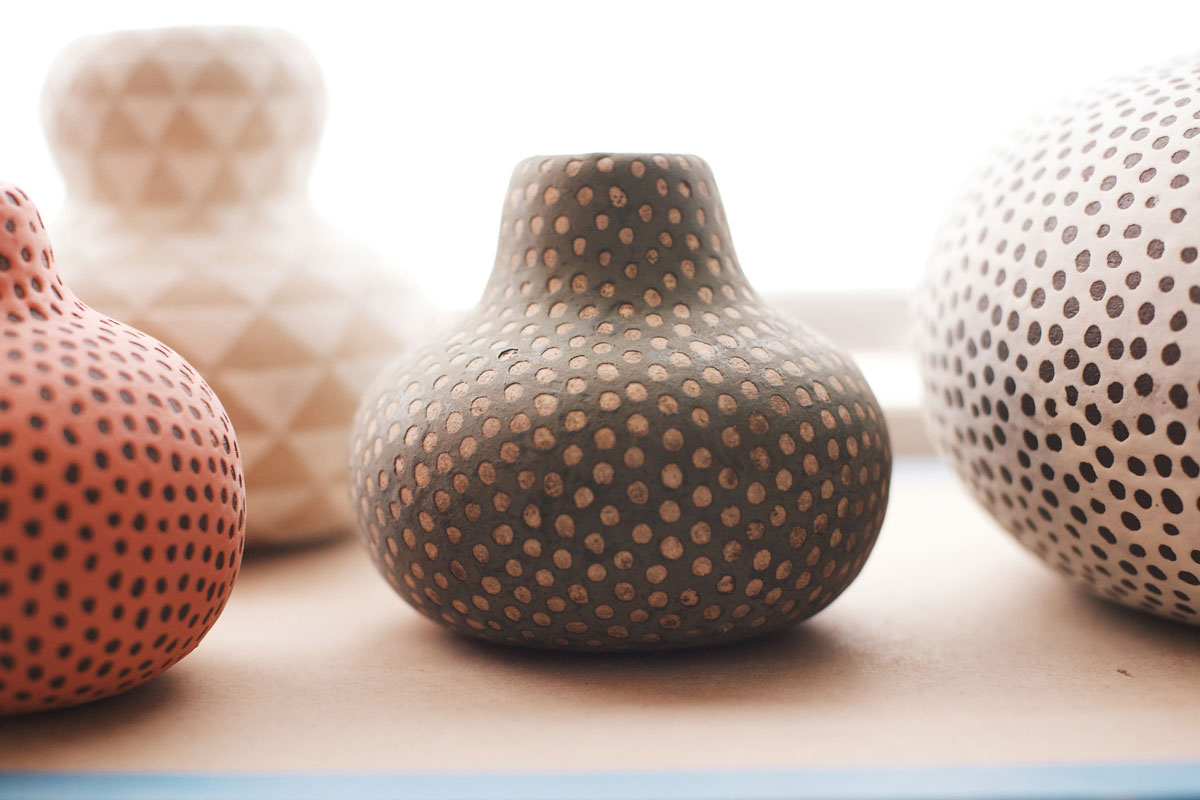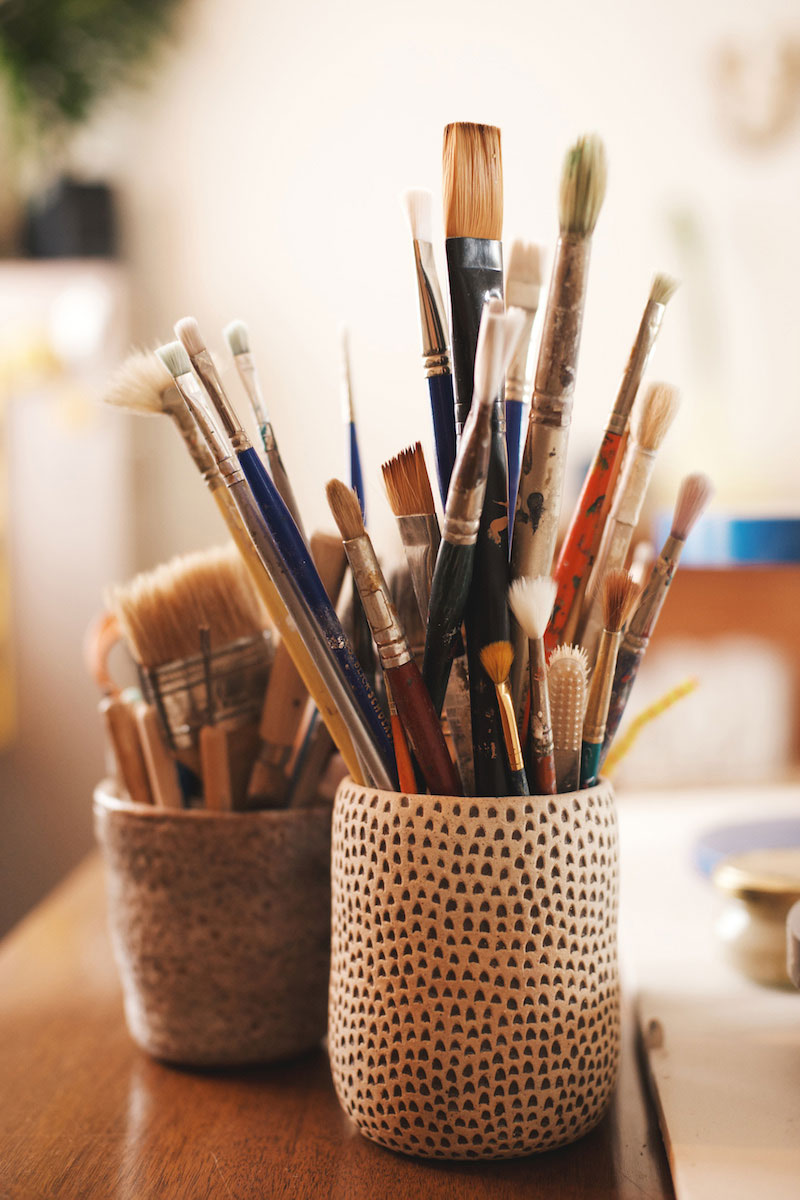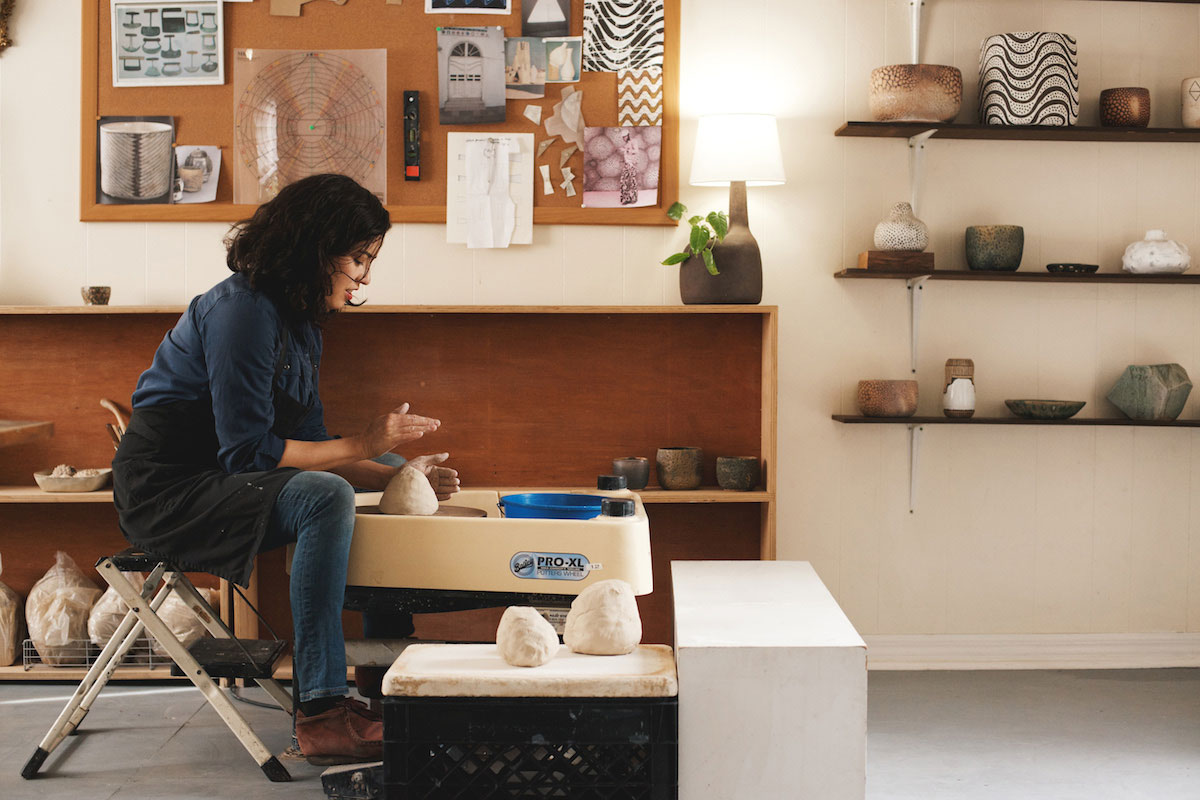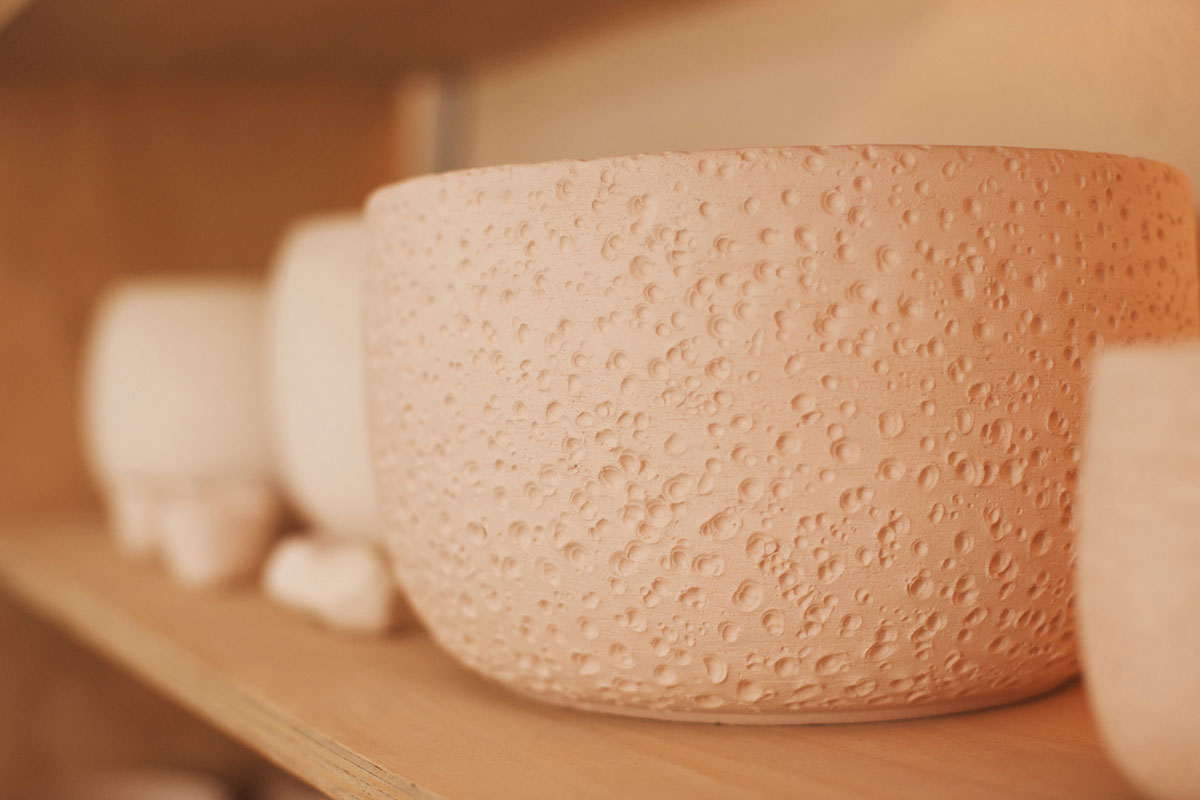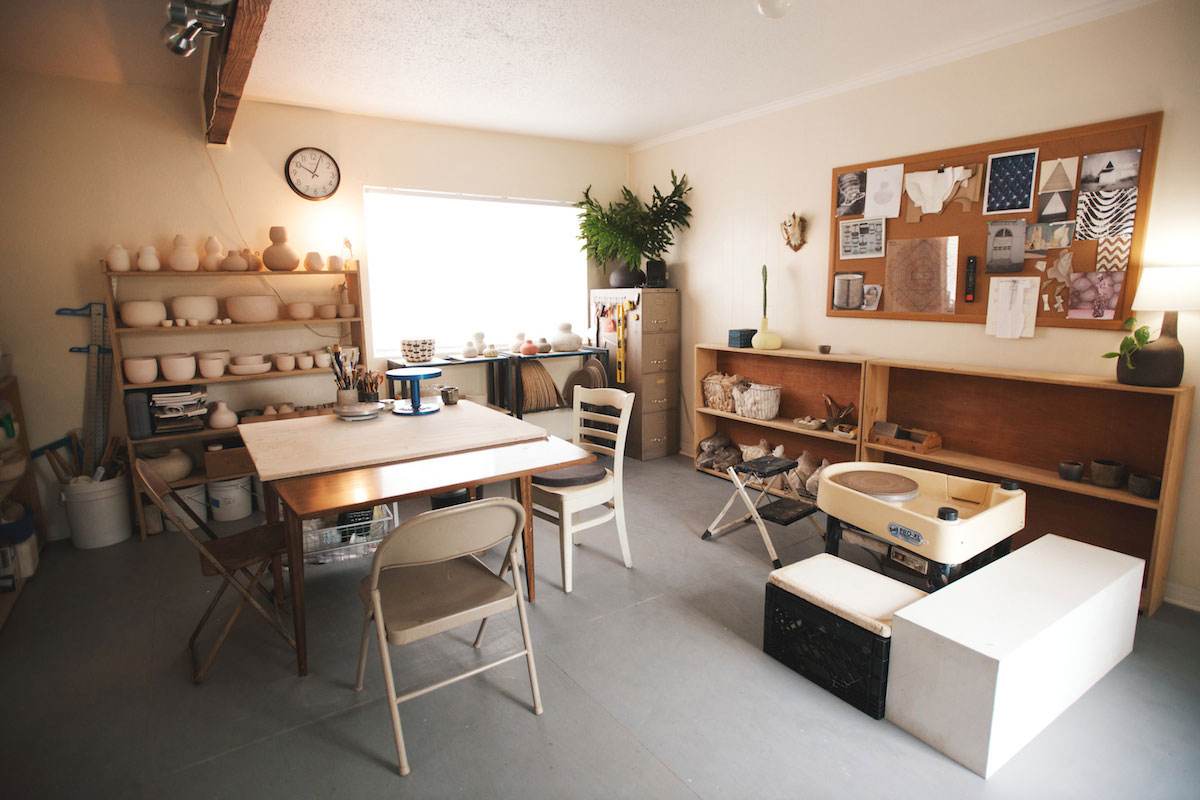 More Stories