Style
Studio Visit: Humble Ceramics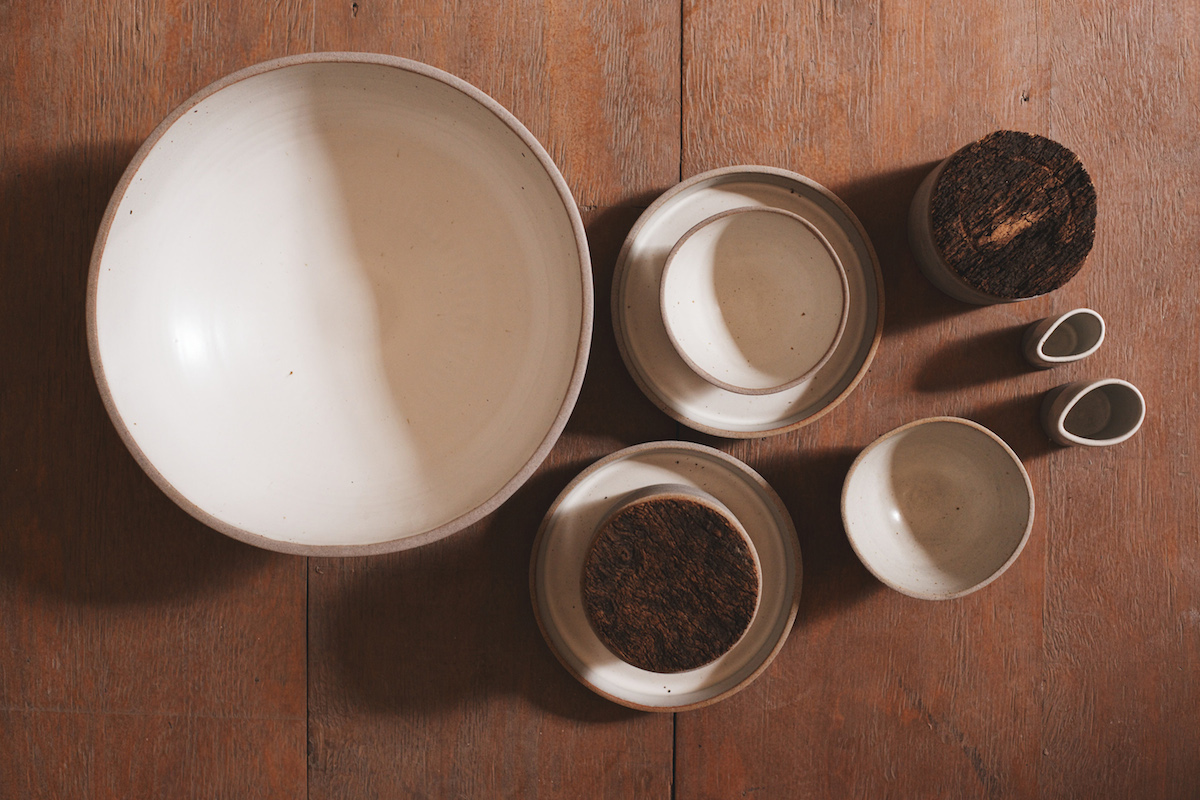 I was introduced to Humble Ceramics when my friend Katie gave me one of the beautiful canisters – I soon began collecting them for my home, and am so happy to now carry them in my Montecito store. Created in small batches by LA-based artist Delphine Lippens, the one-of-a-kind rustic yet modern pieces are infused with prayers and healing intentions, and artfully embrace the simple and the imperfect. Delphine was kind enough to welcome us in for a glimpse at her creative space and process. I hope you enjoy this look inside. XXJKE

R+T: How and when did you enter into the world of ceramics?
August 25, 2010 was the first day of my very first class. My friend Julie mentioned she was going to take a pottery course and I was ready for a new experience. This was only meant to last 6 weeks, so I figured "why not?".
R+T: What was it that drew you to this art form?
I grew up with a mother who loved pottery … but I was never particularly drawn to it. This adventure is complete happenstance. Then it became a way to create objects I wanted to surround myself with.
R+T: What are some of your sources of inspiration?
Rhythms, music, nature, sacred geometry, fractals, quantum physics, fringe science, polarity, mathematics, history, ancient and future civilizations, cosmology, our planet, the universe and our place in it. The unknown, the mysterious, the invisible …
R+T: Your rustic yet modern pieces embrace the imperfections, cracks and warps… Tell us more about the importance of falling in love with the so-called "flaws"…
It is a metaphor for ourselves, about the importance of embracing and making the most of who we are, as we are … with our flaws, imperfections, et all. Isn't that what gives us our own unique and personal charm? We are bombarded by sterile images of perfection and live in a society where an item that is considered "flawed" is instantly rejected without taking the time to look at the beauty and uniqueness behind it. We have been programmed to discard any little imperfection, point it out, shame it…and yet, I find that it is those very "flaws" that give each piece/person their own unique style and personality…a kind of soul if you will. These so-called "flaws" are gifts from above, we cannot control them or reproduce them, they are absolutely and divinely unique and therefore should be considered gifts. Imagine if we lived in a world where the word 'perfect' meant 'one-of-a-kind'!
R+T: Can you share a bit about your materials and techniques?
Because I had no attachment to the pottery world and knew absolutely nothing about it: I made pieces for myself and therefore threw all the conventions out the window. I did everything wrong … but it was right for me! I basically took all the "shoulds"…and, unknowingly, did the complete opposite. I also decided to make the work as simple as possible. Then, I stumbled upon this quote by Einstein and it resonated so profoundly that it became the Humble Ceramics 'anthem'.
"Everything should be made as simple as possible, but not one bit simpler." – Albert Einstein
R+T: The purposeful weight of each piece?
The weight comes from the need to be grounded and present. When you pick up one of our pieces, your presence and attention will shift instantly. Now, suddenly, you have to pay attention to where you are in time and space, to what you are touching, handling and so forth. Your relationship to the object will change, and so will your energy. Picking up one of our pieces is like experiencing an instant meditation, a discreet Zen moment you didn't even have to seek.
R+T: And the role that prayers and healing intentions play in your sacred vessels and objects?
As each person brings a piece of Humble Ceramics home – wherever that may be – it creates a matrix of healing for the planet. Each piece is meant to raise the frequency and awareness around it. As more and more violence erupts across the globe and human aggression is becoming predominant and more destructive than ever, I visualize moments of peace and mindfulness, holding space for the greater good. Just like dropping a pebble in water and noticing the rings grow and expand, the intention is for mindfulness and awareness to grow and expand as well … and influence anyone that comes in contact with our work in a positive and healing manner.
R+T: If you had to, could you pick a favorite piece or collection?
How could I choose? It depends on the mood, context and its purpose. I do love the Enoki though … and the corked jars, and the stillness plates and … oh this is hard! You are asking me to choose between my children!
R+T: What is the most rewarding part of your work?
When I see people's reactions to the work and how it makes them feel as they hold it.
THE STUDIO
R+T: Tell us about your studio space… How did you find it? What drew you to it? And what impact does it have on your work?
We were looking for about a year but it was Jose Nonato of Nonato Ceramics, with whom I share the studio, who brought me to the space. The landlord is also wonderful and supportive of artists and artisans … so it just felt right to be there – for now.
That whole block is full of extremely talented artisans, so it felt like home. It is in a neighborhood bursting with life and street art, but I do admit that the potential and the high ceilings made me weak at the knees. It felt like it was a space we could grow in, expand, experiment, learn and leap forward … I see it as a blueprint for what's to come!
It's a very inspiring space. Though far from perfect, we all see the potential and that makes it fun for us to come to work everyday.
R+T: How would you describe the atmosphere in your studio?
Like a positive vortex. Buzzing, relaxed, chaotic, productive, inspiring, loud, peaceful, hypnotic, messy but well organized. This is definitely not a cozy studio, but we try to create little islands of beauty and peace here and there. It's a work in progress! We do feel very detached from the world when we are in there …
R+T: Tell us about a typical day in the studio…
From the moment we set foot inside STUDIO 58; we hit the ground running! From day to day, we never know what will need to be done since clay has its own timing, so everyday is different. We go with the urgency of the moment. Some days we trim, others we glaze, on some days we throw, or load the kiln … we do not have a flow chart so we focus on what is most important in the chain of steps that it takes to make a single piece, filling orders, juggling visits, meetings and so forth. Time flies at STUDIO 58!
R+T: Is music a part of the process? Who might we hear playing on any given day?
Not in the studio … there are so many noises and sounds happening around us that music would just distract and add another layer of noise. But everyone is free to listen to their own, as long as it's with earphones. My favorite music is the occasional silence between the noises.
That would have to be in the car on the way to and from the studio …
J.J. Cale, Cat Power, Elliott Smith, Jose Gonzales, Chilly Gonzales on the piano, Shankar (the violinist), Philip Glass, Terry Riley, Black Dog, Amon Tobin, Aphex Twin, DJ Spooky, Cliff Martinez, David Holmes, Michael Galasso, Gustavo Santaolalla, Toumani Diabate, Serge Gainsbourg, Carla Bruni, Quantic, anything from the Easy Tempo series …
R+T: Top five workspace musts?
Good intentions. Good clay. Good tools. Good chocolate. Good company
Photos: Yayo Ahumada