Style
Store of the Day: MARCH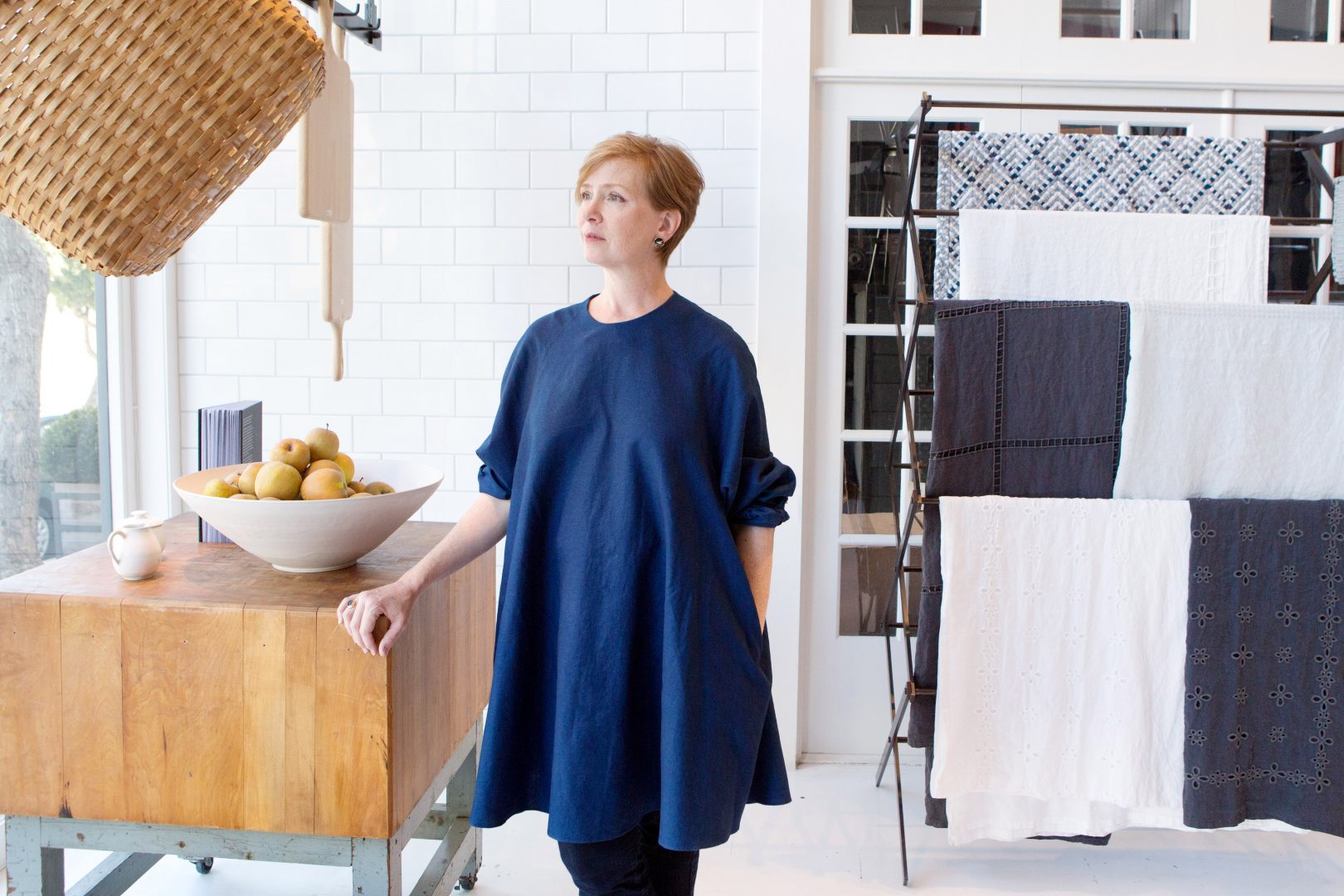 While there are a few home stores that I really love, there is one that is my absolute favorite, and that is MARCH. Located on Sacramento Street in San Francisco's Pacific Heights neighborhood, MARCH is the creation of owner Sam Hamilton, and an endless source of inspiration for kitchen, pantry and table. An impeccably curated and merchandised destination for all things clean, classic and beautifully made, it is a must-visit when I am in town, and one that I never leave empty-handed.
Sam moved to San Francisco from New York for love in 2002 (the only thing that could have induced her to leave her beloved NYC), and lives there with her wife and twin eleven-year-old daughters in a home modern and minimal in sensibility, about ten minutes from her shop. Conversely, her second home in Marfa, Texas (where she was married) is an adobe arts and crafts home from the early 20th century, furnished eclectically with both vintage and contemporary pieces.
Sam was kind enough to welcome us into her incredible storefront, as well as share a bit about her lifestyle, design philosophy, and some of her San Francisco favorites, below. I hope you enjoy this look inside. XXJKE
Beauty
R+T: What are your go-to beauty products? Why?
My go-to beauty products are 3 Lab creams and cleansers. They perform beautifully and with understated and pleasing scents. I am also a big fan of Frederic Malle perfumes and lotions, my favorite being Carnal Flower. The scent is heavenly.
R+T: Is there anything special you would like to share about your beauty routine? 
I can't say that there is anything unusual about my beauty routine – I am pretty vigilant about applying moisturizer and wearing sunblock during the day since I have fair skin.
R+T: Bath or Shower?
I am mostly a shower person, although when I do break down and take a bath, it makes me wish I would do it more often.
Health
R+T: What do you do to stay healthy and balanced?
My family and I like to make sure our lives include some weekend days of complete down time – no obligations. Our weekday lives can be so overscheduled and hectic – it's the best way for us to recharge. I'd say at the moment, that's how we best keep ourselves healthy and balanced.
R+T: Do you workout, what do you swear by?
I do work out with a trainer three days a week for 30-minute sessions. Working out has never been my favorite activity, but limiting the time to a really strong shorter window has proved much more appealing and effective for me. I don't have a chance to get antsy and ready to bolt – it keeps me on point!
R+T: What do you do to relax?
Relaxation for me (not withstanding hanging out at home in pj's) is having an easy dinner with friends. Beyond that, reading, going to the seashore and Marfa, singing along to my favorite country and folk music, and going to the movies are some of the ways to unwind.
Decor
R+T: What is your design philosophy for your home?
My design philosophy for my home is to blend a mix of vintage, modern and antique pieces throughout and in each space. Spaces that are too specific to a singular era feel a bit empty of personality to me. Incorporating pieces with clean, strong lines is also a through line in my design taste.
R+T: What is your favorite room in the house?
In San Francisco, I'd say my favorite room in the house is the master bath. In Texas, I'd say it's the kitchen.
R+T: What are your favorite pieces in your house? 
My favorite piece in our house in San Francisco is a chair from the antique shop ALB in Paris. In Marfa there are two large cabinets that I just love, a Mouseman cabinet in the family room and a beautiful blue cabinet we bought from Amy Perlin in NY years ago—one of the highlights of the kitchen.
R+T: What are your favorite home stores?
Muriel Grateau in Paris. Conran's in London. (I'm presuming you're looking for stores with new product, not antiques.) And Nickey Kehoe in LA is great as well.
Entertaining
R+T: Do you entertain at home? If so, what are some of your tricks?
We do entertain at home. I'd say a sure bet for a great dinner party is good lighting and great wine. I love to start with great cheese and salami.
R+T: Plated, Buffet, or Family Style for a dinner party?
We're flexible – dinner style, family style, buffet and plated are all in the mix.
R+T: What are your favorite flowers and where do you buy them? A favorite florist?
I love so many types of flowers – my favorites would have to be dahlias and peonies but really, whatever is in season and looks most vibrant is what I go for. I generally stick to masses on one single sort of flower in one color. Although lately I've been loving the rose colored Queen Anne's Lace combined with the same color in hydrangea. My favorite florist is Torryne Choate's shop Birch, and I also love Bloomers.
Fashion
R+T: How would you describe your style? 
My personal style as far as fashion is simple, comfortable bold shapes that can work for day or evening.
R+T: Who are your favorite designers?
The designers that I wear most often are: Daniela Gregis, Maria Cornejo, CO, Comme des Garcons, Diane Harwood, RTH, Issey Miyake and Small Trade Co. Many of my clothes I've had for years and they feel as fresh stylistically now as they did when I bought them. As with my design thoughts for my store and home – good design is timeless.
R+T: What are the 5 pieces you can't live without this season?
CO evening dress, Arts and Metier dress, Chloe denim dress, earrings from the wonderful jewelry store Ornamentum (Hudson, NY).
R+T: What is your uniform?
My go-to is an RTH tent dress and sandals.
Food
R+T: Do you cook?
I don't cook often enough, but I do indeed cook.
R+T: What is your favorite recipe? Your child's?
One of my favorite really old standard recipes is the Chicken Marbella from The Silver Palate Cookbook. One of my daughters' favorite recipes is an icebox cake made of Anna's ginger thin wafers and whipped cream.
Art
R+T: Who are your favorite artists?
Some of my favorite artists: Georgio Morandi, John Singer Sargent, Jan Van Eyck, Donald Judd, Clay Ketter, Ed Ruscha, Adam Fuss, Elliott Puckette, Hadi Tabatabai, Karyn Lyons
R+T: What is your favorite piece of art you own?
My favorite piece of art that we own is a photograph of Bob Dylan taken by Richard Avedon from my birthday.
Kids

R+T: What are your favorite stores online and in store to shop for kids? 
I don't shop all that much for the kids online. I used to love shopping for them for special things at a wonderful shop in Paris called Bon Ton and also at the San Francisco store Cotton Sheep.
R+T: What's your favorite thing to do/place to go on the weekends with your kids?
My favorite places to go with the kids for the weekend or on a weekend would have to be Stinson beach, and if we have enough time I love to go to Marfa for a long weekend. We like to go to the mall for Chinese food and then to the movies as well.
R+T: What is your favorite restaurant to eat at with the whole family?
Maiya's in Marfa, Pizzaiolo in Oakland and The Presidio Social Club close to my store.
Shopping 
 R+T: What are your favorite stores (online and in store) for clothing?
My favorite online stores are Net a Porter, Makers and Brothers and The Line. I have to say I shop on Amazon entirely too much!—it's just way too convenient (especially when you're in West Texas).
R+T: What is your favorite city for shopping?
New York, London, Antwerp and Paris.
R+T: Are you an impulse buyer, or do you wait to commit?
I wouldn't say I'm an impulse buyer, but I generally have a good sense of what I should go for so I don't need to ponder for long.
MARCH
R+T: Can you share a bit about how your unparalleled destination for kitchen, pantry, and table came to be?
I first opened MARCH with great friend and colleague, and now well-known interior designer Mark Cunningham in 2003. The store focused primarily on antique and contemporary furniture and accessories from Europe. I closed the previous iteration of the store in June of 2011 and reopened in August that same year.
The new MARCH was born out of my desire to have a finely curated kitchen concept store with items for the kitchen, panty and entertaining. I love pieces that communicate a historical resonance. Today, so many utilitarian items have a built-in obsolescence. This doesn't have to be the case. The timelessness of an object has everything to do with design, materials and craftsmanship.
The assortment runs quite a gamut. We carry bespoke kitchen islands and worktables, ceramics from Christiane Perrochon, Victoria Morris, John Julian, Brickett Davda and Royal Copenhagen, artisan-made baskets, furniture and cutting boards from New England (Black Ash Baskets, Blackcreek Mercantile, Sawkille Co.), stemware from Lobmeyr, Deborah Ehrlich, Hering Berlin, Richard Brendon, and custom created original MARCH Pantry spices, jams, vinegar, olive oil, salts and syrup.
R+T: Art exhibits, family-style dinners…tell us about some of the functions that you host in-store…
MARCH exhibits an evolving roster of artists working in a myriad of mediums. Prior artists featured include: Karyn Lyons, Carrie Mae Smith, Josh Vogel, Jonathan Kline and Paulette Tavormina.
Photos: Sarah Elliott