Wellness
Store of the Day: CAP Beauty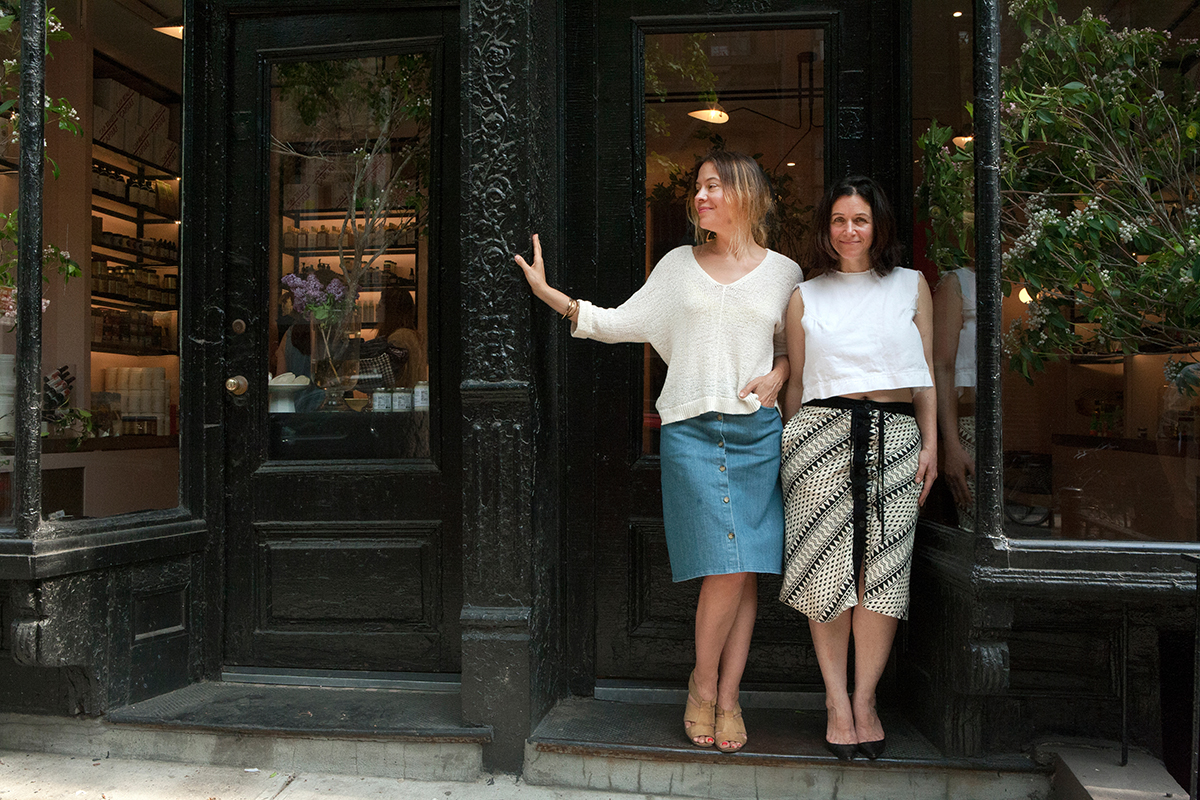 Just as in other areas of my life, I do my best to make certain that my beauty regimen is a safe and all-natural one. But with a growing awareness of just how important it is to go this route, there are surprisingly few resources devoted to just these types of products. Enter CAP Beauty. Founded by Kerrilynn Pamer and Cindy DiPrima, longtime friends and veterans of the worlds of style and magazine editorial, this elevated beauty and wellness webstore has all at once filled a void and set the bar. A virtual goldmine of products healthful, effective and truly natural, they carry a host of my very favorites, and have a knack for introducing new ones.
With the success of their online store came the recent opening of their first brick and mortar boutique-spa in New York's West Village, and we were lucky enough to experience it on a recent visit. Just as amazing as the shopping experience: the spa treatments they offer. The Facial – an individualized hour of pure bliss – left my skin glowing like never before. Kerrilynn and Cindy were kind enough to welcome us in and share a bit about their destination for truly natural beauty. I hope you enjoy. XXJKE
R+T: Tell us a bit about how CAP Beauty came to be…
The idea for CAP Beauty was born at Castor & Pollux. Kerrilynn introduced a small section of natural beauty there and quickly watched her customers' interest burgeon and her own skin transform. Around the same time she was diagnosed with Celiac and after changing her diet began to really understand and see the connection between inner health and real beauty. It dawned on her that there was no single destination to shop the new array of luxurious modern natural products and the idea for CAP Beauty was born. We partnered when Kerrilynn realized that she envisioned CAP as something much larger than she could create on her own. We are perfect partners, longtime friends who have forever shared a common love of both style and wellness.
R+T: Why do you think it is that (up until recently) the healthful beauty sector has been largely overlooked?
That is such a great question and one we consider a lot. We are always amazed by how many men and women prioritize health and wellness in every other way. They buy the best organic and biodynamic groceries, juice, workout, meditate and practice yoga, but their beauty products don't follow suit. It's possible that naturals have never before been presented to them in a way that inspires them. There is also an idea that naturals aren't as effective. That couldn't be farther from the case. The glow that comes from real botanical actives, clean products and a healthy lifestyle just can't be created with synthetics.
R+T: How do you define natural beauty? And how does this manifest itself in the products that you carry?
For us the very simple definition of natural is a product that contains no synthetic ingredients. But natural beauty is about so much more than simply avoiding certain ingredients. It is a lifestyle, an ethos and an aesthetic. We are re-evaluating beauty and understanding that vitality and radiance are integral to true beauty. Natural beauty is about beauty that comes from real self care. The products we carry contain the highest quality botanical actives. They are life-giving and address not only our skin but our overall health. Adaptogens, Superfoods, energy mists and therapeutic remedies all contribute.
R+T: What is your process for finding new lines?
We always have our eyes open. We read a lot and find lines on blogs, international sites and Instagram and of course a lot of brands reach out to us. We always start by scanning the ingredient deck to make sure a product is truly natural. Then we try and test everything and make sure that we don't already carry anything too similar. We're lucky to have a lot of different skin and hair types among our staff!
R+T: Can you share a few of your favorite brands? And can't-live-without products?
This is like picking a favorite child! We are all obsessed with In Fiore. The whole range is magical, deeply transformative and crafted from the very best ingredients. The scents are beyond beautiful as well. We are also loving The Jasmine Garden, a perfect Summer hydrosol from May Lindstrom. The combination of Jasmine and Cacao is perfectly balanced and totally unexpected and she uses silver for its purifying anti-microbial properties. We all drink plenty of Sun Potion's He Shou Wu (we mix it with Tocos and a spoonful of Coconut Butter). The Beauty Chef's GLOW is another store favorite and part of both of our daily routines. We're also loving the sunscreens from Keys and EiR.
R+T: We recently had the pleasure of visiting your first brick and mortar boutique spa – and fell in love. Tell us about your destination for all things beauty and wellness…
We are so in love with our West Village store. It is exactly the shop we envisioned. We have a retail space in the front with about 70 brands of skin care, body, hair, make-up, superfoods, feel good remedies, books and baby care. In the back we have three treatment rooms where we offer facials, acupuncture, massage and more. We also pride ourselves on being a destination, a hub for information and we regularly host talks and events.
There's an amazing energy in the shop that might be a result of the rose quartz we buried under the floor boards. It is also no doubt a result of the high vibrational energies of the richly botanical products we carry. There's so much love in it all.
R+T: What's new and next for CAP Beauty?
We have a lot of big plans! We're heading to Montauk this summer for two weekends of an East End pop-up with a mini shop inside the Montauk Juice Factory and treatments at Love Yoga. We're also developing a gorgeous line of robes and nighties that will be in store this fall. And our biggest project, our private label, is also underway. Our first product is a deodorant. We're hammering out some packing details but the formula is great! We can't wait to bring it into the world.
R+T: What is the most rewarding part of your work?
Everything! Working together and working with our incredible vendors and partners. And of course we love sharing the power of naturals.