Food & Drink
Sprouted Chickpea Croquettes with Yogurt, Tahini, and Coriander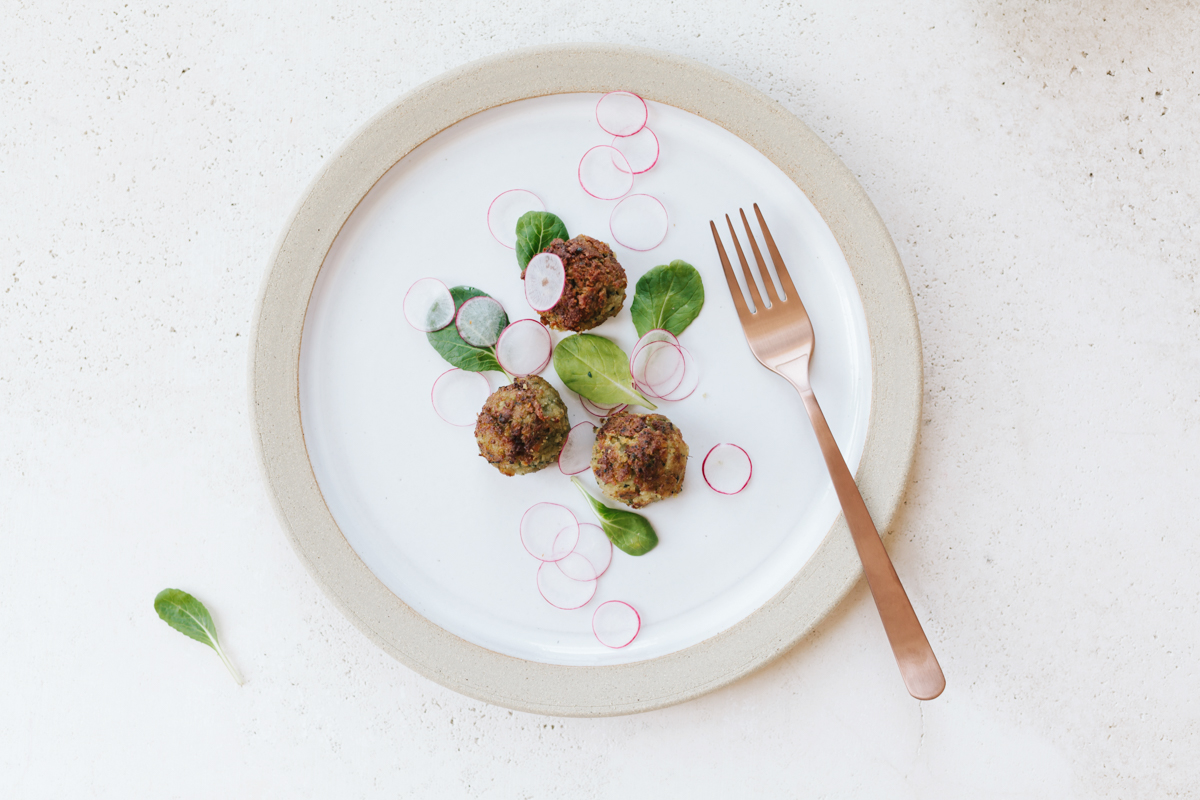 I love this take on falafel from the cookbook "Dandelion & Quince", which gives the fried Israeli and Middle Eastern staple a slightly lighter, and more healthful spin. The book focuses on recipes that make use of the interesting, unusual, and wholesome ingredients you see at the market and in the grocery store but might be intimidated to try. For this recipe, for example, Michelle McKenzie, the book's author and chef, used sprouted chickpeas and chickpea flour instead of canned beans and white flour to make the croquettes. The recipe also includes a generous helping of herbs, spices, and seeds which add flavor while keeping the "falafel" light in taste and texture. 
In addition to being wholesome and healthy, this dish is great because it is incredibly versatile. As McKenzie notes in her recipe, you can store leftover croquettes in the fridge and serve them throughout the week on sandwiches and salads, or even mix them into a spicy tomato sauce in place of meatballs. That said, also I love them just on their own, drizzled with tahini sauce, a scattering of sliced radishes, and mixed herbs or greens as the book recommends. XXJKE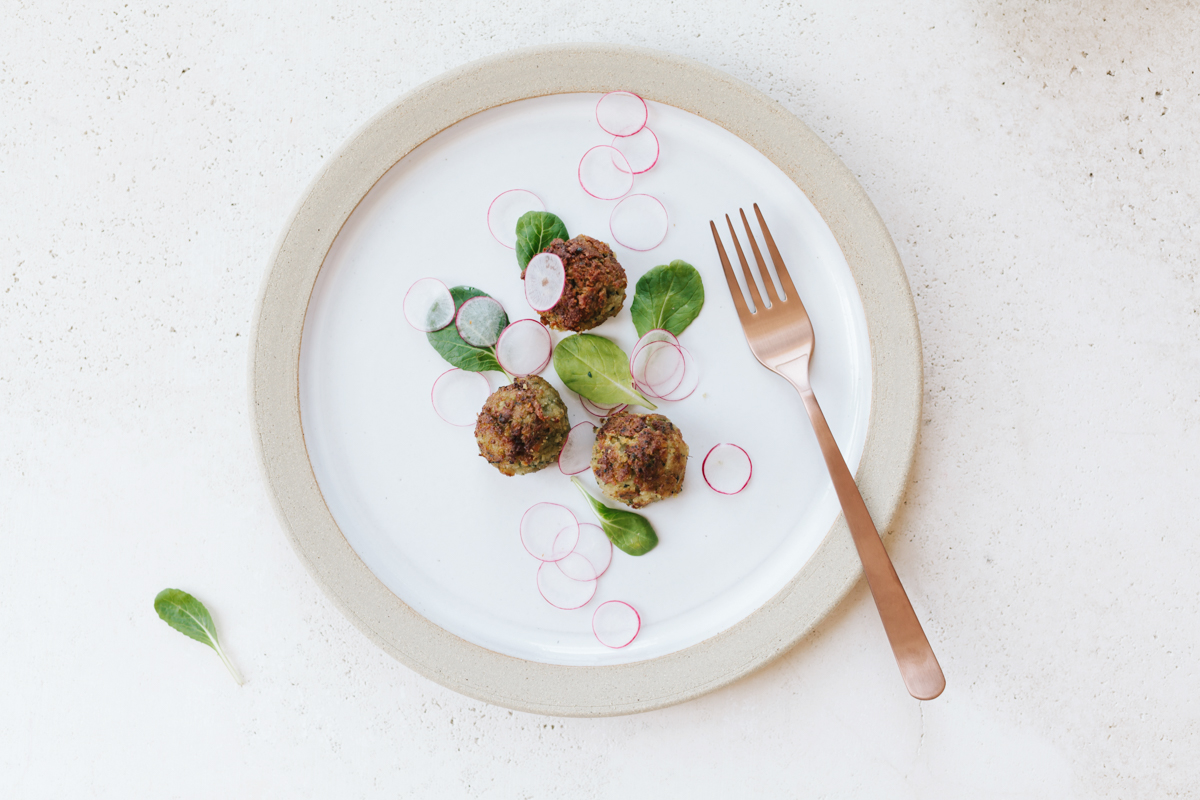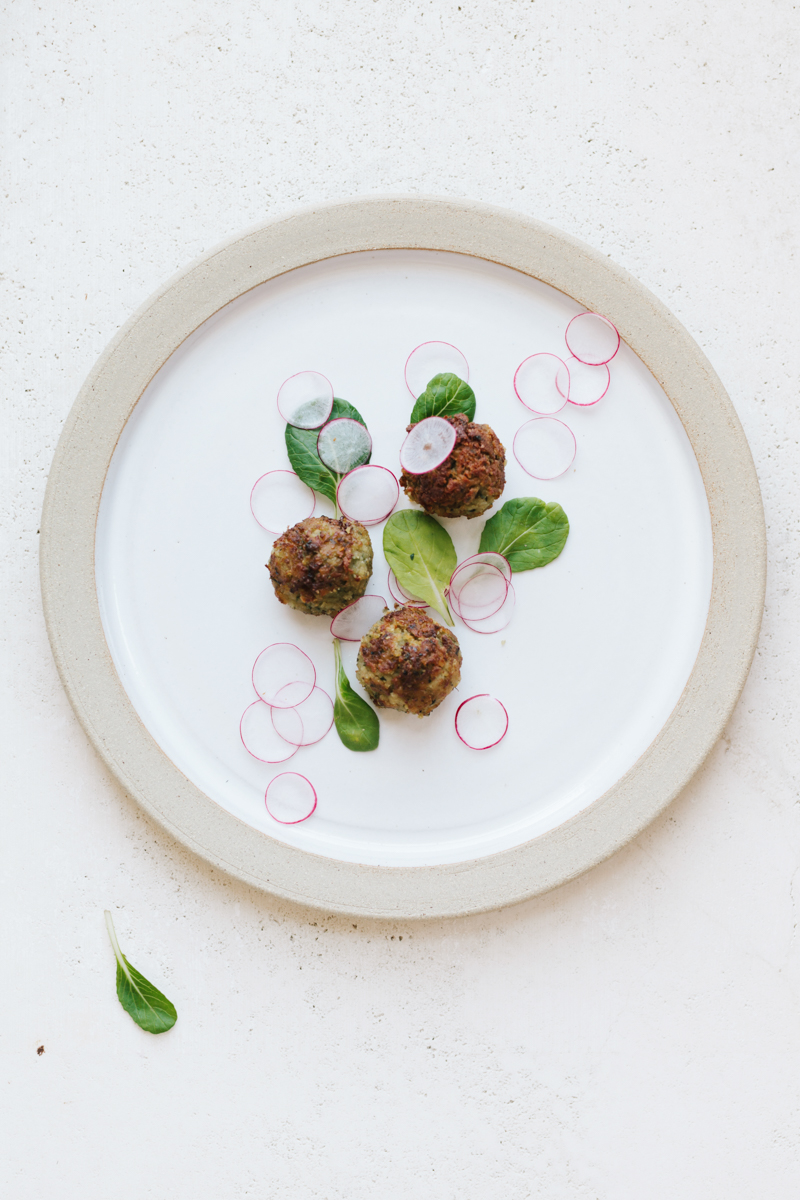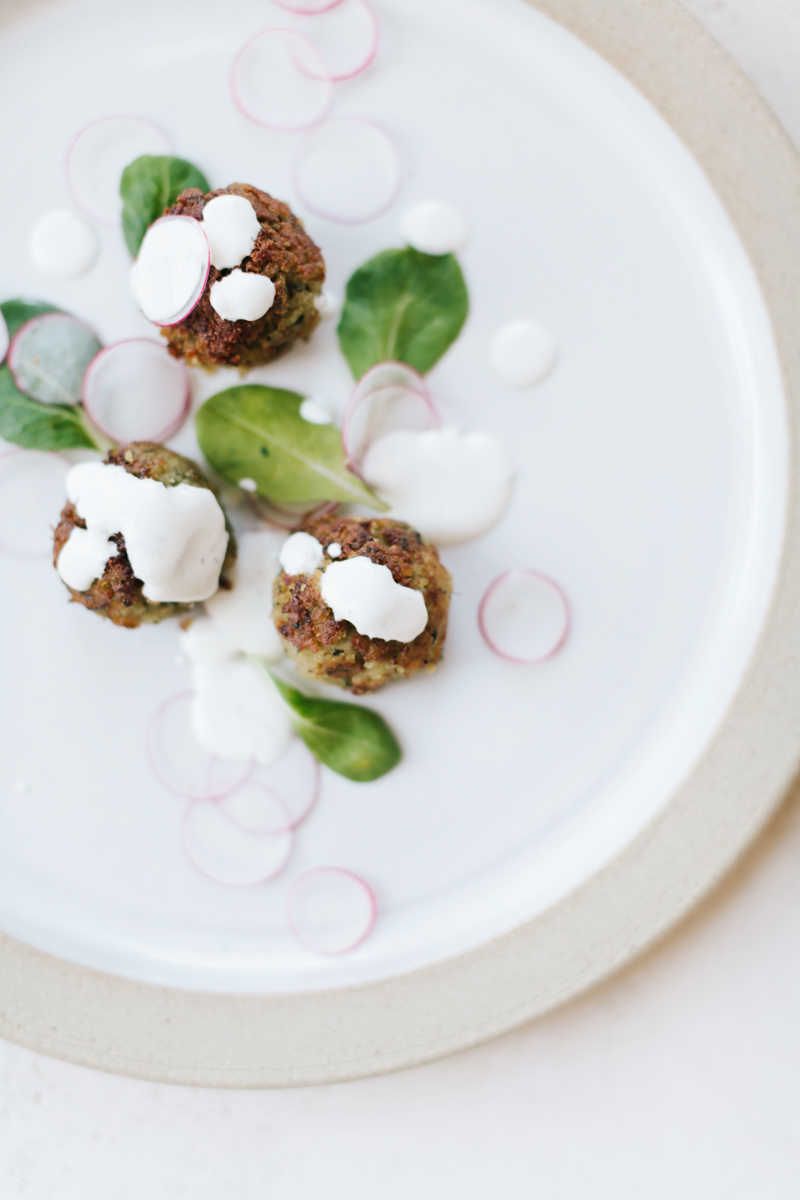 Sprouted Chickpea Croquettes, Yogurt, Tahini, and Coriander
Recipe
Sprouted Chickpea Croquettes, Yogurt, Tahini, and Coriander
Servings: Makes 4 to 6 servings
Units:
Ingredients
2 cup

473 ml

cooked or sprouted chickpeas
2 spring onions finely chopped
Zest of 1/2 lemon
2 tablespoons finely chopped fresh mint
2 tablespoons finely chopped fresh cilantro
1 teaspoon ground coriander
1/2 teaspoon ground cumin
1 teaspoon fine sea salt plus extra for seasoning
1 teaspoon ground toasted sesame seeds

1 cup

237 ml

chickpea flour
1 teaspoon whole toasted sesame seeds plus 2 tablespoons for serving
1/2 cup whole sheep's milk yogurt

1/4 cup

59 ml

tahini plus more for drizzling
1 garlic clove
Juice of 1/2 lemon

1/2 cup

118 ml

water
Rice bran oil or grapeseed oil
4 radishes thinly sliced

1 cup

237 ml

mixed cilantro, mint, and/or fava leaves
Place the sprouted chickpeas in a small saucepan and add water to cover. Bring to a simmer over moderate heat and cook the beans for 10 to 12 minutes. Remove from the heat and strain.
Place the sprouted chickpeas in the bowl of a food processor. Add the spring onion, lemon zest, mint, cilantro, coriander, cumin, ground sesame seeds, and the teaspoon of salt. Process until all ingredients are coarsely blended.
Sprinkle in the chickpea flour and pulse to combine. Add flour until the dough forms a ball that no longer sticks to your hands. Turn the dough into a bowl and refrigerate, covered, for at least 1 hour (or up to overnight).
Meanwhile, place the yogurt, tahini, lemon juice, a pinch of salt, and 1/2 cup water in a blender; blitz until smooth. Add more water as needed to achieve your desired consistency.
Form the chickpea mixture into balls about the size of walnuts (you can use an ice cream scoop to make it easier). Line a sheet pan with paper towels; have a spider strainer or a slotted spoon handy. Heat 3 inches of oil to 325 degrees in a deep pot or wok and fry a croquette to test the temperature of the oil and the consistency of the dough. If the balls fall apart, add a little flour to the mix.
Fry 6 to 8 croquettes at a time, for a few minutes on each side or until golden brown. Drain on paper towels when they are done.
Serve with a drizzle of tahini sauce and a scattering of sliced radishes, mixed herbs, and toasted whole sesame seeds.