Food & Drink
Serve This Spring Menu at Your Next Outdoor Dinner Party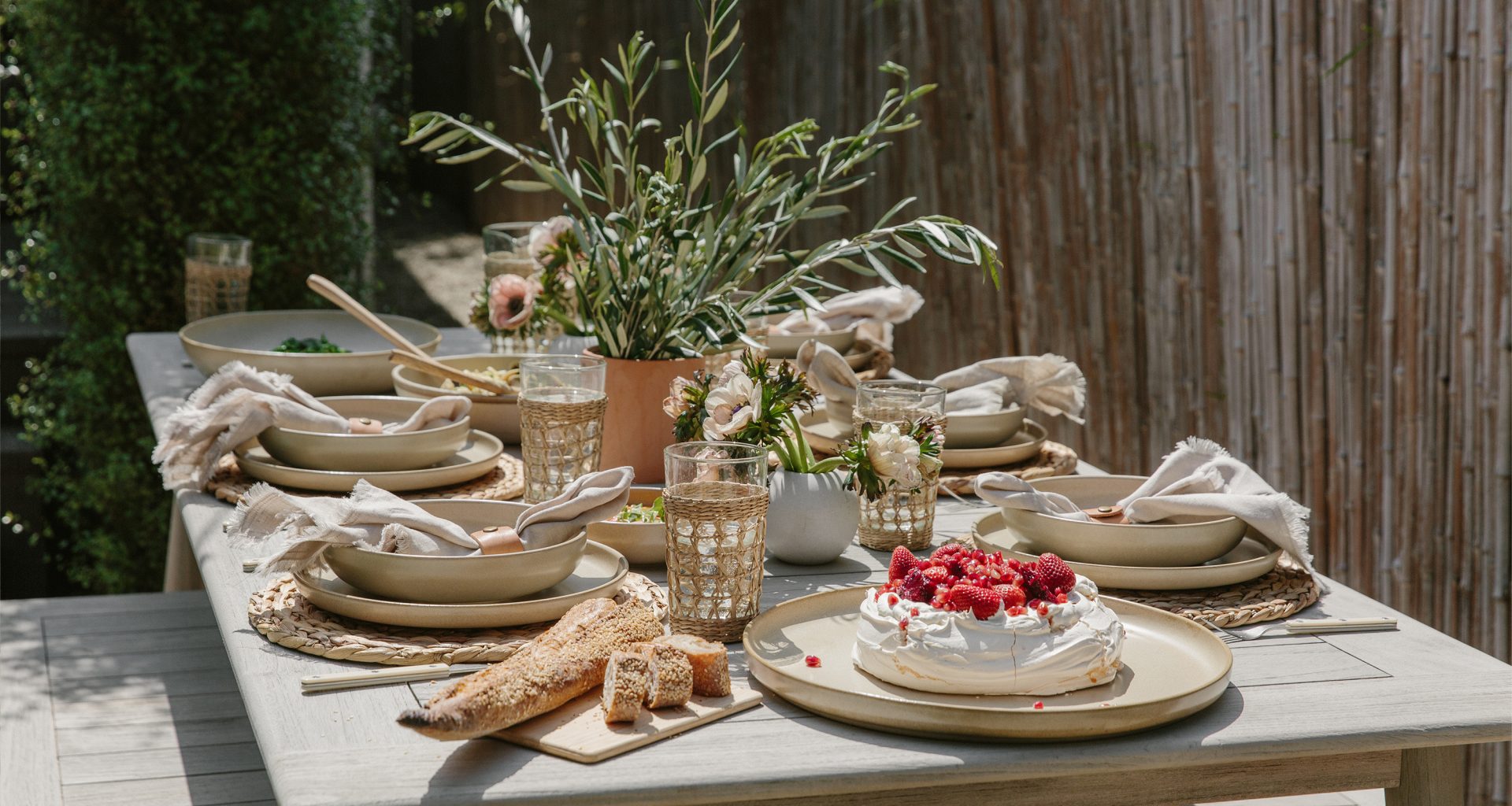 As the days grow longer and the sun shines brighter, we find ourselves moving outdoors for a regular dose of dining al fresco. With our Pacific Dinnerware atop the table, we asked Hayley Feldman, the co-owner of Venice's Chez Tex, for a spring menu that's destined for all types of outdoor entertaining. Get your grocery list ready: these three spring recipes are nothing short of a sensory celebration.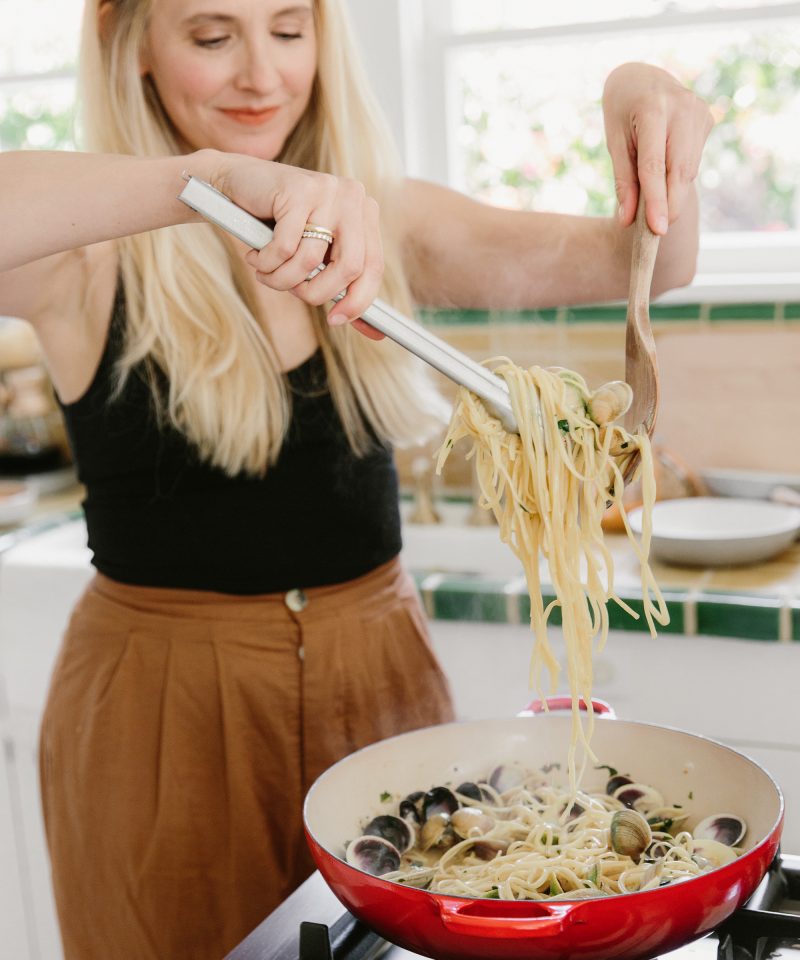 Rip & Tan: What inspired this menu? How does it celebrate spring's flavors?

Hayley Feldman: Inspiration for this menu came from a desire to create a late spring menu that allowed me to spend more time with friends, and less time in the kitchen! The menu takes advantage of the bounty of the season here in California: tender cherry tomatoes and bright red berries. The strawberries here are perfect right now and there are plenty to go around.

Rip & Tan: How does the season influence the way you shop, cook, and entertain?

Hayley Feldman: In every way! In the springtime, we are stepping away from a season of going inward, both physically and perhaps emotionally, during the holiday season. As the days become longer, we spend more time outdoors, and thus, it's a perfect time and place to bring friends together. The farmers market is bursting with new life as well.  The selection of produce expands quite a bit, and invites you to play with the young greens you're able to find this time of year: ramps, snap peas, spring garlic, and onion, to name a few.
Rip & Tan: What are some of your favorite spring ingredients that you're excited to showcase this season?

Hayley Feldman: All of the above! Plus the berries are just arriving.  You can find mulberries (which would be lovely on the pavlova, with such a unique shape and flavor) and even early cherries at the market right now. (Murray Family Farms)

Rip & Tan: From prep to plating, what are some insider tips for executing this menu with ease?

Hayley Feldman: Plan and prep ahead! So much of this menu can be done ahead of time, which allows you to spend more time with friends, and less time in the kitchen. I would prepare the meal in this order: the pavlova can be made the day before, and left in a sealed container at room temperature. The gazpacho can also be made a day ahead and left to chill in the fridge until the absolute last minute you're ready to serve. Blanch your greens the morning of, and style it over the soft cheese. This dish is lovely at room temperature, so can be plated 1-2 hours before guests arrive. You can even boil your pasta ahead of time (al dente) if you really wanted to make life easy. This leaves you to prepare the mussels only, which truly does not take long. Have guests seated with a bottle of wine open while you make this (takes about 10 minutes) and serve it right away.

Rip & Tan: What's your motto in the kitchen?

Hayley Feldman: Live (and eat!) well, and create beauty!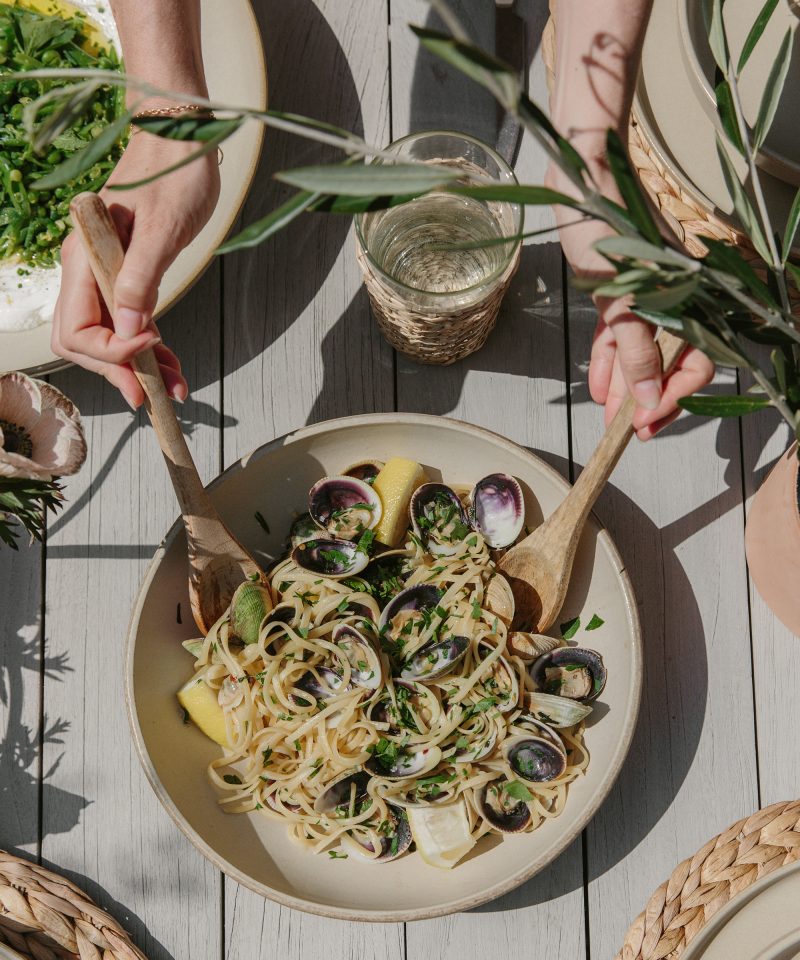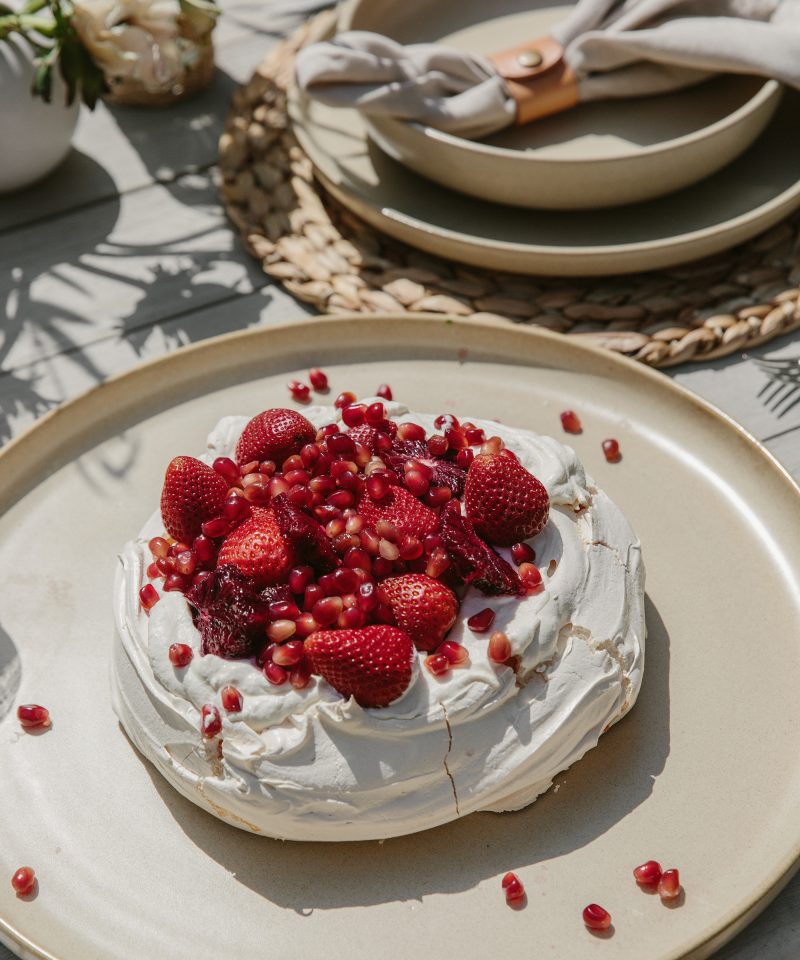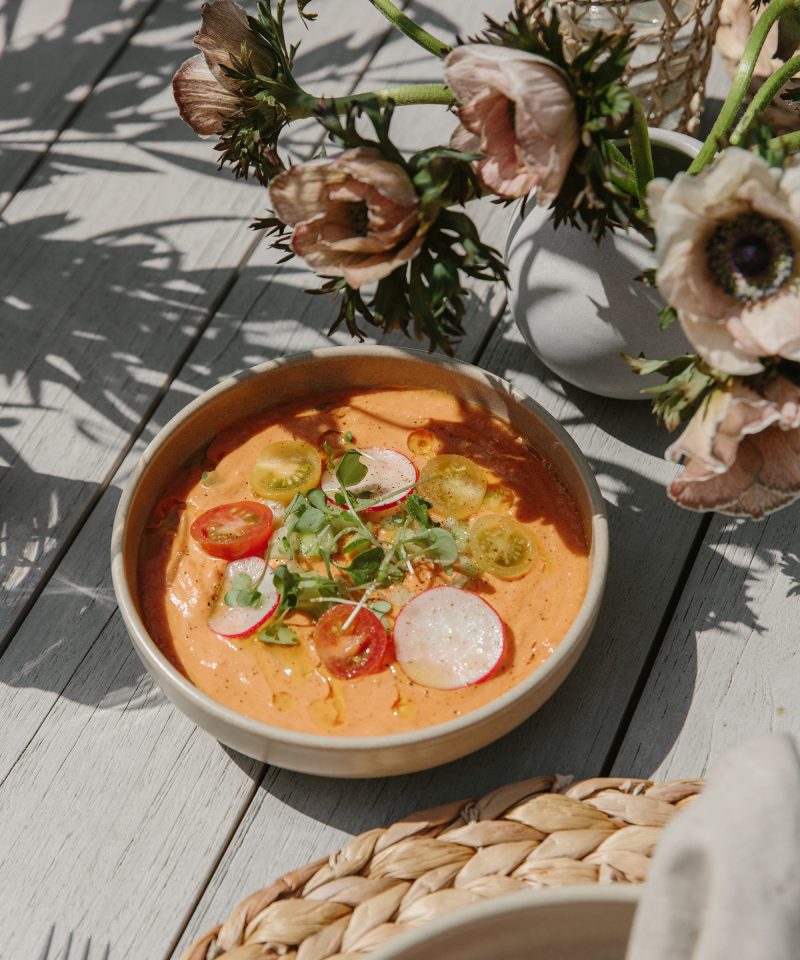 "So much of this menu can be done ahead of time, which allows you to spend more time with friends, and less time in the kitchen."
Fresh Tomato Gazpacho
Linguine with Clams
Berry Pavlova
Recipe
Fresh Tomato Gazpacho
Ingredients
2 lb

1 kg

ripe red tomatoes cored and roughly chopped
1/2 green bell pepper roughly chopped
1 cucumber peeled and roughly chopped
1 clove garlic
2 tsp sherry vinegar
salt

1/2 cup

118 ml

olive oil
tiny diced pepper, tiny diced cucumber, cherry tomatoes cut in half, radishes sliced thinly on a mandolin, micro greens (optional garnish)
-Combine the tomatoes, pepper, cucumber, garlic in a blender or food processor. Blend at a high speed until a super smooth consistency.
-Add in the vinegar and 2 teaspoons of salt and blend. Slowly drizzle in the olive oil and continue mixing until emulsified. Strain the mixture through a strainer, and discard the solids. Transfer to a glass pitcher and chill until very cold (a few hours).
-Keep chilled until the minute you're ready to serve. Serve in a bowl, and garnish with some olive oil, Maldon salt, and the optional garnish. Serve cold!
Photos by Nicki Sebastian