Wellness
Sourcebook: Pearl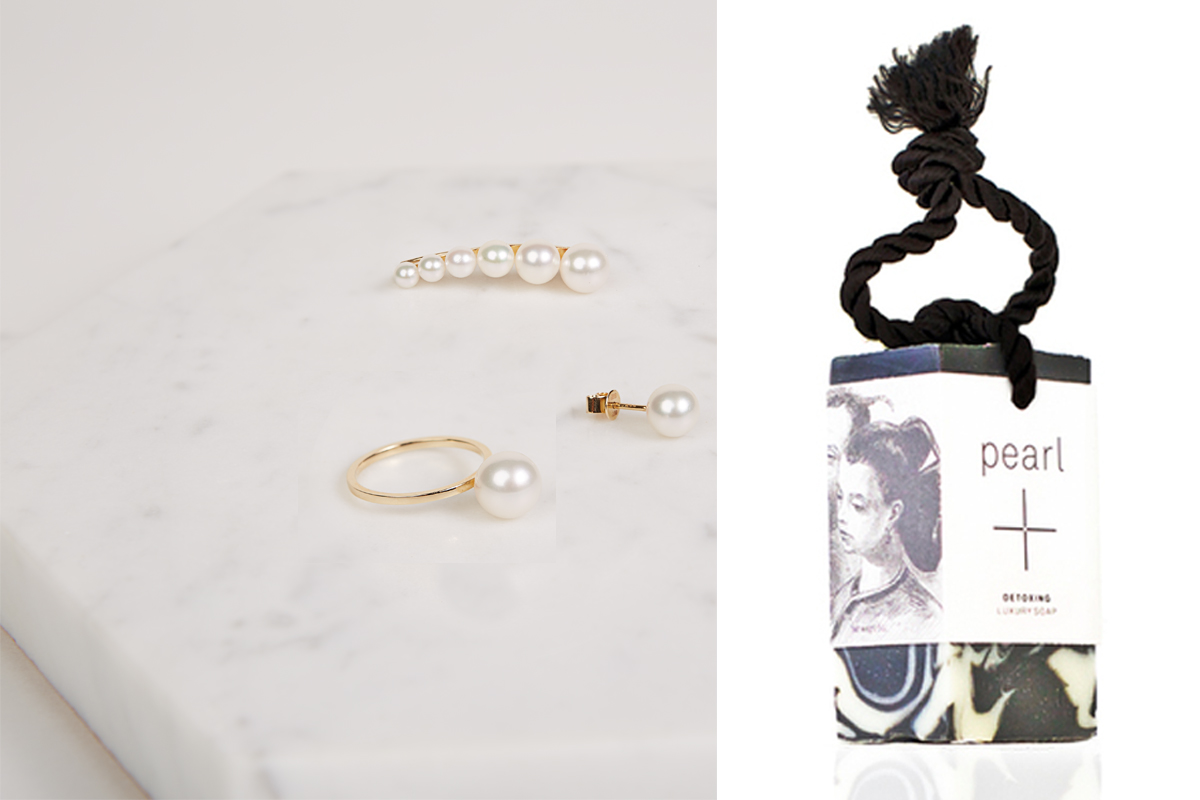 Yesterday, I shared all about pearl powder and its many benefits, and why the components of these semi-precious stones are so special. Today, some of my picks for all things pearl – from my daily supplement, to brightening masks, to my very favorites in pearl jewelry. XXJKE
JEWELRY
For rings, I love this Gabriela Artigas for Des Kohan 14- Karat Gold Double Pearl Floating Ring, this Delfina Delettrez 18-Karat Gold Two-Finger Ring, and this gorgeous Sophie Bille Brahe Lisa Ring, featuring an Akoya pearl and slim 14-karat yellow gold band.
For other statement pieces, I like this Gabriela Artigas Gold Double Double Pearl Cuff Bracelet, this Garbriela Artigas Double Pearl Choker, this Kenneth Jay Lane Faux Pearl and Crystal Choker, and this stunning Sophie Bille Brahe Deesse 14-Karat Gold Pearl Choker.
And lastly, for earrings (one of my favorite ways to wear): this Sophie Bille Brahe Emma Deux Ear Cuff, with two white Akoya peals at each end of an open cuff has been an everyday go-to for months, and I also this Sophie Bille Brahe Petite Perle Earring, again featuring a single Akoya pearl. Also amazing, the Sophie Bille Brahe Trois Lune Earring, with three luminous Akoya pearls attached to a 14-karat gold yellow bar that spans the length of the ear lobe, and the Sophie Bille Brahe Croissant de Perle, featuring a smooth cascade of descending pearls connected with 14-karat yellow gold.
PRODUCTS
As I shared yesterday, Pearl's benefits and are many, and it has been used both internally and externally in China for thousands of years. My picks for its internal benefits include this Dragon Herbs Pearl Powder,which I take daily, made from all-natural fresh water pearls, and this amazing Pearl Beautifying Cell Builder from Moon Juice.
For beauty, there are a myriad of pearl-infused products out there, but some of my favorites include this Tatcha Polished Classic Rice Enzyme Powder with skin-conditioning pearl, Dr. Jart Dermaclear Micro Water, Marie Veronique Advanced Everyday Coverage SPF 30, and ideal for dry skin, Pratima Rejuvenating Pearl Cream. And for facial masks: Dr. Jart Brightening Infusion Hydrogel Mask, Sephora Collection Perfecting & Brightening Pearl Mask, Missha Pure Source Pearl Sheet Mask, and Sjal Pearl Enzyme Exfoliating Mask.
Lastly, I've fallen hard for Pearl+ Luxury Soaps, a beautiful range of soaps handcrafted in Portland using crushed natural pearl and other all-natural high quality herbs and minerals.