Wellness
Sourcebook: Palo Santo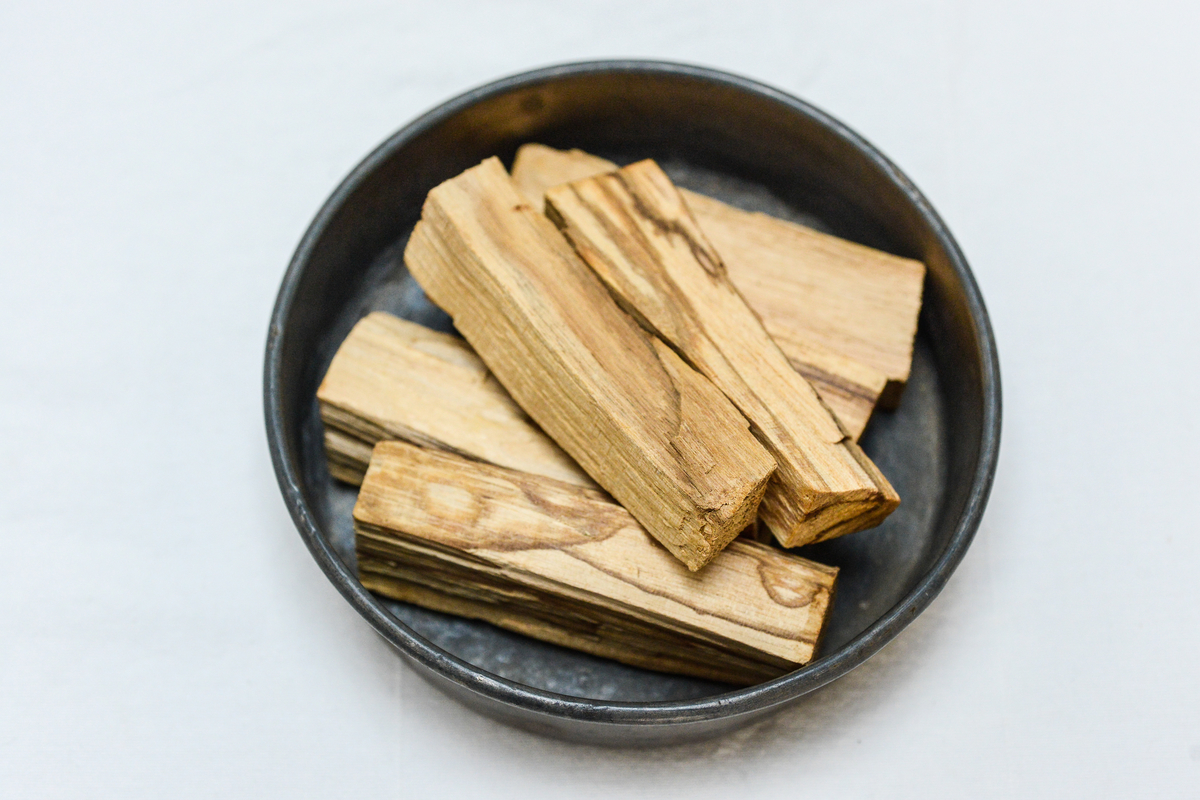 As I've shared before, I'm forever on the hunt for natural remedies that I can implement into my daily life. And one that I discovered many years ago, and is to this day one of my very favorites, is Palo Santo. From the sacred and mystical tree found in South America, Palo Santo, which translates to "holy wood" is characterized by aromatic notes of pine, mint and lemon, and can be used for a variety of different purposes and in a variety of different ways. For many, the ethically fallen wood is used for its energetically cleansing and healing properties similar to sage and cedar, and for others, to relieve such things as cold and flu symptoms, headaches, and inflammation. And, there are many that look to Palo Santo for its ability to enhance creativity and bring about good fortune.
Just as its benefits are many, so too are the ways in which it can be used. Palo Santo can be simmered in hot water and enjoyed as a tea, used in aromatherapy and beauty products, in incense sticks, and in – perhaps my favorite – smudging. In addition, Palo Santo can be kept in an unburned bundle, as it is quite fragrant even without being lit on fire. There are so many amazing Palo Santo products out there, but I've put together a list of some of my favorites, below. XXJKE
For Palo Santo bundles, I like this bundle of Palo Santo wood sticks from Imogene + Willie, harvested from a reserve in Equador, this bundle of a half dozen resin sticks made with sacred Breu resin and Palo Santo wood shavings, and these Palo Santo Sticks bundled with a gemstone, and triple smudge bundle pack of Palo Santo, Sage and Sweet Lemongrass, both from Etsy.
In essential oil form, one of my very favorites is Young Living Palo Santo Essential Oil, but I also like this pure Palo Santo oil from Au Natural Organics, and this Palo Santo Essential Oil from Enfleurage. Also great: this Midnight Collective Palo Santo and Cedarwood Essential Water Spray, and this Palo Santo Ceremonial Mist Ionic Room and Body Spray from Plant and Sprit.
And lastly, for beauty and fragrance, I love this perfume of Palo Santo, Siam Wood and White Champa Flower from Olo, Régime des Fleurs Palo Santo and Tobacco eu de parfum, this limited-edition Palo Santo Cologne from Portland General Store, and Palo Santo Shampoo and Palo Santo Conditioner from Rahua.