Style
How to Make a Small Space Feel Like Home (for the Holidays)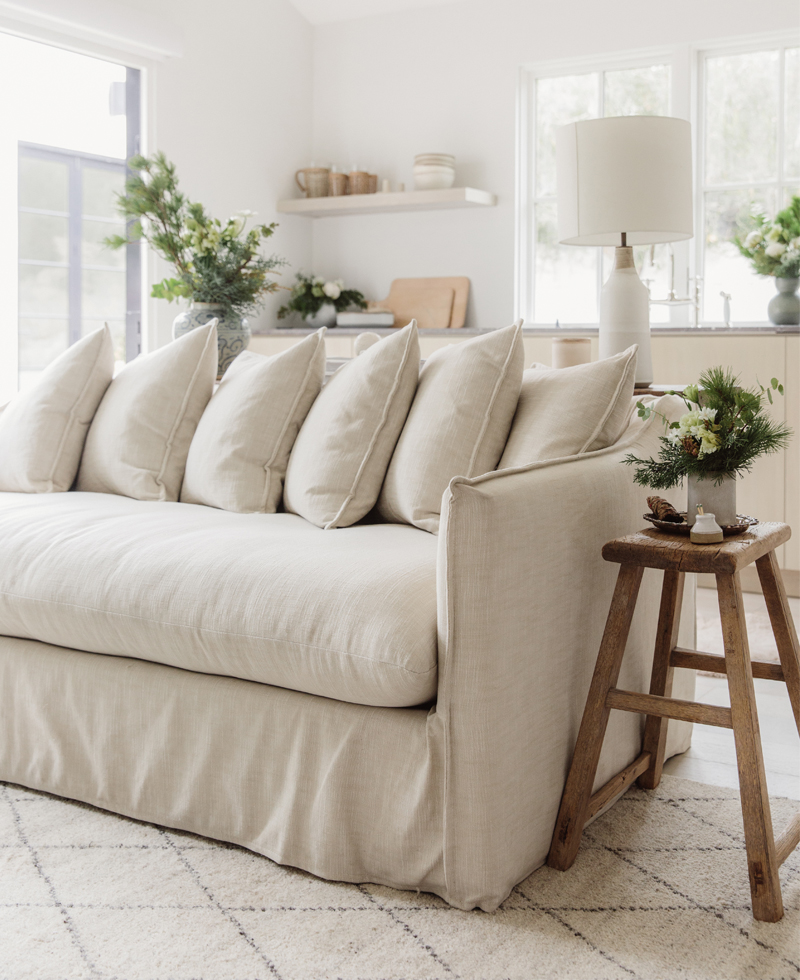 Bigger isn't always better—and that's especially the case when decorating your space for the holidays. In a recent redo of a cozy Venice bungalow, our team's Meaghan Murphy transformed a small studio into the calming, functional home of our dreams. With a little help from some of our favorite pieces from
Maiden Home
, the space was armed with the most comfortable, beautiful, (and did we mention performance fabric-covered) furniture and the only holiday décor you (really) need. Below, Meaghan shares her tips for making the most of your small space and creating a festive holiday feel that comes from the heart.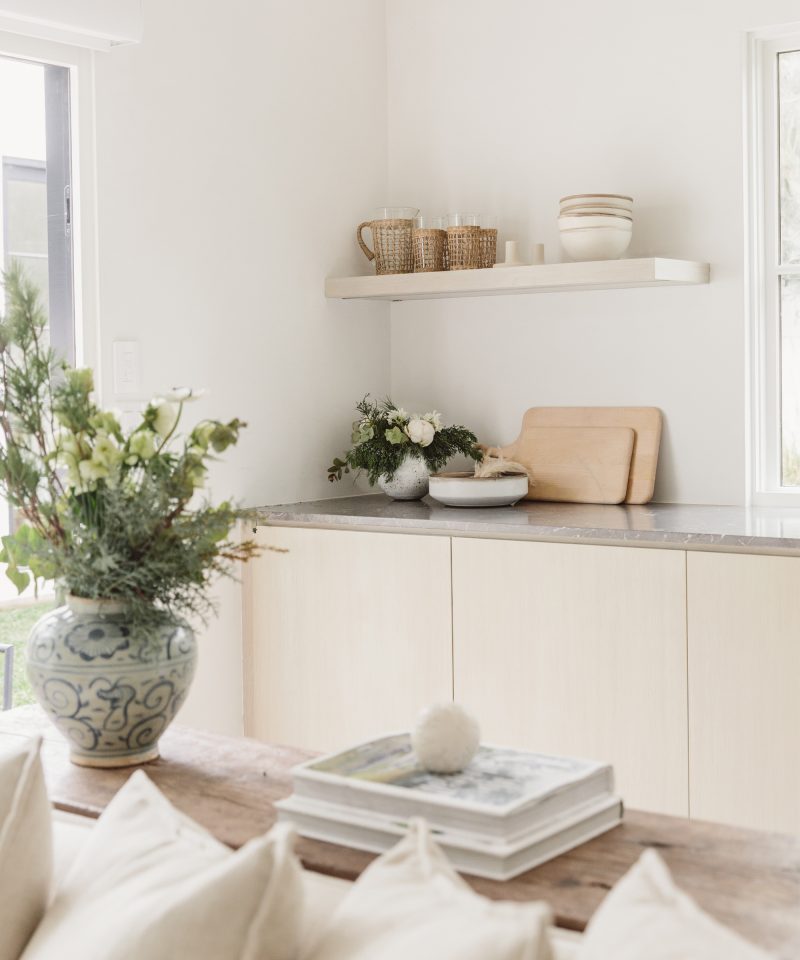 Rip & Tan: What are the building blocks of small space decorating?

Meaghan Murphy: My biggest rule when designing a small space is to define the space by creating various zones in the room. Even if you're working with a studio, you can still create the feel of separate rooms by using area rugs and strategically positioning larger furniture.

Proper space planning is also key here: using a petite sofa (the Dune Sofa from Maiden Home is perfect for this—it's not too wide but deep enough for totally comfortable lounging), or even skipping space-filling pieces like a coffee table altogether and utilizing side tables and consoles for tabletop space instead can help dramatically to maximize your space.

Another key is focusing on simple décor with a few statement pieces. Less is more when it comes to using color in a small space: lighter shades make a space feel bigger (not to mention add a touch of calm). I recommend large upholstered pieces in faded shades (this bed and sofa come in amazing neutral tones like white, natural, fog, and khaki) and simple wood accents.
Rip & Tan: What's your approach to editing down pieces and identifying the essentials?

Meaghan Murphy: In a small space, everything must serve a functional purpose. If you can find functional pieces that also double as décor (like nice storage baskets or benches) that's even better!

Rip & Tan: Smaller spaces require pieces suited for multi-tasking. How can furniture serve this purpose both in terms of aesthetic and functionality?

Meaghan Murphy: My first thought in designing this space was that everything had to be comfortable—there's no room for stiff furniture in such a small space! I chose an upholstered bed for maximum comfort because anyone who lives in a smaller home knows you'll spend more time in and on your bed than most. I also love large pieces that can fit into corners easily and take up less room than oddly shaped options. The Dune Chair and a Half is the perfect fit into any layout and, with its generous depth and pillowy feel, is one of those rare seating options that's just as sought after as the couch. Plus, performance fabric that causes spills to bead up on the surface means you won't panic if a guest spills or friends and family are staying over on the couch.

I also try to use clever, hidden cabinets wherever I can (we used this trick in the kitchen to keep the space looking clean and modern but still maintain all of the storage space and functionality we needed.

Rip & Tan: How can you bring in elements of personality without welcoming in the risk of clutter?

Meaghan Murphy: Customizing fabrics on your furniture is a great way to show your personality without bringing in clutter. The bed we chose has every color way you could want, and pillows and functional pieces that still bring in a special touch like beautiful vintage vases and trays are an easy way to make a house feel like home.

Wall space is also your greatest asset–I love using special wall hangings or art pieces. Bell-shaped hangings work year-round but are especially fitting as a subtle seasonal touch around the holidays.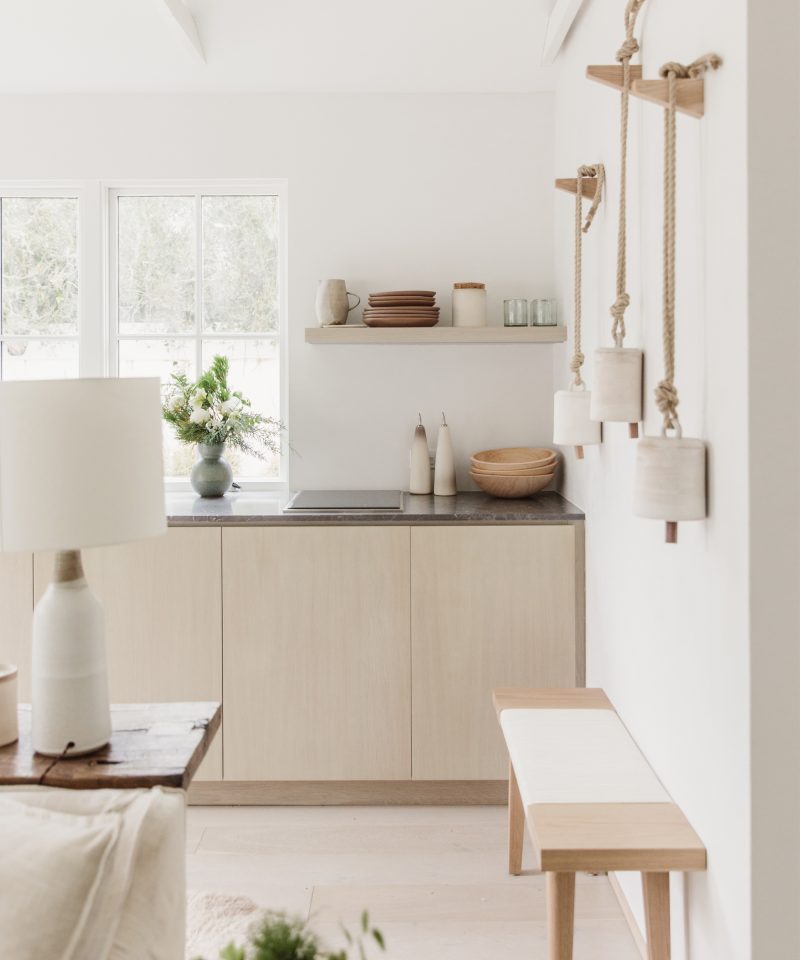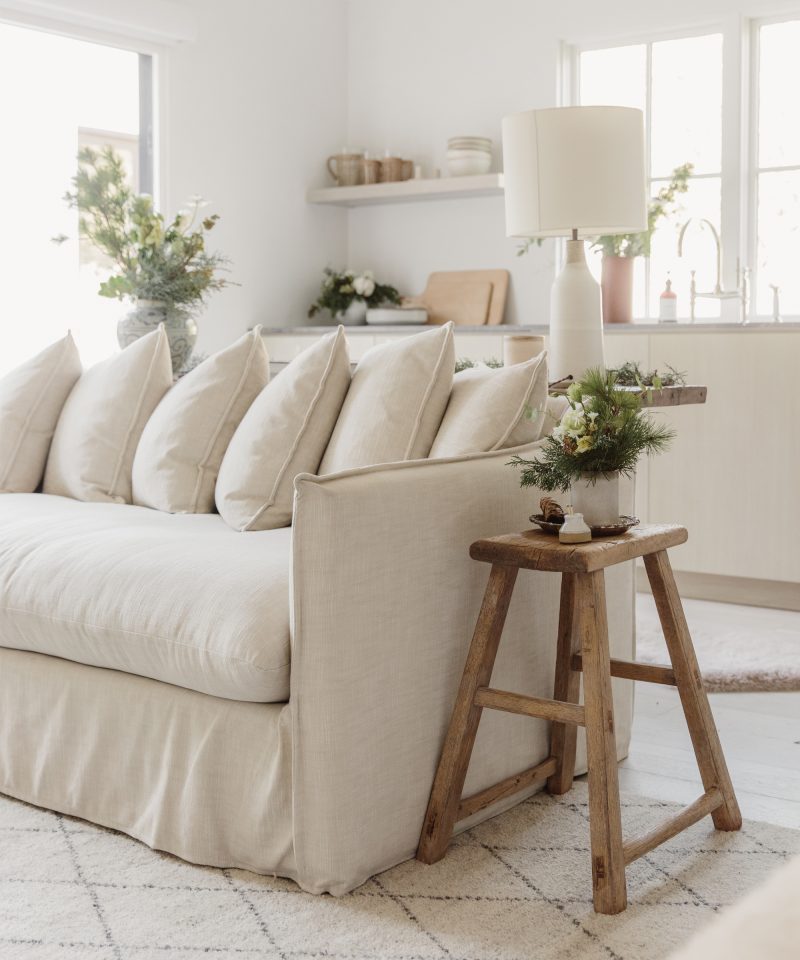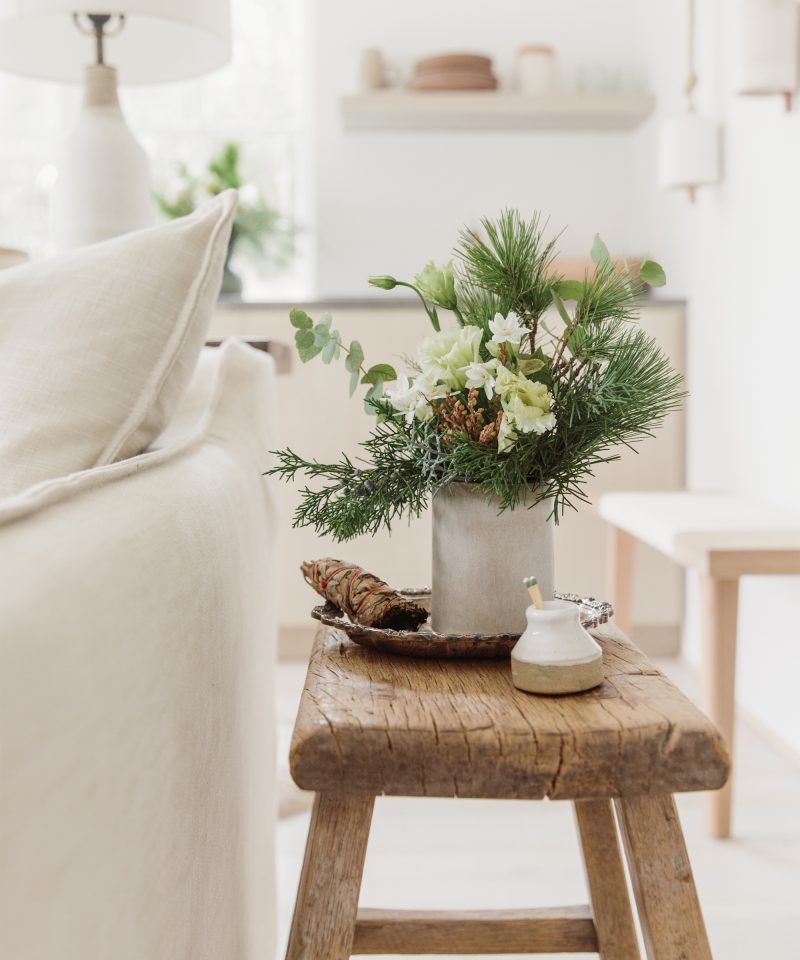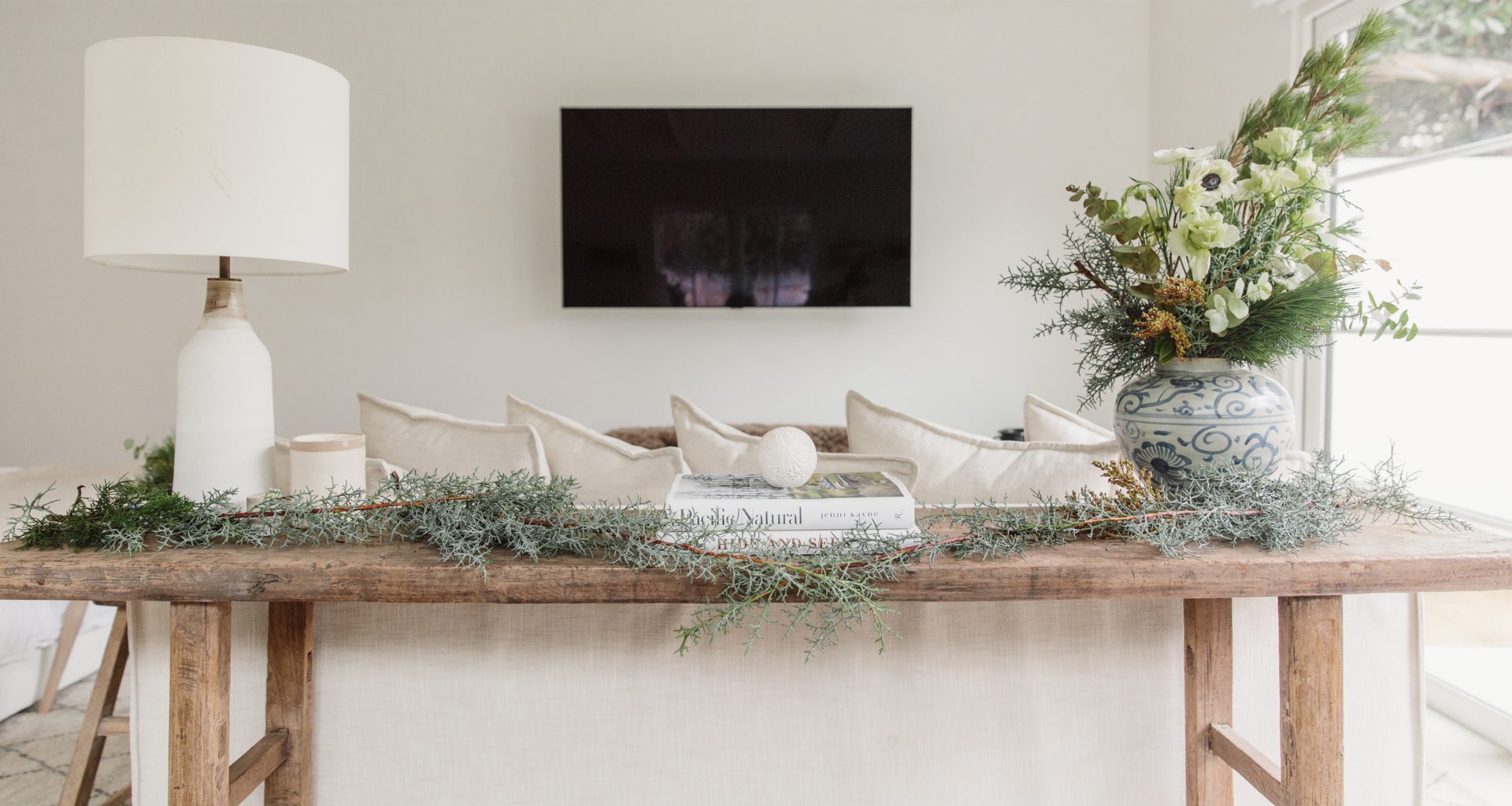 Rip & Tan: Even with the year-round decor down pat, enlivening a smaller space for the holidays can feel a bit overwhelming. How can you infuse seasonal touches without weighing down the room?

Meaghan Murphy: My favorite way to decorate a small space for the holidays is by working seasonal greenery into your flower arrangements and finding scents in candles and diffusers that evoke the feel of a roaring fire or a Christmas tree to bring in the holiday feel.

Rip & Tan: What are some non-traditional ways to make a small space feel seasonal?

Meaghan Murphy: Seasonal-smelling candles like cedar and ash fill a space with natural, holiday scents. Room sprays are also an amazing way to transform a space. If you don't have a mantle or fireplace to hang stockings above, you can drape them over a bench or another flat surface! If you can fit a larger vase on the floor, use taller seasonal greenery to easily mimic the feel of a holiday tree.

To us, making a space "holiday-ready" means making it as comfortable as possible to keep an influx of family and friends happy. Having extra blankets and pillows around to make your space feel cozy, keeping your favorite candle lit, and cooking your favorite recipes or mixing up seasonal drinks to keep on hand are some of our favorite ways to bring the holiday feel to your home, no matter the size.
Rip & Tan: What's the best way to incorporate color and texture to bring the space a holiday touch?

Meaghan Murphy: Beyond holiday florals, bringing in special pottery like hand-painted vases or pots with a special glaze are some of my favorite ways to bring color into a space. I also love stacking books in varied colors on consoles and tables– it's always shocking how much books in pretty tones add to a neutral space.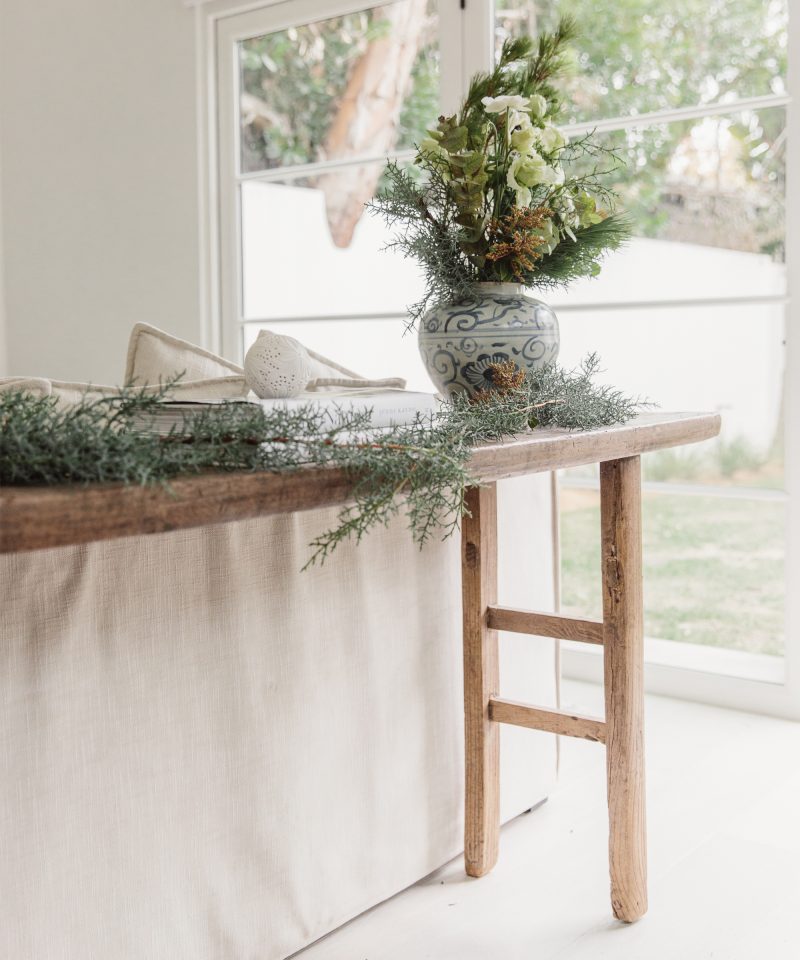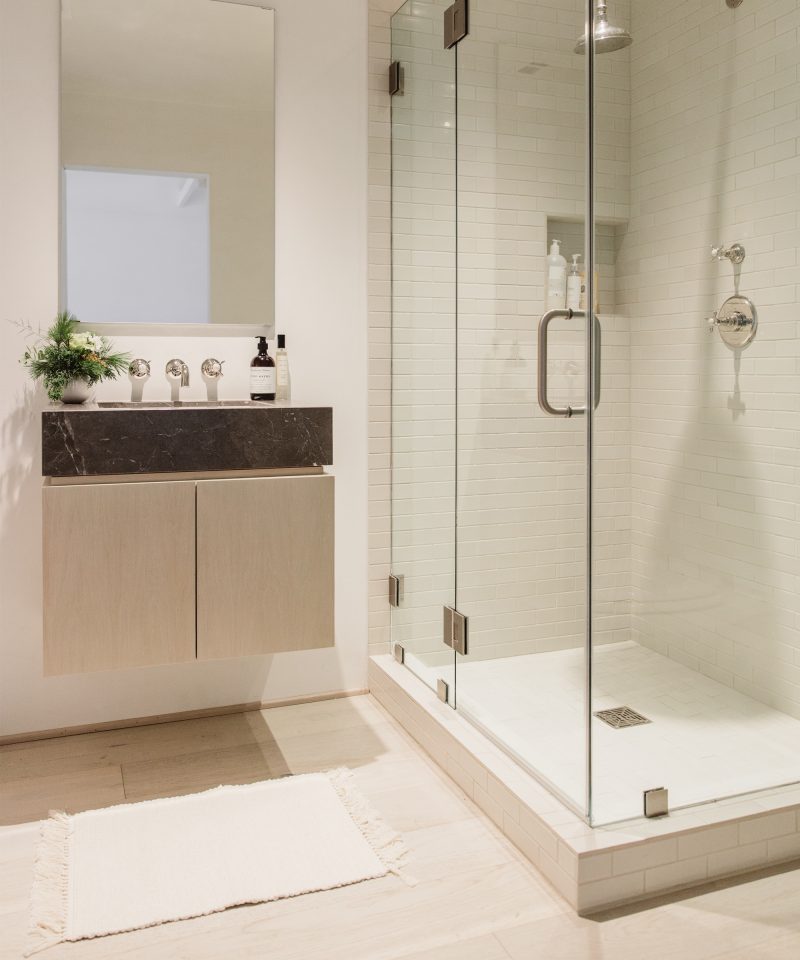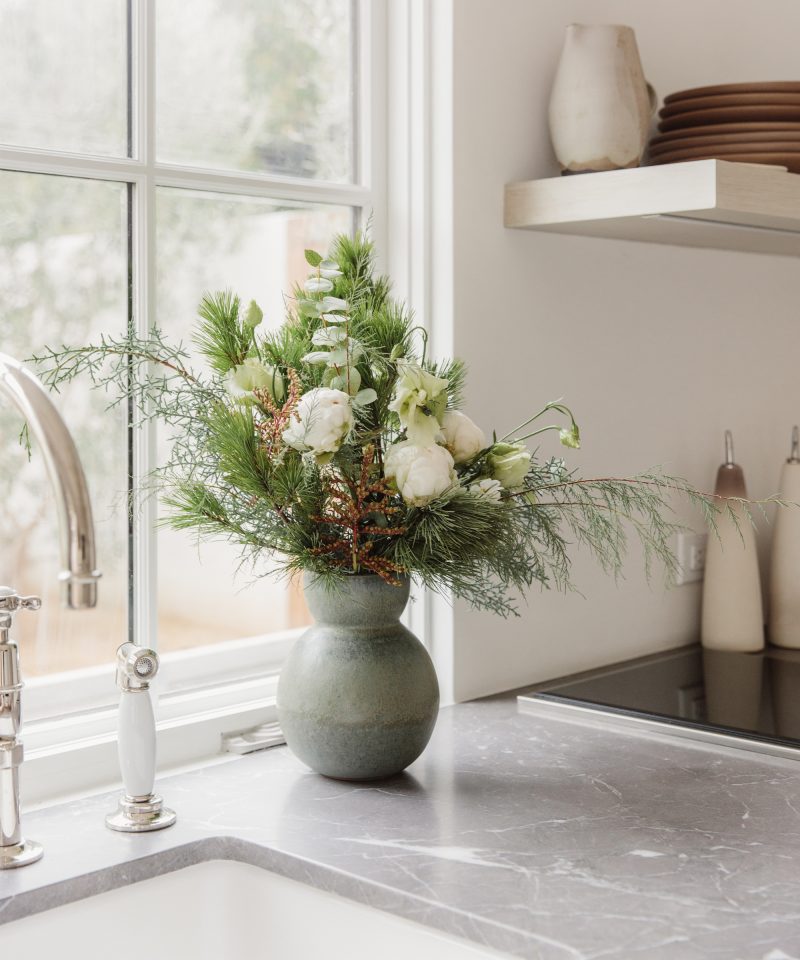 Photos by Nicki Sebastian
More Stories