Wellness
Skincare Expert Jami Morse Heidegger on Her Newest Venture, Retrouvé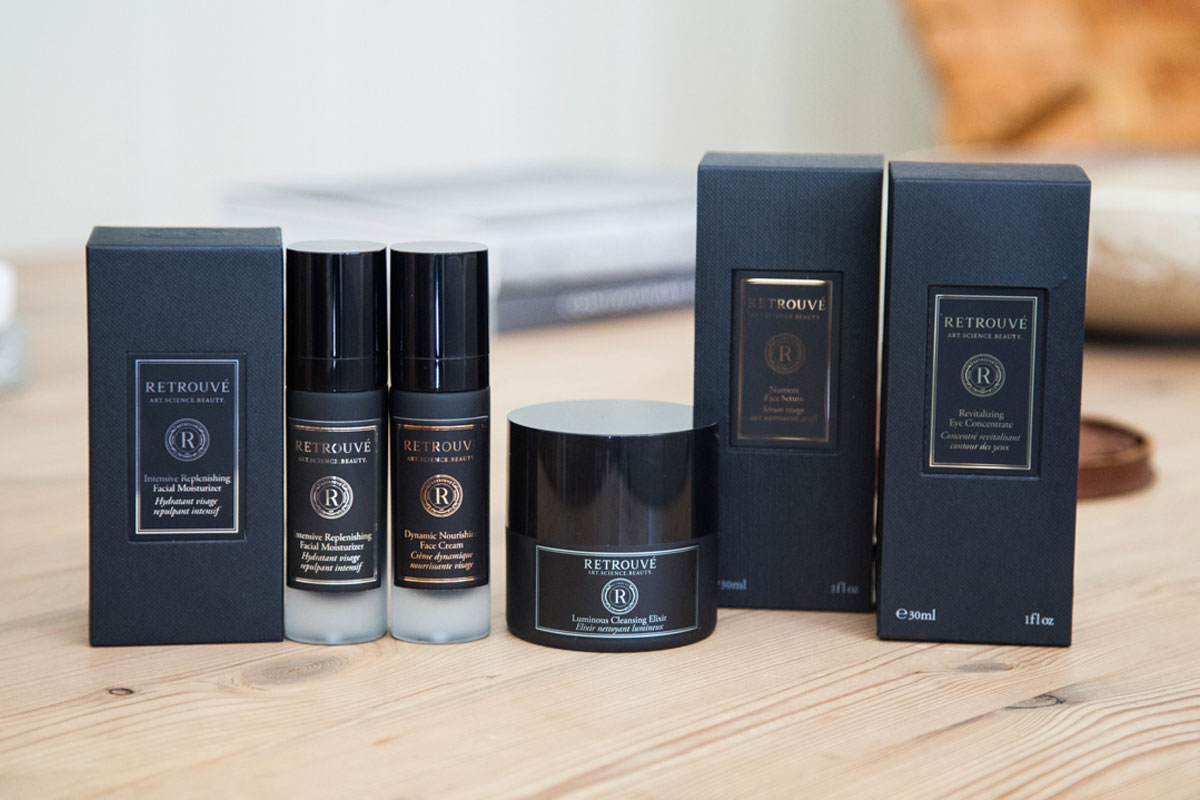 I think it's best to keep it simple with your skincare routine; investing in products that you find really have an impact on your complexion and editing out the rest. Retrouvé is relatively new brand that I tried recently and found both effective and luxurious. It was started by Jami Morse Heidegger, whose grandfather bought Kiehl's pharmacy in 1921, along with her husband, Klaus. Jami and Klaus ran Kiehl's for decades before L'Oreal bought the company, and then founded Retrouvé a few years after that. 
What I like about the line is that it's very thoughtful—comprised of only a handful of products—and also potent without being harsh. Jami uses a lot of naturally derived ingredients and produces the line in small batches in order to ensure freshness. The texture of the products is incredible too; oils are used as a base for most of the formulas in order to make sure each recipe nourishes the skin on a deep level. If your skin is feeling dry and dull right now, these products would be the perfect decadent treat! Learn a little bit more about Retrouvé through our interview with Jami, below. XXJKE
Rip & Tan: How is Retrouve different than Kiehl's? What inspired you to launch the brand? 
Jami Morse Heidegger: I have always been interested in the idea of creating a more high-powered product: At Kiehl's, I often requested my chemist to make more potent versions of my favorite products just for my own use.  When I turned 40, my interest in utilizing the most concentrated ingredients and innovative technologies available intensified. I sought to replenish moisture levels that had been diminished due to age, the environment, and hormonal changes within my body. I was concerned about the health and well-being of my skin, and I wanted to delay the visible signs of aging. I desired a more radiant complexion.
Once Klaus and I sold Kiehl's, I continued to create formulations with my chemist, solely for my own personal use, that was not yet available in the marketplace. We worked continually to refine the formulations as new ingredients and technologies became available.  Although I had never intended to do so, Klaus persuaded me to make the products available for retail sale due to the positive feedback that we had received from friends and family who were sampling the formulations.
Rip & Tan: Why is the line so edited? Is it to encourage women to use fewer products? Or a desire to simply perfect each and every product before bringing it to market? 
JMH: Since I was formulating products solely for my personal use, I was not thinking about a traditional marketing plan to create a complete line of skincare; but, rather, I was concerned solely with filling the gaps in terms of products that I desired to have but could not find elsewhere.  Why create three products when I could formulate one preparation to do the job of three?
All of our products are designed to have preventive, nourishing, and restorative effects on the skin and are created to be multi-functional! Since there is no significant difference between the skin on the face and the skin on the throat area, the moisturizer that one uses on one's face is perfectly fine to use on one's neck. We suggest applying the preparation to the décolleté or upper chest area as well. 
Rip& Tan: What makes the products so effective? How are the formulations different than what is already on the market? 
JMH: The products represent an anthology of over 75 years of collective experience, research and collaboration. No detail has been overlooked in the creation of Retrouvé – it was my aim to marry art and science beautifully to provide for a supremely elegant and unparalleled skincare experience.  The creation of Retrouvé products is an artisanal, high-end process. The manufacturing itself is labor-intensive and thus performed in small batches; our products are not mass-produced. For this reason, some have described Retrouvé as "haute couture skincare."  While I appreciate such accolades, my main concern is that the products bring beneficial results, which they do!
Rip & Tan: What skincare or wellness rituals does Retrouve stand behind as a skincare brand? What habits do you wish to instill in all of your customers?
JMH: Retrouvé means "to find again."  I believe that it is never too early nor too late in life to take care of one's skin in earnest in order to try to maintain or to regain the hallmarks of a healthy, youthful complexion: clarity, radiance, vitality, and firmness.  It is always an evolving process as you discover how to look and feel your best at any age. 
Pampering oneself is a positive act for your overall well-being, not a process to be frowned upon as too self-indulgent, selfish, etc. Whether it be applying sunscreen, opting for organic food, going to the gym to work out, or using a high-quality skincare product, the sooner you do it, the better you look and feel!  It may be impossible to turn back time, but with preventive efforts, one can definitely slow its effects.
Rip & Tan: What product has been your best-seller so far. Why do you think it's resonating?
JMH: Our Intensive Replenishing Facial Moisturizer is our best-selling product currently.
We attribute the product's popularity to the fact that it is incredibly multi-purpose! Conceived originally as an overnight treatment for intense hydration, those with very parched or mature skin may opt to use this preparation as a daytime moisturizer as well. It may also be used to treat isolated dry patches on the skin as needed. 
This product is excellent for use as an in-flight treatment to combat dehydration. The formulation is also beneficial for those who spend a lot of time outdoors (ie, skiing, sailing, biking, mountain climbing, swimming, etc.) as it nourishes and protects skin.
Lastly, we are told that some of the most well-known makeup artists in the world have been known to mix a bit of our Intensive Replenishing Facial Moisturizer with foundation before applying in order to create a beautifully dewy, even-toned effect on the skin!
Rip & Tan: Where will you take the brand from here? What are your goals for the company? 
JMH: Wherever possible, we source the highest grade of ingredients on the market from suppliers who have ethical and sustainable business practices and a history of quality. We have now begun to source ingredients from our family ranch in Malibu – where we cultivate sustainable farming practices to provide quality produce.
For the past five years, Klaus has been growing avocados and other produce on our ranch in accordance with the principles of permaculture.  As a result, the produce grown at the ranch is uncompromised by chemicals, as this most "green" type of agriculture cultivation relies solely upon natural pesticides and fertilizers and recycled waste products as well as freshwater reserves. The oil pressed from our ranch-harvested avocados is pure, rich, and abundantly nourishing and emollient to the skin.
After an extensive search to find a manufacturer capable of distilling this precious oil from their raw source at the ranch, we are thrilled to now be utilizing oil pressed from our avocados in our Luminous Cleansing Elixir.  We have additional orchards that we plan to cultivate for further raw ingredient sourcing, such as Vitamin C.
In April, we will debut our Skin Brilliance Priming Pads, which promote a radiant complexion by gently and naturally exfoliating the dead skin tissue that would otherwise occlude the complexion and interfere with the optimal delivery of the nourishing and hydrating benefits from our collection of moisturizing preparations. We also have several body products in the pipeline about which we are very excited!