Food & Drink
Essential Sides: Japanese Sweet Potatoes with Miso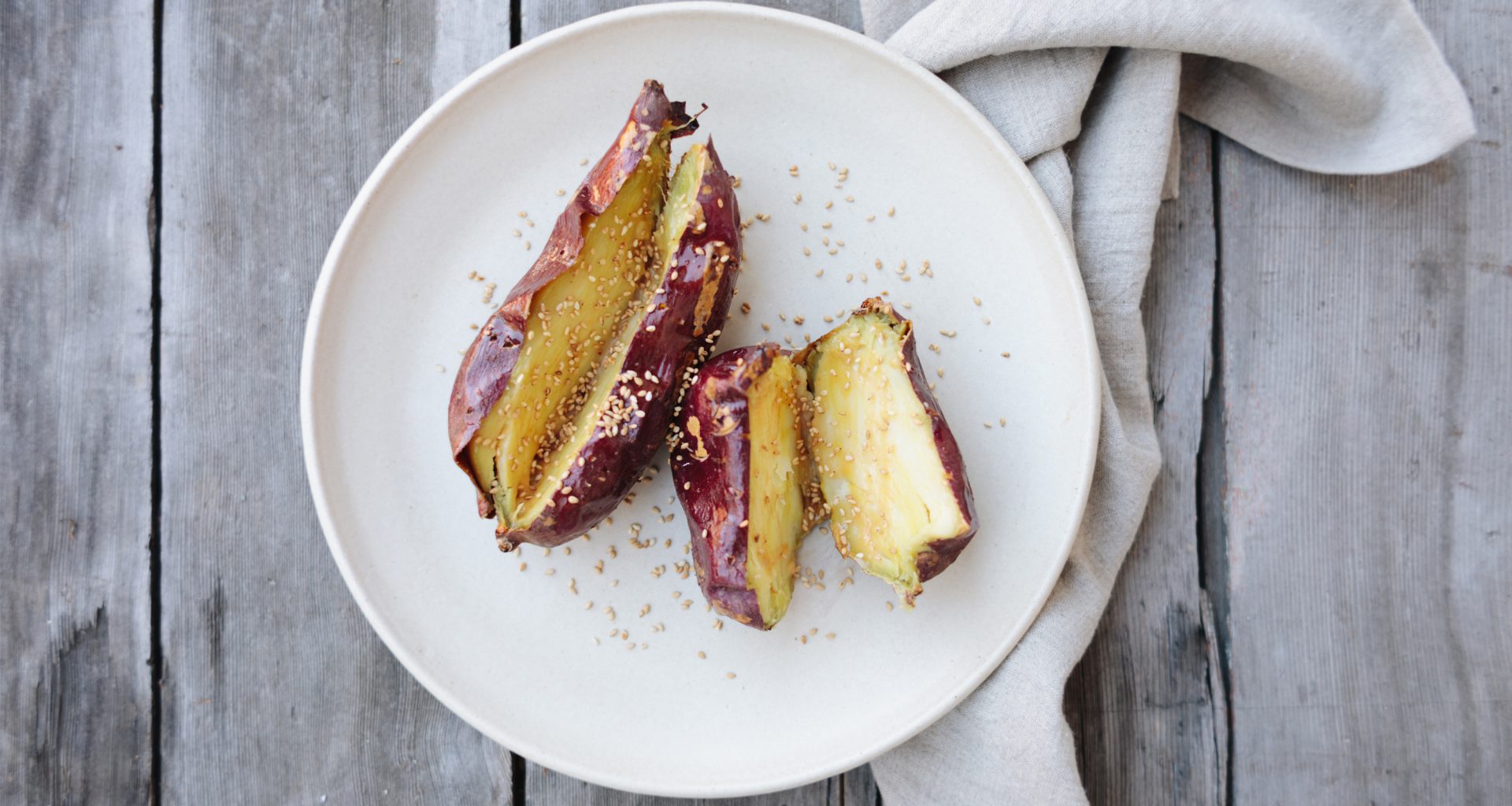 We love a simple and healthy dish, and these tasty sweet potatoes have been in heavy rotation in our homes ever since Kate Danson, postpartum doula, shared her recipe. Through her work with new mothers healing their bodies post-baby, Kate is our trusted source for all things nourishing. This has become one of our favorite quick meals to make, and we have a feeling it'll become one of yours, too.
Japanese sweet potatoes, or Japanese yams, are identifiable by their purple hue and round, compact size. When cut in half the flesh is white, unlike the deep orange huge we often associate with a sweet potato. This violet-skinned version of the familiar sweet potato is ultra-nourishing—a medium Japanese sweet potato has a whopping 202% of your daily Vitamin A. This is a crucial vitamin and powerful antioxidant that helps to reduce inflammation, fight free radicals, and keep skin clear and glowing.

When cooked, the texture is nice and creamy, a perfect base for the mild and delicate flavor of miso. And with the addition of ghee, which is full of nourishing fatty acids, these potatoes make a great and easy snack or side that's full of nutrients and tastes delicious. 
Japanese Sweet Potatoes with Miso
Recipe
Japanese Sweet Potatoes with Miso
Ingredients for the Potatoes
Japanese Sweet Potatoes (preferably smallest available)
Ingredients for the Additions
white miso paste (or any mild miso)
ghee
sesame seeds for garnish, optional
Preparation
Preheat oven to 400° F.
Wash and dry sweet potatoes, then prick them all over with a knife.
Place a lined baking sheet on the bottom rack of the oven to catch any of the juices.
When the oven is at 400, place sweet potatoes on the rack above and let them bake for approximately 45 minutes, or until you can smell their sweet aroma and are soft to the touch when pinched with tongs. Remove from the oven along with the baking sheet.
In a small bowl, mix a few tablespoons of miso and ghee (roughly 2 parts miso, 1 part ghee, but it doesn't need to be exact, feel free to eyeball it).
Cut sweet potatoes in half lengthwise.
Baking
Spread the miso mixture on the open side of the sweet potatoes. Place on the lined baking sheet and put back in the oven to warm and melt a bit, 5-10 minutes.
Serve warm and enjoy!