Living
DIY: Simone LeBlanc Holiday Gift Wrapping and Toppers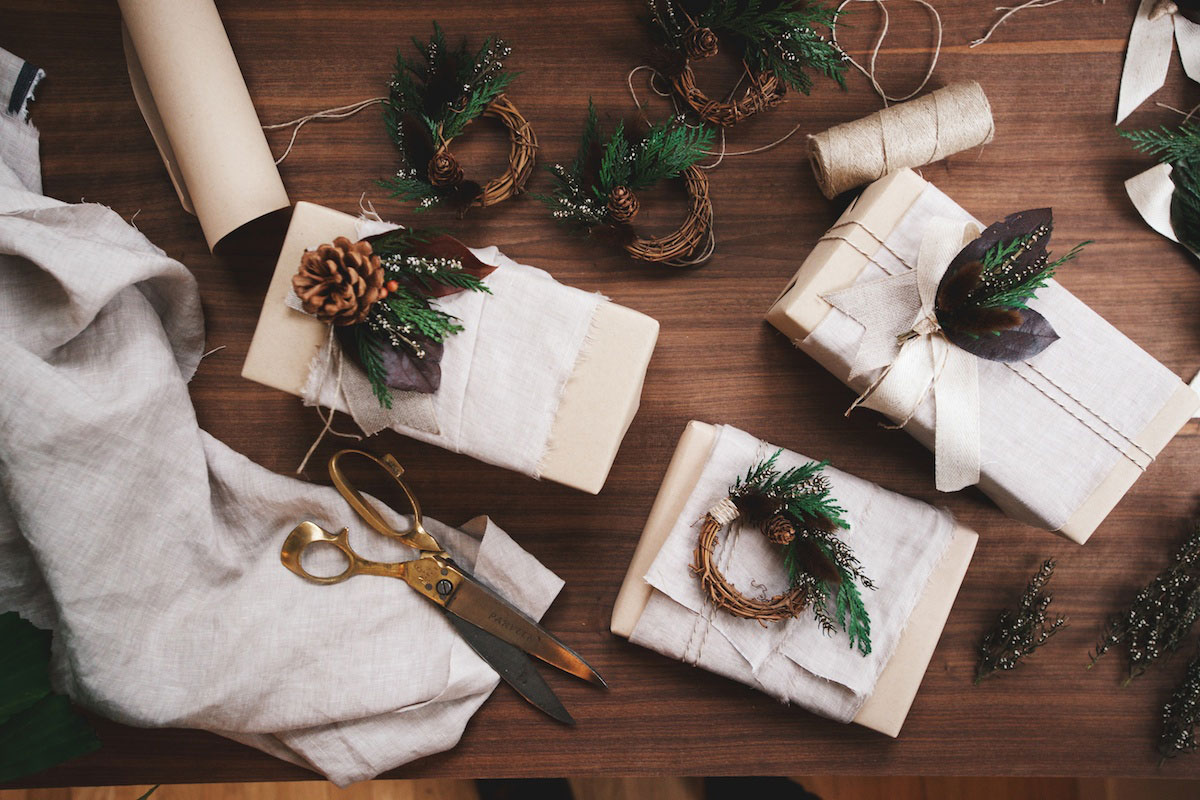 I've found that when giving gifts, the presentation – if done right – can be just as impactful as the gift itself. With the holiday wrapping season officially upon us, who better to share her tips and tricks than gift giving extraordinaire, Simone LeBlanc.
And just in time for the wrapping season, Simone has created three exclusive and exquisite gift toppers, available at my West Hollywood and Brentwood retail locations, guaranteed to make any simply wrapped gift simply stunning.* I asked Simone to share some of her secrets for inspired finishes, as well as her steps for elevated wrapping, and hope you enjoy. XXJKE
SL: Some of my favorite tools for inspired finishes:
Foliage Toppers – Our Simone LeBlanc for Jenni Kayne Holiday toppers collection, available at Jenni Kayne stores
Boxes – I love a nice, sturdy box for wrapping. Starting your wrappings with a great box makes it so much easier to create a cleanly wrapped gift. Paper Source has some great mailer box options that are so easy to wrap. Paper Mart also has a broad selection of lighter weight boxes in a variety of sizes, so you will be covered no matter what size your gift may be.
Paper – The plain rolls of neutral toned wrapping at Paper Source can't be beat. I use the kraft colored paper constantly and recommend always having it on hand as a go-to.
Metallic Bakers Twine – Because we all love a little sparkle during the holidays…this metallic twine is just perfect.
Linen – Although you can find a gorgeous, natural linen at most fabric stores, there are some lovely options online as well. Dharma Trading Company carries a great linen and hemp blend that will work beautifully for many chic crafting projects.
How To:
1) Cut a piece of wrapping paper roughly to the size you will need to wrap your package. For the linen pieces, cut a strip of linen approximately 1" smaller than the width of your box. You will want to make sure that the linen isn't as wide as the box, so that you can see the kraft paper peeking out on each side of the box underneath the linen. Make sure to cut your linen horizontally, so you do not waste your fabric!
2) Carefully wrap your box as cleanly as possible; if you start out with a crisp wrapping job, it will be a lovely contrast to the looseness of the linen wrap. Use double stick tape to adhere the paper.
3) Center your linen strip on your box and wrap the linen around your box. You can adhere the linen in a few different ways: glue gun, double stick tape or even loosely hand sew it together. The linen is meant to look somewhat loose and relaxed – so no need to be perfect here!
4) Cut a piece of bakers twine 2 – 3 times the length of your box. You can wrap the twine around the box a few times – the more you wrap, the more the metallic thread in the twine will stand out. Tie your twine in a secure little knot so the twine stays taut.
5) Once your package is all tied up, tie on your gift topper. Each topper comes backed with a linen cord so you can easily secure it to your gift. Simply tie on your topper and voila – your gifts are ready.
*contact stores for details and availability