Living
Ruth De Jong's Ever-Evolving Artistry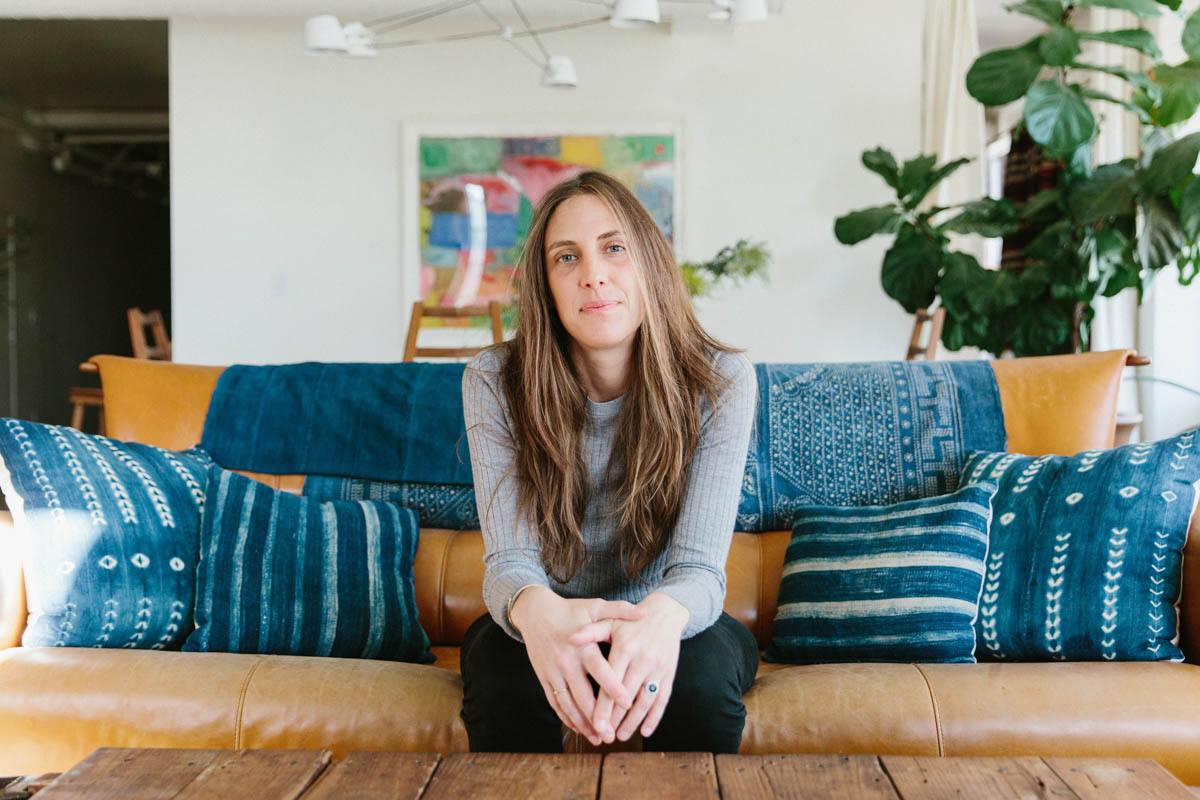 Ruth De Jong is a multidisciplinary artist living in Los Angeles, but with such a range of talent, that descriptor seems too simplistic. Most likely you've seen her film work—her first job on set was as art director of Paul Thomas Anderson's There Will Be Blood and her credits include production design for David Lynch's redux of Twin Peaks as well as the Oscar-winning Manchester by the Sea. Ruth also heads De JONG & Co, the family-run furniture and design studio that has shaped the atmosphere of some of Los Angeles' best restaurants and boutiques. And did we mention she's an amazing painter? Ruth, of course, is more than her resume, so we stopped by her loft in downtown LA to talk art, process, design and style. XXJKE
Rip & Tan: Your practice spans many mediums—painting, film, furniture, interiors…is there an underlying principle that stays consistent through all of your endeavors? What is the common thread that connects your work back to you?
Ruth de Jong: Growth is the common thread I strive for  – I love to work and I love to create. I never want to stop evolving as an artist and human.  I started painting which led me to film which led me to interiors. It was all a natural progression, not always an intentional choice but more so a natural flow through my work and goals. Each medium influencing the next and as I grew in each practice I brought with me what I previously learned. I push myself to grow in what I do not know or have not done, finding freedom and inspiration through my weaknesses. As I stretch and grow in one medium it naturally affects the other mediums. 
Rip & Tan: What are the challenges of working within multiple disciplines? 
RD: Never having enough time. I sometimes envy the artists who practice a single medium and dedicate their life to that medium. I often wonder where I would be with my paintings if I were only painting. But, I also know myself well enough to know that I could never focus on just one practice. 
Rip & Tan: Tell us about your career in film. What is the role of a production designer or art director on set?
RD: My career in film started the summer before going to grad school to pursue my MFA in painting. I had a long conversation with [production designer] Jack Fisk. Jack's daughter, Schuyler, and I were best friends in Charlottesville, and Jack is married to the actor, Sissy Spacek. I knew they were involved in film, but film wasn't a medium I had studied or pursued much less paid attention to; I wasn't a cinefile who watched movie after movie. Jack and Schuyler knew my work and interest in fine arts, and one day Schuyler planted the seed that I should pursue art direction.
I distinctly remember the evening we all sat around the dining room table late into the night. Jack and I talked about art direction for hours. He said, "I'm about to go do this film called There Will Be Blood with Paul Thomas Anderson." I had to Google Paul Thomas Anderson because I didn't know who he was! Jack said I should consider coming to work with him on the movie, but I knew that meant I wouldn't be able to also pursue grad school. I thought about it and decided to defer that first year from going (but most certainly I'd go the following year). That's the short version of how I got into film. I never went to grad school. Instead, I moved to LA and started art directing and designing, going on to work for Jack for the next ten years. Words cannot describe what an incredible adventure and experience that was. 
I branched out on my own as a production designer after art directing Inherent Vice. I designed a small western in New Mexico set during the civil war called Dead Man's Burden for Director Jared Moshe. Since then, I have gone on to design Manchester by the Sea for Director Kenneth Lonergan and Twin Peaks for Director David Lynch. I am currently designing the television series Yellowstone for Director Taylor Sheridan. 
My role as a Production Designer is to create the entire look and feel of a script and bring it to life for the production. Visual storytelling. Relating it to the real world, it's a combination of being an architect, interior designer and landscape designer with the purpose of helping to tell a story. Sets are the inanimate and omnipresent character in a scene.
Rip & Tan: What is it like working with your brothers at De Jong & Co? How does the familial dynamic shape your work?
RD: I love working with my brothers! Our practices our very different  – Peter is the furniture designer and maker, Philip the photographer and graphic designer and I head up the interiors. We each have a very strong voice in our respective practices, but our styles complement one another. This makes it fantastic to come together as a company and even sweeter as siblings.  It certainly requires a different level of intentionality while working with family and maintaining healthful relationships as siblings and as partners, but that devotion to each other and our crafts is what brought us together in the first place and, I believe, what continues our successes as individuals and as a company. 
Rip & Tan: What's the next step for you? Do you have any exciting projects lined up or any goals you want to achieve this year?
RD: I am currently designing a show called Yellowstone that will air on the new Paramount Network June 20th, 2018. I've teamed up with writer/director Taylor Sheridan and had an incredible time creating the worlds for this modern western set in Montana. Yellowstone follows the Dutton family, led by John Dutton, played by Kevin Costner, who controls the largest contiguous ranch in the United States, under constant attack by those it borders — land developers, an Indian reservation, and America's first National Park. It is an intense study of a violent world far from media scrutiny — where land grabs make developers billions, and politicians are bought and sold by the world's largest oil and lumber corporations. Where drinking water poisoned by fracking wells and unsolved murders are not news: they are a consequence of living in the new frontier. It is the best and worst of America seen through the eyes of a family that represents both.
As for upcoming projects, it's always a moving target. I stay busy between larger projects with interior design and production designing commercials. 
Rip & Tan: How would you define a Californian aesthetic? 
RD: Light-filled. 
Rip & Tan: Your loft incorporates earthy, organic elements with a clean, spare minimalism. What influences from your past have shaped your taste today?
RD: I'm constantly traveling and/or on location working – the places I go influence my ever-evolving style. There isn't one underlying theme I stick to, except that everything I pick up along the way is made by an artist or creator that I have discovered or been introduced to. In my early twenties I did not pay attention to where things came from and ended up with too much "stuff". I woke up one day and made a point to only buy artisanal goods. Getting rid of most everything mass produced. Everything I own from my silverware, plates, cups, pillows, bedding, clothes, furniture, etc. I know where it was produced and who made it and the story behind it. I find so much joy collecting as I go. I decided to strip away the disposable and am left with a collection of pieces that are authentic, organic and well made. It's a beautiful thing. 
Rip & Tan: What do you prioritize when designing a space for yourself? 
RD: Creating a space that makes you want to sink into any seat in the house, I don't like leaving any corner unconsidered. Comfort and design shouldn't be separate entities or qualifications. 
Rip & Tan: Do you have a favorite corner of your loft? What makes it special to you?
RD: The living room area on either sofa, the light flooding through the corner windows of the loft.
Rip & Tan: What does your ideal workspace look like?
RD: Minimal, clean, organized. A large space to spread out and look at the whole of whatever it is I'm working on. A wall full of imagery. 
Rip & Tan: Your work can also be found in the interiors of some of LA's best restaurants. How do aesthetics play into the experience of a meal?
RD: I believe there should be a cohesiveness between the food and surroundings when dining in a restaurant, you are not only paying for the food, but the experience. The space and food should transport you and evoke a feeling or emotion. The two should work together and be carefully considered across all details of the meal and experience. It's not dissimilar to designing sets. Dining out is situational and therefore always momentous – big or small. The surroundings should play their part in telling the story of the food, restaurant, or chef. 
Rip & Tan: Describe your ideal dinner party: who is invited, what is being served, what does the atmosphere look and feel like? 
RD: Outside, with close friends and family, a home cooked meal, great wine, fresh cut flowers on the table, candles: a relaxed, comfortable atmosphere.
Rip & Tan: What does a typical morning look like for you when you're working? On your days off?
RD: A typical morning has me waking up at 5/6am, drinking a full glass of water with lemon, making coffee in my Chemex and having breakfast. When I am off it's very similar—just might be more like 7/8am. I am absolutely a morning person and love starting my days productively.
Rip & Tan: Are there any tried-and-true beauty products you swear by?
RD: Organic Jojoba oil on my face every morning (I don't wear makeup), simply wash and lather a thin layer across my face – it's an amazing moisturizer. Salt block deodorant. 
Rip & Tan: How do you find time to take care of yourself? What do you do to turn off, slow down, and recharge?
RD: I love a good steam and massage, soaking in hot springs, hiking, and being in nature.