Food & Drink
Real and Raw: Mylk and Renew Juicery Founder Brooke Rewa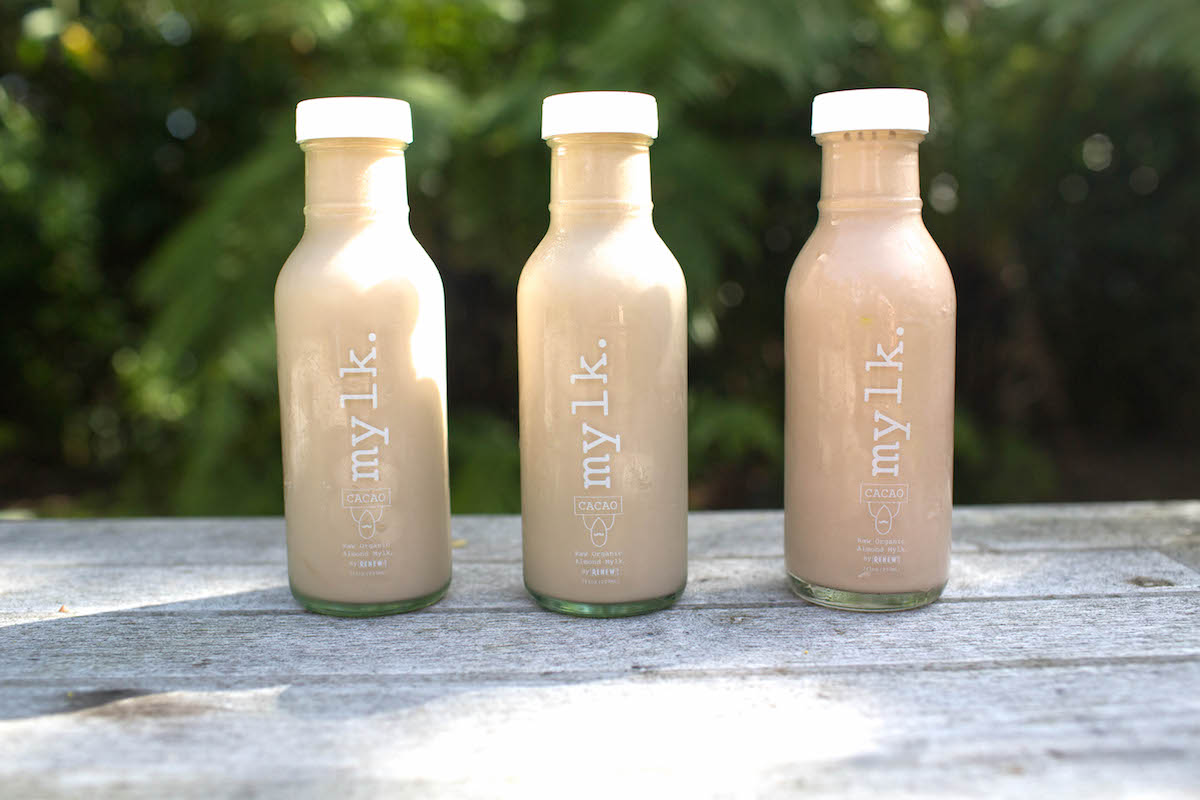 At our recent Easter egg hunt, we served kid-friendly bottles of Mylk, which was a hit for both the little ones and adults. The delicious raw, handmade almond milk label is the creation of LA's Brooke Rewa, who worked in film, TV and for startups before launching her own business. Her counterpart to Mylk is Renew Juicery, which comprises raw, organic, cold-pressed juices that incorporate superfoods and medicinal herbs. 
In addition, Brooke has a Culver City shop called Cold & Thirsty, where all of her wholesome, functional beverages are served and, alongside them, customers can experience cryotherapy. (More on that below!) An inspiring entrepreneur, she has a refreshingly honest and pure approach to her mission of bringing healthful drinks to as many people as possible while maintaining quality. For further details on Brooke's concoctions, go-to ingredients and their benefits, read on. XXJKE
Rip&Tan: With so many juice companies entering the market in the last five years, what motivated you to start your own? 
Brooke Rewa: My biggest motivator was the change I saw in my health when I started consuming only whole food and cold-pressed juices. I also felt like there was a need for a cold-pressed juice line that didn't cut any corners—a product that was truly raw, organic, bottled in glass and delicious. 
Rip&Tan: How did Mylk come about? 
BR: Mylk was really born out of demand. I saw my customers wanted the option to feed their families a truly clean, organic almond milk, something you couldn't find at the local grocery store, unfortunately. 
Rip&Tan: What sets Renew juices apart from others? And your mylks? 
BR: Our juices are truly raw. You will find many of the juice companies out there switching to a process called high pressure processing, where the juice can still be called "raw" but has a shelf life of 45 days. We will never go that route as we want to provide a truly fresh and nutrient-dense product. We also only use organic ingredients, source our produce local and add superfoods and medicinal herbs to many of our juices. 
The mylk line is unlike any almond milk you will find at the store. We use raw organic almonds which we sprout so they are easy to digest and all of their nutrients are able to be absorbed by our bodies. We don't add any fillers, chemicals or preservatives. You will find many of the store-bought almond milks have a six-month shelf life or more, we have a five-day shelf life—like real food should! 
Rip&Tan: What are some of the unique benefits of your juices? Do you formulate them with certain needs or problems in mind? 
BR: Definitely! Our juices all have names that describe their functionality: Radiant Skin, Detoxify, Inflammation Flush, Alkalizing Greens, etc. I've formulated each juice to be really functional and effective. Our Radiant Skin juice has things like blueberries, pearl powder, ginger and chia seeds in it. You can literally see a difference in your skin after one bottle. 
Rip&Tan: Your retail location in Culver City, Cold & Thirsty, has a cryosauna. How did you get introduced to cryotherapy and can you explain what it is? 
BR: Cryotherapy was introduced to me through a friend who used it to boost energy and get rid of inflammation. The first time I tried cry it cured a migraine I had, which normally would have put me in bed for two days. I was immediately hooked! At the shop we have a Whole Body Cryosauna. This is a chamber we cool down to -240 F and put clients in there for two to three minutes. It immediately reduces inflammation, boosts energy, helps burn 500-800 calories, helps with sleep and tightens skin, among many other things.
Rip&Tan: How do the juices and cryosauna work together? 
BR: The juices were designed to help fight specific issues and symptoms, many having to do with skin, inflammation and energy. The cry is an amazing complement to the overall goal of Renew Juicery, which is to help people live their healthiest life. 
Rip&Tan: What are some of your favorite powerful and hard-working ingredients?
BR: Oh gosh, foods and medicinal herbs are something I could geek out over for hours. 
Astragalus: My favorite herb. Super immune boosting, anti-viral, helps improve brain function, helps prevent the visible signs of aging. 
Pearl powder: Promotes bright, glowing skin, high in calcium.
Cacao: An amazing brain food and healthy fat. Great for an energy boost! 
Turmeric: When juiced it's super potent at reducing inflammation and boosting the immune system. Sometimes I even use it topically for inflammation. 
Chaga: A medicinal mushroom that is incredibly high in antioxidants, slows the aging process and is an adaptogen.
I love superfoods and herbs so much that we've created a wall of them at the shop where customers can purchase them in bulk or make their own mixes. These foods are so powerful that I waned to make sure they were accessible to anyone who comes into our shop. 
Rip&Tan: What are some of the other wellness practices you incorporate into your daily routine?  
BR: I've been working on meditating. It's so powerful and you really see a difference in mental clarity and overall patience, I've found. Baths are a big thing for me also. Not only do they help you release a lot of toxins, but they allow your mind and body to relax and feel safe and comfortable. I'm obsessed with Pursoma bath salts, which have ingredients that help you detox from EMFs and other modern toxins. I also recently purchased a trampoline to help make sure my lymphatic system is moving and draining properly. I'm hoping it has some butt-tightening side effects, too! 
Rip&Tan: Are you a proponent of cleanses or detoxes using your juices and mylks? 
BR: The words 'cleanse' and 'detox' have become such buzzwords lately. I am not a proponent of cleanses that only consist of juice/nut milk. We don't even offer one. Our cleanse is a combination of juice, raw/vegan food and our superfood mylkshakes. I also think a cleanse should be an experience that involves more than just food. So many emotions can come up when we are cleansing that should really be dealt with. These things are just as toxic as the toxins in our body from food. I really think it should be a very thoughtful, planned experience where you have the tools to work through it gracefully and come out a better person on the other end, not just a few pounds lighter from only drinking juice for three days. 
I feel so strongly about this that I have created retreats around this idea. We provide the space and tools needed to cleanse emotionally and spiritually, and then send each of our retreaters home with our 3:day Superfood Cleanse. We call them Renew Wellness Retreats. 
Rip&Tan: What kind of difference have you seen in your own life since creating Mylk and Renew? 
BR: My overall health is really great, not only because of my products but also because of the products I have been exposed to in this amazing health/wellness/organic food community I am now a part of. It's also just incredibly rewarding and fulfilling to speak with people on a daily basis who are evolving in their health journey and using our products to help them along the way. 
Rip&Tan: Are there any new blends on the horizon you can give me a preview of? 
BR: Yes! We're releasing these this month:
Beta Love: carrot, coconut, ginger, lemon, lemongrass
Vibrance: cucumber, apple, spinach, parsley, lemon, ginger
We will also be launching Renew Pantry soon, which will be some of the staple items I use in my kitchen, like our own turmeric and ginger powders and amazing raw honey. 
Photo: Brittany Wood