Living
Profile: Peggy North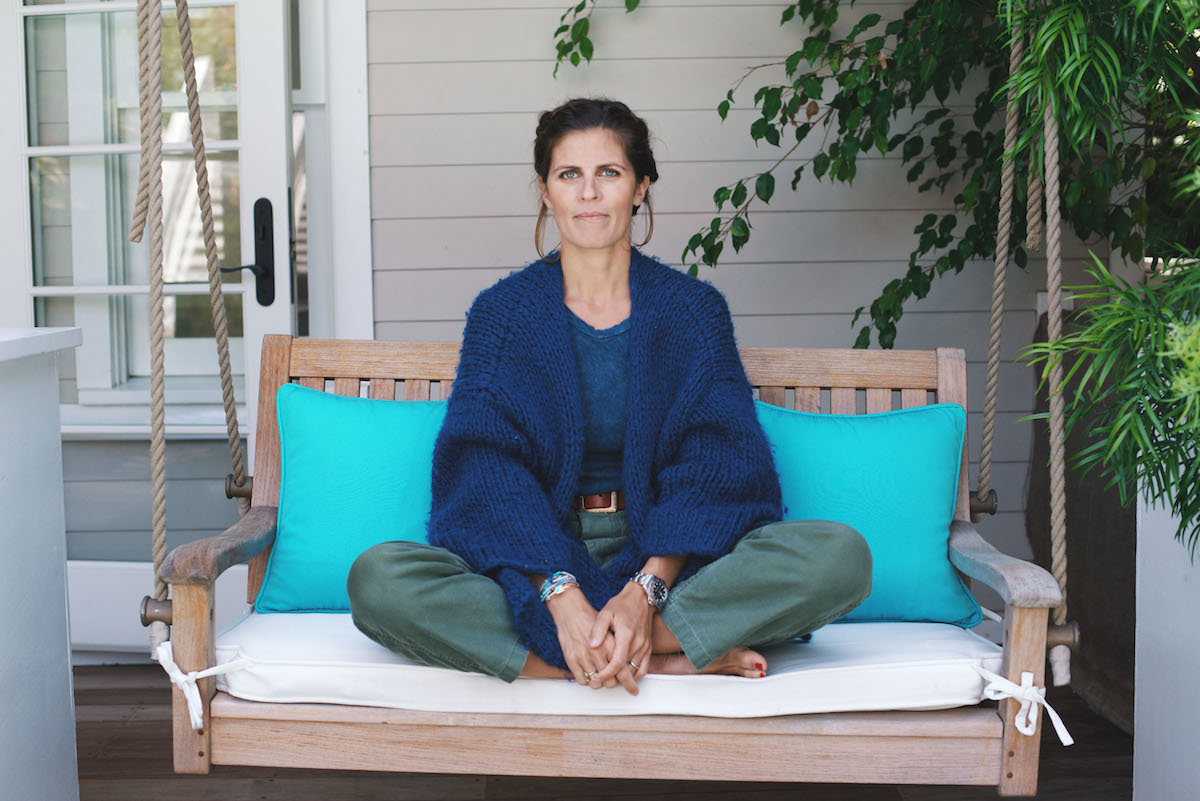 I was first introduced to Peggy and her shop, Fire and Creme, through my friend Ambre – and loved both instantly. Wonderfully laid-back and a study in effortless cool, she is an endless source of inspiration and a go-to for all things amazing for little ones (especially their parties). Born and raised in Paris, she comes from a long line of women who view get-togethers as a matter of style and décor – her mother and aunt still throwing the most incredible of parties, when given the opportunity.
A helicopter coordinator/stunt double for movies for a number of years (her husband is also an acclaimed motion picture helicopter pilot) she travelled the world, experiencing places, cultures and people who would provide her with a wealth of inspiration. In 2012, she decided to open her own event planning company, and one year later, its accompanying shop.
Peggy lives in Venice with her husband, step-daughter Naomi, and sons Tom and Cooper, in a traditional Craftsman beach bungalow built in 1912. Her home is just as you might expect it to be – easy, chic, warm and inviting, with details and design that mirror her signature style. I hope you enjoy this look inside. XXJKE
Beauty
R+T: What are your go-to beauty products? Why?
I always liked NUXE and Estherderm. They are organic and I love their fragrance.
R+T: Is there anything special you would like to share about your beauty routine?
I am very basic. I just make sure my skin is properly moisturized.
R+T: Bath or Shower?
Shower twice a day.
R+T: What do you sleep in?
Depends of my mood and the weather.
Health
R+T: What do you do to stay healthy and balanced?
I start the day with a kale smoothie at GTA . I try to eat a little bit of everything and a ton of fruits and vegetables daily.
The minute I feel something is wrong, I go to Moon Juice and get a shot of their immune boost juice. It really works for me.
R+T: Do you workout, what do you swear by?
Yes I do. I train with TR from Pro Camp 3 times a week, he is my mentor. SoulCycle once a week and surf whenever I can.
R+T: What do you do to relax?
I get a massage once a week at my house. I have this app "Soothe", it's like UBER for massage. Or I go for a motorcycle ride. No phone.
Decor
R+T: What is your design philosophy for your home?
Cozy, simple, bright, lived in.
R+T: What is your favorite room in the house?
Love my kitchen, spend a lots of time cooking with the kids. It's the center of the house.
R+T: What are your favorite pieces in your home?
I don't have one. I love everything we have.
R+T: What are your favorite home stores?
In Paris, my first stop will always be Caravane, in the Marais. In Venice, Bazar, Tortoise General Store, Venice Vintage Paradise and General Store. In West Hollywood, Jenni Kayne Home store.
Entertaining
R+T: Do you entertain at home? If so, what are some of your tricks?
Yes! I usually plan it at the last minute.
R+T: How do you set the scene?
Music, flowers, MERCI linens
R+T: Plated, Buffet, or Family Style for a dinner party?
Family style.
R+T: What are your favorite flowers and where do you buy them? A favorite florist?
If I have time, the downtown flower mart is one of my favorite places to go. It feels so real and alive. Otherwise, I get my flowers from Fiore Designs, around the corner from my house.
Fashion
R+T: How would you describe your style?
Surfer Parisian, if that makes any sense.
R+T: Who are your favorite designers?
Currently obsessed with Ulla Johnson. My fave: Celine, Greg Lauren, Closed and NSF.
Nick Fouquet's hats.
R+T: What are the 5 pieces you can't live without this season?
Saint Laurent sandals, Jenni Kayne tee-shirts, Ulla Johnson Pancho, Mansur Gavriel handbag, Closed jeans.
R+T: What is your uniform?
Oversize sweaters, jeans and cool boots.
Art
R+T: Who are your favorite artists?
Christo has always had a very special place in my heart. I was 8, when my mom took me to see the Pont Neuf all packed up by him, the dimension of the project changed my perception of art.
Jean-Paul Goude also completely transformed my creative world, as did Luis Barragan.
R+T: What is your favorite piece of art you own?
Adam Secore's photo of Malibu surfers. 
Kids

R+T: What are your favorite stores online and in store to shop for kids? 
Serendipity and Smallable.
R+T: What's your favorite thing to do/place to go on the weekends with your kids?
Go surfing.
R+T: What is your favorite restaurant to eat at with the whole family?
Early Brunch at Gjelina or Sunday night, Wabi Sabi on Abbot Kinney.
Shopping & Blogs
 R+T: What are your favorite stores (online and in store) for clothing?
Heist on Abbot Kinney.
I rarely shop cloth online, I need to try.
R+T: What is your favorite city for shopping?
Paris.
R+T: Are you an impulse buyer, or do you wait to commit?
Impulse buyer.
R+T: What are your favorite blogs?