Living
Profile: Marlien Rentmeester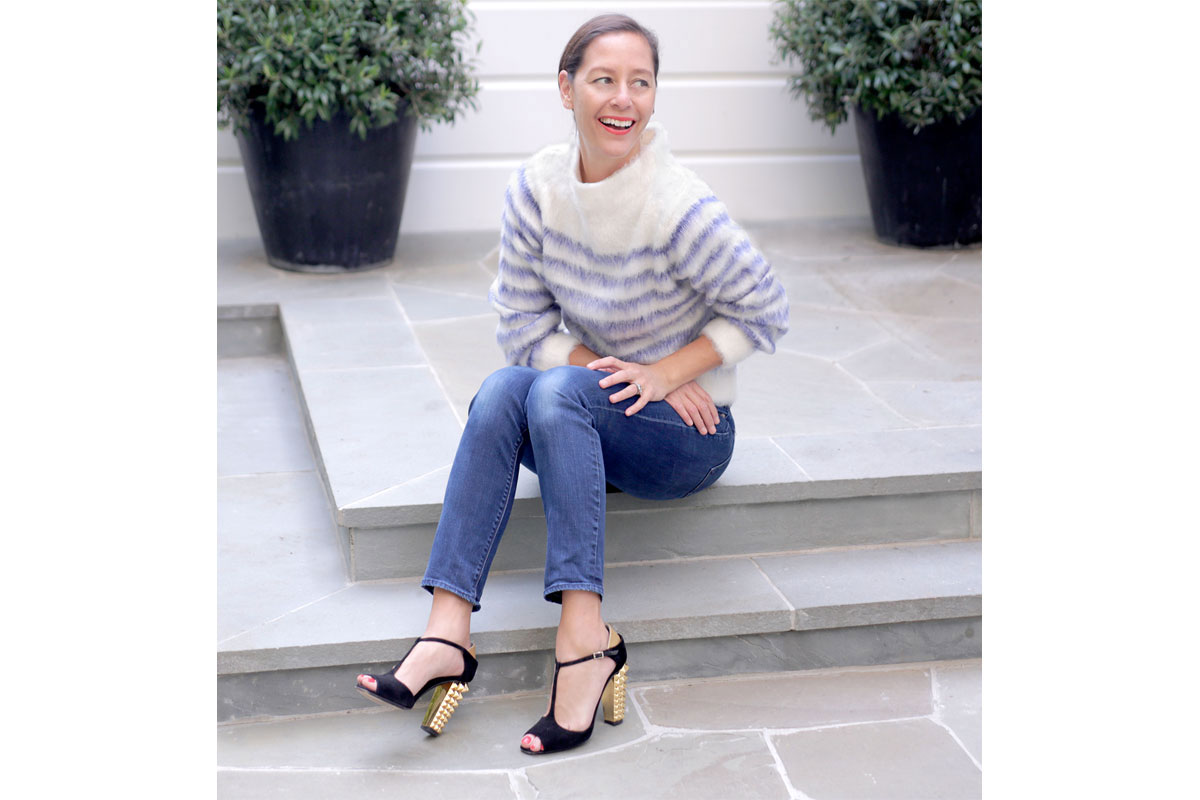 I first met Marlien on a Lucky shoot years ago when she was their West Coast Editor. Some time later, I ran into her identical twin sister Coliena (her adorable daughter Phoebe goes to school with Tanner), and through her, Marlien and I reconnected.
Part of Lucky's founding team, Marlien has had an impressive career as a fashion, beauty, and fitness editor for numerous publications, and her contributing articles have been featured in the likes of Vogue, Elle, and New York Magazine. With such a resume, it's no surprise that her latest endeavor has struck fashion gold. Her blog LE CATCH, which I featured earlier this week, has very quickly achieved cult status, and counts editors, designers, stylists and celebrities among its many fans.
Born and raised in New York City, Marlien now lives in the Pacific Palisades with her husband and two young sons. Though every detail has clearly been paid attention to, her home is wonderfully laid back – very California – and reflects her distinct and colorful sense of style. I hope you enjoy this look into her beautiful home as much as I have. XXJKE
Beauty
R+T: What are your go-to beauty products? Why?
Beauty Counter facial moisturizer –it's chemical free
Harmonie Shampoo –it's gluten free, it's fragrance free, it's everything good for you!
Nars Dragon Girl Lipstick –it's all I need to look "done"
Jouer tinted moisturizer –it goes on sheer but provides the best coverage
R+T: Bath or Shower?
Both, frequently, and I like the water very hot.R+T: What do you sleep in?
Pajama pants and a t-shirt. Definitely my most unglamorous state.
Health
R+T: What do you do to stay healthy and balanced?
I work out most days a week. If I don't I feel guilty and less energetic. I embrace my workout like a modern-day oracle: I run, hike and downward dog to divine resolutions to work issues, strained relationships, even dinner party menus.R+T: Do you workout, what do you swear by?
There's nothing better than a long run on the beach. Lately, I've been doing Tracy Anderson's videos at home, which are targeting little muscles I never knew I had.R+T: What do you do to relax?
I head to the beach with my family. I also love having a glass of wine and cooking.
Decor
R+T: What is your design philosophy for your home?
It keeps evolving! But the constant tenet is to keep things comfortable and welcoming.
R+T: What are your favorite pieces in your house?
I recently bought some Lulu DK pillows, each of which have the power to transform a space, couch, bed, etc! I also love the personal photos I have everywhere–many of them taken by my twin sister and my father, both of whom are professional photographers.
R+T: What are your favorite home stores?
Nathan Turner, Big Daddy's Antiques, Wertz Brothers, Kristen Buckingham, Circa Who in Palm Beach, Design Within Reach, Rose Bowl Flea Market.
R+T: What is your favorite room in the house?
My closet. It's by far the smallest room in the house but it's all mine!
Entertaining
R+T: Do you entertain at home?
I don't entertain often but when I do, it's mostly outside in our backyard. For dinner parties, I'll set up one long table with lots of pretty blooms and votive candles.
R+T: How do you set the scene when you have people over?
I love having lots of nibbles scattered around the house, so people don't linger in one spot. I also put flowers everywhere, because they make things more festive and make guests feel special, like they're being celebrated.
R+T: Plated, Buffet, or Family Style for a dinner party?
Buffet or family style works better in my house, since it has a casual, sit-down-and-make-yourself-comfortable vibe. Plated dinners can feel so stuffy and formal. I prefer to make guests feel at ease, at home.
R+T: What are your favorite flowers and where do you buy them?
I love peonies and wild roses. I usually stick to monochrome arrangements and scatter mint julep cups with blooms everywhere in the house. If I really want to make an impression I'll have Botany or Holly Flora do the flower arrangements for the table.
Fashion
R+T: How would you describe your style?
Classic and rooted in a mix of high and low and vintage.
R+T: Who are your favorite designers?
Chloé, Céline, Erdem, COS, Chanel, J. Crew.
R+T: What are the 5 pieces you can't live without this season?
My vintage Louis Vuitton jean jacket, my Veronica Beard tuxedo blazer, a vintage Deco-spirited black beaded dress, a pave diamond Jacquie Aiche ear cuff, and Madewell rail-straight jeans.
R+T: What is your uniform?
Jeans with a statement top or jacket and flats.
R+T: What is your newest purchase?
A pair of denim Chanel espadrilles–so cute!
Food
R+T: Do you cook?
I am cooking more and more these days. I used to be intimidated by cooking–or shall I say by cooking well–but I am now just enjoying trying new recipes and making most dinners special for my family.
R+T: What is your favorite recipe?
My friend Annie's kale salad, made with loads of parmesan, roasted almonds and dried cranberries. I could literally eat it everyday.
R+T: What is your child's favorite recipe?
Their favorite meal is grilled chicken, roasted brussel sprouts and crispy kale. They also love tacos.
Art
R+T: What is your favorite piece of art you own?
Too hard to decide on just one, as I come from a family of photographers and their art line the walls in my house. That being said, I do love the Massimo Vitali beach print I have in my bedroom. It's the first thing I look at when I wake up in the morning!
Kids



R+T: What are your favorite places to shop for kids?
MOMA store in Soho, Scholastic in Soho, and Poppy in Brentwood.
R+T: What's your favorite thing to do/place to go on the weekends with your kids?
We go to Hollister Ranch and Paradise Cove a lot to surf, paddle board and picnic.
R+T: What is your favorite restaurant to eat at with the whole family?
Café Habana in Malibu. We pop in after spending the day on the beach in Malibu. With saltwater still in our hair, we load up on chips, guac–and margaritas for the parents!
Blog
R+T: What inspired you to launch LE CATCH? What are your sources of inspiration today?
I grew up in New York where I developed both a passion for fashion and an interest in magazines–my Dad was a photojournalist for Life, Time and Sports Illustrated among others. After college I joined People, and later was an editor at Seventeen and then at various Conde Nast magazines. Most recently I was the West Coast Editor at Lucky Magazine. I have always enjoyed fashion, shopping and writing, and my career as a fashion editor has always kept me immersed in those things. I am also obsessed with treasure hunting—i.e., finding the fashion diamonds-in-the-rough, unearthing great deals and vintage goods.
I started LE CATCH in 2011 in part as a way to share my latest and greatest fashion finds with my friends on a daily basis. (A number of them had been campaigning for me to do it, as they felt anything less than a daily update from me was somehow causing them to miss out!) It's truly been a passion project, and very rewarding to see so many other people respond to it.
We live in the Golden Age of shopping. There's so much amazing fashion online, sometimes at ridiculously affordable prices. However, the choices are seemingly infinite, so it can be hard to know where to start and to find the time to search through it all. LE CATCH is basically my daily edit of the internet fashion universe—my goal is to try to find one item every day that's so good, it would be crazy not to buy it! It's fun for me, as I love the hunt, and I kind of feel like I get to window shop for a living, and of course I manage to buy a few things myself!
R+T: Do you have any new projects on the horizon?
To get through the day in tact, with posts on time and kids thriving!
R+T: What is your favorite part of your job?
Sharing information–or what I like to call sharing the love!
Photos: Michael Wells
Portrait: Coliena Rentmeester