Living
Profile: Liseanne Frankfurt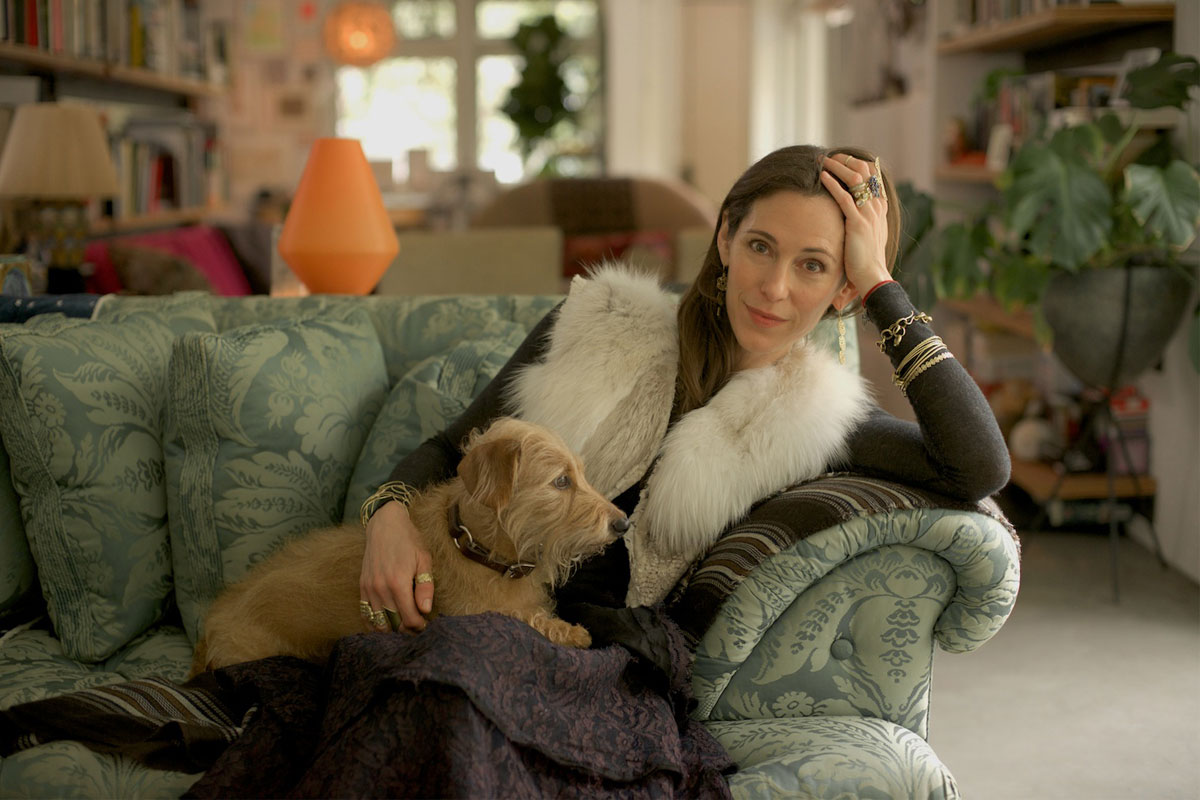 I met Liseanne years ago through Kendall Conrad when we were doing a trunk show together in Montecito – and was instantly enamored. She has amazing style, makes gorgeous fine jewelry, and has the calmest, loveliest energy.
Her Mar Vista home is the perfect extension of her personal style. Layered with incredible art, finds, and textiles, it is a hidden gem designed in 1948 by architect Gregory Ain as part of a development called the "Modernique" homes. Liseanne shares her home with her husband, two teenagers, Sacha, 16, and Ines 14, and two wire haired dachshunds, Fritz and Flora. They moved into the house in 1994 and began renovations in 2003. Mia Lehrer designed the pool and garden, and architect Jeff Guga aided in interpreting Ain's vision with maximum sensitivity, while incorporating the needs of the family.
One of my very favorite elements of her unique home: the 100% beeswax candles that she has burning throughout. Liseanne shared that these candles are a true constant in her life, with several burning at any given time – the beeswax serving to clean the air by releasing negative ions, and the essential oils, so important for her sense of well-being. She sells these specially made candles, with heavenly scents of frankincense, geranium, lavender and bergamot, inside her Abbot Kinney store, LFrank Jewelry.
I hope you enjoy this peek inside her home and her world – I certainly did. XXJKE

Beauty
R+T: What are your go-to beauty products? Why?
I am such a fan of a great beauty product, and I try new products all the time. At the moment, I especially love:
Vered, Nahla, Dayle Breault, Amala, ISUN, and Odacite.
I gravitate towards products that are all-natural, non-toxic, and smell amazing, and these products meet all of those requirements.
R+T: Is there anything special you would like to share about your beauty routine?
I'm fairly low maintenance, but I do take good care of my skin. I have a facial with the incredibly gifted Dayle Breault once a month. I use a facial scrub a few times a week, and a mask once a week, if I have time and remember (which hasn't been too often lately, I must admit).
I have my eyelashes tinted, so I don't have to wear mascara.
R+T: What are the 5 products you couldn't live without?
Oh, That's tough…only 5? I'll try!
Strange Invisible Perfumes Dimanche or L'Invisible Parfum
RMS or Intelligent Nutrients Lip Balm
Bariani Olive Oil Body Cream …scented with Myrrh
Kide Blush…it comes in a chic wooden box and has diamond powder in it!
Dayle Breault Synergy Mist …absolute heaven.
Vered Organic Botanicals Therapeutic Balancing Face Oil and Le Chocolate Citrus Foaming Face Scrub …amazing.
R+T: Bath or Shower?
Either one, depending on the day….
Shower with Strange Invisible Perfumes Frankincense and Coriander Body Wash, plus a body scrub, usually Odacite Invigorating Jasmine-Mimosa Body Scrub or Nahla Brown Sugar Body Polish. Or, a Bath with tons of salt and Ren Moroccan Rose Otto Bath Oil.
R+T: What do you sleep in?
Long silk and lace slips, linen bed sheets, and the most amazing cashmere blanket from my friend in London, Rose Uniacke.

Health
R+T: Do you have any health tricks?
So, so many…yes. Hot water with Lemon every morning, ginger tea in the evenings. Green juice daily at Moon Juice or Rejuice. Supplements and foods to stay as alkaline as possible. Dry brushing every day. Oregano oil if I'm feeling like I need extra immunity, turmeric to reduce inflammation. Far-Infrared sauna once a week. Eating organic food, exercising, and drinking lots of water.
R+T: What do you do to stay healthy and balanced?
Pilates, meditation, walks with my two wire-haired dachshunds. I have been seeing the amazing Linda Bienenfeld for Hellerwork for a few years, which helps tremendously. Five Element Acupuncture with Neil Gumenick, along with a custom blended Alexis Smart Flower Remedy have both been lifesavers in the balancing department.
R+T: Do you workout, what do you swear by?
I have done pilates 3 times a week for about 15 years. I love Good Body Pilates in Santa Monica, owned by the lovely and amazing Emilie Bernstein. Last summer I discovered Trampoline Barre with Shonda Bradford in East Hampton, which I look forward to again this year. If I weren't designing, I would be dancing. Which, by the way, is what Giorgio's at the Standard Hotel on a Saturday night is good for!

Decor
R+T: What is your design philosophy for your home?
Buy pieces we love, and all will go together somehow. Use beautiful things daily, not worry about anything staying pristine. There is a lot of color, texture, and meaning. Art by friends, pottery by the children, dogs on the furniture. The patina of wear…
R+T: What are your favorite pieces in your house?
The giant metal and glass coffee table from Tony Duquette's garden. I think it began life as a gate of some sort, but magically it became a table with leg extensions to be raised to dining height. The camel legged table (yes, they're real!), and the pair of emerald green silk damask sofas that are from Peter's mother, the late decorator Suzie Frankfurt. The antique sleigh bed that Peter had when we met, which became our son Sacha's first bed when he decided that sleeping in a crib was no longer fun. The raspberry pink Dux sofa I bought online at 2am one night last summer when insomnia struck. The Charles Hollis Jones Lucite and upholstered bench in Ines's room. I could go on…
R+T: What are your favorite home stores?
Yours looks fabulous! I am looking forward to visiting soon. I also love Turpan, and am so happy that they are back in LA. Tortoise, A+R, and Chariots on Fire are in my neighborhood, and I tend to find everything I need and more between the three. I also love Bloom in Sag Harbor. My sister-in-law introduced me to it years ago, and I think it's incredibly chic.

Entertaining
R+T: Do you entertain at home?
Yes, quite often!
R+T: What are your tricks for entertaining?
Lots of options with food, a delicious cheese plate, and a casual attitude.
Fussy is never as fun. I always serve a marinated goat's cheese, which I do with lemon, fresh herbs, pink salt, black pepper, and olive oil. I also make chocolate dipped figs for after dinner, alongside whatever dessert I'm making. If I ever forget these two things, I will get a few disappointed looks!
R+T: How do you set the scene when you have people over?
A blazing outdoor fire, lots of scented candles from my store (frankincense is my favorite), low lights, music, and plenty of food and drink.
R+T: Are there any tips for what to do or what to avoid?
For larger gatherings, hire a bartender to ensure that no one has an empty glass, and a housekeeper for all the dishes. Make a large pitcher of elderflower water with mint and citrus slices for friends who don't drink. Always prepare for a few extra guests. Someone always ends up with a friend or two in tow…
R+T: What are your favorite flowers and where do you buy them?
Farmer's market, always.
I love peonies, sweet peas, queen anne's lace, garden roses, anemones…anything wild and romantic. Dahlias are special to me, as my father-in-law used to grow them and give me large bunches when we would visit. I also keep tons of orchids around, which come from the farmer's market as well. I like to keep them in clusters around the house.
R+T: Do you do them yourself or do you use a florist?
Myself for the house…and then I rely on the wonderful Felix Navarro from the The Juicy Leaf to take care of all of our potted succulents outdoors.
R+T: Who is your favorite florist?
I use Hollyflora or Lily Lodge when sending in LA, ZeZe in NYC, and Scarlet & Violet in London.

Fashion
R+T: How would you describe your style?
Very personal, feminine. Most of the clothes that I wear are designed by close friends. I wear either Gregory Parkinson or Pamela Barish most every day, and also my friend Cathryn Collins's amazing cashmere, I Pezzi Dipinti. I don't think I leave the house without one of her scarves or sweaters.
R+T: Who are your favorite designers?
Madame Gres, Vionnet, Charles James, Gregory Parkinson, Cathryn Collins… I Pezzi Dipinti, Pamela Barish, Maiyet.
R+T: What are the 5 pieces you can't live without this season?
Gregory Parkinson Slim Lace dress, Marsell flat loafer, Roseanna floral low-cut back silk dress, Pamela Barish Cordelia Wrap Dress, No. 64 Sunglasses from Linda Farrow x The Row
R+T: What is your newest purchase?
I just ordered the most chic and beautiful pillows from Gregory Parkinson in lovely spliced Ikat appliqué and block printed embroidered lace. They are going to be amazing on the pink sofa!
Art
R+T: Who are your favorite artists?
Kazuo Shiraga, Morris Louis, Millais, Gerald Incandela, Charles Fine, Kim McCarty, Alexandra Grant, James Turrell, Egon Schiele, Gunther Uecker.
R+T: What is your favorite piece of art you own?
So difficult to choose…The Nara drawing I bought for Peter for our anniversary years ago, the Kim McCarty watercolor nude, the Mapplethorpe portrait of Peter when he was in his twenties, the Melissa McGill rubber drawings that were inspired by the Bernini sculpture of Apollo and Daphne at the Galleria Borghese…the Charles Fine photograph of one of his tables with his painting as the background. I literally feel as though absorbed by an other-worldly landscape when I look at it.
Kids

R+T: Are there any kids finds you want to share with Rip+Tan?
I love Tortoise on Abbot Kinney for kids' gifts, as they have exquisite and special things always. Poppy in Brentwood has a wonderful selection of clothing that unfortunately my children outgrew ages ago! I always see adorable things at your store on Almont drive.
R+T: What are your favorite places to shop for kids?
I was just in Paris, and had a field day at Soeur, on Rue Bonaparte. It's heaven for teenaged girls…I came home with quite a few lovely pieces for my daughter, Ines.
R+T: What is your favorite restaurant to eat at with the whole family?
I love to sit in the garden at Axe for brunch on the weekends. It's such a magical spot, and the food that Joanna Moore creates is just heaven. We're there quite often. It's our canteen, really…
Shopping & Blogs
R+T: What are your favorite stores to shop for clothing?
I mostly buy clothes from my friends who are designers, or from the wonderful stores in my neighborhood…so I would say Mona Moore for shoes, Pamela Barish for dresses, and Heist, where I always find something great each season.
R+T: What is your favorite city for shopping?
Hard to choose between New York, London, and Paris…
R+T: What are your favorite sites for shopping?
Net A Porter, Pip-squeak Chapeau, Maiyet.
R+T: Are you an impulse buyer, or do you wait to commit?
I think I'm a thoughtful shopper. I usually only buy something if I absolutely love it, and I generally know immediately if that is going to be the case. Sometimes I sleep on something just to make really sure…
R+T: What are your favorite sites for recipes?
I love Food52 and Smitten Kitchen.
R+T: What are your favorite blogs?
Jewelry
R+T: How and when did you begin making jewelry?
I began making jewelry when I was a teenager, and started selling it my sophomore year at UCLA. It's hard for me to remember a time when I didn't make jewelry.
R+T: What are your sources of inspiration?
Art, architecture, history, mythology, nature, fashion, great beauty and TRAVEL!
R+T: What are your favorite materials to work with?
18k gold, diamonds, lapis, coral, tourmaline, sapphire, rubies, emeralds, opals, and pearls.
R+T: What do you love most about your job?
Being creative each and every day is a gift, and being surrounded by beautiful things is such good fortune. It's inspiring.
R+T: Any favorites in your collections?
That's a bit like trying to choose a favorite child…but at the moment I would say that I'm quite partial to my Sapphire Cluster Rings and my new Gypsy Chain Necklace.