Living
Profile: Kate Brien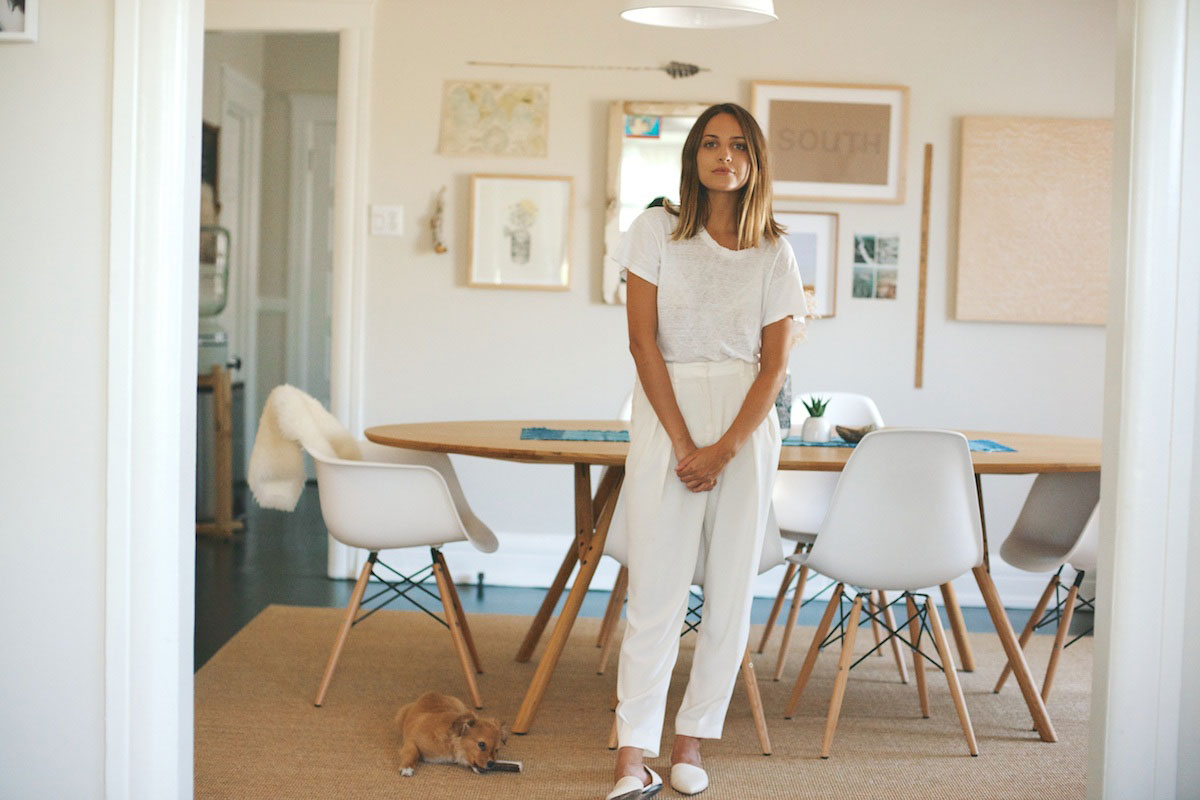 As mentioned yesterday, I have been fortunate enough to know Kate for a number of years – I met her sister Carly, whom I profiled over the summer, in high school, and was introduced to Kate by my sister Maggie when they were at NYU together. I fell for Kate instantly – she was adorable, had amazing style, and was the girl who always had a knack for finding the best vintage, which is an enviable gift. Now an incredible stylist with an equally incredible (and much-followed) blog, she is, not surprisingly, making her distinct mark on the fashion world.
Kate lives in Venice with her boyfriend, artist David Kitz, and adorable puppy Zoe in a classic 1930's Craftsman bungalow. Her home, much like her aesthetic, is wonderfully relaxed yet polished, with an artful mix of old and new. A welcoming space with thoughtful use of color and charming detail, it is the perfect reflection of their laid-back style. I hope you enjoy this look inside. XXJKE
Beauty
R+T: Is there anything special you would like to share about your beauty routine?
I am a creature of habit, so if something works, I stick with it.
R+T: What are the 5 products you couldn't live without?
Biologique Recherche p50 Balancing Lotion
Coola Mineral Sunscreen Rose Essence Tinted Moisturizer
R+T: Bath or Shower?
Shower. Twice a day.
R+T: What do you sleep in?
A vintage tee or my Jacaranda Living nightgown.
Health
R+T: Do you have any health tricks?
R+T: What do you do to stay healthy and balanced?
Meditation, yoga and a good dose of sunshine.
R+T: Do you workout, what do you swear by?
Kyle Miller Yoga. Kyle's class is humorous, rigorous and relaxing all at the same time. I feel so light and at ease after every practice.
R+T: What do you do to relax?
I try to get a massage once a week.
Decor
R+T: What is your design philosophy for your home?
Light, bright, and lived-in.
R+T: What are your favorite pieces in your house?
All of the art and rotating textiles.
R+T: What are your favorite home stores?
General Store, Venice Vintage Paradise, Amsterdam Modern, and flea markets.
R+T: What is your favorite room in the house?
The living room.
Entertaining
R+T: Do you entertain at home?
Yes!
R+T: How do you set the scene when you have people over?
Lots of flowers and great music.
R+T: Are there any tips for what to do or what to avoid?
Try to do as much prep as possible. That way when guests arrive you can spend more time with them then in the kitchen. And don't be afraid to ask for help!
R+T: What is your favorite song/playlist when you have people over?
Jackson Browne's The Pretender is an all time favorite.
R+T: Plated, Buffet, or Family Style for a dinner party?
Family style.
R+T: What are your favorite flowers and where do you buy them?
I love all kinds of wildflowers – Shasta Daisies, Ranunculus, Lavender… I usually buy my flowers at the Santa Monica or Venice Farmer's Market.
R+T: Do you do them yourself or do you use a florist?
I always put together my own arrangements. It's amazingly relaxing and rewarding!
Fashion
R+T: How would you describe your style?
Relaxed and minimal.
R+T: Who are your favorite designers?
The Row, Stella McCartney, Celine, Jenni Kayne.
R+T: What is your uniform?
A tee or button down, vintage Levi's & a pair of flats or sandals.
R+T: What is your newest purchase?
Dosa white eyelet lounge pants and a classic black Eres one-piece.
Art
R+T: Who are your favorite artists?
Vija Celmins, Ed Ruscha, Sam Falls and my boyfriend, David Kitz.
R+T: What is your favorite piece of art you own?
I love every piece of art I own. Right now I'm really loving a John Riepenhoff Plein Air painting of Miami Beach and a Daniel Turner PVC piece. But my favorite is probably the Invisible Envelope that my boyfriend made me for Valentines Day.
Shopping & Blogs
R+T: What are your favorite stores to shop for clothing?
Barneys, Mohawk General Store, Creatures of Comfort, Jenni Kayne, Painted Bird.
R+T: What is your favorite city for shopping?
LA or Paris.
R+T: What are your favorite sites for shopping?
Net-A-Porter, La Garconne, Trademark, Ebay, Etsy.
R+T: Are you an impulse buyer, or do you wait to commit?
I always impulse buy basics and vintage and spend some time thinking about those bigger purchases. I'll know within a few days if I absolutely need something.
R+T: What are your favorite sites for recipes?
Summerland, A la Alison, Free + Native.
R+T: What are your favorite blogs?
Jean Stories, Garance Doré, Vogue.com.
The Blog
R+T: Tell us a bit about what motivated you to launch your much-followed blog, View From The Topp…
I launched View From The Topp as a way to chronicle my daily outfits and do something fun and creative for myself. It's become something so much bigger than I could have ever imagined and is an ever-evolving platform of playfulness.
R+T: What is the most rewarding part of your work?
Seeing people respond to the images that I create. It keeps me going everyday.