Living
Profile: Elana Nathan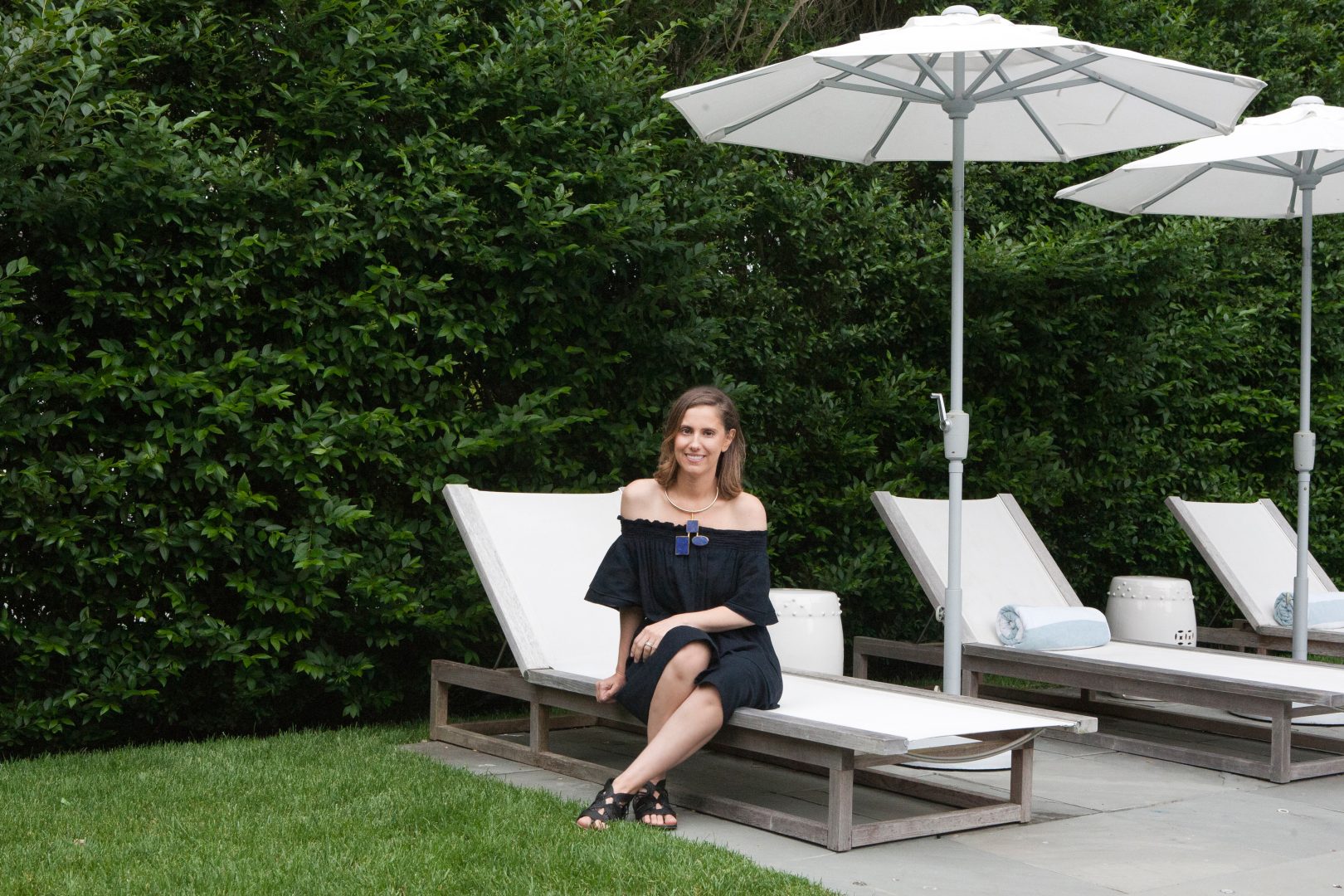 With the warmer weather comes a welcome excuse for long weekends and getaways, and for my family, some time by the water. For Elana Nathan, the Manhattan-based CEO and co-owner of Peter Som, those getaways are most often to her Sag Harbor home. A fashion executive whose resume includes a degree in law and roles as a pioneering e-commerce entrepreneur, she joined Peter Som twelve years ago, and in that time has catapulted the brand into one with global recognition. 
Elana was kind enough to welcome us into her home away from home, which shares with her husband and two young boys, Euan and Pierce. And for our visit, we were greeted with the most beautiful breakfast, courtesy of a local favorite, Madeline Picnic Co. A late 1800's Victorian located in Sag Harbor's historic district, her home features an adjoining cottage and a decidedly modern beach house aesthetic. A gorgeous light and bright space filled with carefully chosen pieces for decor and play, it is a home in which one cannot help but unwind. I hope you enjoy this look inside. XXJKE
Beauty
R+T: What are your go-to beauty products? Why?
I am a French pharmacy junkie. The products are so reliable. I also love Tata Harper. I use Le Métier tinted moisturizer and mascara, that's about it makeup wise. I love Weleda Skin Food cream. I have the tubes all over my office and houses.
R+T: Is there anything special you would like to share about your beauty routine?
Sleep is the best beauty treatment!
R+T: Bath or Shower?
Shower.
R+T: What do you sleep in?
Brooks Brothers pajamas but I just bought a pair from Jenni Kayne and am looking forward to testing them out!
Health
R+T: What do you do to stay healthy and balanced?
I try and sleep as much as I can, not always easy with two little boys. I started meditating every morning a year ago. After my oldest son was born I wasn't feeling well for a long time – I went to Dr. Frank Lippman at Eleven Eleven Wellness and he changed my life. I try and have regular massage.
R+T: Do you workout, what do you swear by?
I used to do Pilates, now I spin.
R+T: What do you do to relax?
We are most relaxed when we are here in this house as a family.
Decor
R+T: What is your design philosophy for your home?
Clean easy pieces that two rowdy boys could not mess up!
R+T: What is your favorite room in the house?
Does the backyard count as a room?
R+T: What are your favorite pieces in your house?
I love the C Jere brass boat sculpture, and the photos of the beaches everywhere. The kitchen chairs and the large mirror, which was a hand me down – the frame was from the Puces in Paris and we put the mirror in.
R+T: What are your favorite home stores?
In Sag Harbor and vicinity: Tiina the Store — It wasn't opened yet when we bought this house or my whole home would be furnished from there, Bloom – Sag Harbor, Monc XIII – Sag Harbor, Ruby Beets.
My other favorite home stores are probably in London and Paris I love walking up and down the Pimlico Road….it's a source of endless inspiration for me.
Entertaining
R+T: Do you entertain at home? If so, what are some of your tricks?
Yes, I hand guests a cocktail immediately upon arrival! This summer it's been aperol spritz. I repeat my menu often, my guests know what to expect when they come to my house and I don't stress about coming up with something new. Out here I rely on local standbys like my farm stand on Noyac Road, Cavianola's cheeses — and if I can get them, Brieremere fresh fruit cream pies from the North Fork for desert. They are always a crowd pleaser.
R+T: How do you set the scene?
At the beach it's all about good friends and the kids running around. Dinners in the kitchen or outside. Usually there are marshmallows involved, both s'mores and bonfires on the beach in summer or on the fireplace in the winter. I serve easy dishes like paella or deconstructed nicoise salad. In the city its less impromptu.
R+T: Plated, Buffet, or Family Style for a dinner party?
Buffet or Family Style at the beach, plated in the city.
R+T: What are your favorite flowers and where do you buy them? A favorite florist?
L Becker on the upper east side, and I love flower markets and farmers markets out east for flowers.
I couldn't chose one flower – I love so many. Lately I have wanted greens and not flowers in my house.
Fashion
R+T: How would you describe your style?
Classic with a punch.
R+T: Who are your favorite designers?
I don't like to kiss and tell.
R+T: What are the 5 pieces you can't live without this season?
A Celine knit maxi skirt
Striped T shirts from Commes des Garcons or A.P.C.
Sonia Rykiel denim culottes
Clog sandals from Prada or No. 6
Rondini wrap around sandals, I get a new pair every few summers
R+T: What is your uniform?
At the beach: white jeans and white dresses!
In the city: it depends on my mood and my schedule but usually an amazing pair of shoes and coat. In NY your coat is your "car".
Food
R+T: Is there anything about your diet you would like to share with R+T?
I don't eat meat or chicken, and I gave up coffee a decade ago. I wish I could give up all sugar and dairy…I try sometimes but it doesn't last.
R+T: Do you cook? 
I don't – but I like to say I "assemble well."
R+T: What is your favorite recipe? Your child's? Can we have a copy of them to share with Rip + Tan?
S'mores:
Supersize marshmallows
Organic chocolate bars
Graham Crackers
Very long sticks
Fire
1. Roast the marshmallows to your desired level of toasting
2. Break the chocolate in half
3. Put marshmallow and chocolate between the graham cracker
4. Eat
Art
R+T: Who are your favorite artists?
Richard Serra, Christopher Wool, Kippenberger, Richard Prince
R+T: What is your favorite piece of art you own?
Probably the Yves Klein tables in our NYC house.
In this house I love all the photos of the beach, especially the ones by my friend Lucia Engstrom, she is so talented. I also like the brass boat sculpture which I bought on 1st dibs. 
Kids

R+T: What are your favorite stores online and in store to shop for kids? 
Yoyamart
R+T: What's your favorite thing to do/place to go on the weekends with your kids?
We love to come here and spend time as a family. My boys love to collect crabs on the nearby beach and look at the boats in the harbor. 
R+T: What is your favorite restaurant to eat at with the whole family?
Sunset beach on Shelter Island, my kids love the old fashioned ice cream freezer and swimming at the beach after a meal. It's a classic case of "EAT, SWIM, REPEAT"
Shopping & Blogs
R+T: What are your favorite stores (online and in store) for clothing?
R+T: What is your favorite city for shopping?
Paris.
R+T: Are you an impulse buyer, or do you wait to commit?
I sleep on every purchase no matter how small.
R+T: What are your favorite blogs?
For Fashion: Garance Dore, Manrepeller and Keep it Chic.
For lifestyle: Rip & Tan and EyeSwoon.
Brand Building & Marketing
R+T: Tell us about your journey in luxury brand building and marketing, and how it led to your role as CEO and Co-Owner of Peter Som, Inc…
In my late 20s I started an internet company in the beauty space, it was a trial by fire introduction to the world of luxury products. I was hooked. I joke that it was also my MBA. Peter and I are the sole owners of this business. I think the brand's more than 3 million Pinterest followers and some of our amazing continuing projects with companies like Anthropologie reflects a unique brand within the fashion landscape.
R+T: Can you share a bit about your relationship with Peter? And what it was that drew you to both him and the Brand?
I met Peter 12 years ago through a friend of mine from College. In that moment he was one of the few emerging talents working in the business. His clothes were incredibly fresh.
R+T: We would imagine no day is the same… What are some of the constants in yours? 
I do the morning school drop everyday and I try and put my kids to bed as much as I can.
R+T: Tell us a few of your favorite things about living and working in NYC…
The energy of NYC is amazing. Everyone has a can do attitude. I love that it's rare for New Yorkers to accept "no" for an answer. I absolutely love the access to culture and especially art museums. The new Whitney is right by our house and I love it! And I have now lived in downtown through 9/11, blackouts, hurricanes, etc. And I love how New Yorkers stick together during the tough times. It's always remarkable.
R+T: A perfect evening after a long day would include…
Cuddles with my boys and date night with my husband at our local sushi!
R+T: What is the most rewarding part of your work?
I love getting to work across all the disciplines that I love, merchandising, marketing, sales, production, and I absolutely have been so fortunate to have worked with some of the top talent in the industry from notable stylists and editors and photographers to top branding people – many of whom have become close friends. It's been a total joy everyday, even the hard days. I also love and am grateful for our team that we work with past and present. My favorites know who they are.