Living
Profile: Claire Stansfield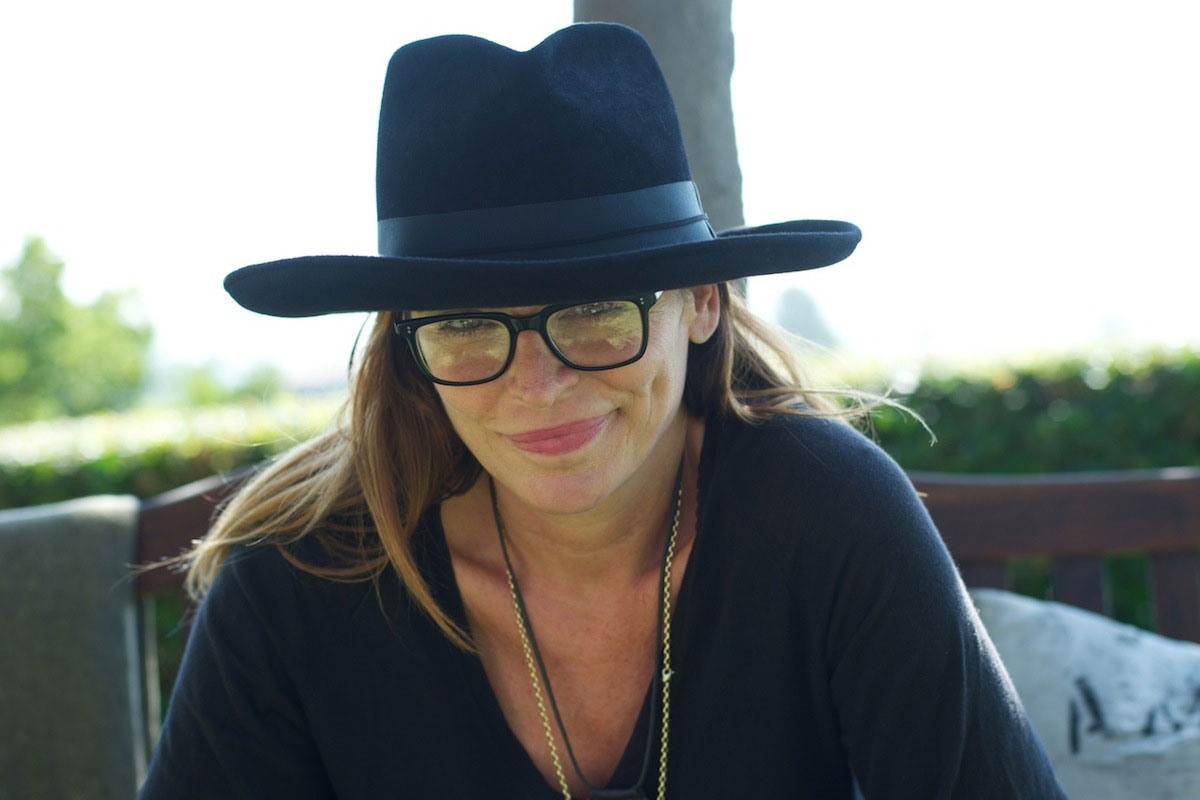 I met Claire years ago through my husband and my friend, Kimberly Muller. She is striking – a beautiful 6'1″ English-born brunette, and the mother of two adorable boys, Lucky, 8, and Rocco, 6. Claire has lived many lives in terms of her career – a former model and actress, she co-founded C&C California with Cheyann Benedict in hopes of creating of the perfect vintage-inspired tee. She did that and more, and after selling C&C, dove into interior design.
She is currently renovating Caroline Styne and Suzanne Goin's famed restaurant, Lucques, on Melrose, having completed their newly relocated restaurant, A.O.C., in January. She also designed her husband Speaks' Los Feliz bar, Hyperion Public, and has various home projects in the works.
Her passion for design is evident the moment you walk into her beautiful Hollywood Hills home. It is a Robert Byrd designed house built in 1928, that she thoughtfully and beautifully remodeled with the help of the amazing Marmol Radziner – the original metal windows are the highlight of the home.
Another highlight: all of the amazing pottery throughout – especially her vintage Heath. After visiting her home, I went home to mine and started scouring Etsy and eBay for some of my favorites. Claire has used every corner inside and out, and you can tell that she and her family really live in their home and utilize every bit of the space. I hope this look inside leaves you as inspired as it did me. XXJKE
Beauty
R+T: What are your go-to beauty products?
Marble and Milkweed Rose Chamomile Tonic (Etsy): Fresh, all natural, and supports small businesses making things from their local gardens.
Cle de Peau Baume Contour Des Yeux: Nothing better (and I have tried a few…) it also works perfectly with their Corrector Stick.
Dr Lancer 'Polish' Natural Sea Minerals: This is a great face scrub. It is pretty strong and your face tingles and feels so clean after use.
Aesop Coriander Seed Body Cleanser: The smell is so lovely and the packaging looks great in the bathroom.
Nivea Classic Cream: (not from USA) preservative free formula that has been under lock and key since 1911. The smell reminds me of my grandmother in Germany and it is perfect for dry skin. It's on my nightstand and I put it on my hands, elbows and shoulders before bed every night.
R+T: Is there anything special you would like to share about your beauty routine?
I love to have my own "spa treatment" at home. A relaxing hour (rare with 2 little boys ruling the house!) – I turn on some soothing music, light a candle (Costes scented candle brown), put on a face mask (Dermalogica Multi Vitamin Mask), jump into the steam shower, put on a deep conditioning hair pack (Kerastase Masque Nutri-Thermique), do a body scrub (Aesop Geranium Leaf Body Scrub), and just breathe. Afterwards, I lie down for 30 minutes with a great magazine or good book.
I also have an in-home pedicure every 2 weeks with the lovely Gina. Worth every penny.
R+T: What are the 5 products you couldn't live without?
Episencial Cheeky Salve: I put it on everything, kids included.
Dr Hauschka lip liner Romantica Soft
My signature scent: Molecules Escentric 01.
R+T: Bath or Shower?
Both.
R+T: What do you sleep in?
Matteo Clara Linen Chemise. I have them in 5 colors.
Health
R+T: Do you have any health tricks?
I cleanse every 4 months for a few days and I try to stretch every day.
R+T: What do you do to stay healthy and balanced?
I take my vitamins and drink tons of water. I like fresh juices from my friend Jean Louis's place on Cahuenga called Life Food Organic. I also eat their raw food selection 2-3 times a week for lunch and as a snack throughout the day.
R+T: Do you workout, what do you swear by?
I love to run – get my heart rate pumping, break a sweat and check out the neighborhood. I love to lift weights as well and I try some of the cross fit workouts in my driveway with my kids counting reps. The ropes and medicine ball are a hit with them.
R+T: What do you do to relax?
I love to set a mood, put on a long kurta (vintage or Roberta Roller Rabbit from Brentwood Country Mart), and relax.
In the evening, I count the minutes to a great Martini (dry 3 green olives), a rustic cheese platter, some great music and an LA Sunset on the patio. My boys will swing in our hammock and my husband and I hold hands and smile.
Food
R+T: Is there anything about your diet you would like to share with R+T?
I try to avoid preservatives and ingredients I cannot read. I love to buy all of our fruit, vegetables and eggs at the local farmers markets and meat and poultry from the local butcher McCall's on Hillhurst in Los Feliz.
R+T: Do you cook?
Almost every night.
R+T: What is your favorite recipe?
I love to make a roast on Sunday afternoons…either a roast lamb or a roast chicken. I add any root vegetables that I have left from the week and throw in herbs from the garden. We finish any opened wine and then eat early…especially since the house smells so yummy.
Entertaining
R+T: Do you entertain at home?
All the time. I (almost) love the preparation and setting the scene as much as the actual party.
R+T: What are your tricks for entertaining?
Be prepared. Mix and match interesting friends and family together. Choose a dinner table game or ask each guest to share their "peak and pit" or share what they are grateful for. It really brings the children in and can be very funny. My son's peak usually involves dessert!
Always have extra wine and a late night sexy music mix for when the kids go to bed.
R+T: How do you set the scene when you have people over?
Great music, good lighting, candles, extra shawls for cooler evenings, and a kids activity or game in the den.
R+T: Are there any tips for what to do or what to avoid?
Complicated "unrehearsed" dishes, not a good idea.
R+T: What is your favorite song/playlist when you have people over?
70's classic rock n' roll. Elton John, Stones, Allman Brothers. Reggae, Dub, Massive Attack, mixed in with Edith Piaf and some Notorious B.I.G makes us happy.
R+T: Plated, Buffet, or Family Style for a dinner party
Family style for a dinner party. Plated for the holidays.
R+T: What are your favorite flowers and where do you buy them?
My housekeeper Antonia makes the best flower arrangements. We will go to the flower market together every 2 weeks. I tend to like things that dry well like Eucalyptus, Magnolia branches and Cattail Reeds. She will also pick leaves and branched from our garden, add in herbs and succulents from the green house and make beautiful arrangements (that also smell really good).
R+T: Do you do them yourself or do you use a florist?
My housekeeper and I collaborate.
R+T: Who is your favorite florist?
Antonia.
Decor
R+T: What is your design philosophy for your home?
Create as many hang out areas as possible. Keep the flow open and no closed doors.
R+T: What are your favorite pieces in your house?
My soap stone carvings and Persian carpets…all gifts from my mother.
R+T: What are your favorite home stores?
Lost & Found, Nickey Kehoe, Henry Beguelin, Rewire Lighting, and my mother's house.
R+T: What is your favorite room in the house?
The kitchen.
Art
R+T: Who are your favorite artists?
Henry Moore, Lee Bontecou, Ansel Adams, Motherwell, Lucky and Rocco Speaks.
R+T: What is your favorite piece of art you own?
Sage Vaughn child on a tricycle painting.
Fashion
R+T: How would you describe your style?
Rice paddy chic.
R+T: Who are your favorite designers?
Guidi, Margiela, Dosa, Matteo, Rick Owens DRKSHDW, Kapital and Dries Van Noten.
R+T: What are the 5 pieces you can't live without this season?
DRKSHDW jeans.
Private 0204 cashmere wrap.
French Vintage men's nightshirts.
Danish Wool Felt slippers.
Patagonia Nano Puff Jacket (for early morning drop off).
R+T: What is your uniform?
Guidi zip up boots, Rick Owens DRKSHDW black jeans, Matteo Linen Bertha sleep shirt and Dosa kurtas and karate pants.
R+T: What is your newest purchase?
A Dries Van Noten cardigan and an Anda & Masha hat.
Shopping & Blogs
R+T: What are your favorite stores to shop for clothing?
New High Mart, Margiela, Mister Freedom, Noodle Stories, Lost & Found, Dosa.
R+T: What is your favorite city for shopping?
New York.
R+T: What are your favorite sites for clothes shopping?
I don't usually buy clothes online. But, I am an online shopper for books on Amazon, kitchen stuff from Kaufmann Mercantile or Tortoise, and I love Etsy and good old eBay for heaps of things…I'm obsessed!
R+T: Are you an impulse buyer, or do you wait to commit?
I usually buy the same thing over and over.
R+T: What are your favorite sites for recipes?
Food 52, 101 Cookbooks, Smitten Kitchen
R+T: What are your favorite blogs?
Rip+Tan, A Bloomsbury Life, Remodelista
Kids

R+T: Are there any kids finds you want to share with Rip+Tan?
My dear friend Jamie Rosenthal who owns Lost & Found always has wonderful kids clothes toys and décor. She travels the world and keeps her store fresh and inspiring. So you can always find amazing things there.
R+T: What are your favorite places to shop for kids?
Lost & Found, Tomboy, Makie.
R+T: What's your favorite thing to do/place to go on the weekends with your kids?
We live very close to Griffith Park so we go to Trails Café (it's become very busy though..). We play in the park and then take a hike up to the old Bat Caves.
The kids also love to visit their Dad at his Restaurant Hyperion Public and have brunch in the front restaurant while Dad watches football in the sports bar in the back.
R+T: What is your favorite restaurant to eat at with the whole family?
A.O.C., The Hungry Cat and Hyperion Public.
Design
R+T: What inspired you to start C&C California?
I had been an actress and I really wanted to be more creative and have more control of my own career – be my own boss and not be at the mercy of other people. I also happened to love and covet t- shirts. I had a collection from when I was in high school and I could not find anything like them.
R+T: What was your favorite part about running a clothing line?
My partner Cheyann was amazing. We laughed pretty much all day. I also loved that we set our own hours, created our lifestyle. I loved having a business where I could have children and not miss anything, spend all of my time with them while I was also being creative.
My first son Lucky never left my side – he slept in his bassinette right under my desk at C&C and I breastfed him during most design meetings.
R+T: What moved you to transition to interior design?
After we sold our company, I took a few years off but I really missed working and I have always loved interiors. Luckily, I mostly work with people I love…so that helps as well.
R+T: Do you find similarities in designing clothing and interiors?
I love natural quality fabrics and I really love how they age and get even better over time. Pieces of clothing that age well and are worn are my favorites…pieces made out of great cotton, canvas, denim, indigo, linen and leather. Vintage tees are the best because they have been broken in over time..
Interiors are the same…wooden floors, metal fixtures, beautifully designed furniture, leather chairs, Persian rugs, wool throws, a bronze sculpture or even sun-faded cushions.
R+T: Where do you find inspiration when designing a space?
I usually know what I want to change in a space based on how the room makes me feel. How it flows. Do I want to hang out there? Is it comfortable?
R+T: What is the most rewarding part of your job?
Knowing that my clients are really proud of the spaces I have designed for them.