Living
Profile: Barrett Prendergast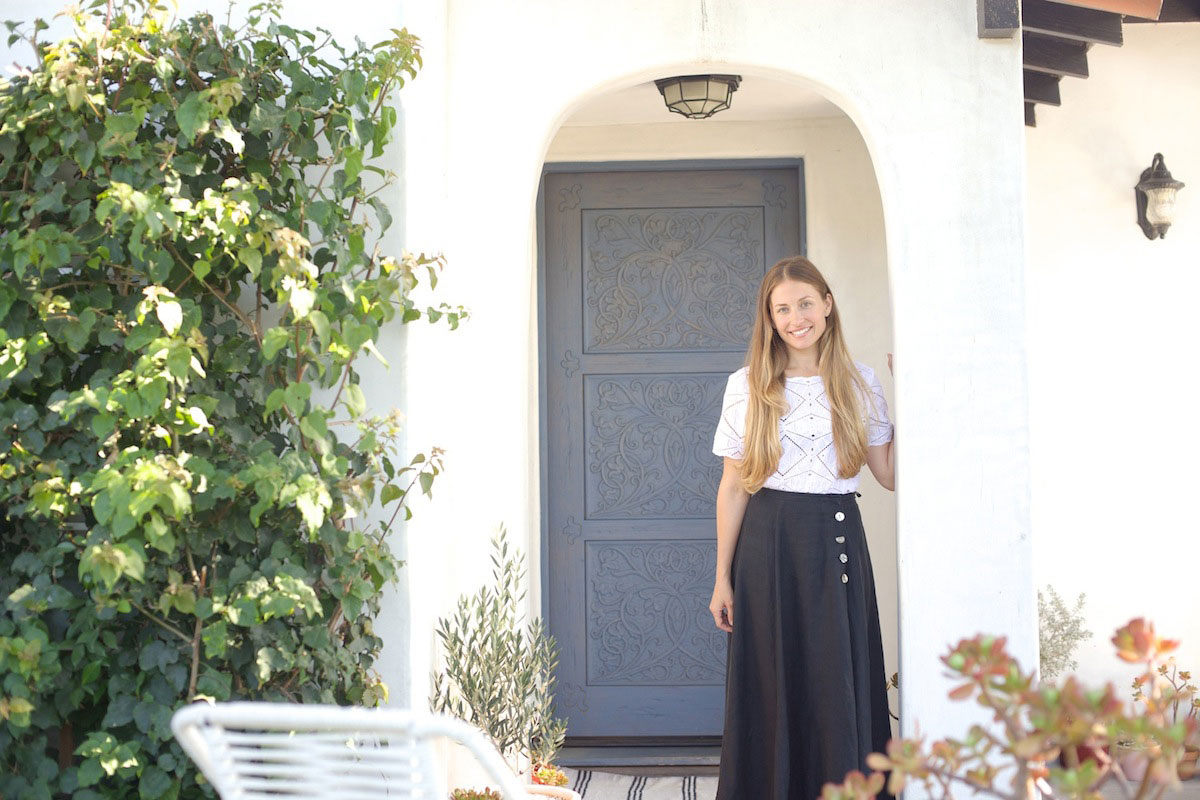 Born and raised in Los Angeles, Barrett and I had lots of mutual friends growing up, but it wasn't until recently that we actually met. After spending a number of years working in fashion, she embarked on a new phase of her life that would lead to her role as chef and owner of Valleybrink Road. What began as a blog to share recipes, Valleybrink Road has evolved over the past year into a successful boutique catering company offering on-site personal chef services for parties up to 100.
With a focus on organic, local, high quality ingredients, and food that is simple, beautiful, and delicious, it didn't take long for me to become one of her biggest fans. If you haven't noticed, her recipes have found themselves in heavy rotation around here. She is relaxed and happy in the kitchen, and is, in a word, amazing.
Barrett lives with her husband, photographer André Vippolis, and their dog Frankie in an adorable light-filled Spanish in Atwater Village. Her home is filled with color and charm, and is decorated with eclectic mid-century finds and beautiful objects throughout. The highlight and center of the house: not surprisingly, her welcoming kitchen. I hope you enjoy this peek into her delightful home and outlook. XXJKE
Beauty
R+T: What are your go-to beauty products? Why?
I have been using the Arcona Toner Tea Bar for a couple of years now and I absolutely love it. My husband, who is definitely the beauty product connoisseur in our relationship, turned me onto it. It is lightweight and leaves my skin feeling soft and moisturized. My other go-to products for the face are the Malin + Goetz Vitamin E Face Moisturizer and Mario Badescu's Eye Cream V – both feel light and nourishing and keep my skin hydrated. For my lips, I usually just use Burts Beeswax Lip Balm in my day to day. It is simple and keeps my lips from getting chapped.
R+T: Is there anything special you would like to share about your beauty routine?
I keep it simple. I learned long ago from my mom that the key to great skin is wearing very little make-up and making sure you take care of your face at night. The simple and short routine of using a good face wash and moisturizer can make all the difference in how your skin ages. Also, hydrate, hydrate, hydrate.
R+T: What are the 5 products you couldn't live without?
Jurlique Rose Hand Cream, Frederic Malle En Passant Perfume, Josie Maran Argan Luscious Lips, Chanel Inimitable Waterproof Mascara
R+T: Bath or Shower?
Bath. Cooking is such a physically exhausting activity, that after a long night of standing, my body needs a hot bath. It really helps soothe the aches and relax my mind and body. I usually add a few drops of lavender oil and maybe light a candle or two. Heaven.
R+T: What do you sleep in?
I like to steal Andre's clothes to sleep in. If it's cold, I will sneak into a pair of his sweats and one of his t-shirts. If it's hot, maybe just one of his shirts. I like to make him share with me.
Health
R+T: Do you have any health tricks?
Drink lots of water. Eat lots of fruits, vegetables and whole grains. Whenever I am feeling a little off, it is usually because I am hungry or dehydrated.
R+T: What do you do to stay healthy and balanced?
I eat a healthy and balanced diet. I try to get outside for a little while each day, whether it be a walk around the block with our dog Frankie or a hike up Bronson with my husband. It is important to take a moment for yourself each day.
R+T: Do you workout, what do you swear by?
I used to do a lot of yoga and hiking. I have been working so much recently, which is really a workout in itself, that my workout routine has been neglected a bit. I am hoping to get back on track in the new year!
R+T: What do you do to relax?
Go to the Korean spa with my girlfriends, usually Natura Spa or Olympic Spa, get a body scrub, relax in the sauna. It is the best.
Date night with the hubby. Dinner at one of our favorite spots, maybe Marugame Monzo or Osteria La Buca, then home to watch a movie or catch up on one of our favorite shows.
Decor
R+T: What is your design philosophy for your home?
I've never really thought about my design philosophy before. My husband is more opinionated in this area and has picked out most of the larger pieces of furniture in the house. I guess I kind of add the texture, color, and textiles. I'm there for the flair!
R+T: What are your favorite pieces in your house?
I love our dining room table – it is where we have shared so many wonderful meals with friends and family. It is simple and adds a certain lightness to the room. It also can fit a large group of people, which I love! Even if sometimes, we have to squish together.
R+T: What are your favorite home stores?
Lawson Fenning, OK, Heath Ceramics. My favorite boutique in Atwater Village, Individual Medley, also carries some amazing home items like vintage rugs, pillows, and ceramics.
R+T: What is your favorite room in the house?
The kitchen. It is why I fell in love with our house the first time I saw it. It is open with a high ceiling and lots of light – the perfect place for everyone to hang out while we are cooking.
Entertaining
R+T: Do you entertain at home?
Yes, yes, yes. Probably one of my favorite things to do. It has been a little less the past few months, as I have been entertaining and cooking at other people's houses, but there is nothing I love more than having people over for a night of good food, wine, and hanging out.
R+T: What are your tricks for entertaining?
Keep it simple and don't try to do too much. You want to make sure you can have fun and hang out too. I usually serve a family style dinner and have good wine, good cheese, and a little something sweet for dessert. Chocolate always works…
R+T: How do you set the scene when you have people over?
Flowers by Yasmine Floral Design, candlelight, some Incense of the West, and, of course, a good playlist.
R+T: Are there any tips for what to do or what to avoid?
Make something you have made before and keep the meal and evening simple. I find that people often try to do too much when they are entertaining and then they never really get a chance to relax and enjoy all of their hard work.
R+T: What is your favorite song/playlist when you have people over?
My husband is in charge of the music. He used to dj so he is much better at creating playlists. Recently, it's been lots of Beach House, Phosphorescent, Neil Young, and Fleetwood Mac.
R+T: Plated, Buffet, or Family Style for a dinner party?
Family Style. Always.
R+T: What are your favorite flowers and where do you buy them?
Dahlias, Peonies, Garden Roses. The Flower Mart Downtown.
R+T: Do you do them yourself or do you use a florist?
I do a combination. Sometimes I will just run to The Flower Mart and grab a bunch of fresh flowers, other times I will have one of my favorite florists help me out.
R+T: Who is your favorite florist?
I have two dear friends who are florists. The first, Yasmine Khatib, has an incredible company based out of Atwater called Yasmine Floral Design. Her creations are like nothing I have ever seen. Last week, she made me an arrangement with miniature pears in it and the week before, pomegranates. Her flowers are the perfect combination of unusual and beautiful.
The second, Mary Seidel, has a wonderful floral design company called Poppies & Peonies. Her arrangements are feminine, colorful, and always manage to brighten my day. Sometimes, she will surprise me with little arrangements around the house, blooming peonies or that perfect garden rose.
Art
R+T: Who are your favorite artists?
My husband, Andre Vippolis. Helmut Newton.
R+T: What is your favorite piece of art you own?
A drawing by Dennis Koch.
Fashion
R+T: How would you describe your style?
Bohemian, Feminine, Colorful.
R+T: Who are your favorite designers?
I wear a lot of vintage and have been collecting long vintage dresses for some time now. I also love Isabel Marant, Dosa, Lanvin, Temperley London, and Dieppa Restrepo.
R+T: What are the 5 pieces you can't live without this season?
Dieppa Restrepo Cali Platforms, Jenni Kayne Suede Fuchsia D'Orsay Flats, Current Elliot High Waisted Jeans, Long Vintage Seafoam Green Dress from Shareen Vintage, Brixton Forest Green Dahlia Hat.
R+T: What is your uniform?
I have two different uniforms. For my parties and catering, I wear long vintage dresses and flower crowns made by Yasmine Floral Design. In my everyday running around, it's jeans or a long skirt, t-shirts, and flats.
R+T: What is your newest purchase?
Dieppa Restrepo Cali Platforms.
Food
R+T: Is there anything about your diet you would like to share with R+T?
Fruits, vegetables, and lots of whole grains. I stay away from processed food and don't buy anything with more than 6 ingredients in it. I make almost everything we eat, from the almond milk to the ricotta cheese. We don't eat a lot of meat, but when we do, I buy it from McCall's Meat and Fish. I guess my food philosophy and diet are about moderation and using high quality ingredients and organic produce.
R+T: Do you cook?
YES!
R+T: What is your favorite recipe?
My husband's Cacio e Pepe. It is one of the first things he ever made for me and I always feel good after having a big bowl. Piping hot spaghetti topped with Pecorino Romano and black pepper. What could be better than this! Also, it's probably my favorite because he cooks it for me!
Boutique Catering
R+T: What are your favorite farmers markets?
The South Pasadena Farmer's Market on Thursday nights.
Santa Monica Farmers Market on Wednesdays.
Atwater Farmers Market on Sundays.
R+T: What are your favorite specialty stores or markets?
Cookbook , McCall's Meat and Fish, Monte Carlo Italian Market, Atwater Village Farm.
R+T: What are your favorite recipes on your site?
Kale Salad with Serrano, Mint and Breadcrumbs
Summer Pasta with Sun Gold Tomato Sauce
Braised Fennel in Tomato Sauce
R+T: How did you learn to cook, have you always loved cooking?
I really wasn't interested in food or cooking until my early twenties. I was a freshman in college, suffering from a broken heart, and I started watching a lot of food network. The more I watched, the more intrigued I became. This is how it all began.
R+T: When did you and Andre move to Atwater Village, what are your favorite places in your neighborhood?
We moved to Atwater Village three years ago. Even in that short time, so much has transformed and some amazing shops have opened. Our favorites include Proof Bakery, Individual Medley, Atwater Village Farm, and Canele.
R+T: What inspired you to start a catering company?
I guess it all started from my food blog. Some friends were hounding me to start a food blog and share my recipes. Once I started Valleybrink Road, friends began asking me if I would be interested in catering parties and coming and cooking in their homes. I just started saying yes, and from there my company was formed.
R+T: What's your favorite part about your business?
The best part of my job is being invited into other people's homes and cooking in their kitchens. I love sharing food and feeding people and it is so exciting to constantly be doing this in new spaces and new kitchens!