Living
Profile: Baelyn Neff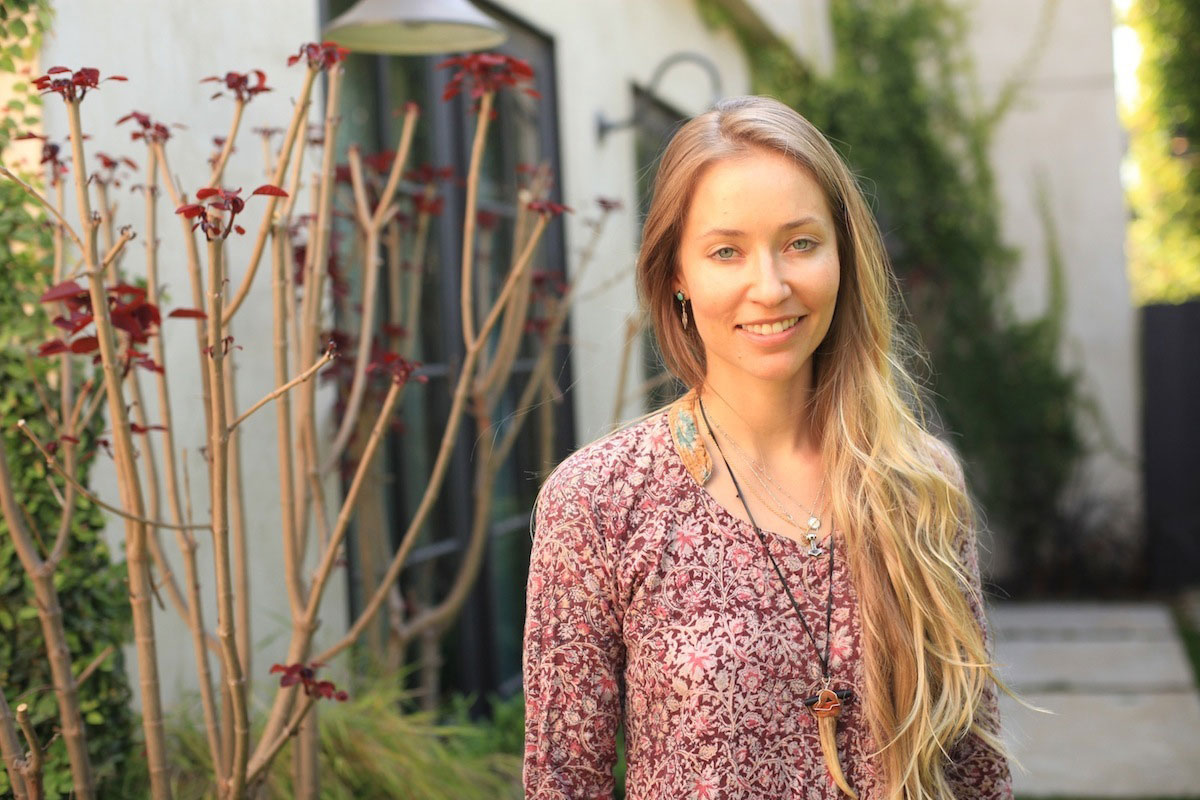 I first met Baelyn over ten years ago when she was modeling and I had just started designing. Both Virgos and the same age, we instantly connected and hit it off. Soon after, she became my fit model, and so for the next several years we saw quite a bit of each other. Since then, she has taken up a totally different lifestyle – one that I find both beautiful and inspiring. Baelyn lives in a wonderful home in Venice with her French Bulldog, Bruce, and her Sphinx cat, Niin, and conducts Tea Ceremonies weekly for those close to her. Her blog, dedicated to adventure, fashion, art, spirituality, and love, is as beautiful as it is inspirational. She is enrolled in a Western Herbalism program in Portland, and in her spare time takes a plant gathering class in Topanga with another of my favorites, Shiva Rose, which sounds awesome. Her home is warm, earthy and serene, but at the same time eclectic and authentically Baelyn. I hope you enjoy experiencing her unique space and learning about some of her very favorite things. XXJKE
Beauty
R+T: What are your go-to beauty products? Why?
Basic Face:
Biologique Recherche products, my favorites are P50, Masque Vivant, Masque VIP, and Crème Dermopurifante. The line uses really concentrated pure, raw, active ingredients with no extra scents or artificial chemicals.
I also love the Beauty Drops Serum from Future Cosmetics.
Skin Protection:
For face, I wear hats a lot! Sometimes I mix Laura Mercier SPF Tinted Moisturizer in with my regular face crème. When I surf or swim I switch between La Roche Posay and Minus-Sol sunscreens.
For body, I love Kiss My Face Sport Spray SPF 50. It has aloe and cucumber and smells like coconut oil.
Body:
I love exfoliating with my Dar Gitane Charcoal Facial/Body Buffer and I like using oils in the shower – coconut oil, jojoba, or almond. I try not to use soaps too much, but the ones I do like are Dr. Bronner's and Alaffia's African Black Soap – both are simple and natural.
Make-up:
I love RMS Beauty. The "Un" Cover-Up and Living Luminizer are my faves.
Scents:
I have a custom scent made by my dear friend Taylor Eyewalker. She has a line called Eyewalker Elements and makes the most amazing organic botanical/flower essence oils and perfumes.
R+T: Is there anything special you would like to share about your beauty routine?
I like to stay focused on self-nourishment while I am bathing or showering, putting on makeup, and getting ready. I am mindful of consciously cherishing my body, cleansing it, and loving it. Asking myself what I need today to feel nourished and feminine, remembering to express gratitude toward myself, seeing the infinite beauty that flows deep within. The more I see the beauty within me, the more chances I have of recognizing all the beauty that surrounds me every moment of every day.
R+T: Bath or Shower?
Shower for cleaning and bath for nurturing.
R+T: What do you sleep in?
Undies.
Health
R+T: Do you have any health tricks?
I love dry brushing before I get in my shower or bath, it is so good for stimulating and detoxifying the lymphatic system. I drink water with lots of lemon in it. I also, dance, play, sing, read books, walk, hike in nature, snuggle with my beloved and my animals. Doing things I love keeps me vibrant and healthy.
R+T: Any health causes that mean a lot to you?
Anything that brings awareness toward our relationship with the sacred feminine, deepening our connection to consciousness and Mother Earth.
R+T: What do you do to stay healthy and balanced?
The body is infinitely intelligent, if you give it space and treat it properly, it will naturally move toward health. So, I try to set aside 15-30 mins right when I get out of bed in the morning to slowly wake it up. I take time to stretch and wake up my spine, hips, legs and arms before throwing it into the days activities. I also have a daily meditation practice, which allows me space to check in with myself and see where my energy is flowing each day.
R+T: Do you workout?
I do. Lately I have been doing The Dailey Method barre work. I also mix between resistance/core training, Pilates, and sometimes boxing. I ride my bike a lot, walk, and surf!
Decor
R+T: What is your design philosophy for your home?
Creating sacred space.
R+T: What are your favorite home stores?
General Store, ABC Carpet & Home.
R+T: What are your favorite pieces in your house? Accessories, art, furniture?
I love all of our altars, crystals, books, textiles, drums, and all of my Teaware!
R+T: What is your favorite room in the house?
I spend a lot of time in the kitchen and tea/meditation room, but it is hard to pick a favorite. I love our whole house…all the different areas serve totally different purposes.
Entertaining
R+T: Do you entertain at home?
I do…sort of. I host Tea ceremonies for small groups of my close family and friends.
R+T: How do you set the scene when you have people over?
Lots of fresh flowers, amazing food to eat, good music or sometimes drums and instruments for everyone to play, and of course amazing Tea!
R+T: What is your favorite song/playlist when you have people over?
The music gets pretty eclectic over here.
R+T: What are your favorite objects/accessories in the kitchen?
My kettles, knives, cutting boards, and my Vitamix.
R+T: What are your favorite flowers and where do you buy them?
I like to get my flowers at the farmers market as much as I can. All flowers are beautiful, so it is hard to choose favorites. They are the transcended enlightenment of plants and remind me of how magnificent the mother earth is in all her beauty and abundance. Right now I have Orchids, Annual Baby's Breath, Star of Bethlehem, Buckwheat, Lavender, Oatstraw, and Black and Purple Sage.
R+T: Do you do them yourself or do you use a florist?
I love doing my own flowers. They are offerings I get to make to the different rooms in my home.
R+T: Who is your favorite florist?
If I was going to choose a florist, I would definitely work with my friend Kelsey Harper. She has a company called Flower Girl LA, and does such beautiful work.
Fashion
R+T: How would you describe your style?
Hmmmm… Fun, comfortable, and feminine. I love vintage dresses, tunics, slips, and muumuus, soft cozy shawls, blankets, and wraps, Southwestern/native prints and turquoise…
R+T: Who are your favorite designers?
Raquel Allegra, Black Crane, Isabel Marant, and of course, JK!
R+T: What is your uniform?
No uniforms.
R+T: What is your newest purchase?
From a designer, a Marble t-shirt dress from Black Crane. But most recently, vintage summer dresses.
Food
R+T: Is there anything about your diet you would like to share with R+T?
I like to treat my body just as I would treat my home. It is my sacred temple and so I try to listen as closely as I can to what it needs and wants. I eat lots of healthy greens, veggies, fruits, grains, and occasionally fish or specific meat that I know comes from a conscious source. I am blessed to live in a place where I have access to friends that grow biodynamic food and raise farm animals consciously. There are a few things that I know my body doesn't like having too often, so I tune in and try to stay present with it. I have a small list of "frees" (meaning I am free of) processed foods or sugars, most dairy, and gluten, however I like to give myself space to explore and not label myself as any one thing.
R+T: Do you cook?
As much as I can!
R+T: What is your favorite recipe?
Lately I have not been using recipes… I just dive into an intuitive cooking experience and creatively whip up dishes using whatever fresh ingredients I have. The simpler, the better.
Art
R+T: Who are your favorite artists?
I live with my favorite artist. 😉