Living
Profile: Athena Calderone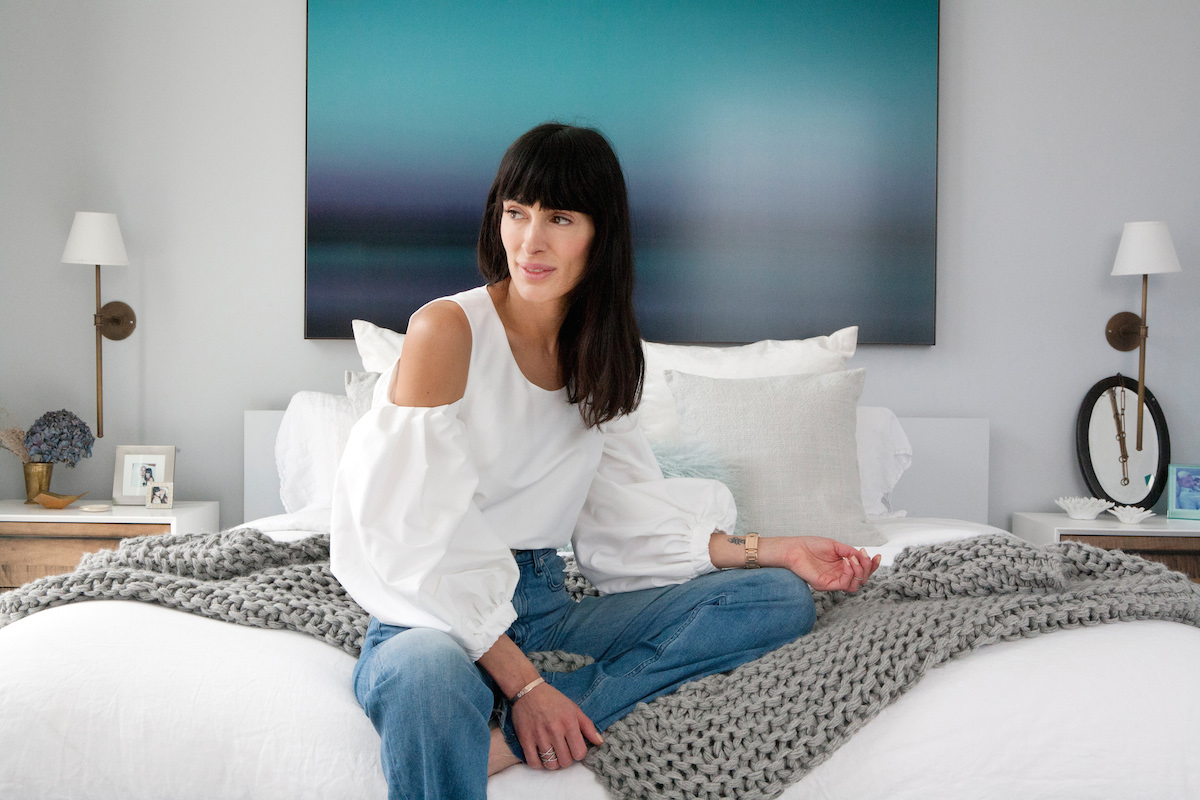 I had the pleasure of working with the lovely and talented Athena Calderone when we hosted a Garden Party together last spring. An interior designer, chef, event hostess, and curator of the popular blog Eye-Swoon, she juggles many roles, but does so seemingly effortlessly – and always with impeccable style. Her indeed swoon-worthy online destination is the manifestation of her love of food, entertaining, fashion and design, and for her – more than anything else – a space where she is able to create beauty.
Athena lives in Dumbo Brooklyn with her husband Victor, a techno house DJ, and twelve-year-old son Jivan. Both very creative, she and her husband share a passion for design and real estate, and tend to move every two to three years, allowing them to continuously engage in the process of renovating and reimagining. One step inside their home, and this passion for design is quite clear. All at once modern and eclectic, warm and elegant, the space has been artfully curated with a gorgeous mix of complementary pieces and a thoughtful use of color and texture. I hope you enjoy this look inside. XXJKE
Beauty
R+T: What are your go-to beauty products? Why?
NARS Dragon Girl or Red Square for a bold red lip.
Sunscreen – I tan my body but never my face.
R+T: Is there anything special you would like to share about your beauty routine?
My bangs are somewhat of a signature and the right length is key – even an inch too long or too short can completely change my face.
Health
R+T: Do you have any health tricks?
I eat pure, unprocessed foods, and try to eat seasonally and locally.
R+T: What do you do to stay healthy and balanced?
Sleep – I NEED 8-9 hours a night.
R+T: Do you workout, what do you swear by?
I used to do yoga before Eye-Swoon… Now I love boxing.
R+T: What do you do to relax?
Cook.
Decor
R+T: What is your design philosophy for your home?
When it comes to design, I love the tension created when pairing a sophisticated piece with a playful one. It's all about the yin and yang, high/low, grit-meets-glam–and the best part is the hunt for those pieces that will help transform a room.
R+T: What are your favorite home stores?
Anthropologie, Serena & Lily, CB2…
R+T: What is your favorite room in the house?
My kitchen!
Entertaining
R+T: Do you entertain at home?
I LOVE throwing dinner parties….cooking in the kitchen creating meals is wear I'm happiest! Food, hosting, and the combination of flavors and textures is a creative process for me which feeds my soul….its a massive piece of who I am.
R+T: What are your tricks for entertaining?
I love to use herbs on the tabletop as they are incredibly fragrant, not costly and approachable.
R+T: How do you set the scene when you have people over?
Five minutes before your guests are due, run around the room lighting as many votive candles as you can. Candlelight is not only the most flattering light but it makes it appear as if you've got it all under control–even if you don't.
R+T: Are there any tips for what to do or what to avoid?
Don't make things overly fussy – simple elements executed in a thoughtful way is my approach to entertaining.
R+T: What is your favorite song/playlist when you have people over?
Anything I can sing along to! 
R+T: Who is your favorite florist?
Fashion
R+T: How would you describe your style?
Minimal, eclectic, juxtaposed, and sophisticated.
R+T: Who are your favorite designers?
My favorite designers at the moment are Rosie Assoulin and Ellery. 
R+T: What is your uniform?
A high waisted skirt, a crop top, a bare shoulder, or a cut off midriff. I love flowery feminine dresses but I am also drawn to structured and architectural looks. 
Food
R+T: Is there anything about your diet you would like to share with R+T?
I swoon for local foods that are organic, pure, and unprocessed. 
R+T: Do you cook?
I'm passionate about cooking local, seasonal food and gathering around the kitchen island with friends and family….the kitchen represents togetherness & puts a smile on my face.
R+T: What is your favorite recipe?
A grilled whole white fish with lemon, olive oil and herbs… and salsa verde!
R+T: What is your child's favorite recipe?
I make roasted cauliflower once a week, and Jivan gobbles it up! 
Art
R+T: Who are your favorite artists?
Currently swooning over contemporary painter Mary Weatherford's vibrant paintings that incorporate neon light.
Kids
R+T: What's your favorite thing to do/place to go on the weekends with your kids?
Our home out in Amagansett on weekends.
R+T: What is your favorite restaurant to eat at with the whole family?
I love Estela, Franny's in Brooklyn, Gato, and ABC Kitchen.
Online
R+T: What are your favorite sites for recipes?
Bon Appetit, Food & Wine, Epicurious, Food52.
R+T: What are your favorite blogs?
Local Milk, The Tig, What's Cooking Good Looking
Eye-Swoon
R+T: Tell us a bit about how Eye-Swoon came to be…
A few years ago, after a summer at the beach, I found myself between interior design projects. I felt a lull in creativity and I started Eye-Swoon as the answer to that lull. I love making things beautiful – whether it's my immediate physical environment or the food that I create – and I wanted to share those little sparks of inspiration and see what journeys they would inspire for others. When I'm designing a space I can always trace the inspiration back to a singular moment or image that gave me the vision for the complete room. The same thing happens with an amazing bite of food. Suddenly I'll find myself running out to re-create it and add my own twist. Eye-Swoon became a way for me to group all those fragmented moments and give them one voice that speaks to all the sides of me, the design-addict, the fashion-lover, the food-obsessed, the mom, the wife. And hopefully it can do the same for people that share those interests and seek out inspiration.
R+T: Where do you look for inspiration?
I have a curious eye and love to soak in my surrounding….a beautifully designed room continually sparks up inspiration that stay with me that I then reinterpret in my own way. I am very inspired by nature, the natural tones and palettes found in the sea, shoreline and horizon at sunset.
R+T: Can you share a bit about your interior design work?
My interior design company, Rawlins Calderone Design, is focused on high end residential and retail interiors – the vision of John Rawlins and myself. Forged through a decade-long friendship and like-minded love for art & design, our fresh perspectives have recently created a buzz in the world of interior design.
R+T: What is the most rewarding part of your work?
The ability to combine all of my passions.
Photos: Sarah Elliott