Living
Profile: Ambre Dahan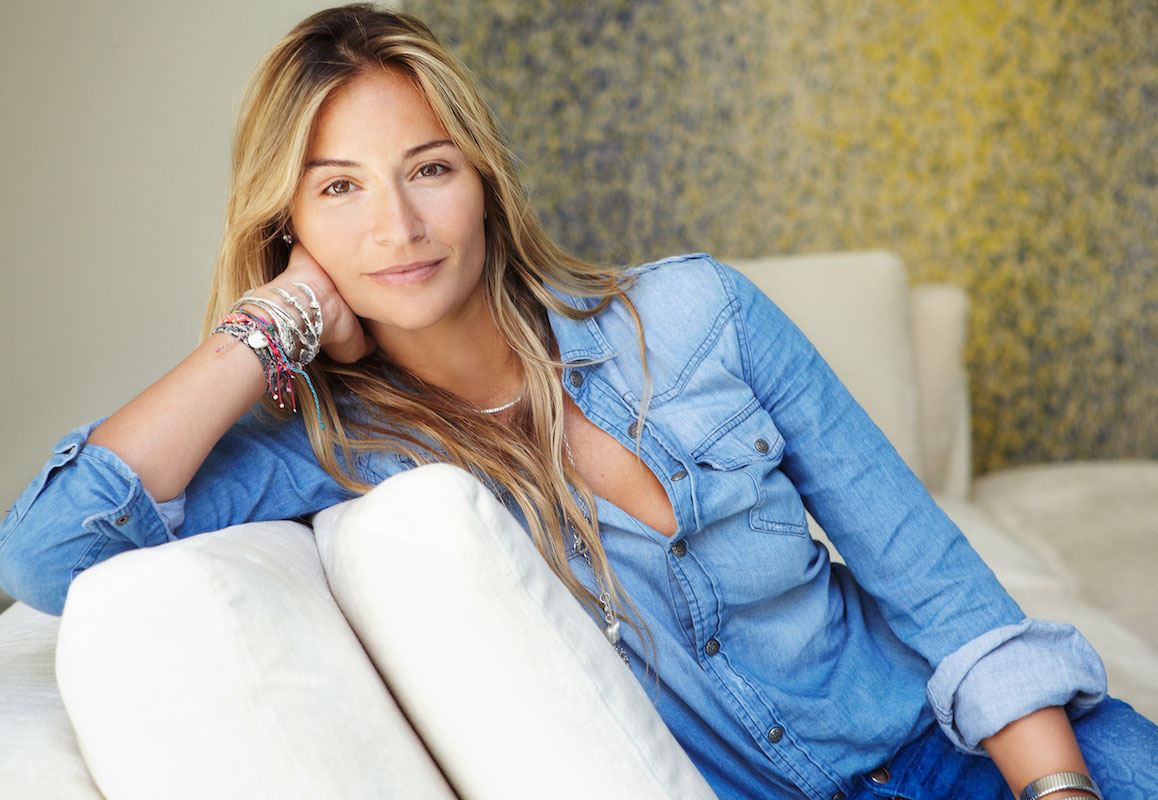 Ambre Dahan is the mother of two beautiful girls, Ella 4 and Billie 2, and is married to Joe Dahan of Joe's Jeans. She is the design director at Joe's and is also launching her own fashion website in the near future. I was introduced to Ambre by our mutual friend Elizabeth a couple of years ago and Tanner and Ella started taking weekly swim lessons together. We instantly hit it off, being mothers in fashion with Parisian children's shopping addictions. Ambre was born in Paris and now lives in Los Angeles with her gorgeous family. She has amazing energy, great style, and I wanted to share her home and family with R+T. XXJKE
Beauty
R+T: What are your go-to beauty products? Why?
AD: I don't have a strict beauty routine – I'm pretty lazy. I use Bioderma Crealine H2O – a classic French cleanser that lots of dermatologists there recommend. I buy most of my skin products from my dermatologist.
My hair is long and gets damaged by the sun, ocean, highlights and I hate cutting it so I try to use as many masks and oils as I can to keep it moisturized and healthy. Every time I wash my hair, I use a different shampoo and mask/conditioner. I love Davines products. I use this amazing oil – Huile a la Lavande – from Christophe Robin who is my hairdresser in Paris. I also love his Crème Lavante au Citron – an amazing nourishing mask/shampoo.
R+T: What are the 5 products you couldn't live without?
AD: Besides my fragrance Clair de Musc from Serge Lutens, I am not extremely loyal to products. But over the years I still use the same bronzer powder from Guerlain, La Roche-Posay for suncare, and my numerous Odile Gilbert hair pins.
R+T: Bath or Shower?
AD: Always shower.
Health
R+T: Do you have any health tricks?
AD: I try to do everything in moderation, which for me is the hardest thing as I am pretty extreme.
R+T: What do you do to stay healthy and balanced?
AD: A mix of good food and lots of sport.
R+T: Do you workout?
AD: Every day except the weekends. I swear by Tracy Anderson work-outs and Pilates. I started surfing a year and a half ago and it has become my favorite thing in the world.
Decor
R+T: What is your design philosophy for your home?
AD: I really don't like the idea of decorating. We buy what we love and they always make sense together.
R+T: What are your favorite home stores?
AD: We buy a lot of vintage pieces mixed with contemporary designers. 1stDibs is great, Blackman Cruz, Caravane, Merci, Herve Van Der Straeten, and Jean de Merry are all great.
R+T: What are your favorite pieces in your house?
AD: I love our De Sede black leather sofa and I am in love with the last painting we bought – a Lucien Smith.
R+T: What is your favorite room in the house?
AD: I really like every part of the house but the garden is particularly beautiful.
Entertaining
R+T: Do you entertain at home?
AD: Every occasion is always a good excuse to get our friends together, so we love to have friends over for birthdays, Christmas, Easter, and 4th of July… But we mostly entertain at our beach house in Malibu where our friends come by every weekend in the summer.
R+T: What are your tricks for entertaining?
AD: Casual, great food and wine and great company.
R+T: How do you set the scene when you have people over?
AD: Lots of flowers, candles, music, and white tableware.
R+T: What is your favorite song/playlist when you have people over?
AD: I have recently updated my playlist, which I am obsessed with and I am super excited I got a mix of music from Jonathan – a fantastic British DJ that plays at Sa Trinxa in Ibiza. And our good friend Mathieu (also known as Mr. French) always makes us amazing playlists.
R+T: What are your favorite objects/accessories in the kitchen?
AD: My Cuisinart robot.
Fashion
R+T: How would you describe your style?
AD: Casual, chic, with a touch of sexy.
R+T: Who are your favorite designers?
AD: At the moment Phoebe Philo, Isabel Marant and I wear a lot of Raquel Allegra.
R+T: What are the 5 pieces you can't live without this season?
AD: Tons of Joe's Jeans – Prints, neon, vintage with holes, shorts, mini skirts, denim shirts and tees. I love my Celine flower leather motorcycle jacket, My Isabel Marant all-embroidered and mirrors embellished vest, a Kelly from Hermes, and Susan boots from Chloe.
R+T: What is your uniform?
AD: Jeans, a shirt or a tee, and boots.
R+T: What is your newest purchase?
AD: I am in Ibiza so I just bought cute shorts and dresses from a hippy woman that has a cute shop on the beach. Just before that in Paris got a few pieces from Isabel Marant.
Food
R+T: Is there anything about your diet you would like to share with R+T?
AD: Food is a very important part of my life. I try to control what I eat as much as possible but I am very "gourmande." To balance my love for carbs, I eat salads for lunch every day.
R+T: Do you cook?
AD: Yes, I have always cooked for my family.
R+T: What is your favorite recipe?
AD: I love to make my grandma's couscous vegetable soup and leeks meatballs – perfect when I have a lot of friends over it's always a success. I always make my aunt's chocolate cake called le chocobeurre (chocolate + butter) – unforgettable!
R+T: What is your kids favorite recipe?
AD: They love my crepes au Nutella.
R+T: Can we have a copy of them to share with Rip + Tan?
AD: 250 grams of flour
4 eggs
1/2L of milk
1 pinch of salt
50 grams of butter
1 small bag of vanilla sugar
1 table spoon of rum (5cl) (optional)
In a bowl add the flour and the eggs, pour the milk slowly and mix them together to obtain a flawless dough (don't mix the flour and the eggs without the milk). Add the sugar and the salt. The recipe says to cover the dough with a tablecloth and let it rest for an hour but my kids never have the patience to wait and it's still very good. Their favorite topping is nutella.
Art
R+T: Who are your favorite artists?
AD: Rothko, Brancusi, Yves Klein, Jackson Pollock, James Turrell.
R+T: What is your favorite piece of art you own?
AD: Hard to say – I do like them all. Probably a Malick Sidibe photograph and the Lucien Smith we recently got.
Marriage
R+T: How do you balance work, motherhood, and marriage?
AD: A hard task…I try my best.
R+T: What is your secret to your marriage?
AD: Love, understanding and enough freedom.
R+T: Is there something you do with your husband on a regular basis?
AD: Going out to dinner – I need that after a day of work to unwind.
R+T: What is the 1st thing you bought with your husband?
AD: Our house.
Kids
R+T: What are your favorite places to shop for kids?
AD: I mostly shop in Paris. I like a mix of Bonton, Zef, Bonpoint, Little Fashion Gallery, and Isabel Marant. In the states, I like Makie and Trico Field.
R+T: What is your favorite thing to do or place to go on the weekends with your kids?
AD: To me, traveling is the best adventure for kids – we take them everywhere. Weekends are a mix of beach, lunch, park, and ballet class.
R+T: What is your favorite restaurant to eat at with the whole family?
AD: Sushi Park on Sunset – they make them little Sushi Balls.