Living
Profile: Alexi Ashe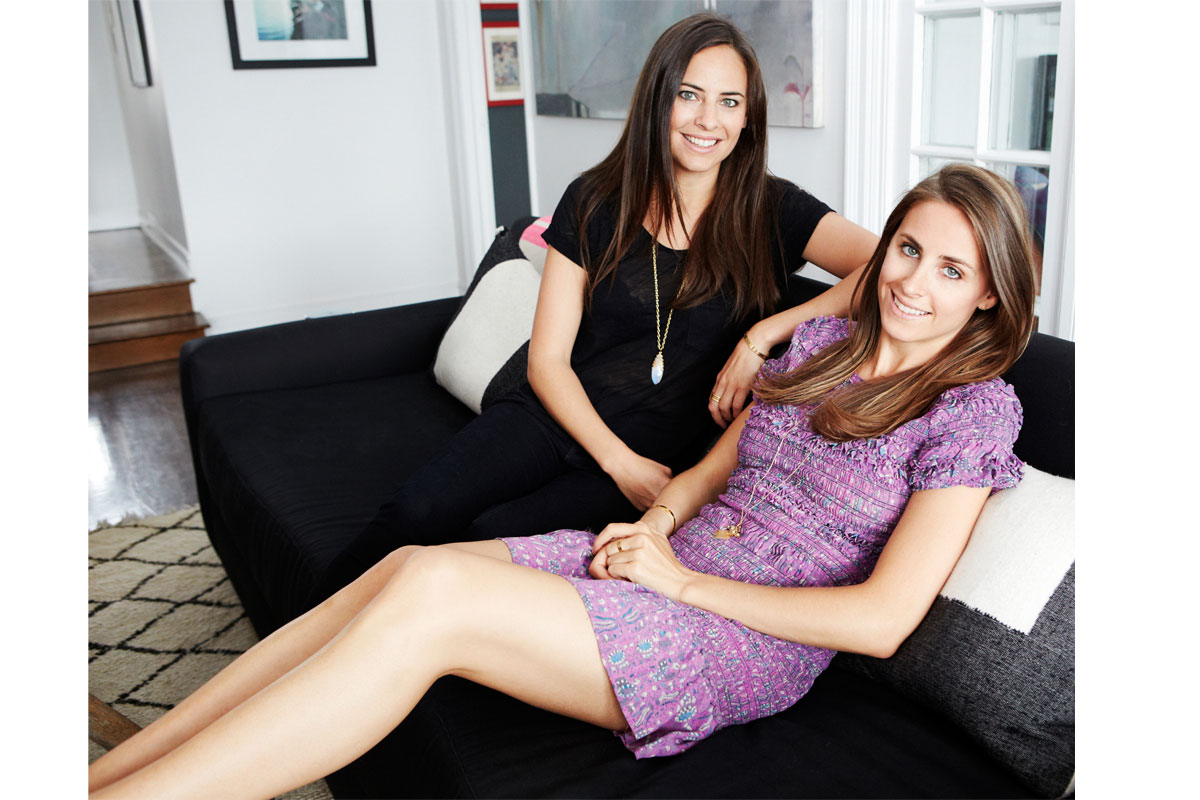 The second part of my profile on two very stylish sisters, Alexi (pictured on the right) is younger sister to Ariel, and extended family to my very close friend, Zach. Alexi grew up in Placitas, New Mexico, but later went to college, and then law school, in Los Angeles.
A human rights lawyer, Alexi worked for the City Attorney in LA, and since moving to New York two years ago, has worked for the Brooklyn DA, and been involved with the Somaly Mam Foundation and Worldwide Orphans Foundation. Alexi's goal is to bring her international service work, legal advocacy, and commitment to the protection of vulnerable women and children together to create the philanthropic resources necessary to support these precious and vital programs.
As you can probably tell from Alexi's NYC apartment, there are definitely perks to having a sister who just happens to be skilled in interior design. I hope you enjoy this look into her unique space and sensibility as much as I have. XXJKE
Beauty
R+T: What are your go-to beauty products and why?
I visited my mom a year ago and realized she looked ten years younger than she actually is. She was so excited that I was seeking beauty advice from her that she immediately made me an appointment with The Skin Boutique in Albuquerque. Mashell, the owner, put me on a strict Environ regimen. At this point, it's a 15-minute process to wash my face, replete with serums, brushes, scrubs, and vitamins. I feel great afterward, but it's exhausting!
R+T: Is there anything special you would like to share about your beauty products?
I grew up in the desert and because of the dry air there, I have a weird thing where I feel like I can't breathe if my hands are dry. I have tried every thick greasy hand lotion for sale, and am currently a fan of Goe Oil – it's all natural, and filled with plant and flower oils and butters. Unfortunately, my dog loves to lick it off.
R+T: What are five products you couldn't live with out?
Goe Oil, Rosebud Salve, Coconut Oil, Demalogica Power Rich, under eye concealer. (See, all moisturizers! Almost.)
R+T: What do you sleep in?
Striped pajamas. Va-va-va-voom.
Health
R+T: Do you have any health tricks?
Whenever anyone around me feels sick, I pump them full of wellness pills, oregano oil, olive leaf extract and a homemade ginger/lemon/manuka honey tea. However, the second I feel ill, I forget about all of this and just complain.
R+T: Any health causes that mean a lot to you?
There are a lot of great organizations that focus on maternal health for women in the US and in developing countries. I think that this work is crucially important because investing in the life of an unborn child is the very first step in ensuring their human rights are protected. Some great causes include Christy Turlington Burns' Every Mother Counts and Edna Adan's Maternity Hospital in Somiland. I am also in awe of two women whose lives' work protects at-risk children from dying from preventable disease and being enslaved: Jane Aronson of the Worldwide Orphans Foundation, and Somaly Mam of the Somaly Mam Foundation.
R+T: What do you do to stay healthy and balanced?
I am a very healthy eater. I moved from LA to NY two years ago and miss the amazing healthy food in LA on a daily basis. If I could have any restaurant open in NY, it would be M Café. In addition to eating healthy, I also think it's very important to spend time outside, and I try to do this as much as possible.
R+T: Do you workout, what do you swear by?
I have only been working out consistently for one year, but now I'm addicted. I go to SLT, short for Strengthen Lengthen Tone – the class has been dubbed Pilates on crack. I love it because it's only one hour, the instructors all have amazing bodies, which is the best inspiration, and I work hard and am sore in all the right places the next day!
R+T: What do you do to relax?
Sleep. I watch exactly one half of every TV show or movie and pass out (usually at the most exciting part).
Décor
R+T: What is your design philosophy for your home?
I hate clutter. I am always so jealous when I go to people's homes and see sweet vignettes, but I can't do them. It all feels like clutter to me.
R+T: What are you favorite pieces in your house?
Currently, I love my nightstand. For the first two years I lived here, I had a stool as a nightstand because I hadn't found anything that fit. I couldn't leave anything on top of it because of the whole clutter issue, and my puppy happened to love eating things like chapstick and earplugs. I found this nightstand at Retrouvius in London and had it shipped back. The drawers are old cigar boxes. I also have two paintings done by my cousin John Brown. He paints simple Los Angeles skylines and has an amazing ability to beautify things like telephone poles and cracked concrete. It helped me with my move to New York because I can still look up from my bed and see palm trees.
R+T: What is your favorite room in the house?
I love my living room. My husband and I decided not to have a TV in our main room, and it has made it such a lovely room to be in. At sunset, the light in the room is golden and casts amazing shadows on our paintings.
Entertaining
R+T: Do you entertain at your home?
All the time. At minimum, I have my sister, brother and closest group of girlfriends over once a week for dinner. I'm also the first to host a baby shower, birthday party, going away party, or dinner-party-just-for-fun.
R+T: What are your tricks for entertaining?
Enough alcohol. And trying to stop the inevitable bottleneck that always happens when people try to crowd into a kitchen, no matter how tiny it is. Mine is literally the size of a closet, and I have seen 40 people trying to cram into it.
R+T: How do you set the scene when you have people over?
Pretty standard: candles (but not over scented), music, flowers, and a beautiful display of food and drinks.
R+T: Are there any tips for what to do or what to avoid?
Forgetting ice! That's such a bonehead move!
R+T: What is your favorite song/playlist when you have people over?
The invention of Pandora has made me so lazy. A Mumford & Sons playlist is my go-to.
R+T: What are your favorite objects/accessories in the kitchen?
Probably my stainless steal polishing glove. All of my appliances are stainless steel and I am OCD. Fingerprints drive me crazy.
Fashion
R+T: How would you describe your style?
I either dress totally butch, or in a gown.
R+T: Who are your favorite designers?
Proenza Schouler, Rag & Bone, Carolina Herrera, Altuzarra, Giambattista Valli.
R+T: What are the 5 pieces you can't live without this season?
Roseanna bikini from Warm, Steven Alan linen dress, Chanel sandals, PS1 Pouch shoulder bag, Levi's jean shorts that I found deep in my closet.
R+T: What is your uniform?
This is the area where you might regret featuring sisters. It is absurd how similar our style is. Since we've just wrapped up summer, I will answer our summer uniforms: Rag & Bone pocket tank, vintage Levi's, charm necklace by Helen Ficalora, Rag & Bone sandals.
R+T: What is your newest purchase?
Balenciaga python heels.
Food
R+T: Is there anything about your diet you would like to share with R+T?
I love French fries. My sister and I tried to have no potato July, but it didn't work. I am the healthiest eater until you put a plate of fries in front of me. Then it's all in with forks and fingers and multiple dipping sauces, and no room for air!
R+T: Do you cook?
Yes, but less than I should due to the wonder that is Seamless Web.