Food & Drink
Product of the Day: Blackbird Food Co. Granola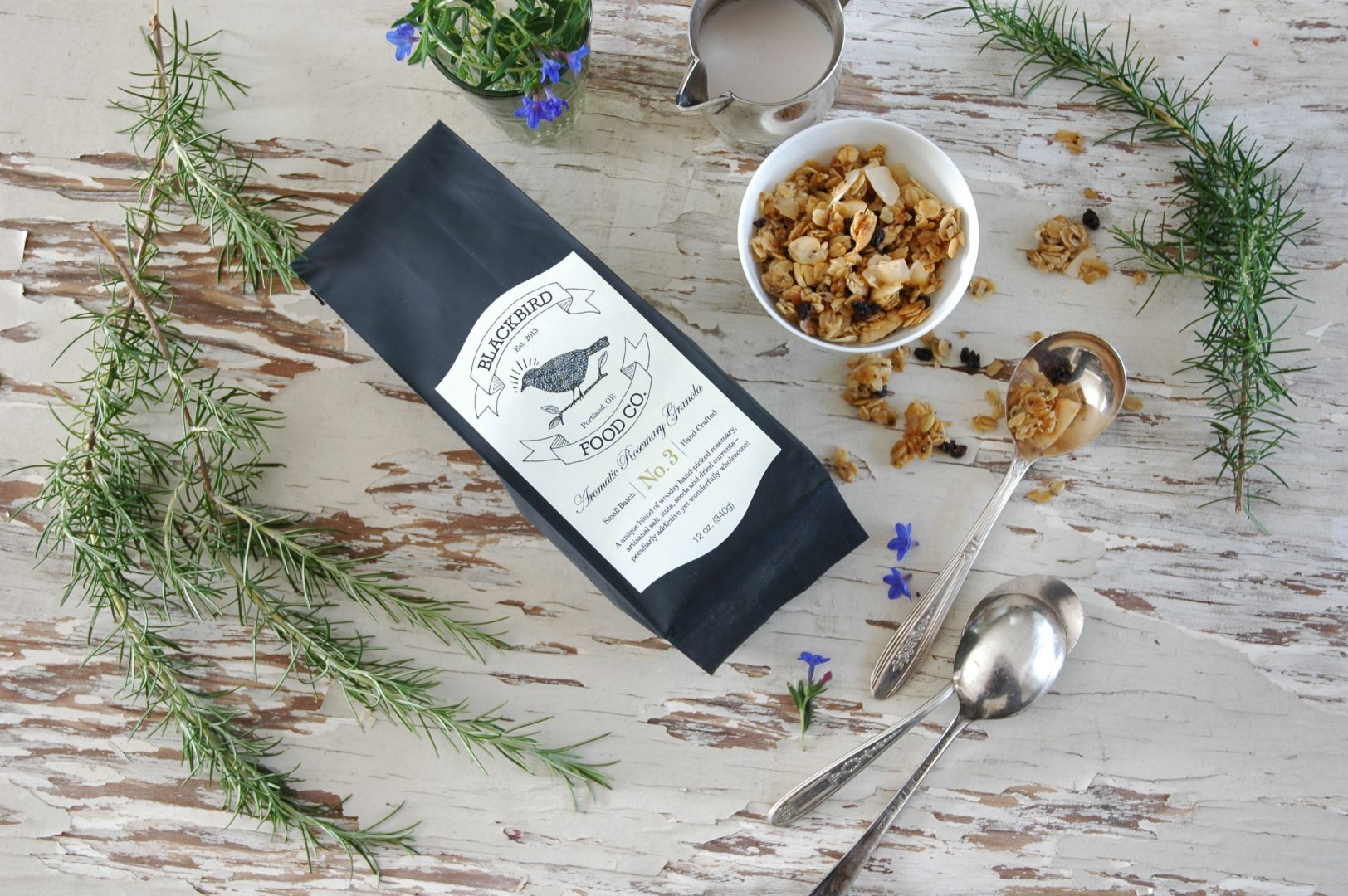 I was introduced to the deliciousness that is Blackbird Food Co. through the lovely Barrett of Valleybrink Road – she had included their granola in one of her amazingly curated gift boxes, and it was love at first bite. Handmade in small batches using local, artisanal, and healthful ingredients, it's a granola that you can feel good about eating. And though I've only tried the Aromatic Rosemary (couldn't put it down), with flavors like Salty Sweet, Classic Strongman and Bitter Chocolate, the sampler is next on my list.
Owner Pamela Fabrega was kind enough to share some of the magic behind the granola, as well as what's new and next for the Portland-based brand. XXJKE
R+T: Can you share a bit about how Blackbird Food Co. came to be? What motivated you to create a "modern granola"?
Ahhh…this is a very long and convoluted story, but the short of it is that I've always been a foodie and always wanted to start my own business, but never really got the opportunity until a couple of years ago when I divorced. With three young boys at home, I wanted something I could do that worked around their schedules. So, I pulled together my skill set (sales & marketing, degree in Architecture, baking since I was a 6 or 7 year old latchkey kid) and came up with Blackbird Food Co. granola.
R+T: Your hand-made, small-batch, local and artisanal granola is next level delicious… What impact has Portland's local food movement had on the ingredients you use and the product you create?
Living in Portland has hugely impacted my choice of ingredients and the flavors we've created. This is such an innovative food town and there is a tremendous appreciation for the craft of food. People here will spend more money on food than on rent! And in the food community, there is a lot of experimenting with flavors, ingredients and methods. Finally, there are a lot of great local companies whose products are unmatched and which we love to use in our granolas (for instance, Jacobsen Salt Co. Pitch Dark Chocolate, etc.)
R+T: We're loving your elevated and unexpected flavor combinations… Where do the ideas come from?
Primarily, I was inspired by bitters when I first started coming up with my flavors (and packaging!). I thought, why does granola have to be so boring? Even when I say I make granola, people's eyes glaze over…that is, until they try mine! So, I set out to make a granola that was not only incredibly healthful (filled with super foods like chia seeds, flax seeds, tons of nuts and dried fruits, 100% agave syrup and 100% Vermont maple syrup, etc.), but also one that tasted amazing and unexpected.
R+T: What's new and next for Blackbird Food Co.? Any exciting new product offerings on the horizon?
Well, right now we are focused on growing our business and organizing it in such a way that we can support growth. But we're also looking at adding new flavors of granola (one is in the works right now which will be co-branded with Pitch Dark Chocolate and Ristretto Roasters – look out, it's going to be unusual and amazing!). In addition, we may be expanding into artisanal granola bars sometime soon.