Wellness
Poppy and Someday is Natural Beauty, Straight from Laurel Canyon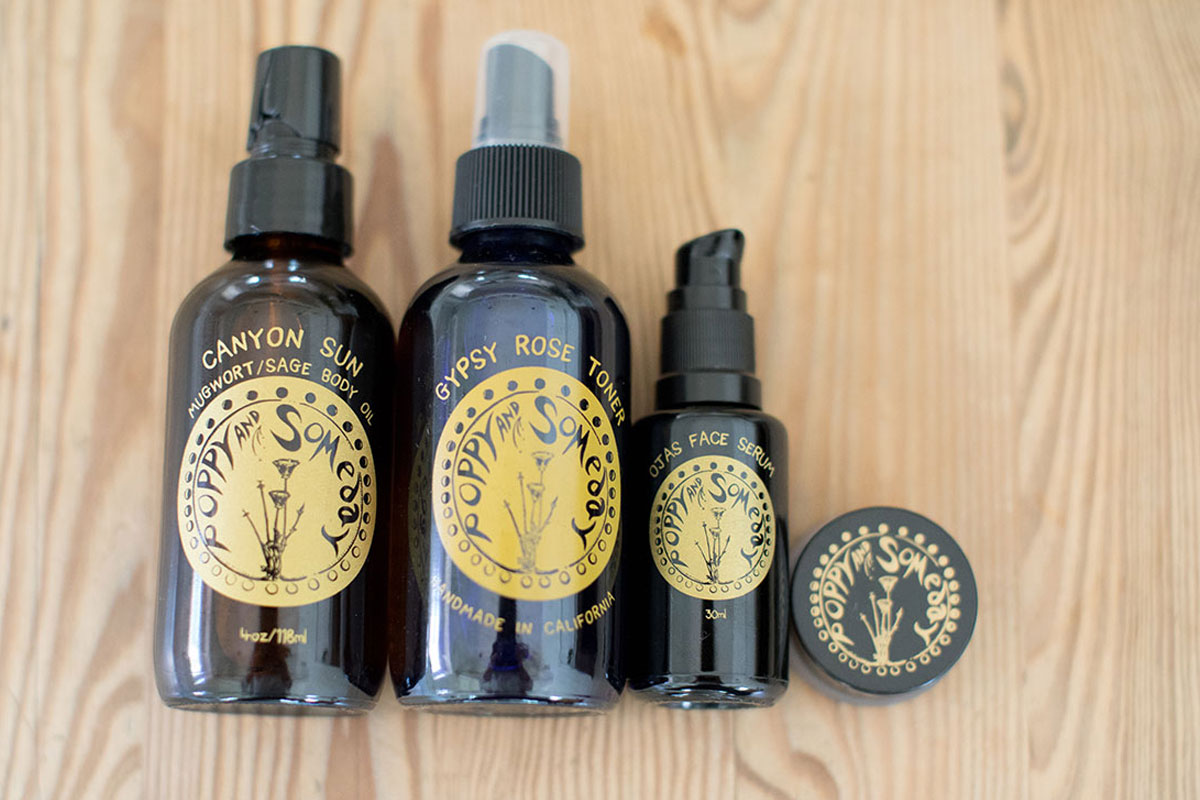 I love discovering small, off-the-beaten-path labels that make products from an authentic and uncompromised place, especially when it comes to skincare and body care because the ingredients are so important. Poppy and Someday is one of these brands; though it has many devoted followers and sells to some of my favorite Los Angeles stores, like General Store and Midland, it's still a small-batch, one-woman operation.
Poppy and Someday's founder, Kari Jansen, is an herbalist and Ayurvedic practitioner who lives in Laurel Canyon with her son, Rowan. Kari crafts her oils, serums, and toners primarily by hand, using many herbs, plants, and botanicals from her own backyard. I especially love her Canyon Sun Body Oil, which promotes circulation and warms muscle tissue, and her Ojas Face Serum, which just gives you the healthiest glow. I thought you might like to know a little bit more about Poppy & Someday, so we asked Kari to talk about how she crafts her products and more. Check out the interview below! XXJKE
Rip & Tan: When did you first become interested in natural beauty? 
Kari Jansen: As a child I never liked the fragrances or feel of my mom's lotions or makeup.  This innate dislike of the artificial ingredients inspired me to study plant medicine.  As I dove deeper into my research of Anatomy and Physiology, I became interested in how the body works and specifically how chemicals can alter the body processes.  Then I became an herbalist and almost immediately, a beautiful green world opened up for me.  I began making everything from healing comfrey salves to berry and licorice tinctures that help with schizophrenia symptoms.  I was intoxicated by the pure nature of the process and wanted to create these magical products to help people connect with the healing plant world.  
Rip & Tan: What professional or experiential training do you have in the industry? 
KJ: Initially I went to massage school and soon after that program, I started my Health and Nutrition education in college at Central Michigan University.  During these studies, I was exposed to essential oils and many other products.  Even though I loved their products I became discerning about natural ingredients which planted the seeds for my own line.  Next, I began at the California School of Herbal Studies and here I was taught how to identify, harvest, and make plants into medicine.  I fell in love with this magical process.  I began my Ayurvedic studies concurrent with my herbal studies and graduated from the Ayurvedic Institute of American, Greens in India and Dhyana Center.  Through these diverse programs, I was inspired to create my herbal products through an Ayurvedic lens. 
Rip & Tan: What inspired you to start Poppy and Someday? When and how did you get it off the ground?
KJ: I moved to Los Angeles from the Bay Area and noticed that so many people had an interest in herbalism, but had very little knowledge.  I started selling my favorite products that I use daily at little pop-up markets around LA and would also share my knowledge.  The response was really strong so I continued to pursue it and built it up, little by little.  I made leather purses and dreamcatchers to help get the money to pay for bottles and ingredients.  The consciousness has shifted with natural products and I am so happy people are starting to connect with clean, plant based, and handmade products.  Your skin is your largest organ and what you put on your body should be as clean as what you would put in your body. 
Rip & Tan: What's behind the name?
KJ: Poppy and Someday is a bright happy name.  Poppy is named after California's state flower and is also referred to as a cup of gold. And Someday is why not today.
Rip & Tan: What standards do you follow when it comes to the ingredients, sourcing, manufacturing, etc?
KJ: I have very high standards and only want to use the best and highest quality of ingredients.  Wild harvesting and gardening is an important part of my process.  And that is where I get the vitality and life into each product.  And every product I make has a plant component to it.  I don't believe in just using a carrier oil or water and putting drops of essential oil and calling it a product.  The infusion part of the process is where the magic is.  Every oil is infused with herbs that I harvested and then I let them infuse in the sun on a full moon cycle.  Then the energies of the product create subtle healing and the smells are so intoxicating.  I see the skin absorb my products so easily and that is one way to tell that your products are high quality.
Rip & Tan: What are your best-sellers? Why do you think your customers love these products? 
KJ: The Gypsy Rose Toner and Sunshine Daydream Salve are both very popular.  They smell so good and bring in a happy energy.  The Gypsy Rose Toner has a Rose quartz in each bottle to bring in self-love.  The Sunshine Daydream Salve is such a universal healer.  Great for burns, cuts, diaper rash, itches, and dry patches.  It's also a wonderful salve for kids and babies to calm and heal them.  
Rip & Tan: Any tips on using or combining the products in your line?
KJ: Any combinations that are especially effective? The Ojas face serum and Gypsy Rose Toner work well together and I use the cardamom lip stain to give my cheeks and lips a sweet glow.  I use the salt scrub and follow up with the Canyon Sun Warming body oil.  And then I bring in the gua sha and stimulate my lymph. 
Rip & Tan: What new product or project are you excited about right now? 
KJ: I just came out with a face serum called Ojas.  I love it and my face has taken on a new vibrance.  The Sea Buckthorn and Rosehip seed oils in it bring a golden glow to my complexion, which I love.  And the smell of Helichrysum, Sandalwood, Neroli, Rose and Blood Orange…so good.  I am playing with a face cream that is made with this oil as the base and I add aloe that I wild harvest.  It feels amazing on my skin.  I am also playing with face scrubs and seaweed and aloe mists.  It is endless and keeps me inspired every day. 
Rip & Tan: What beauty or wellness ritual(s) complement the line? What do you wish all of your customers would do to take care of their skin?
KJ: I do offer an Ayurvedic lymphatic massage in which I use hot rocks, lots of herbal infused oils, cups and gua shas.  I do sell gua sha to be used with my Canyon Sun Mugwort and White Sage warming body oil.  It helps to break down blockages in the lymph and increase circulation.  And I suggest salt scrubbing with Vyana Salt Scrub which is rich in warming spices to restore luster to the skin and increase blood flow.  I love it when people start using salves and oils instead of lotions. Your nervous system with thank you and your skin will love you. Especially those Vata constitutions. 
Rip & Tan: Tell us about your personal life. How long have you lived in LA? What do you do for fun?
KJ: I have lived in LA for 8 years and love it.  My best days are spent hiking and hanging at the ocean with my 9-year-old son, Rowan.  It resets and restores me.  I have a magic space in Laurel Canyon where I spend most of my time.  Creating products, throwing on my pottery wheel, and then hopping in my outside claw foot tub surrounded by my plant buddies. Heaven.