Food & Drink
Pamela Salzman's Rainy-Day Porridge Recipe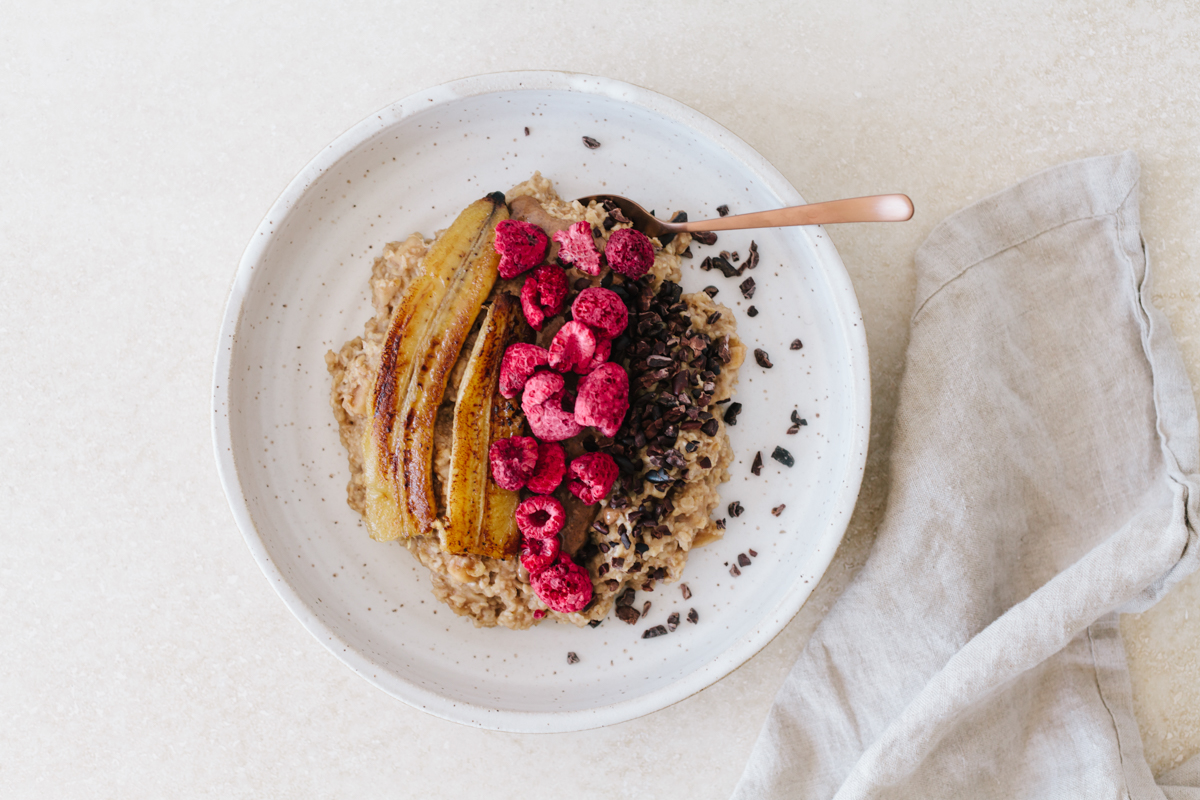 We've been having a lot of rainy, gray days in Los Angeles this winter, so cozy, warming dishes are especially welcome this year. When I saw holistic chef and Rip & Tan contributor Pamela Salzman's decadent but healthy spin on porridge pop up in my Instagram feed, I knew I had to recreate it. I love this recipe because it's sweet but packed with nutrition and easy to make and modify depending on what you happen to have on hand. Plus, it's very kid-friendly.
The porridge base can be made using any combination of grains you have in your pantry, from steel cut oats to millet, quinoa, and buckwheat cereal. Pamela recommends cooking grains in water and adding a creamy base like almond milk at the end for a boost of protein and flavor. From there, you can assemble the dish with any toppings you like, from fresh fruit and nuts to seeds and nut butters. For this particular recipe Pamela topped the porridge with banana that was sautéed in vanilla ghee by 4th & Heart, Solstice Canyon Aztec chocolate almond butter, sweet cacao nibs, and freeze-dried cranberries. 
If you're looking for a special breakfast to make on Valentine's Day, or just something warm, sweet, and healthy to start your day with this winter, this dish would be perfect. I hope you enjoy it! XXJKE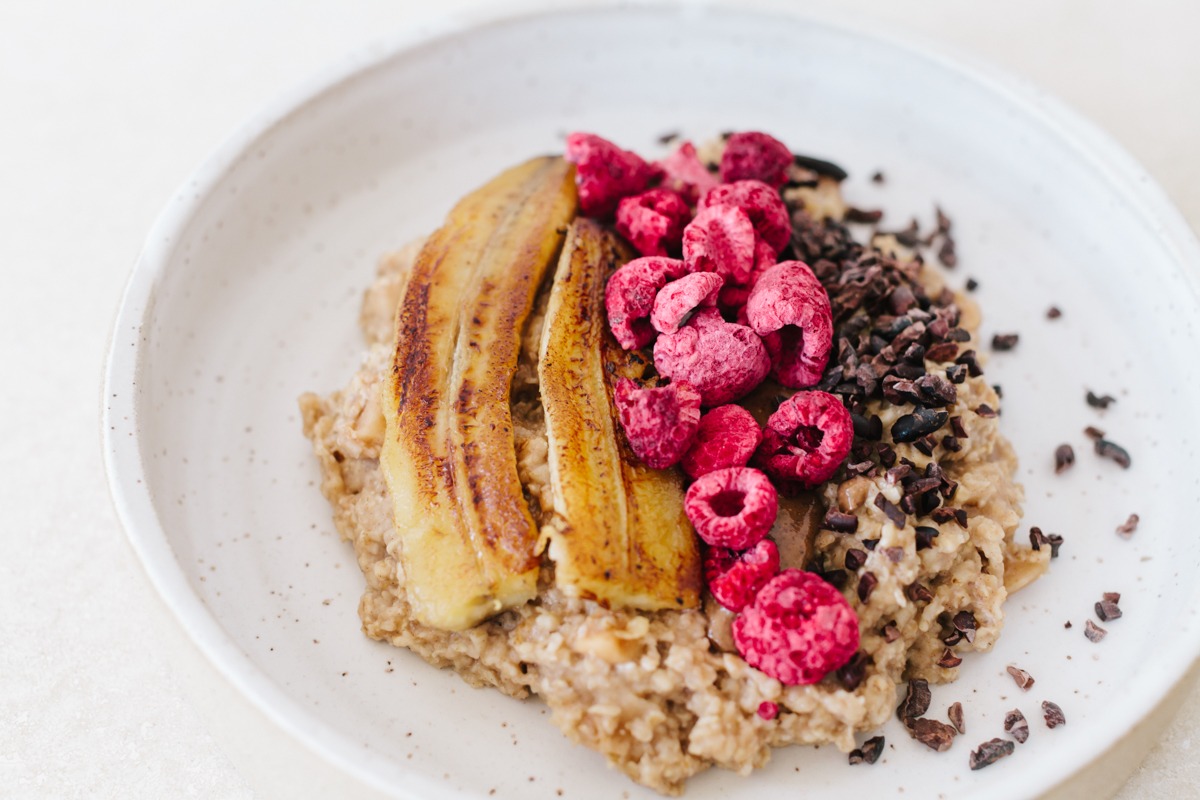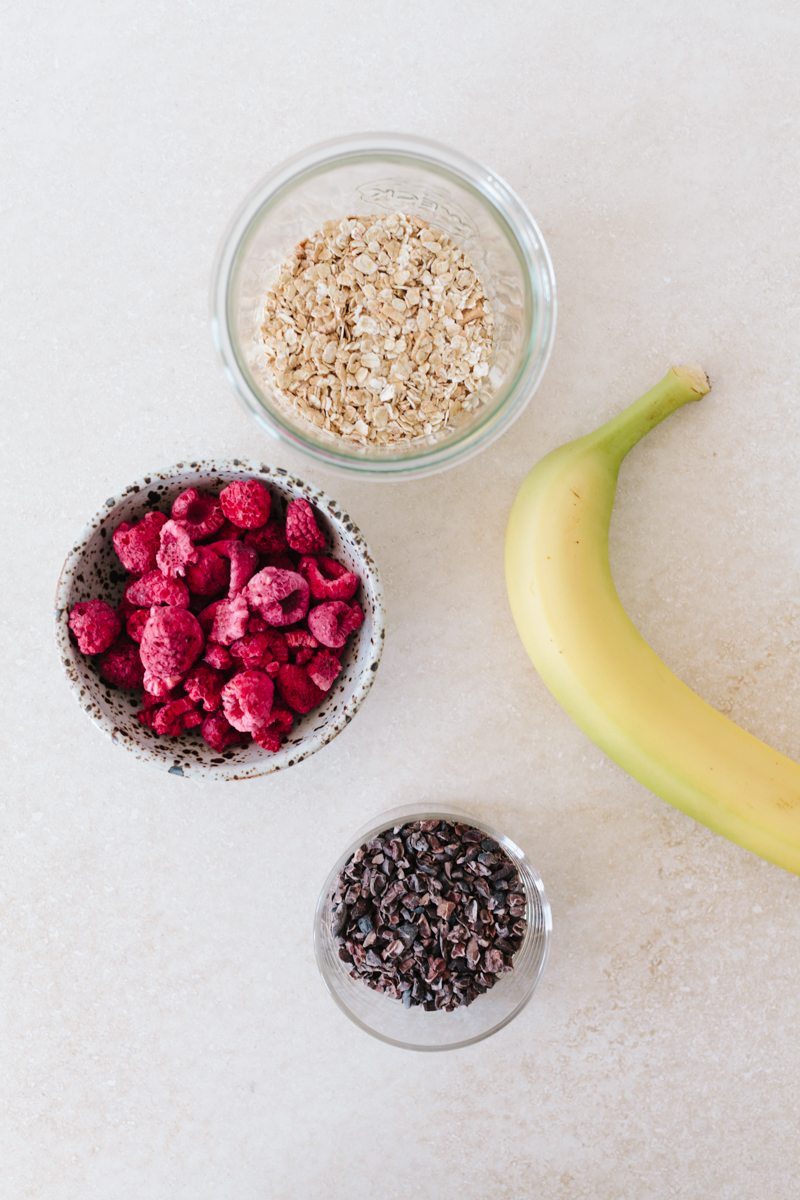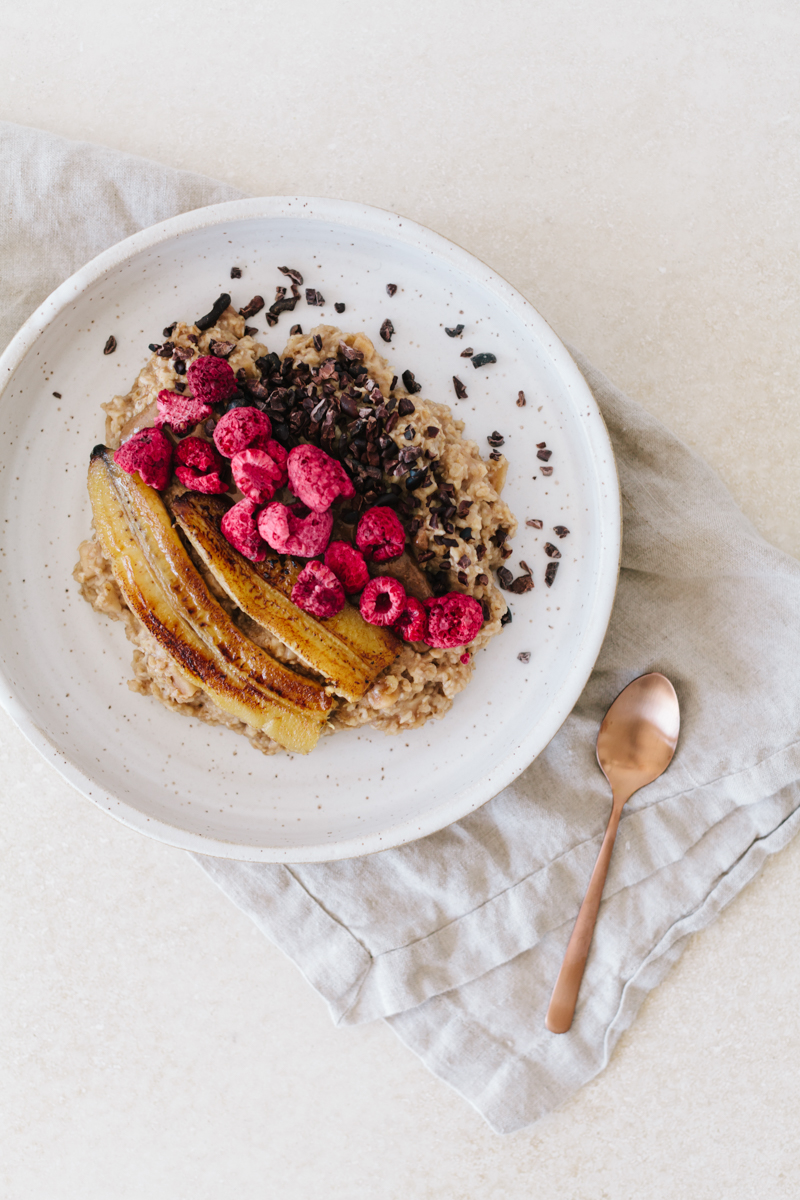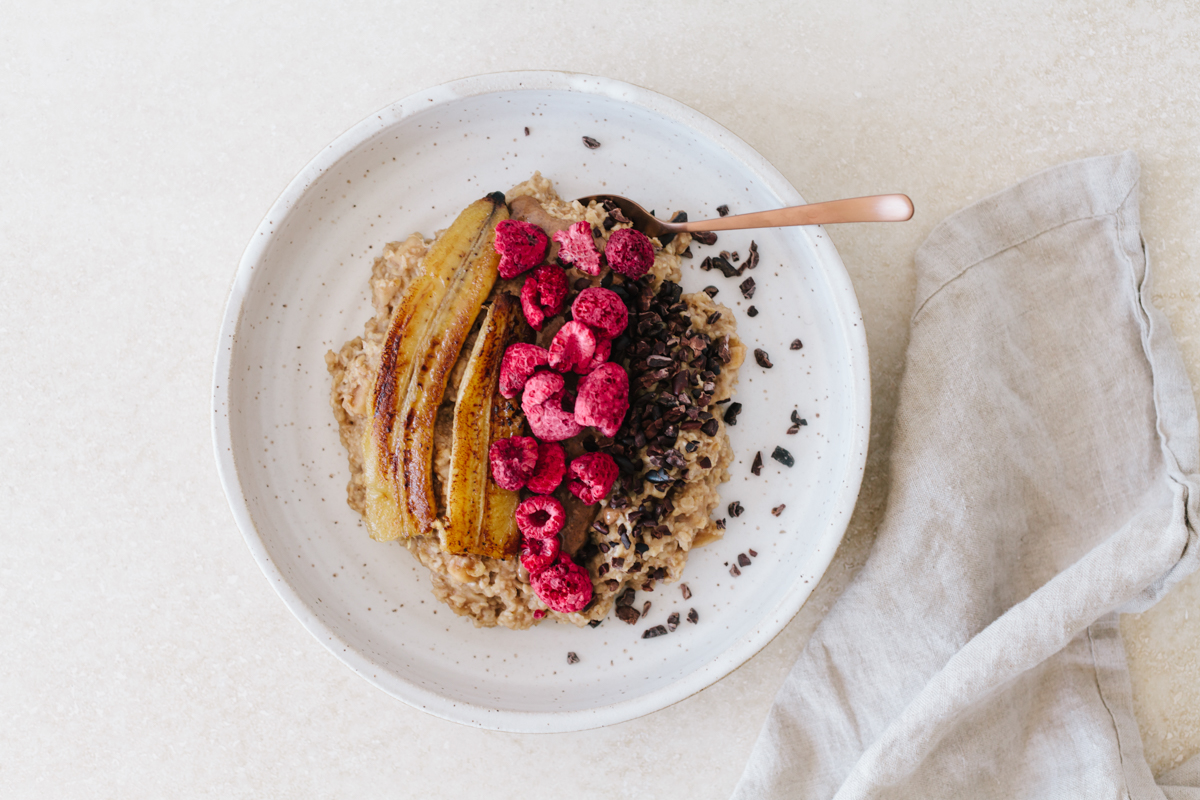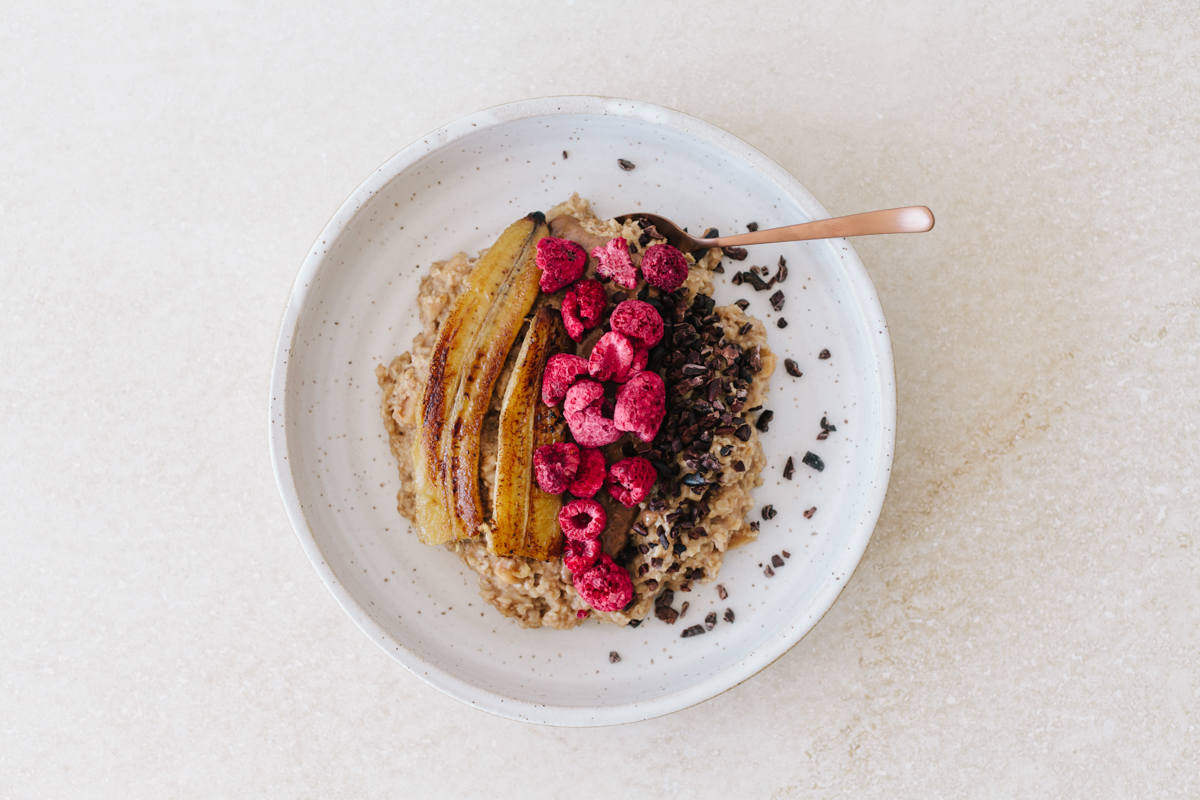 Pamela Salzman's Cacao Raspberry Breakfast Porridge
Recipe
Pamela Salzman's Cacao Raspberry Breakfast Porridge
Servings: Serves 1-2
Units:

Course: Mains
Cuisine: American
Ingredients for the Porridge Base:
1 cup

237 ml

mixed gluten-free grains (I like a combination of rolled oats, quinoa, millet, and creamy buckwheat) preferably soaked overnight in water and drained

4 cup

946 ml

water (use 3 1/2 cups of water if grains were soaked)

1/2-1 cup

118 ml

unsweetened almond milk or milk of choice
Ingredients for the Porridge Toppings:
1 tablespoon ghee (I like 4th & Heart Vanilla ghee)
1 banana
1 tablespoon Solstice Canyon Aztec Chocolate Almond Butter
1 handful sweet cacao nibs
1 handful freeze dried raspberries
In a medium saucepan, combine the grains and water. Bring to a boil over high heat, reduce heat to a simmer and cook covered.
Cook until all the grains are tender, about 25-30 minutes. If grains were previously soaked, they will cook much more quickly!
Stir in the almond milk according to whether you like your porridge is thick or thin until porridge is nice and creamy. Serve immediately or refrigerate for a few days. Reheat in a saucepan with a little water or almond milk to desired consistency.
Saute a sliced banana in vanille ghee and put that on top of the porridge with the Solstice Canyon Aztec Chocolate Almond Butter, cacao nibs, and freeze dried raspberries!