Wellness
Nourishing the Postpartum Stage with Doula & Chef Stephanie Matthias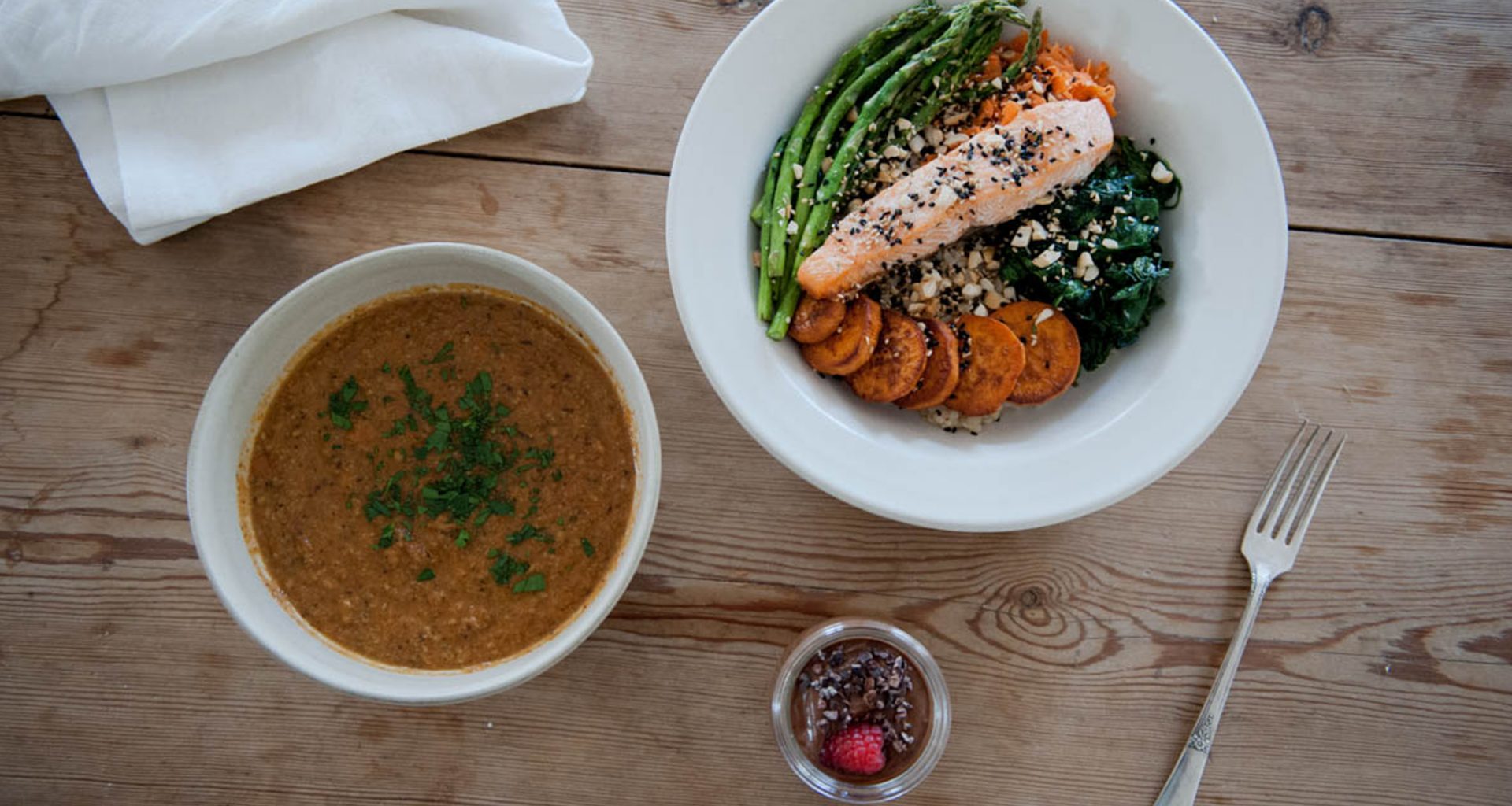 A native to Los Angeles, Stephanie Matthias grew up in the canyons surrounded by her mother's herb gardens and a grove of eucalyptus. The postpartum doula and chef—known as "the baby whisperer" by her devoted clients—is a mother and healer with a passion for maternal health and wellness. The first eight to twelve weeks after a baby's birth is a crucial time for the mother to be nurtured and supported. The work of a postpartum doula is primarily providing emotional support and education to empower new parents with the tools and techniques to care for their newborn child. Stephanie also provides home-cooked meals, prepared with the principles of traditional Chinese medicine, to replete and restore a woman's body. Gracious, warm, and endlessly knowledgeable, Stephanie sat down with us and talked prenatal and postpartum health, her favorite reads, and how she's learning to create space to take care of herself. She even shared some of her favorite recipes—her savory mushroom soup and Vietnamese-inspired salmon bowl followed by her healthy take on chocolate pudding (recipe below!) proves that life is a joyful balance.
Rip & Tan: Tell us about a little bit about your background—how did you get into maternal health services? Was there a specific experience or event that inspired you to pursue your path?

Stephanie Matthias: I had my first child at a pretty young age—23—and spent my pregnancy as well as the first several years of my daughter's life feeling a little lost in the whole thing. Yes, I had the support of my family who were incredible and all of my friends who were so present and involved—but even though I had all these people around me, I felt really alone in the experience, because no one immediately close to me could relate.

Even though I felt a lost, I loved being a mom so much, so I started reading every book I could get my hands on and really dove head first into the subject of pregnancy, postpartum, and motherhood in general. It was a way for me to get my bearings and figure out where I wanted my life to go from that point.

After I finished school, I started catering, and when I got into privately cooking for people, I started to see very vividly the healing power of food. I worked for a lot of families where someone was battling cancer and I got really into food as medicine, how broths can heal the body, and I became fascinated with alternative healing modalities.

A few years later I met Erica Chidi Cohen, who really took me under her wing and suggested postpartum work to me—she trained me and mentored me and I'm forever grateful to her and to the universe for bringing me down this path. I love so much being able to support women during such a magical, but often challenging time in their lives. My greatest wish is for every woman to have a strong postpartum support system and in turn to feel nourished, safe, cared for, beautiful, strong and seen.

Rip & Tan: What is postpartum care? What treatments or rituals does it involve?

Stephanie Matthias: My primary focus is caring for the mother—cooking nourishing meals for her, helping her troubleshoot any physical discomfort or issues that might come up, emotional support (this is a major component), baby feeding support, etc.

I approach new mother care, specifically the meals, from a Chinese medicine perspective, which means that I'm pretty strict with only making warm, cooked foods, using sesame oil or other warming oils for massage and belly wrapping, making lots of warm teas and encouraging moms to dress warmly, stay home as much as possible for the first 40 days and not be on their feet too much.

My meals and emotional support can also extend to the rest of the family, particularly the woman's partner if she has one. I often find myself having heart-to-hearts with husbands and wives in the kitchen while I'm cooking. Talking through the new parent experience with someone who is trusted, yet not emotionally attached to the situation can be a great opportunity for healing and decompressing.

There is also typically an element of baby care, but the way I like to work is to put the bulk of that focus on education and setting the new family up with the tools they need to feel empowered and successfully parent their newborn after I leave (this includes everything from swaddling to bathing to baby wearing to good sleep habits). When I first started this work, I made the mistake of doing too much of the baby care in an effort to be helpful to the parents, but I quickly realized that this made them more dependent on me and didn't empower them to do it on their own. My goal is for the family to phase out of needing me by about 8-12 weeks after the birth of the baby.
Rip & Tan: Tell us about your food philosophy—was there a specific event or experience that drew your attention to food as medicine? Do you have any favorite recipes or ingredients?

Stephanie Matthias: Years ago, I was in New York at a juice place and they had a quote on the wall that said something along the lines of "everything you put into your mouth is either enabling or hindering disease" and that really stuck with me. Particularly during the postpartum period (the first 3-4 months after birth), eating food that is nutrient-dense, warm and healing for your body is, in my opinion, non-negotiable. What you eat during that time impacts your overall health for the rest of your life and I am not exaggerating when I say that.

Having a baby is a major event for your body and you lose so many minerals and nutrients and it's essential to spend time building all of that back up.

For breastfeeding mamas it's especially important because no matter what you eat, your body will produce good milk to feed your baby. And that means that it will strip your body of whatever it needs to in order to make that happen. So, if moms aren't eating right and replenishing all of that then they will run into issues down the road: brittle bones, thin hair, things like that. Regardless of whether you choose to breastfeed, a proper diet will help you recover from birth faster and you will not feel as tired and depleted from the changes in your sleep schedule and general demands of parenting. I've had clients have babies in their late 40s and bounce back faster than someone in their early 30s simply because of their diet, both before and after birth.

My favorite ingredient/food is definitely bone broth. I drink a cup daily and put it into soups, sauces—basically anything that works because it's an easy way for me to get extra nutrition into my kids and my clients. It's also my go-to recommendation for a post-birth meal for clients. Whether you're in the hospital, birth center, or home, these days bone broth is just a Postmates order away if you live in a big city. If not, bring your own.

It so deeply nourishing, grounding, easy to digest, and gentle on your body—it's perfect for after birth. One of my favorite quick postpartum snacks is to heat some bone broth and then whisk an egg into it. The hot broth cooks the egg and the whole thing gets creamy and frothy and with a pinch of salt, it's so delicious.

On a personal level, I take a pretty balanced approach when it comes to food. I eat an omnivore diet and believe in using the highest quality ingredients and not doing too much to prepare them. I shop at the farmers market and tend to stick to organic ingredients. I do have a soft spot for pastries and fresh pasta so those don't go untouched by me if they're great quality. I think that part of being healthy is enjoying what you're eating. I really don't buy into dieting and depravation at all. If you pay attention to your body and are honest with yourself, I think you'll generally make good food choices.

Rip & Tan: What is the most rewarding part of your career?

Stephanie Matthias: The most rewarding part of my job is witnessing people blossom into a family. The magic of a new baby is never lost on me. I adore watching new parents fumble around a bit those first few days and then slowly start to figure things out and fill out into their new roles. I can't imagine ever not being completely humbled and in awe of the fact that I get to be there to witness a family being born.

Another aspect that just blows me away day after day is how powerful mothers are. The determination and love and commitment that I have born witness to, I'm convinced, is what keeps the earth spinning and the planets in orbit. Mothers endure so much physical, emotional, hormonal and psychological change and watching a woman learn how to navigate that and command all of those aspects of herself while at the same time caring for others is pure magic.
"Everything you put into your mouth is either enabling or hindering disease."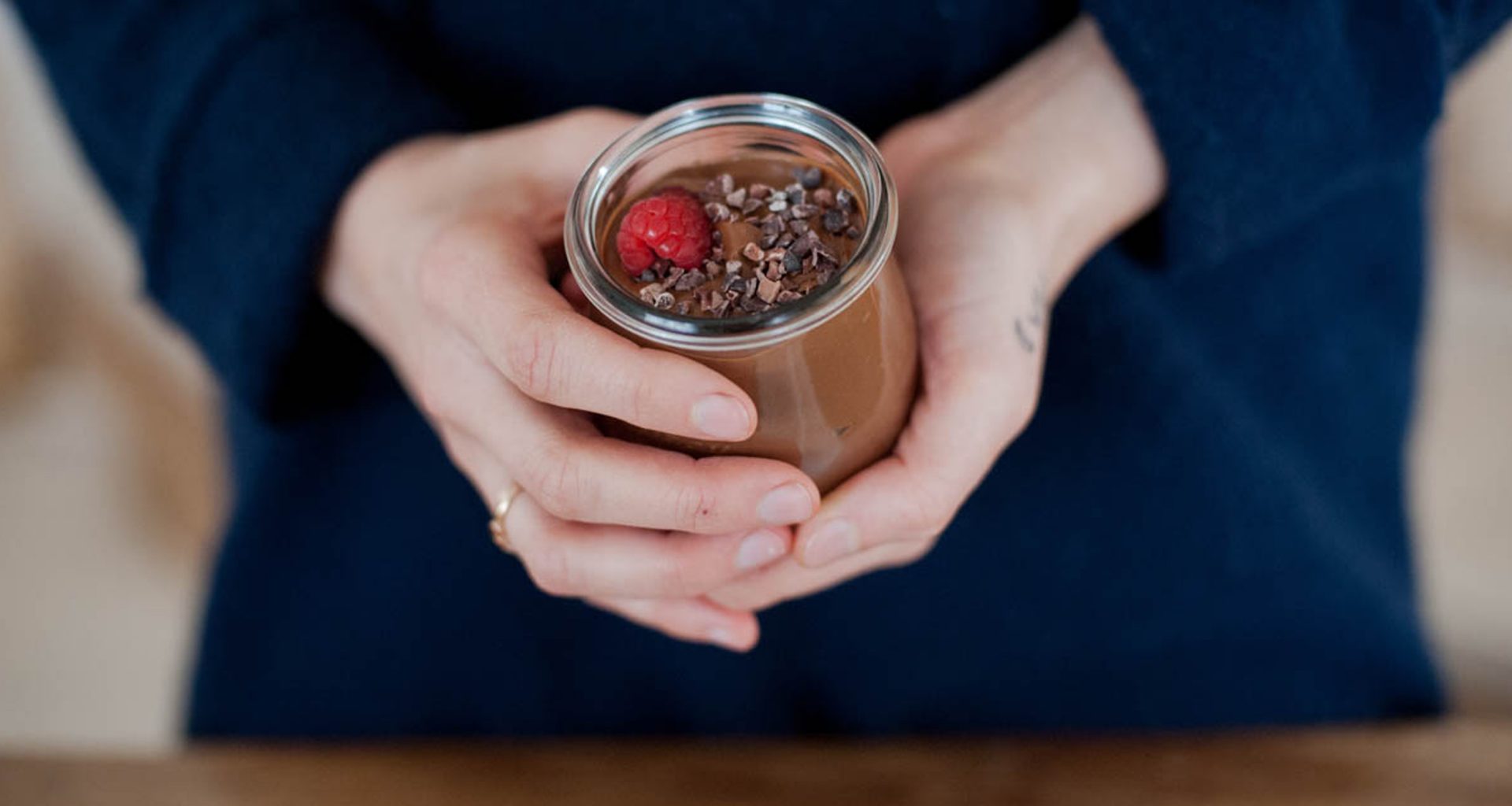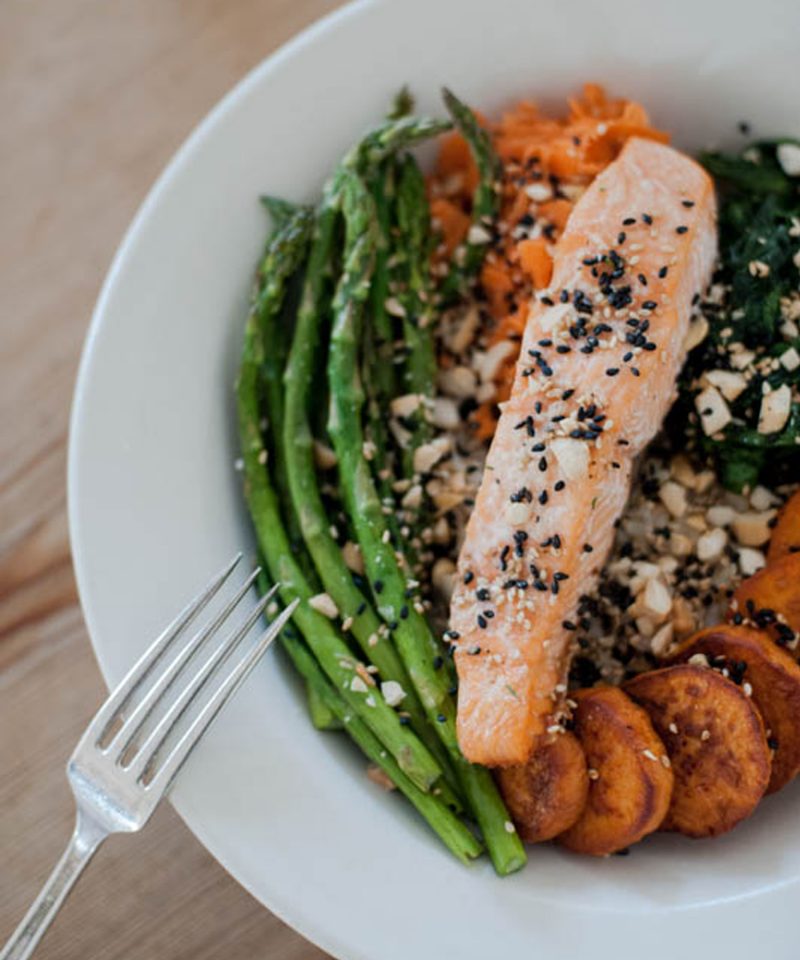 Rip & Tan: What is the biggest challenge?

Stephanie Matthias: The biggest challenge for me is making sure I take proper care of myself. My schedule in 2017 was pretty crazy and I didn't really tale any time off between clients. Going from one client right to another is pretty intense, so in 2018 I've made myself a policy to take at least a couple of days to a week off in between clients to do some self-care and decompress from the experience. It's enabling me to show up better and not feel so depleted when I get home at the end of the day. I have to be rigorous about balancing my work and personal life because I'm a mother myself and I love spending time with my kids so much and want to be present for them as much as possible. In order for me to be the kind of mother I want to be, I have to take really good care of myself.

Rip & Tan: Are doulas required to have certification? What goes into being an accredited doula?

Stephanie Matthias: Yes, doulas should absolutely be certified. I completed my postpartum doula training with Erica Chidi Cohen, co-founder of LOOM, and there are plenty of great training programs in most major cities for anyone interested in this work. When considering a doula to hire, I encourage you to ask about their certification and training as well as how long they have been a doula and how many families they have supported. A properly trained doula, whether birth or postpartum, will have undergone extensive training which includes workshops, reading books, participating in discussions and shadowing an experienced doula on the job. Another thing to consider is who someone trained with because that will have an influence on their philosophies, how they work and how they interact with clients.

Rip & Tan: What should one consider when looking for the right doula?

Stephanie Matthias: The most important thing is to find someone who will support you in creating the birth or postpartum experience that you're looking for. You want someone who is well-trained and informed, of course, but they should also be able to leave space for your ideas, beliefs and wishes. My personal philosophy is that the most important offering you can give someone is the dignity of their own choices and the support to create whatever life they want to lead. I'm there to share knowledge, make nutritious meals with love, and providing the tools parents need to feel competent and empowered. I hold space for the kind of parent(s) they would like to be and offer support to help them get there.

One thing that does set me apart from a lot of other postpartum doulas is my food background. My clients tend to gravitate towards me because in addition to the traditional postpartum support, I also offer chef-quality meals that are delicious and nourishing.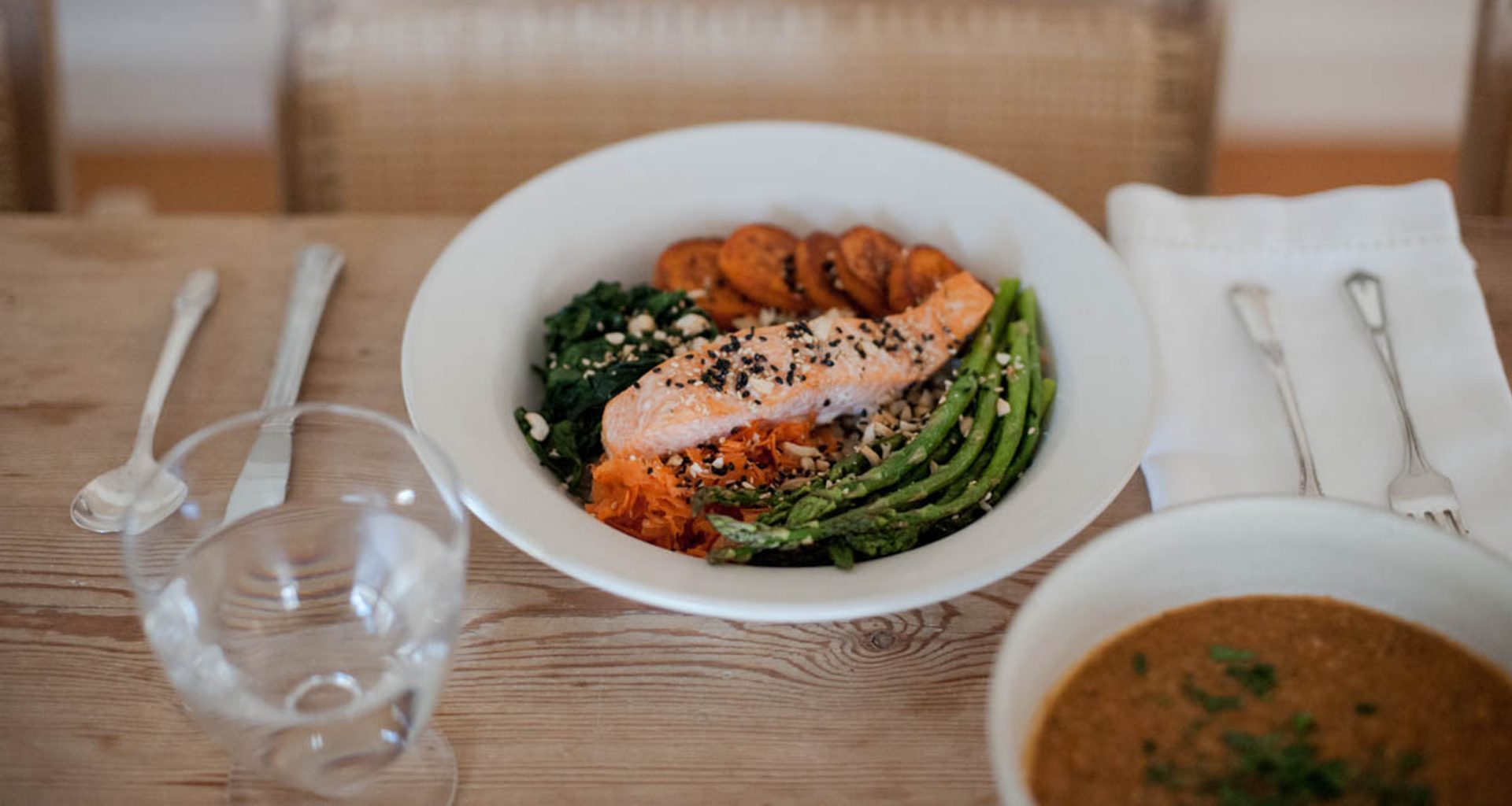 Photos by Melissa Gidney
Avocado Chocolate Pots
Salmon Rice Bowl
Recipe
Avocado Chocolate Pots
Ingredients for the Pudding
2 Tbsp + 1 tsp maple syrup

1/4 cup

59 ml

coconut milk
2 Tbsp coconut oil
1 Tbsp honey

1 1/4 cup

296 ml

cacao powder
1 tsp vanilla extract
generous pinch sea salt

1/4 cup

59 ml

almond butter
1 tsp unflavored collagen
Preparation
Combine all ingredients in a Vitamix or other powerful blender or food processor and blend until it's all well combined. I always taste it, in case it needs a touch more of something. Once ready, transfer to little jars for individual servings. Store in the fridge. Best enjoyed within a few days of making.
Top with with fresh berries, chopped walnuts and/or cocoa nibs, to name a few. You could also add additional adaptogenics or wellness supplements to the ingredients before or after blending.
Tip for postpartum moms: You really want to try your best to avoid consuming anything cold in at least the first month post-birth. I always advise to take a jar of this out of the fridge and set it out on the counter for 20-30 minutes before consuming. It just takes the edge off so you're not eating something that has a sharp cold to it. Same goes for smoothies or juices.
More Stories