Wellness
Natural Remedies: Facial Acupuncture with Sherrie Matthews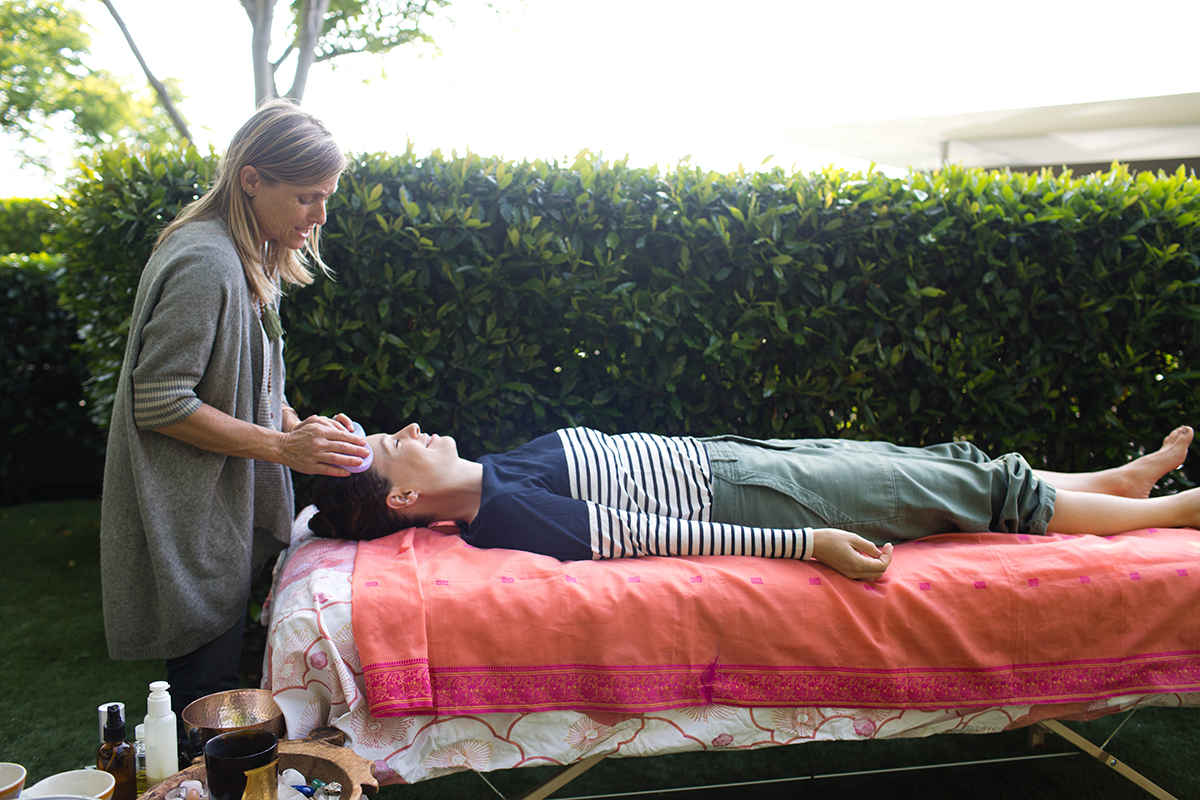 I was introduced to Sherrie Matthews and the amazing practice of facial acupuncture through my friend Carol Anne – and after my first session, found myself completely in love. A non-invasive process that draws upon the ancient Chinese wisdom related to longevity, beauty and balance, the experience was so relaxing and grounding, and I knew right away that it was something I wanted to implement into my longterm wellness regime. During my treatment, she also used her own incredible range of products, Sherrie Matthews Herbal Rejuvenation Skincare (created by an organic botanical skincare specialist) to maximize the benefits of the facial.
One of my favorite takeaways from the session: the ear seeds that she gave me to continue the healing process at home. Placed on specific points in the ear that allow clients to access appropriate acupuncture points themselves (making it more like acupressure), the 24-karat seeds assist in managing stress and balance until the next session. On a side note, most Chinese practitioners use the common, overall balancing variation called Viccaria seeds, while Sherrie uses ones particularly beneficial for those with deficient adrenals levels, hormonal imbalances and fast-paced lifestyles. The finishing touch to complete our session: a purifying and relaxing sage smudge.
Both the acupuncture treatment and the products she used to accompany it were incredible, and I left looking and feeling refreshed (for information about her facial acupuncture treatments and products, you can contact her here). Sherrie was kind enough to share a bit about the practice of facial acupuncture, its applications, and its benefits, below. I hope you enjoy. XXJKE
R+T: Can you share a bit about your journey in Acupuncture, Herbology and the Healing Arts?
I have always been interested in Alternative Medicine. It became a way of life for me to turn to Eastern Medicine and yoga to balance my busy lifestyle, so I eventually transitioned from a career as a Fashion Editor and Stylist of 15 years to Practitioner of Chinese Medicine. After the birth of my daughter 11 years ago, I had a shift in my life where I felt it was more important to make people feel better on the inside then just look great. I found myself suggesting herbal remedies to everyone on photo shoots and realized that I wanted to go back to school and get my masters Degree in Chinese Medicine. My practice is an integrated approach to wellness. I apply many creative elements from what I've learned and experienced from traveling to exotic countries.
R+T: For those unfamiliar with the practice, can you tell us how exactly facial Acupuncture works, and the benefits it can impart?
Facial Acupuncture is a great alternative to Botox and face lifts without being invasive. Tiny needles create micro-traumas which in turn get the white blood cells pumping oxygen and blood to the area. This stimulates your collagen to activate and naturally minimize the appearance of lines. Lifting of the muscles is activated by needling in an upward motion, addressing the major facial muscle groups. After a few treatments, the muscles respond faster because of muscle memory.
I believe what makes my treatment different then other facial acupuncture is the fact that not only do I apply needles to the face and whole body but I also use natural organic Chinese herbal facial masks that lift, firm and circulate. They contain herbs that circulate the blood and the Qi (energy) in the face as well as pearl powder that is a known Chinese herb to even out the skin tone. I also use Jade Stone rollers which assists in circulating the energy in the face. This is what Empresses have been using for thousands of years in China for a youthful look.
I find that this is a very powerful treatment because all health concerns are addressed for overall wellbeing. I apply needles to the whole body to achieve overall wellness. I believe other ailments in the body are reflected in the face. Stress, anxiety, insomnia, depression, hormonal shifts and stomach problems all show up on the face. After the treatment, one will feel relaxed because the body is balanced and grounded, and because there has been a release of endorphins in addition to adrenals and hormones being addressed.
In addition to the acupuncture facial, I offer a range of treatments in which I use other modalities such as essential oils, healing stones, cupping, moxibustion as well a prescribing Chinese Herbs and herbal ear seeds to continue the process at home after your treatment.
R+T: How often would you recommend receiving this type of treatment?
I recommend one Facial Acupuncture treatment weekly for 10 weeks to make a significant difference. Usually, most clients see some changes right away. Immediate differences are usually seen with lifting droopy eyes, reducing puffiness and relaxing crows feet. A few clients refer to it as the party facial. They come in after a long weekend of events and entertaining and it rejuvenates the whole body as well. Drooping jowls and neck usually take about 5-6 treatments to notice a visible difference. Most clients feel calm, relaxed and really rely on their weekly session as their 90 minutes to focus and get grounded.
R+T: Are there any other products or practices you provide (or that you would recommend) in conjunction with your Acupuncture Facial to maximize the desired results?
To maximize the benefits of the Facial, I offer my range of organic natural skincare that I use during the treatment for home use. The products contain Chinese Herbs to activate your skins own collagen, and Pearl Powder to even out skin tone due to sun damage and hormonal dark spots. The Anti-Aging Moisturizing Facial cleanser is a unique moisturizing cleanser of calendula, honey and essential oils. It cleanses without drying out the skin. I also have an anti-aging Collagen Enhancing-Serum that mimics the skin's collagen, a firming serum with Ginseng, Aloe and Reishi Mushroom that repairs damaged skin and protects the skin from aging. I finish with a crystal energy-infused Rose and Sandalwood Toner, which tones the skin with its aromatherapy quality of floral and woodsy scents while grounding and clearing the aura using the healing crystal properties infused in each bottle.
R+T: What is the most rewarding part of your work?
The greatest reward for me is seeing how amazing my clients feel and look. It really speaks for itself. Acupuncture works significantly on so many common ailments. I see people with serious health conditions have life changing experiences because of Chinese Medicine. When I'm working, I go into a healing meditative zone and I give each clients my full attention. It's very therapeutic for me as well. It's like entering a higher state of consciousness. I just let the process take over. Each treatment is customized to what comes up for the client that week. I just focus in and the healing energy just takes over. Each client has the ability to let their body heal itself, so I ask them to breath deep and create the space for healing. The end result is that the client feels like they just went to the spa, did yoga, and had a healing experience, all in one. They feel recharged, but on a much deeper therapeutic level.