Wellness
Natural Beauty: Shiva Rose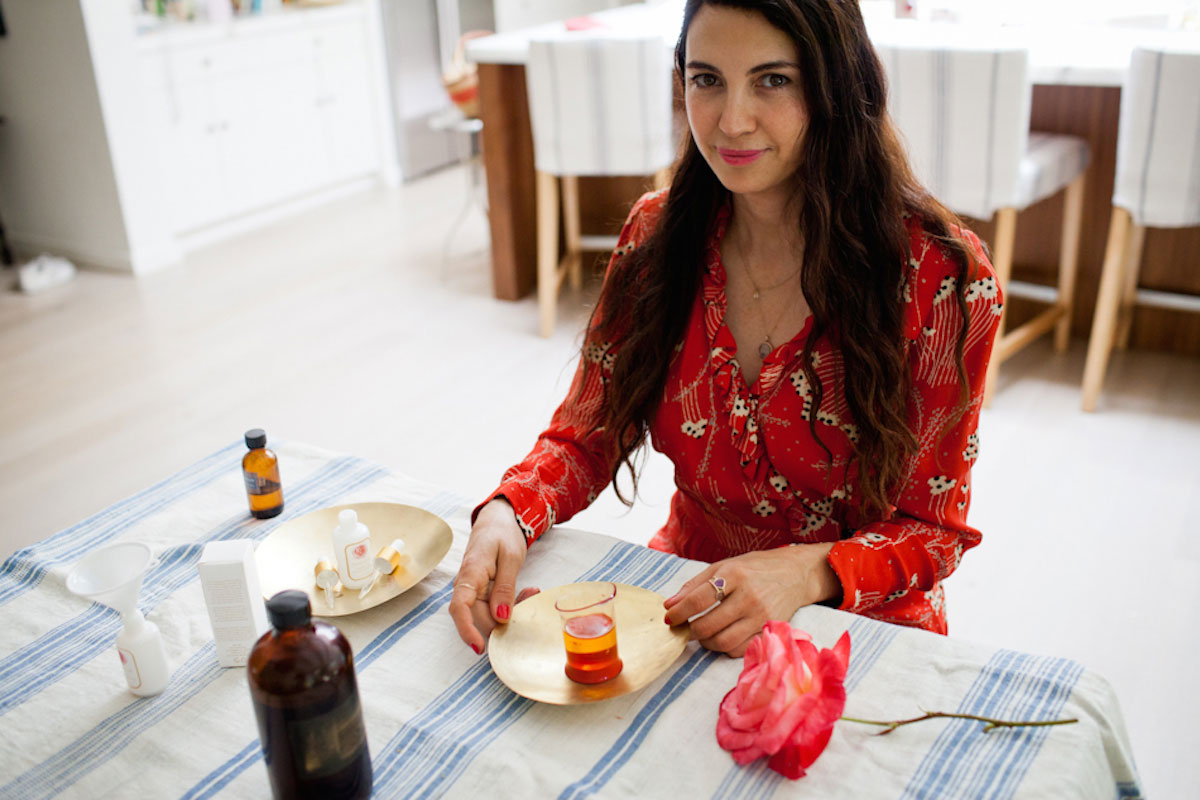 As I have become increasingly aware of the potentially harmful chemicals and additives in beauty products – often ones we use each and every day – identifying safe options has become a priority. And when these options are not only beneficial, but also work beautiful wonders, it's a match made in heaven.
One of my favorite instances: my friend Shiva Rose's all-natural face and body oils. She was kind enough to welcome us in and share the inspiration behind her consciously (and exquisitely) crafted products. I hope you enjoy this look inside. XXJKE
R+T: Tell us a bit about your face and body oils… What prompted you to create your own line of natural hand blended products?
The Rose Face Serum is a blend of highly powerful oils that all help nurture the face, decrease wrinkles, prevent inflammation, and promote youthful skin. Among the many oils, it also has a special rose essential oil that took me many moons to source. The rose oil is excellent for the skin, heart and mind. Rose is the highest frequency of all flowers and is also called The oil of God.
The Venus Body Oil is a blend of another set of incredible oils that are designed to nourish the skin on the body. The scent is more subtle since it is made with some natural amber resin. The sunflower seed, sweet almond, apricot seed, borage and evening primrose oils are incredibly loving to the skin of your temple. I feel our bodies are our temples, and should be revered in that way. Venus is the goddess of love and sensuality and this body oil calls upon her beauty.
I began the beauty line after seeing it in a Kundalini meditation ~ almost like a download of information. I felt like it was a way to honor the planet and bring non-toxic products to women who wanted to maintain beauty without sacrificing their health.
R+T: How do these products align with your healthy, holistic and authentic way of living?
These products are completely non-toxic and good for our skin therefore not perpetuating any damage to our selves or our planet. They bring nurturing qualities that have been blessed by mantras and crystals. These are all in line with the ethics of my site and life.
R+T: Can you share a bit about the process of sourcing and refining to make the perfect blends?
I use only high quality oils that I have sourced carefully from organic farms. The seabuckthorn oil I use comes from a farm that belongs to a friend. The rose essential oil came from much research and experimenting. I wanted to find something that wasn't too sweet and wanted it to have the power of the roses still in tact. I have always been fascinated by the power of plants and when experimenting in studio of alchemy, I tried various incarnations until I felt I found the most perfect blend. I always play auspicious mantras when making the products, and clear the energy around the studio by burning sage and keeping crystals near by. The Venus oil has some rose quartz or tourmaline in the bottles to promote love ~
R+T: Perhaps our favorite: The Rose Face Oil, which we love to rub on our hands at night as a before-bed treat… Could you pick a favorite? And how do you use?
Oh I'm not sure which is a favorite since I use the Rose Face Serum on my face and The Venus on my body. I use the face oil both morning and evening on a cleansed face and the body oil after a long, hot bath using my Rose Moon Bath Salts.* I also at times put some of the Venus Oil lightly on my hair so when it swings it has the seductive amber scent.
R+T: What is it that makes the rose (and its products) so special?
Roses are the Queen of all flowers and have the highest frequency. Most essential oils start at 52HZ but the rose oil vibrates at 320HZ. Studies have shown that rose can elevate moods, open the heart and lead to balance and harmony. Since ancient times roses have been revered for their beauty and scent. In Persian culture roses have been used both in culinary delights and for medicinal purposes. Rose oil is anti-viral, can help with depression, heals wounds, can help with hyper pigmentation and more.
R+T: Any lovely new products on the horizon?
I have some rejuvenating Rose Moon Bath Salts* that include incredibly detoxifying salts and the sacred scent of frankincense, grounding cedar and the lovely rose. The salts are excellent for a special hot bath.
I also have a glow face balm and radiant rose water toner coming soon~
*Available at Jenni Kayne stores. To order, call 424-268-4765
Image credit: LA In Bloom, photographer Jeana Sohn