Wellness
Natural Beauty: evanhealy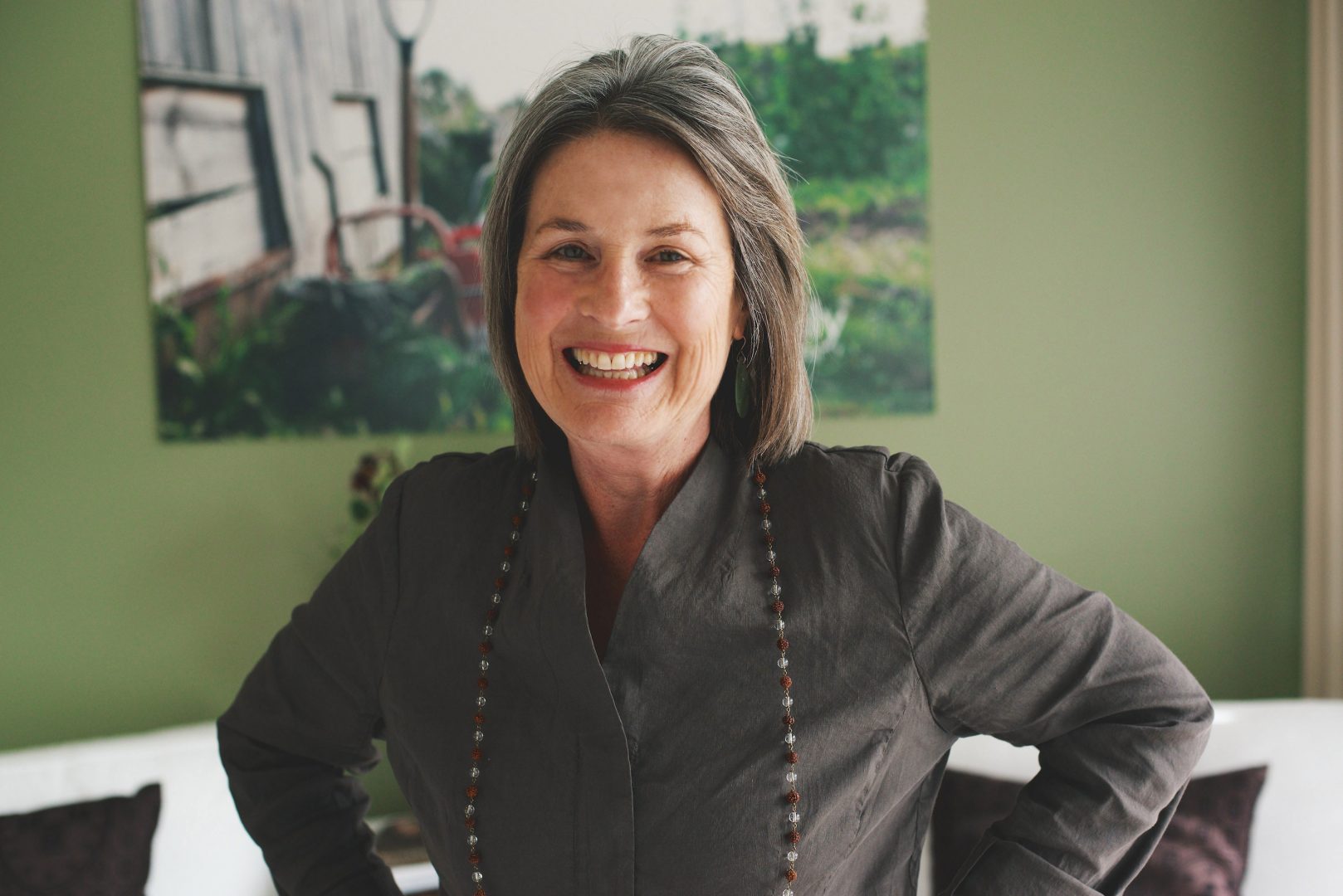 As I shared yesterday, my introduction to evanhealy came via her incredible HydroSouls, but my love for her products didn't stop there. I soon fell hard for her Whipped Shea Butter and now cannot live without her Tea Tree Gel Cleanser – it's the best face wash, and starting the day with its distinctive scent is invigorating and refreshing.
An aesthetician and pioneer in holistic beauty, Evan has poured her heart, soul and years of experience into her all-natural plant-based line of skincare products – and it shows. From her ingredients – she sources plant material directly from small, regional farms in various parts of the world – to the care with which each handcrafted product is made, it is a line as thoughtfully assembled as it is beneficial.
We were so fortunate to have the opportunity to visit her San Diego office, where much of the magic takes place. The highlight (apart from mixing our own Shea butter!): Evan herself. Warm and wise, she has the most amazing energy, and a love for her work that is truly inspirational.
Evan was kind enough to share a bit about her journey in natural skincare, her less-is-more approach, and some insight into celebrating the skin you're in. I hope you enjoy. XXJKE
R+T: Can you share a bit about your journey as an aesthetician and pioneer in holistic beauty, and how it lead you to your own line of organic, plant-based skin and body care products?
After six years in the fashion industry in San Francisco, I was ready for a change. So, in 1984, I moved to San Diego. I went from fashion to natural personal care, specifically holistic skincare – a field I knew absolutely nothing about! I focused on ingredients. I learned to value organic over chemicals and synthetics. I championed the use of organically grown, biologically active, plant-based ingredients: essential oils, shea butters, natural clays, serums, plant milks and hydrosols. I requested that our manufacturers replace synthetic petro-chemicals with safer, more natural, and organically grown alternatives.
I developed a real love of skin health, and wanted to work hands-on with skin, so in 1986 I trained as an aesthetician in the US. In the ensuing decades I have continued my post-graduate studies in various healing modalities in France, Germany, England and India. I have learned to trust my intuition and to increasingly rely on and have respect for the rhythms of nature, and the traditional knowledge of indigenous cultures.
Throughout the many years that I worked in private practice as an aesthetician, I was constantly astonished to discover just how little the skin really needed to maintain health and diversity, and how beautifully it responded to simple, uncomplicated treatments.
R+T: Tell us about your "less is more" philosophy in regards to skincare…
I had a few epiphanies during my time in practice. One of the key lessons I took away from my experience was just how little is required to normalize skin health and to establish glowing beauty. In fact my core philosophy is founded on the premise that the less you interfere with the skin's own ability to achieve balance the better. Of course, the other keys to skin health are eat nourishing foods, rest, play, and accept the changes in our beauty; and seek out quiet, contemplative time in nature to minimize stress.
R+T: How have traditional plant lore, aromatherapy, Ayurveda and homeopathy informed your approach?
They are wisdom-based philosophies that are anchored in the intelligence of the natural world. So, in the most profoundly fundamental way, it is nature is that inspires me, sustains me and is therefore the very heart and soul of my business and my philosophy. The skin is an exquisite delivery system and heals via the sense of touch and the sense of smell and is constantly working to reconnect us with the natural world. It's an experience that has a healing effect, not only on the skin, but also on our central nervous systems, which for many of us is so profoundly out of balance today.
R+T: As an aesthetician, what are some of the most common skincare mistakes/misperceptions that you have encountered?
1. One of the most common misconceptions is to believe that an acid treatment bestows any value to the skin in regards to long-term of skin health. Or for that matter, any harsh scrub, microdermabrasion treatment or product that works to dissolve the epidermal layer of the skin. Acids, penetration enhancers and dermal abrasion treatments only work to weaken, irritate and ultimately thin skin.
I spent much of my time in practice rebuilding the epidermal layer of the skin. Skin treated with these methods may look good for a while, but the damage accumulates over time and becomes irreversible such as hyper-pigmentation.
2. Another common mistakes is believing that OIL is bad for your skin. Our skin contains oil and water glands that form a key part of the body's immune system: the protective acid mantle, or pH balance. Our skin is home to a thriving, friendly, immune-enhancing microbial colony that keeps infections, parasites, and viruses out. That said, not all oils are good or beneficial. Make sure they are cold pressed, organic and food grade.
3. I saved my favorite misconception in skin care for last: Anti-aging. Quite simply, "anti-aging" is a very unhealthy way to look at caring for the skin, and ultimately ends up being very destructive to both skin and psyche. I want to quote one of my favorite actresses, Frances McDormand, in a recent interview she gave on NPR talking about her recent role in Olive Kitteridge: "Getting older and adjusting to all the things that biologically happen to you is not easy to do, and is a constant struggle and adjustment. So, anything that makes that harder and more difficult — because I don't believe that cosmetic enhancement makes it easier; I think it makes it harder. I think it makes it much more difficult to accept getting older. I want to be revered. I want to be an elder; I want to be an elderess. I have some things to talk about and say and help. And, if I can't, then — not unlike Olive — I don't feel necessary."
What a breath of fresh air! Let's raise the conversation about skin care and evolve away from the superficial and move into a healthy, well adjusted society that looks as aging beauty as an evolving, maturing, enriching journey into wisdom. Let go. Stop the struggle. Who you are is enough.
R+T: How long do you recommend that your products be tested before deciding if they should be included in one's repertoire?
Our Skin Care Kits, which contain the five key products for daily care of the skin, allow for a 7-10 day period of treatment. This is the best barometer of whether the line is a good choice.
R+T: Can you talk about some of the farms you work with? Where are they located?
I work with small family farms that are deeply connected to the land in pristine and rural areas such as the far northeastern region of Washington State, France and South Africa. Many of these relationships reach back a decade or more. I also support a sandalwood reforestation project on the Big Island of Hawaii, the self-governed Berber Women's Cooperatives of Morocco, and the Kpersi Village of northern Ghana.
R+T: If you had to, could you pick a favorite plant-based ingredient? And a favorite product?
Oh NO! I can't choose one, but I CAN narrow it down to two: my favse are Sea Buckthorn oil, POMEGRANATE OIL and Shea Butter….oh, wait. I see, ok that's three. I am numerically challenged.
R+T: What is the most rewarding part of your work?
Everyday I hear from clients and customers. These stories always make my day. It is heartwarming and rewarding to help a person with their appearance. My selection of serums, moisture balms, butters, clays and infusions bring not only a feeling of comfort and wellbeing to the skin but also to the psyche. Introducing people to the wisdom and simplicity of nature, through my skincare treatments, is a sacred honor. I love what I do.