Wellness
Natural Beauty: Benshen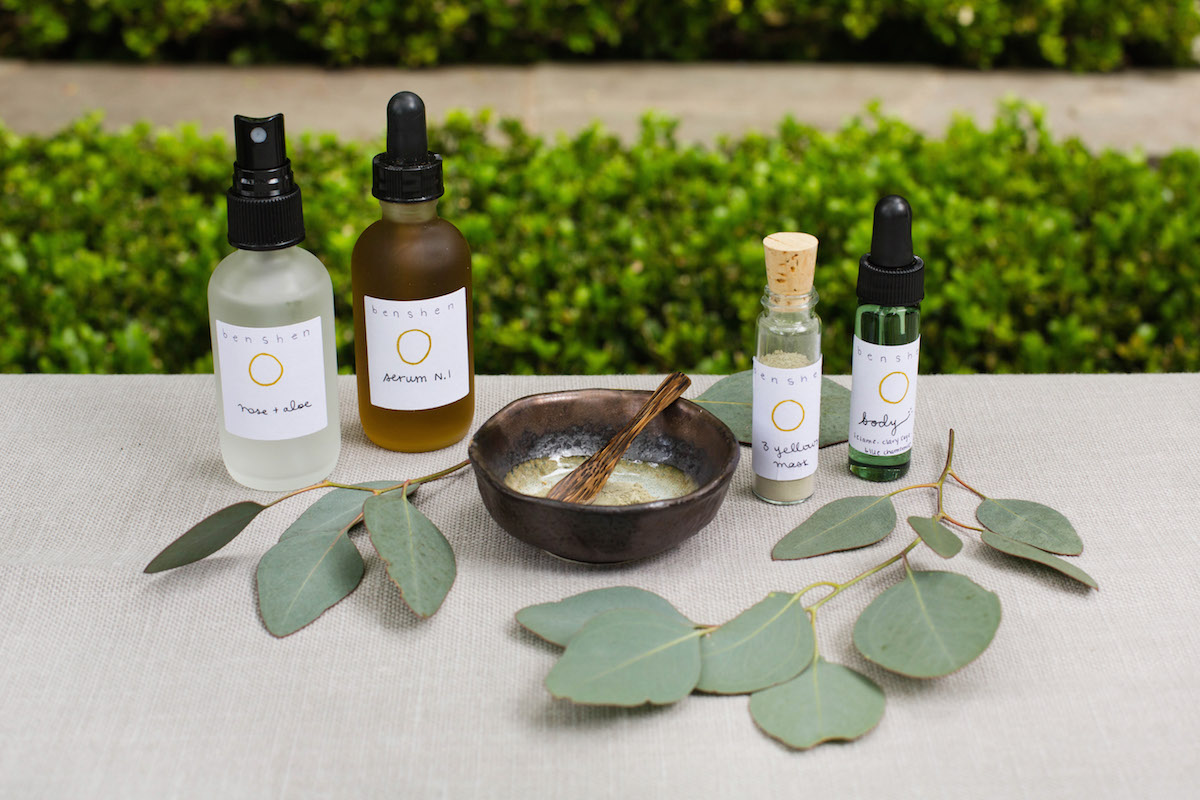 I was introduced to Benshen founder Desirée Pais through my friend Erin Fetherston, and loved everything about what she was doing. A natural, small-batch organic skincare line infused with essential oils, florals, and herbal elements, Benshen, meaning "root of the spirit," celebrates the wisdom that real beauty begins when the body and spirit are aligned. Each of her formulations, made up of powerful, living, bio-available ingredients, is a harmonious blend designed to activate and enhance the beauty, radiance, and vitality inherent within us. And, when used together, introduces a beauty ritual that not only nurtures the physical body, but uplifts the spirit as well.
Perhaps my favorite: the Rose + Aloe Hydrosol, a delicate and divinely-scented mist that nourishes, hydrates, and gives my skin the most incredible glow. Also amazing: her Three Yellows Mask, a gentle yet powerful healing blend of three Chinese herbs (an Ancient Empirical formula) and French green clay. Available upon Custom Blend* consultation, it minimizes redness and inflammation after just one application and comes with a beautiful bowl and wooden spoon to mix it together. Desirée was kind enough to share a bit more about Benshen – its origins, its ingredients, and what it is that makes it so special – below. XXJKE
R+T: Tell us about how Benshen came to be…
Benshen is the fruit of a seed I planted a year ago when I embarked on a mission to heal my skin as well as my spirit that felt defeated in the battle with acne. I had spent years attacking my face with harsh products that I spent hundreds of dollars on and picking at it till the tears rolled down. It was time to declare peace, physically and emotionally. As I started to get into Kundalini Yoga and developed a meditation practice, it made me become aware of all the ways I wasn't treating myself kindly. I realized that the only way that my skin would heal was by changing the way I took care of it. I created a few alchemies, which are now Serum no.1 and Serum no.2, the Floral Salts, and then the Rose + Aloe Hydrosol, and created a "Ritual Kit." I also started learning of the psycho-emotional manifestations of dis-eases in the body and in her book You Can Heal Your Life, Louise Hay explains that acne is a result of inner-anger and a dislike of the self. With that, I figured that if I truly want to heal this, I have to change my relationship to how I treat myself and figure out how to bring my spirit back into balance, allowing it to exist peacefully in this one body we get. And so Benshen was born out of the desire to not only heal myself but to share my findings with others on how to love ourselves a whole lot more.
R+T: Can you share a bit about the idea of the Root of the Spirit for our readers?
I'm currently getting a Master's in Chinese Medicine and am always inspired by the poetic names of some of the acupuncture points. Benshen is an acupuncture point on the Gallbladder meridian. Ben means root or source and Shen means Spirit, which also relates to consciousness and our emotions. Many, if not all, dis-eases and imbalances in the body begin with an emotional component that causes the physical body to deteriorate. We all know that stress is the worst thing for our health. But what is stress? Stress is when we can't handle our life – our emotions become commotional and our spirits become darkened with depression. With skin issues, I've learned that so much of it has to do with self-loathing, a dislike of the self, and inner-anger. Anger is one of the shortcuts to endocrine disruption. Women have a long-standing history with being unhappy with who they are, and my mission is to teach women to step back into their power, step back into their radiance, step back into their beauty. When we root our spirits in our bodies, we feel at home and confident with who we are, and in turn, we become the happiest, most beautiful versions of ourselves we can imagine. That's what real beauty is – the light within us. All we have to do is flip the switch to turn all the lights on inside, and we do that by loving ourselves, our spirits, and living from the heart.
R+T: How you go about selecting the components of your all-natural small batch botanicals?
I always say I feel to blessed as it seems like the components, alchemies, and ingredients find me, not the other way around. Ideas will come to me out of nowhere and I'll start experimenting with them. I remember when I first started using Epsom salts on my face and it made my skin glow like a baby's butt. A friend of mine was amazed, asking me what inspired me to try that, and I honestly have no idea to this day. Same goes with the alchemy for Serum No.1, which was the first oil blend I had ever made with more than one ingredient. I gathered the ingredients, made a blend, and it was magic at first drop. The smell is unlike anything I have ever come across. Blue Chamomile, which contains high amounts of Azulene, making the oil a powerful antioxidant and also highly anti-inflammatory, leaves a sweet and smoky smell. When combined with Carrot Seed Oil and Lavender, the serum has a earthy, herbal, and grounding scent with a touch of sweetness.
With other ingredients, I've been interested in herbology for many years and am inspired by the magical healing capabilities of plants. Usually, I'll find an ingredient that really grabs me, like Helichrysum. I then create a product that allows the plant medicine of that oil to come through, as it does in Serum No.2, which was created for deep cellular repair and healing marks left behind by blemishes. It's just a mad scientist's lair in my apartment and my studio!
R+T: Could you possibly choose a favorite?
Yes! My new blend White Tantra has a heavy pull on my heart. I went to the Kundalini festival Summer Solstice for the first time this year and brought it with me, knowing it would be a physically and emotionally intense experience. Except the only time I remembered to take it out of my tent was during White Tantra, which at Summer Solstice is three days where we wear all white, sit across from a partner in rows, and do six-eight 31-62 minute meditations, eyes either open staring into your partners or eyes closed. Your arms could be up for 62 minutes or doing something so physically challenging, you would never imagine it. After the third meditation, everything was on fire…mind, body. But I felt so strong and was completely amazed at how powerfully the essential oils in the gave me the strength to keep going even when the going gets rough. And it smells AMAZING. All my lady friends are wearing it on first dates and say it makes them feel so confident and sexy!
R+T: What is the most rewarding part of your work. 
I probably should be "better" at creating boundaries with my customers, but the reality is that half of them have me on speed dial. I love receiving pictures of their skin with texts in all caps that say "LOOK!!!" or a lot of them will screenshot messages between them and their friends discussing how much their skin as changed and friends asking them what they're doing. For me, that's the most rewarding. I always thought having skin problems was a curse, but the reality is it's a blessing in disguise because it has made me infinitely compassionate for those who are going through the challenge, and want more than anything to help them. I even started offering sessions where I make custom blends for my clients and teach them meditation + breathwork so they can begin to balance their endocrine system, reduce the stress that is causing high levels of cortisol to be running through their bodies and leading to chronic inflammation, and to also get them in touch with the magic and beauty that is within them. When I get a message that they're getting compliments on their skin or that their family/boyfriends/friends are noticing that they are happier and brighter, I've done my job. To be able to have a brand where I can teach women that beauty begins within, and then also provide a physical extension of self-love, is the ultimate gift the Universe has given me.
*With the Custom Blend, customers may receive between 1 – 3 products, depending on the individuals presentation of symptoms, and the necessary blends that are needed to heal the imbalance. For inquiries or more information, contact Desirée here.