Living
Mikaela Simila on Raising Kids with Kindness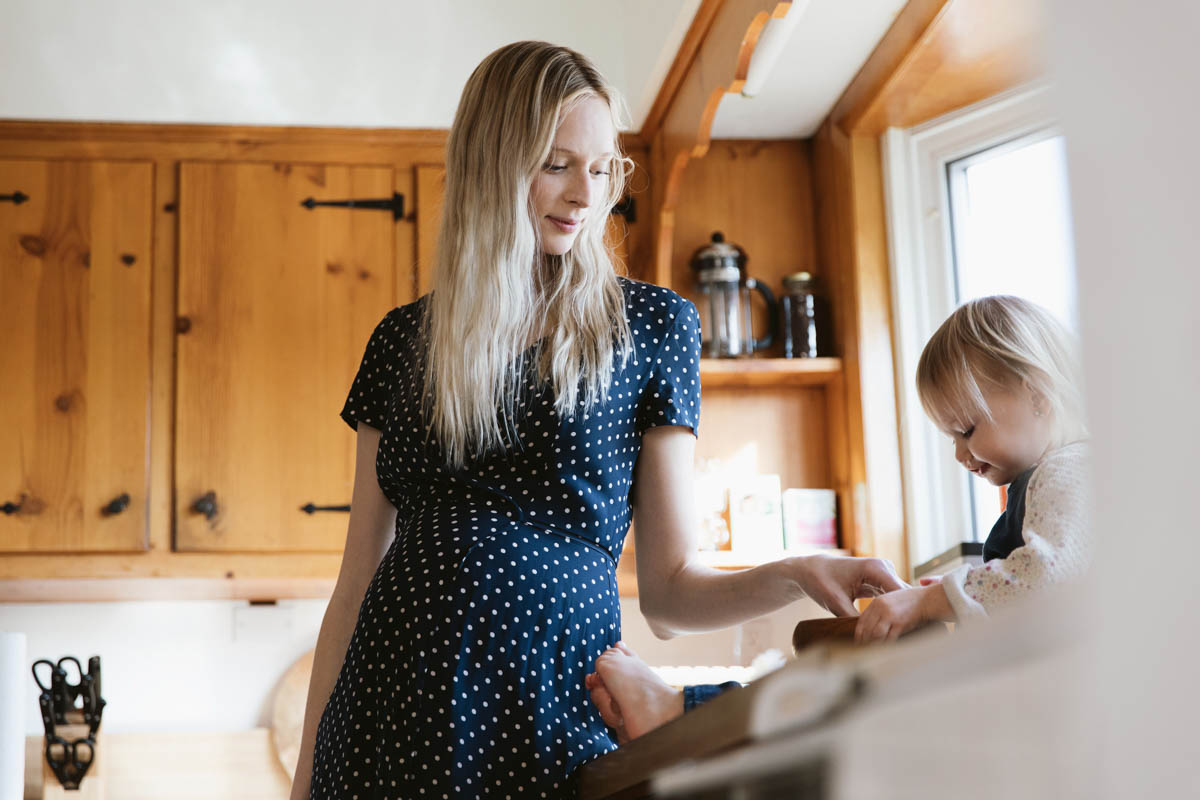 You can add one more to the list of those escaping the East for sunny California: former Brooklyn dweller Mikaela Simila. The model and mother of soon-to-be-two is setting her sights out West to root her budding family amongst the surf and sun of our own neighboring Costa Mesa. Before they make their escape, we spent an afternoon in Montclair, New Jersey with Mikaela and Lux, her towheaded toddler. To celebrate yesterday's launch of our very first baby gift collection, we're focusing on modern motherhood with features of inspiring and empowered moms and moms-to-be. Pregnant, lithesome, and glowing, Mikaela welcomed us into her world, where we talked about building a family, her favorite thing to wear when she's expecting (hint: no spandex here!), and all the special moments that make up family memories.
Rip & Tan: Tell us about living in New York City. What do you miss about it? How does life in New Jersey compare?
Mikaela Simila: We used to live in Brooklyn, and I miss walking to dinner or grabbing a quick coffee across the street. I sometimes even miss the subway. But it was time to adopt a slower pace and life in New Jersey has given us that. And now we are actually moving to California! We'll be living in Costa Mesa, and I am so looking forward to salt water and sun. I think this next transition will be amazing for our family. My husband is beyond excited to get Lux on a surfboard. 
Rip & Tan: What do you love most about raising a family in Montclair? 
MS: With the move coming up this month, I have actually been reflecting on the aspects I've loved about raising my daughter in Montclair. It's still close to the city, so trips in are easy. But it's also a relatively quick drive to the beach so we spent most days there in the spring and summer. Honestly, we have so many friends out here that have become family. I couldn't have done these last few years without them. 
Rip & Tan: What are some of your favorite family weekend activities?
MS: Pancakes (that's an activity, right…), having friends over to hang all day, road-tripping upstate…depends on the season. In the summer, we like trying to find waterfalls or spending the day at the beach. 
Rip & Tan: You're currently pregnant with your second child. How has this experience compared to your first pregnancy? 
MS: Pregnancy with a toddler is no joke. She keeps me busy! It's gone by a lot faster this time around; I'm trying to enjoy these days with Lux while it's just us. 
Rip & Tan: Do you have any tips for maternity style?
MS: Overalls. 
Rip & Tan: If you could go back and give your younger self some advice or guidance, what would it be?
MS: Oh man…to enjoy spontaneity more!! I wouldn't trade the days I'm living in now, but I do miss being able to do things on a whim.
Rip & Tan: How have your priorities changed since becoming a mother? Is there anything that seemed important in your past that seems inconsequential now?
MS: It's way easier for me to say no to things now. For my family's sake, but also for my own. Family is top priority but I also try and make time for myself to do things that I enjoy so I can be a better human in general. My husband and I typically go on a date once a week. We've decided that building our marriage and making sure that it's strong is the best thing we can do as parents to provide a sense of security and stability in our home. 
Rip & Tan: What are some of your favorite things to do with your family?
MS: Going out to breakfast, watching a movie together, going for walks, going swimming…the simple stuff!
Rip & Tan: Where are your favorite places to shop for kids?
MS: I love thrifting kid's clothes. I'm always on the lookout for '90s dresses or overalls. Summer and Storm has the greatest organic basics and the dreamiest color palette. 
Rip & Tan:  How did you choose your daughter's name?
MS: I first heard of it in a Sofia Coppola movie and fell in love…it turned out that my husband had stumbled across it before meeting me and wrote it down as a future name for a girl. We knew what we'd name our daughter years before we had her! Lux means light and her middle name is Gold; it's very effervescent…it suits her.
Rip & Tan: How did you take care of yourself after giving birth?
MS: I think there's a lot of pressure on women to bounce back after birth, but I really wanted to treat those weeks as my "fourth trimester," so to speak. I chose to relax for six weeks straight. I didn't have a desire to leave my house but for the occasional walk. I watched movies, napped, ate a lot, took tons of baths (Earth Mama Angel Baby makes great postpartum products, their herbal bath is heavenly). I took the time to heal and process emotions and hormone changes and soak in those precious fleeting moments with my newborn. I look back on those days with so much affection, and I'm excited for that time with my son. 
Rip & Tan: Who are the important women in your life that have supported and inspired you?
MS: My mom…she's always had such a beautiful strength and resilience and I often try and draw on that when I'm facing difficulty. She was a laid-back, really natural mother growing up, and I try and carry on that easy-going style in my own parenting. 
My friend Chelsea, who has basically become my sister. She's the biggest encourager of my dreams and she loves my daughter like her own. Her friendship is such a gift.  
Rip & Tan: What do you hope to teach your daughter as she grows into a woman? Similarly, what lessons do you want to impart to your future son?
MS: There are two key traits that I want to impart to both of my kids: security and kindness. I think they are absolutely essential to thriving in this world. I pray that my children would be bold, confident and fearless, yet at the same time, sensitive and aware of others. 
 Rip & Tan: What advice would you give to first-time fathers on how best to support their pregnant wives?
MS: Show a genuine interest in the pregnancy. It's easy to feel alone in your pregnancy with all the changes you go through, but when my husband would ask questions or want to know how I was coping, it made me feel loved and supported.