Wellness
Midnight Collective, Portland's Eco-Friendly Apothecary Line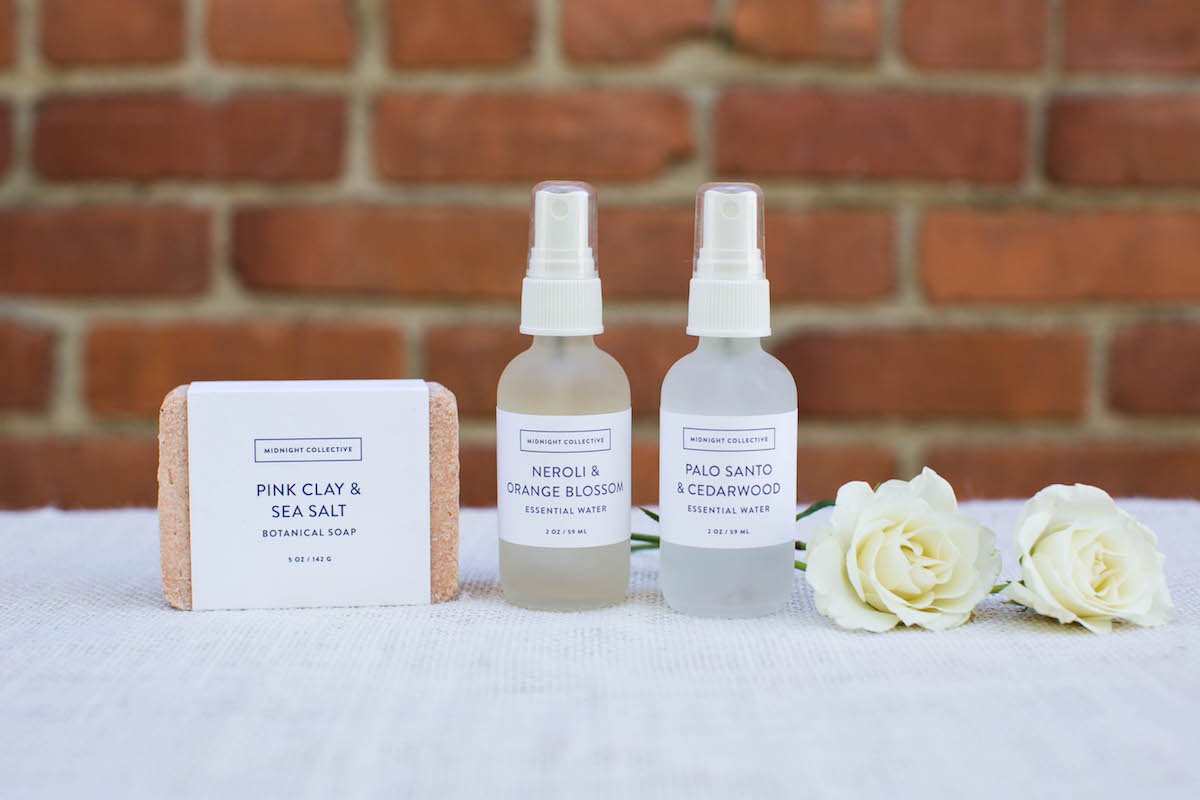 Since I love nature and being outdoors, discovering new ways to bring those elements into my home and daily routine is a thrill. Lately I've been inspired by the beautiful modern apothecary products made by Ursula Wurster, whose natural, ethical line is called Midnight Collective. Based in Portland, Oregon, Ursula is an herbalist who creates soaps using wonderfully unique elements like wild mint, fern, indigo, pink clay, cedarwood and moss. 
She also crafts perfumed essential waters that I love misting to lightly scent a space or myself. They each contain lunar-infused spring water and a quartz crystal, to heal and further amplify the positive vibes. Beyond that, Ursula donates a portion of her palm-free soap sales to Orangutan Foundation International. I hope you enjoy learning more about her fascinating journey. XXJKE
Rip&Tan: How did you first become interested in beauty formulas? 
UW: When I was a kid I remember being fascinated by scent and plant life. I also loved the special beauty found in small objects. While studying herbalism, I always found myself drawn to the gentle rituals for self-care. The concept of nourishing the body both inside and out has always been incredibly appealing. 
Rip&Tan: What was your motivation for launching your own brand? 
UW: It has been an interesting journey. Two years ago I was 30 years old and a senior in college…and absolutely, terribly, completely miserable. I always knew that a college degree wasn't the path for me, but I kept on trying to make it work. However, I couldn't shake the sensation that I was building a life that wasn't mine. I finally realized that all the unhappiness I was feeling was completely my choice, and that I was in an incredibly lucky position to leave that life behind and start living the one I most desired. Everything came together so naturally once I decided to jump in the river and let things flow instead of clumsily tripping along the rocky bank (although this is still a lesson in progress). Creativity, discovery and imagination have always driven me, and my life partner Tim is a phenomenal designer. We'd always dreamed about working on a project together and he was totally on board for the creation of Midnight Collective. It combined my love of herbalism with his passion for design and we just decided to make a go of it. And here we are!
Rip&Tan: What sets your products apart from the rest on the market? 
UW: There are so many talented makers out there with amazing products. I love how everyone has their special viewpoint and how each product carries this love from the maker to the customer. The products we make come from a place of imagination and science. We love to create effective formulas that are healthy for the body while also inspiring wonder and delight. 
Rip&Tan: How does living in Portland inform your brand and products? 
UW: Growing up in Portland has been magical. Although the season of grey skies can be long, the ability to experience so many different natural landscapes is beyond inspiring. The ocean, mountains, desert and forests are all within a short drive. We also have a unique combination of people here who are environmentally conscious and community-minded, yet also appreciate modern design.
Rip&Tan: How did you learn about individual ingredients and how to use them? What are some of the ingredients that inspire or excite you the most? 
UW: I've been studying herbalism for almost a decade now. Years ago I was in Nicaragua and awakened to the power of plants when I had a skin infection that was completely healed by the most beautiful aloe plant I'd ever seen. Did you know that if you cut an aloe leaf near the base, that yellowish inner gel can be used as a natural topical antibiotic? It is absolutely amazing. I've been studying plant medicine ever since. My current muses are passionflower, hibiscus and jasmine.
Rip&Tan: Where do you source your ingredients, or how do you collect them? 
UW: We carefully source our ingredients from suppliers within the United States who operate ethically and consciously, something that is really important to us. We also take wildcrafting trips to responsibly harvest ingredients like moss and fern, plants that are abundant in the Pacific Northwest!
Rip&Tan: Your soaps benefit the Orangutan Foundation International—what inspired that?
UW: Natural doesn't always mean sustainable. As natural products are becoming increasingly popular, the environmental impact from harvesting these ingredients is amplified. Palm oil is one of the largest contributors to the deforestation of tropical rain forests and the leading cause of the extinction of wild orangutans. It is a widely used ingredient in everything from food to cosmetics (check out your grocery store labels, you'll be amazed at how many products use it!), and a traditional ingredient in natural soap. I formulated our soap specifically to be palm-free and have always believed in giving back. Donating to OFI is an exciting step, and we're working to expand our efforts in the near future.
Rip&Tan: Your essential waters have a quartz in the bottle. What does it do? 
UW: Adding the quartz was a fun little secret. We love hearing when customers first discover it. Quartz is used in our essential waters to increase the healing power of the formula, while also offering the potential to activate higher levels of consciousness in combination with the essential oils and flower essences. 
Rip&Tan: What are some of the other wellness and beauty rituals you swear by?
UW: Raw honey and organic yogurt masks! I love how simple yet effective these treatments are. Raw honey is an amazing humectant—it draws and holds moisture to the skin. It is also naturally antibacterial, so it can help heal blemishes. Yogurt contains lactic acid which gently sloughs off dead skin cells, allowing for brighter, clearer skin. It is great for the congestion and dullness that can easily happen while living in an urban environment. 
Rip&Tan: Where do you want to go with Midnight Collective? Are you formulating other products? 
UW: We have big dreams for Midnight Collective and are excited to release new products soon. Be on the lookout for our body oils!
Photo: Brittany Wood