Wellness
Meet Oille: A New Skincare Brand for Essential Oil Fans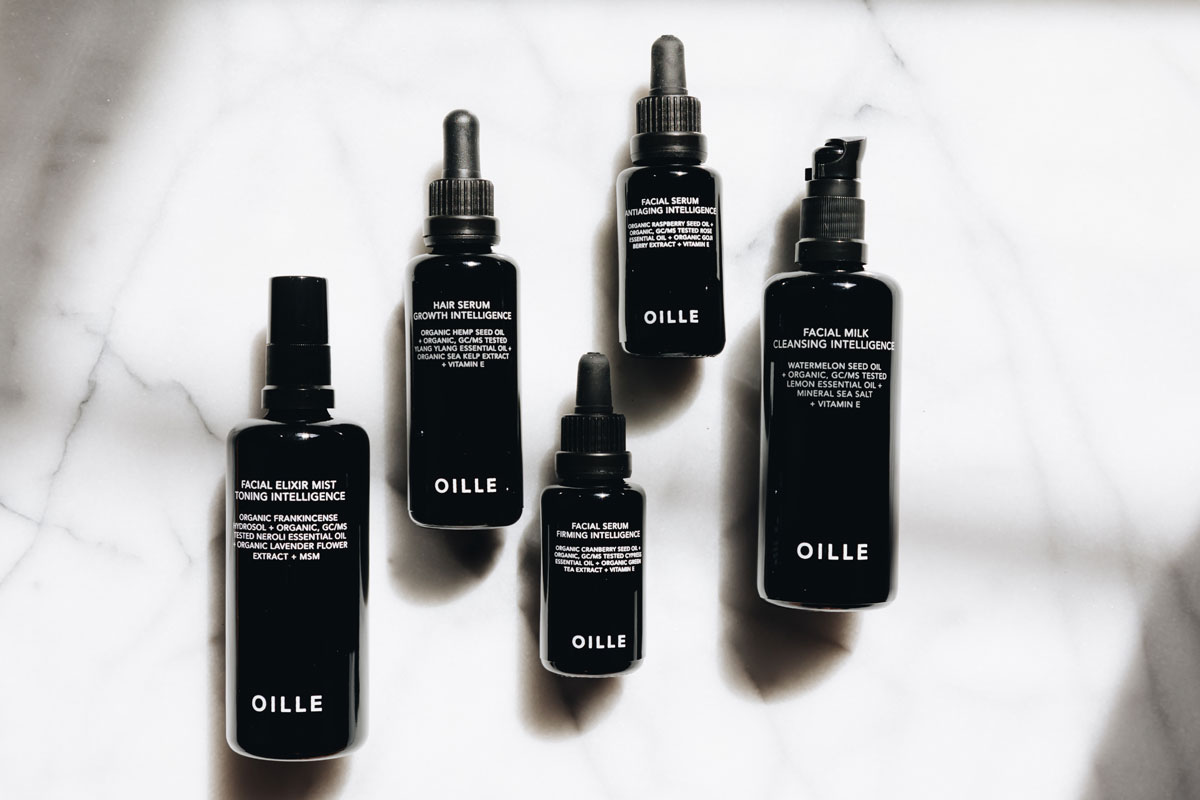 As the natural beauty industry grows, so too does our understanding of what ingredients are considered both safe and effective when it comes to skincare. And yet, there is still much we don't know. The newly-launched skincare brand Oille highlights the limitations in consumer knowledge with its assertion that 95% of essential oils on the market are fraudulent in some way. This can be due to dilution, harvesting plants at the wrong time, a general lack of knowledge on the part of the producer, and other factors. The cost of testing, which can be upwards of $750 per sample, also prevents many companies from doing their homework.
Oille's founder Kirsten King discovered this somewhat shocking information during her studies to become a certified clinical aromatherapist and thus, was inspired to start her own brand. Kirsten uses Gas Chromatography / Mass Spectrometry technology to test every batch of her custom, clinical formulas for integrity. According to Kirsten, Oille is the first-ever beauty brand to ever utilize this technology in its formulation process. Eager to learn more, we sat down with Kirsten to talk more about her theory on essentials oils and her 10-product, 89% organic skincare line. Check out today's natural beauty Q&A below. XXJKE 
Rip & Tan: What is your background in beauty and science?

Kirsten King: An interest in chemistry developed when I received a BFA in photography from Savannah College of Art and Design many moons ago. Spending hours in the darkroom taught me the perfect balance between technique and creative expression. I loved experimenting with different chemicals so much that I actually wanted to be a professional black and white printer alongside being a conceptual fine art photographer. Then digital photography hit the scene and that all changed. 
Shortly after college I moved to NYC and landed a gig as a photo producer for a Fortune 500 beauty company. I produced fashion and beauty photo shoots working with over thirty-five art directors and five producers on twelve different categories. It was a well-oiled machine. I hired and led large creative teams of photographers, models, and stylists while making sure everything was on-time and on-budget. It was intense. I learned an enormous amount about the beauty industry. Working with such top tier talent gave me the knowledge and confidence to start my own beauty company. I'm forever grateful for that experience.
Rip & Tan: What inspired you to start Oille?

KK: It was a culmination of many different events through the years. I had the official a-ha moment, like many women, when I became pregnant with my first daughter. By then I fully comprehended that everything you put on your skin goes in your body. When I got rid of all my beauty products, I felt liberated but also defeated. I thought, 'How could I have not known? I worked for a beauty company. Why didn't anyone tell me our products had harmful chemicals?'. I felt lied to so I went looking for answers.  
A few weeks later, I took an "aromatherapy" class at a yoga studio. Unbeknownst to me, it was actually one of those bait and switch classes from an essential oil MLM company. During that class I realized I was being lied to once again. This prompted me to take a course to become a Certified Clinical Aromatherapist. It was while I was studying aromatherapy where I learned about GC/MS technology and realized no one was talking about it except world-renowned aromatherapists teaching ethical aromatherapy practices. That's when it clicked. I saw a real need to expose the truth about essential oils. So, I started OILLE.
Rip & Tan: How can you summarize Oille's mission and positioning within the natural beauty space? How is it different than other brands?
KK: We think you should know the truth. 95% of essential oils are fraudulent. Until now, with GC/MS Technology™ to test for purity and plant DNA. This technology gives our clean, active formulas intelligence to outperform organic by diving deep into plant chemistry. We are the first beauty company to utilize GC/MS Technology™ since a Certified Clinical Aromatherapist formulates our products. We believe beauty is intelligence.  
Rip & Tan: What are some of the issues with the way essential oils are crafted and sold to consumers in America? 
KK: Unfortunately, the consumer will never know if they have a rock or a diamond, unless a botanical chemist performed a Gas Chromatography/Mass Spectrometry test on the essential oil. This is the technology the essential oil industry doesn't want the consumer to know about because it holds them accountable to authenticity.
I also cringe when I see consumers ingesting essential oils. It's not safely recommended without having knowledge in pharmacology and toxicology. Or at the very least reviewing the GC/MS report on the oil. All other industries that include ingesting a substance have undergone strict lab testing to prove it's safe for consumption. Sadly, there are no regulations in the US for essential oils. Whereas in France, essential oils intended for a pharmacist administers therapeutic use.
Rip & Tan: What does Oille do to ensure its oils are safe, potent, and well priced?
KK: We GC/MS test all of our essential oils to ensure our customers are getting what they paid for. Our price point reflects their authenticity and complexity in formulation. We are fortunate to source our oils directly from the same producers who can monitor batch consistencies. By verifying the plant's DNA through GC/MS, we are able to understand the plant's living conditions. For instance, if the plant was harvested too early it would result in missing constituents which will in turn effect it's ability to perform. We then house our formulas in black glass for optimal protection.
Rip & Tan: Are there any myths about using essential oils that you think we should challenge as consumers? 
KK: I personally never believe the quality of any essential oil if I don't have a GC/MS report. Yes, lab reports can or may be altered but the independent lab is also legally liable for their certification.  
If you can't obtain a GC/MS report, then asking other pertinent information for instance the Latin botanical name, date of harvest, and country of origin will hopefully suffice less adulteration. The biggest myth you can believe is marketing hype from calling oil "therapeutic-grade" to "third-party verified'. These words hold no scientific value.
Another myth is calling essential oil components like Linalool, Geraniol, Citronellol, Eugenol, or Limonene "nature identical". These are technically fragrance oils. They are components found in essential oils that give the oil its scent. However, by isolating them, they are no longer natural – they are synthetic. Since the word "fragrance" has gotten a bad rap, chemists now push the boundaries to cover up their deception.
Rip & Tan: What product are you most proud of and/or what product is more resonating with your customers? Why is it special? 
KK: I'm really proud of our facial milk. It's the most labor-intensive formula to create, taking about 3-4 days to complete. The notes of palmarosa, lemon, and rosemary combined get me every time. I also love our antiaging facial serum. It's our most complex formula with extremely rare essential oils. I may even have to reformulate it very soon because we're having difficulty sourcing one of the essential oils. I was inspired to approach our antiaging facial serum from a holistic healing art perspective. Since cognition also declines as we age, it's packed with mentally stimulating essential oils to increase oxygen to the brain. 
Rip & Tan: How will you grow the brand in the future? What don't you want to do? 
KK: I hope to change a person's perspective on essential oils through consumer education. By connecting with truth, challenging transparency, and changing the future of beauty by holding it to a higher standard we're making a small ripple in a much bigger issue. The issue is how companies value deception over profits. I deeply believe integrity is worth more than money.
When you're a disruptive brand, many buyers and editors don't want to take a risk on you. For the fact that it simply undermines everything they have been told before. Now there's the catch 22. How does change happen if no one challenges it? It may take me awhile to make waves being self-funded. However, I hope to grow as big as the universe allows. If you've got a dream, I'll dream it with you.
Rip & Tan: Is there a wellness habit or beauty ritual you think really complements the line? Any special layering of products or ways of boosting their effectiveness?

KK: I start with our pre-cleansing serum to remove makeup and prep the skin for our gentle, soap-based milk cleanser. Spray either the lemon or frankincense mist followed by the firming or antiaging serum. And top it off with a crème. I sometimes re-mist to set the serum or crème if it's particularly a hot and humid day.
Rip & Tan: What do you do when you're not working on the business? How do you spend your free time? 
KK: When I'm not doing children's activities, I enjoy running, practicing yoga, and working in the garden.