Living
Meet LA's Sustainable Living Advocate, Priscilla Woolworth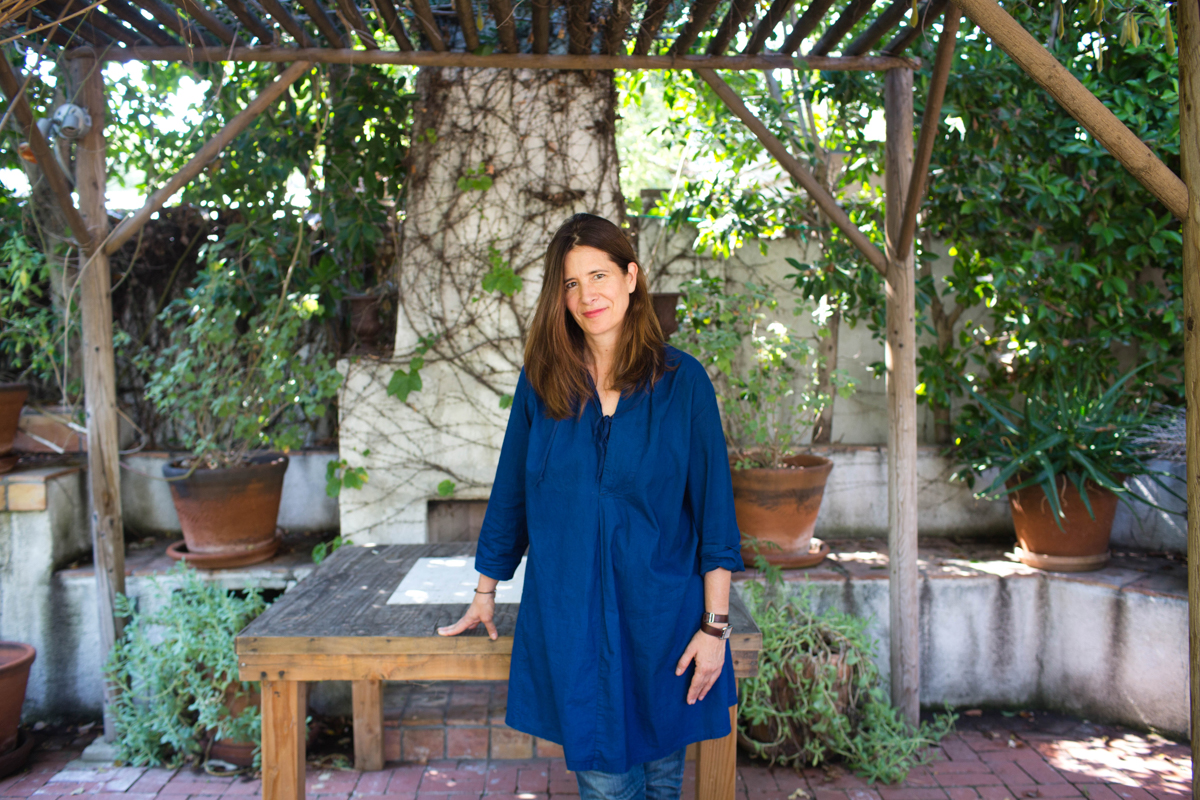 One of my favorite things about Los Angeles is the people in it—they're incredibly inspiring and creative. A perfect example is Priscilla Woolworth, an entrepreneur and proponent of sustainable living who launched her Eco-Friendly Almanac and Store online seven years ago. She also produces a quarterly sustainable living almanac, and recently wrote a book inspired by her daughters. Priscilla describes LOLA (Lots of Love Always) as a sort of field guide for young women entering the real world or anyone wanting to live a healthy life. 
As her last name alludes, Priscilla is a descendant of the family that founded the Woolworth chain of five-and-dime stores, four generations ago. Her pedigree also includes growing up in the South of France, spending summers on a lake in Maine and eventually building a life and raising two daughters in Los Angeles. She is a role model in so many ways and has dedicated herself to educating others about green matters and making that lifestyle accessible. Read on to be truly enlightened! XXJKE  
Rip & Tan: Can you share a bit about your journey in all things green, and how it ultimately led to the creation of your eco-friendly almanac and online store?
Priscilla Woolworth: Growing up, I never thought about where food came from or what was in the cleaning and beauty products I used. It never occurred to me that many of the products I was exposed to were actually harmful to my health. When I moved to Los Angeles, I found myself drawn to reading and learning more and more about the latest findings on the effects of chemicals in food and home care products. Since the news was never good, I searched for healthy alternatives to many conventional products and solutions to the many serious environmental issues that were becoming increasingly more apparent. 
When my daughters were born I went into overdrive. I wanted to provide for them the best and healthiest environment possible to grown up in. At that time, I didn't have a trusted local resource in the USA where I could shop, and I relied on the few products I found on my travels to England and France. My friends wanted them, too, as soon as they saw them in my house. A few years later, my store was born literally out of necessity. I was inspired as well by how Woolworth's began: with the most practical everyday necessities. In launching my store, it fully fueled my passion for all things sustainable and environmentally responsible. I love being able to provide and recommend the best products I can find on the market.
The quarterly almanac/newsletter became an extension of my store, as the first issues explained the value of each of the products I carry to eventually promoting emerging green technologies, and championing innovations in sustainable design, bio-dynamic gardening, the arts and plant-based recipes. In every issue, I spotlight a group or organization that endeavors to arrest, contain or reverse environmental damage and preserve our natural world for future generations.
Rip & Tan: How has your family name and history influenced the way you have looked at your own "general store"?
PW: The first successful Woolworth's store opened in 1879 in Lancaster, Pennsylvania. It was the first store of its kind to put merchandise out so shoppers could handle it and choose what they wanted to buy without asking a sales clerk for help. The stores also offered affordable practical everyday necessities, and it was this aspect that inspired me to create my own store. Being a direct descendant of one of the founders of the iconic F.W. Woolworth 'five-and-dime' stores, I'm continuing my family's legacy into the 21st century by providing the conscientious consumer with less wasteful, eco-friendly alternatives to conventional products. My goal is to inspire systemic change, one person at a time, and create a better world.
Rip & Tan: How do you go about selecting the special products you carry?
PW: I first choose products by how useful they are, and then evaluate what their environmental impact is, from how and where they were made and with what materials. The product also needs to look good. If there is something I need and I can't find it, I'll design it myself, such as the Max composter, Mario sieve, French-inspired market bags and recycled burlap storage bag.
Rip & Tan: What is the most rewarding part of your work?
PW: Witnessing the rising public awareness when it comes to what products they are using and where their food comes from. I'm so looking forward to the day when organically grown foods and chemical-free home and beauty products are the norm and won't need to be labeled as such. 
Beauty
Rip & Tan: What are your go-to beauty products? 
PW: I'm obsessed with Pangea Organics Pyrenees Lavender with Cardamom Lip Balm and the Lavender Lotion Bar from San Marcos Farms. They both feel and smell so good, and don't contain any toxic chemicals. Years ago, when I was younger, I used to buy any beauty product that looked cool. Since I discovered most beauty products on the market contain harmful chemicals, and I've only used chemical-free products. There weren't very many choices available on the market seven years ago, but now there are many wonderful healthier and way cooler alternatives, such as my own favorites like Josie Moran lipstick, Mineral Fusion mascara, Suntegrity moisturizer and sunscreen, and the entire skincare line Odacite.
Rip & Tan: Is there anything special you would like to share about your beauty routine? 
PW: Since I was 12 years old and living in the South of France, I've washed my face every day using 100% organic olive oil soap, which is gentle and cleansing. I use a slightly rough washcloth, which helps exfoliate my skin, leaving my face feeling soft and clean. I finish off by moisturizing my face, neck and chest.
Rip & Tan: Bath or Shower?
PW: Both! Living in Los Angeles, where we are very conscious of water waste, I keep two buckets in the shower to capture the cold water when I first turn the shower on. I don't take as many baths as I used to, but when I do, I just use it to soak in the evening after a tiring day and then in the morning, I pump the bath water out into my garden.
Health
Rip & Tan: What do you do to stay healthy and balanced? 
PW: Not sitting for long stretches of time in front of my computer, eating a mostly plant-based diet, and getting outdoors several times a day to do garden chores. I've always been a nature girl, so my garden is my sanctuary and nourishes my soul. 
Rip & Tan: Do you work out? What do you swear by? 
PW: Stretches every morning, Pilates, gardening, going for walks—in the woods is the best, or on the beach—bike riding and hiking as often as possible. Some of my best ideas come to me while I am exercising.
Food
Rip & Tan: Do you follow any particular diet? 
PW: I buy only organic foods, in season and as local as possible, and eat an increasingly plant-based diet. Most of my meals I have at home because I love to cook what I have harvested from my garden.
Rip & Tan: What is your favorite recipe, and would you please share it? 
One of the family favorites is Brown Rice with Kale and Mushrooms using leftover raw vegetables from the fridge. I learned this recipe from my daughter Lucie. The simplified version uses just kale, but we love to add broccoli, cauliflower and zucchini as well. This recipe is so loved that it is also featured in my book LOLA, as one of the best and easiest recipes to make.
Rip & Tan: What is your favorite restaurant to eat at with the whole family? 
PW: Malibu Farm on the Malibu Pier. It's such a beautiful location and the food is organic, locally sourced and delicious.
Fashion
Rip & Tan: How would you describe your style? 
PW: Pastoral chic. I dress ready to work in my office or garden.
Rip & Tan: Who are your favorite designers?  
PW: Agnes B., Jesse Kamm and Kendall Conrad's bags and leather cuffs. I'm also obsessed with aprons. I think it's from growing up in France, where we had to wear a smock every day at school. Clearly, I've never grown out of it!
Rip & Tan: What is your uniform? 
PW: I dress for comfort and practicality. I need to be able to go outside without getting changed, so jeans, any number of navy and white marine-striped Petit Bateau tees, old white shirts I wear only at home, Barbara Shaum sandals in the summer, Blundstone boots in the winter with a black pashmina shawl to keep warm or a big straw hat on sunny days.
Decor
Rip & Tan: You live in a beautiful 1930s Spanish-style home. What is your design philosophy?
PW: That having the best quality of life possible in a healthy, toxin-free, attractive and comfortable home doesn't mean I have to sacrifice any of the things I love.
Rip & Tan: What is your favorite room in the house? 
PW: All of them! I love my bedroom because the bed is so comfortable and the view from it is of the garden; my office, because it's fun and a great space to work in; the library, because it's full of favorite books and natural curiosities; the living room, because it has a great fireplace (which is used only on rainy days) and big couches to watch movies from; and the kitchen, where I prepare meals and enjoy them in the evening by candlelight at the table with loved ones.
Rip & Tan: What are your favorite pieces in your house? 
PW: A basket full of naturally shed antlers, a big wood table where so many fun meals have been shared with friends, and the wooden cutting boards on which many of those meals were prepared. 
Rip & Tan: What are your favorite home stores? 
PW: Mine! I'm my own best customer and order from it all the time. Otherwise, Merci in Paris; Lost and Found in Los Angeles; Summerhill and Bishop and Labor and Wait in London. Turn me lose in any hardware store or garden nursery, and I'm happy.
Art
Rip & Tan: Who are your favorite artists? 
PW: Charles Fine, Jean-Michel Basquiat, James Wyeth, Margaret Kilgallen, Claudio Bravo and all the artists that have been featured in my Almanac newsletter.
Rip & Tan: What is your favorite piece of art you own? 
PW: A painting by artist Damian Elwes. It's of a living room not unlike my own.
Entertaining
Rip & Tan: Do you entertain at home and what are some of your tricks?
PW: I do seated dinners and add place cards that I make using recycled cardboard, I light the table with tea light–filled repurposed glass yogurt jars and all along the middle add repurposed white wine bottles, which make perfect water bottles. My family's heirloom plates and silverware look very chic with all the repurposed pieces. I rarely put flowers on the dinner table, but instead decorate with large shells (summer), antlers or persimmons (fall), and bundles of rosemary and pinecones (winter).
Rip & Tan: Plated, buffet or family style for a dinner party?
PW: I always do a buffet, even if we are just six for dinner. I like it informal, where guests can easily serve themselves.
Rip & Tan: What are your favorite flowers and where do you buy them? 
PW: I love a large bunch of cosmos from the garden, and when they are spent I harvest their seed pods and sow them back in the garden. Faded sunflowers become food for the birds, and the soft petals from the roses become lovely natural mulch on the paths around my kitchen garden. Occasionally, I'll cut some branches from the olive trees  and arrange them in a vase. The branches eventually end up in the fireplace, along with any rosemary and lavender clippings from the garden. The flowers are either from my garden or the local farmer's market. 
Photos: Brittany Wood