Wellness
Making Hibiscus Floral Essences with Flora Luna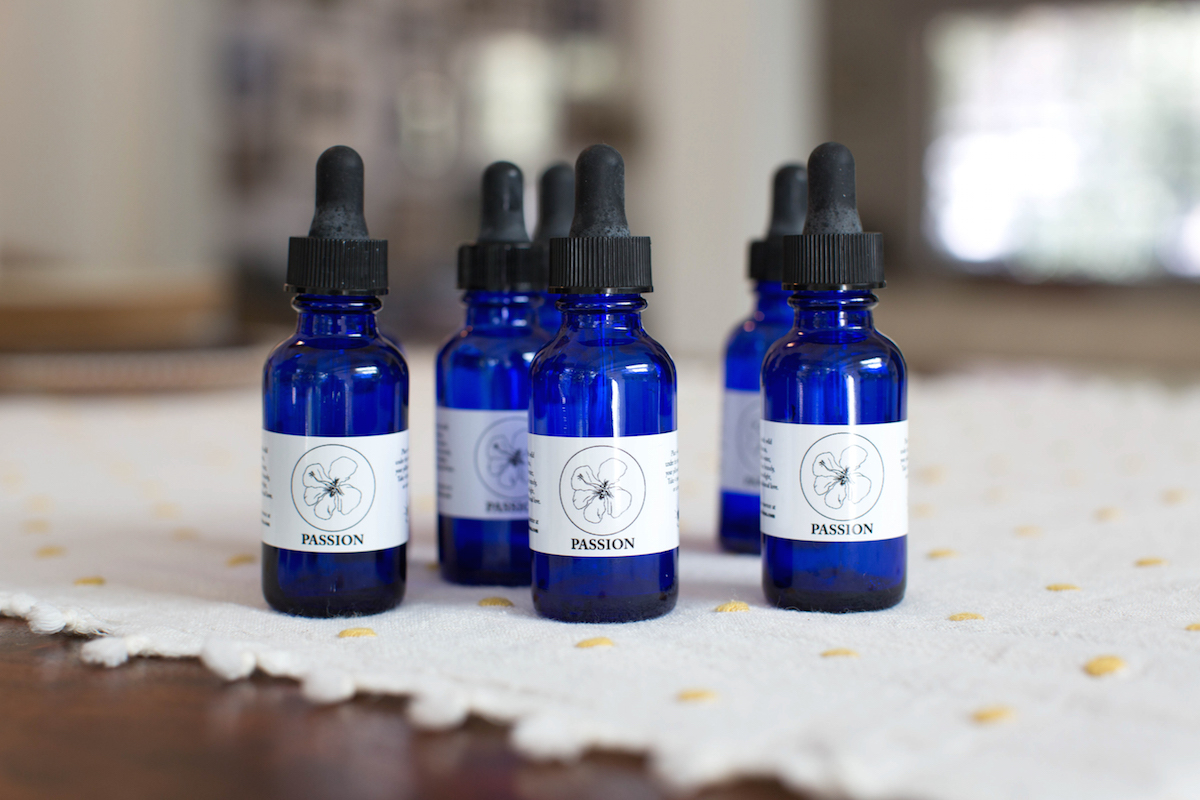 As someone who adores flowers, the outdoors and everything natural, it's no surprise the idea of floral essences would draw me in. They can be stimulating, calming, strengthening, and have a certain celestial power. Through a mutual friend I was introduced to Flora Luna and founder Alisa Gould-Simon, who makes handcrafted floral tinctures during the full moon. We recently held a class so she could teach some of our friends a bit about her magical methods. 
We gathered at my close friend Shiva Rose's house, and everyone got to know each other over cheese, fruit, nuts and raw vegan hibiscus chocolates, along with hibiscus tea. Hibiscus was actually the flower of the day—our essences used blooms Alisa gathered from a tree at her Venice bungalow. As we learned during the course of the afternoon, each flower relates to a different chakra and energy. For example, Alisa makes essences with rose for healing, lemon flower for clarity and passionflower for purpose. Hibiscus connects with the root chakra, which is grounding, and stimulates passion and sexuality. 
Alisa works during the feminine full moon by waiting for a single flower to present itself with an important message. She then gathers flowers without cutting them, and creates the tinctures under the masculine energy of the sun. I can say from being part of the experience that it's an absolutely enchanting process. I hope you enjoy learning more about Alisa's fascinating work. XXJKE  
Rip&Tan: What first got you interested in learning how to make floral essences? 
AG: I spent six days camping alone in the Osa Peninsula in Costa Rica with Way of Nature, an organization that facilitates 'nature solos' in February of 2015. To support our journey we made an essence with local passionflower, which calms the mind and eases anxiety. (I still have the mother stock and it's what I use to make the Flora Luna PURPOSE essences). On this trip, I learned to make essences under a full moon and full sun cycle (most are made simply under the sun for 4-6 hours) and to make them without cutting the flower wherever possible. I loved this process of working with plants and integrating the moon's natural rhythm into it. It's a process that is polar opposite to my years of working in tech. I get one or two opportunities each month to create something new and I make a single essence with each full moon. The rest of the time is about working with what is. It slows down the process and focuses it significantly, which I really enjoy.
Rip&Tan: What was your previous experience with floral essences, if any? 
AG: Before starting Flora Luna, I was familiar with Dr. Bach essences and still love having their 'Rescue Remedy' spray on hand in my purse when I'm traveling or having an especially busy or challenging day. Other than that, I didn't have much experience with the world of flower essences before I started making my own. I had been working with herbs and herbalists for years but the process of making essences was something that felt brand new.
Rip&Tan: How did you learn about what each flower represents or what its energy does? 
AG: I have a few books on the healing properties of different flowers and plants and have studied using plants as medicine on my travels in Ecuador, Costa Rica and Southeast Asia. There is also so much information available online. The Flower Essence Society is a great resource, as is Dr. Bach's website. Many of the flowers that I've worked with have been used by way of essences, teas, herbs or in tinctures for centuries so their healing properties are well documented. 
Rip&Tan: In our class you said the essence gets more potent the more it's diffused. How is that?
AG: This is a process that is unique and somewhat counterintuitive to the Western mind. We typically assume that the more we take of something the bigger the impact it will have. But with flower essences diluting the mother essence twice actually increases its potency.  
Rip&Tan: How do the mother stocks, child stock and individual essences work and flow through those stages? 
AG: The process of making flower essences has four key steps:
1. Place the flower you are working with in a glass or ceramic bowl that has been filled with purified or fresh spring water for the period of time that you wish (I recommend one moon cycle and one sun cycle). 
2. Filter the water that the flower sat in and add it to a glass bottle. Fill the bottle with roughly 30% brandy (another alcohol or glycerin for those with an alcohol allergy or addiction works just as well) and the rest with purified water. Voila! You now have your mother essence.
3. Take 10-12 drops of the mother essence and put it in a new glass bottle. Fill that bottle with 30% alcohol and the rest purified water. Voila! You now have your child essence.
4. Finally, take 10-12 drops of the child essence and put it in a new glass bottle with a dropper. Fill that bottle with 30% alcohol and 70% purified water. Voila! You now have an essence that is ready to share! 
Rip&Tan: Is the hibiscus flower essence something that's only appropriate for women, or can men take it too?
AG: Men can absolutely take the hibiscus flower essence. Because hibiscus is believed to correspond to the bottom two chakras, it may be help stimulate passion and sexuality for both genders. It is associated with benefiting the reproductive organs, stimulating both fertility and arousal.
Rip&Tan: What are some of the benefits you've experienced from taking flower essences? 
AG: I find that the biggest benefit is a reminder of my intention. I love working with flower essences in their pure form. It creates a strong feeling of connection to that particular flower and, by choosing which essence you'd like to work with, it encourages you to clarify your intention around any areas of your mental or emotional state that you want to improve or shift.
Photos: Brittany Wood