Living
Maisonette's Sylvana Durrett on Motherhood and Entrepreneurship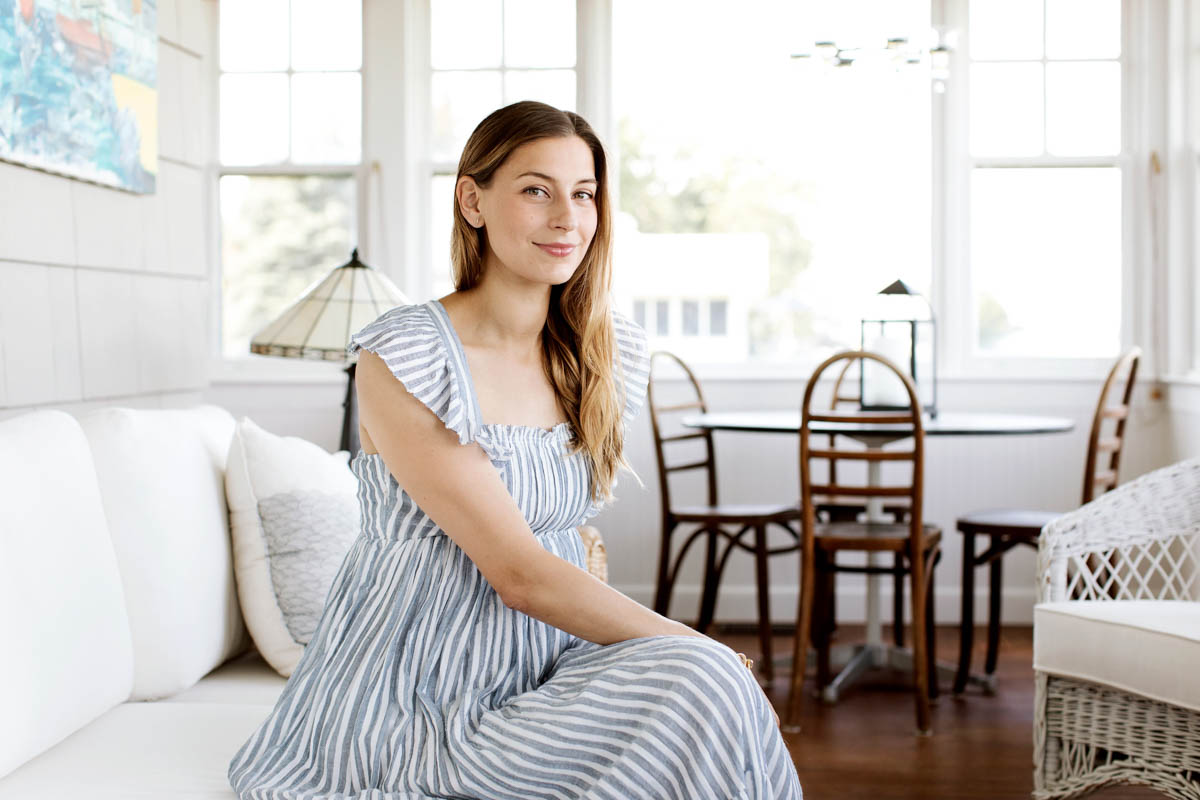 As Director of Special Projects at Vogue and a mother of three little ones, Sylvana Durrett has plenty on her plate, but the Princeton grad wasn't content to stop there. Earlier this year Sylvana founded e-commerce site Maisonette with her former coworker at Vogue, Luisana Mendoza Roccia. The site aims to make the process of finding stylish kids' clothing and gifts easier than ever before. The idea for the company was born from Sylvana and Luisana's mutual disappointment with the process in their personal lives. And it's true; tracking down well-made, stylish children's items takes serious effort, especially if you're interested in local and independent brands.
Sylvana and I have been working on something special for the past few months and I am so excited to launch a gift box I curated for our stores. Tomorrow I'll be sharing what's inside the baby gift basket and what inspired it. Until then, get to know Sylvana through our interview with the entrepreneur on interior design, career, style, and more, below. XXJKE
Rip & Tan: Tell us about this home! What drew you to the space or locale? 

Sylvana Durrett: It's so nice to be able to get out of the city in the summertime. We've been renting this house in Southampton for five years – it's right on the bay and perfect for the kids. The water is always warm and calm, and the kids can splash and play and run free. Isn't that what summer is all about?
Rip & Tan: How did you spend your summer here? What were some of your favorite ways of enjoying the house? 

SD: The bay is a big draw. From swimming to boat rides, and even just watching the sun go down – there are a hundred ways to enjoy it.
Rip & Tan: Tell us about your home in NYC. Where do you live and how long have you lived there? 
SD: It was really an experiment: my husband and I wanted to find out if Brooklyn was the right fit for us. We had just had our second child and space was tight in our West Village apartment. This house was massive compared with what we were used to, and on a pretty tree-lined street. That was really about all the criteria we needed! It turned out so much better than we could have imaged.
Rip & Tan: Your kids just started a new school year. What are you looking forward to for them or for yourself this year? 
SD: Henry just started Kindergarten – he is officially a person, embarking on his academic career, which is exciting but also crazy to think about. It's incredible how quickly time flies! Luckily, I have a new baby at home, otherwise I would be very distraught! Gracie is still an adorable toddler, discovering new things every day, which is so much fun to watch.
Rip & Tan: How do you balance work, family life, and personal time. Any special rituals or beliefs that shape your schedule? 
SD: I think work/family balance really depends on organization, a fair amount of multi-tasking, and of course, a strong support system! I am at the office all day, but I make sure to be home to put my kids to sleep. I make the time I am at work count, meaning I focus and do things efficiently so I can get home to my kids. And the weekend is family time.
Rip & Tan: What inspired you to start Maisonette?

SD: Shortly after becoming a mother, I realized there was a huge gap in the children's online market. I would spend hours trolling dozens of different websites into the wee hours of the night, searching for good quality, stylish clothing for my kids. It was such a waste of time, and so frustrating! I knew there had to be a better way. My partner, Luisana and I  had the same thought: why not create a site that would carry the best of all our favorite brands and boutiques, all in one place?
Rip & Tan: What criteria guides your buys for the site? What do you look for in a new designer or brand? 

SD: We are interested as much in the established brands as we are in the newcomers. Our goal is to carry the best of everything, meaning we of course carry the Bonpoints and the Stellas, but we also seek out the smaller, mom n' pop shops and brands to see what's happening on a more local level. That way, our customers are always sure to find something unique and special. And as a general rule, we never carry anything we wouldn't want to see on our own children.
Rip & Tan: How have people responded to the launch? What successes are you most proud of? 
SD: We have been so fortunate for the overwhelming response we've gotten from our network of incredible moms and friends. We love hearing that we've helped someone make their life a little easier! I'm probably most proud of just being able to see this business come to life. It's one thing to have a dream, but something entirely different to actualize that dream. It's incredible to think how far we've come, and in so little time.
Rip & Tan: How do you plan to grow Maisonette from here? What possibilities do you envision? 
SD: The possibilities are endless! We're ramping up our editorial, meaning we are featuring more incredible mothers, products, and organizations doing great work and inspiring us. We're growing our roster of brands working with sustainable, organic materials, and brands who are committed to giving back to the community. We're hoping to inspire our customers to think about their purchases, to invest in brands that they believe in.
Rip & Tan: What item is flying off shelves right now? Why do your customers love it so much?
SD: For back-to-school, we partnered with Cheree Berry, one of our favorite paper brands, who created custom flags for first day of school photos. We could not keep them in stock—they flew off the shelves—and we were flooded with the sweetest photos of kiddies marching off to school with their flag in tow from parents and customers.  It's this kind of collaboration we love so much; thinking 'it would be so great to mark the first day of school in some way' and then to see it come to life and be appreciated by so many.
Rip & Tan: How would you define your personal style? What item or outfit makes you feel most like yourself?

SD: For work, you'll likely see me in a pair of high-rise cropped jeans and a t-shirt or sweater. I love a good shoe (Mansur Gavriel slides were my go-to this summer) and a stripe in any form.
Rip & Tan: What vibe/look/muse are you inspired by for fall? What are you coveting specifically?
SD: I'm loving the 1950's full tea-length skirts I'm seeing, paired with a chunky sweater.
Rip & Tan: What wellness ritual or beauty routine is making you feel your best?
SD: SkinCeuticals has this incredible microbead exfoliating scrub that I use in the shower – it feels like such a luxury. Followed by M-61 PowerGlow moisturizer.
Rip & Tan: How do you stay healthy? 
SD: By lugging my children around!
Rip & Tan: What beauty products have a firm spot in your medicine cabinet?
SD: Tata Harper eye cream, Tata Harper Be Adored lipstick – it's just the right color and perfect light texture. And Caudalie's cream cleanser to thoroughly clean my face after a long day!

Rip & Tan: What are you listening to/reading/watching right now? 

SD: I'm watching The Defiant Ones on HBO, and reading The Collaborative Way.