Wellness
Love Yoga: Venice's Most Inspiring Place to Practice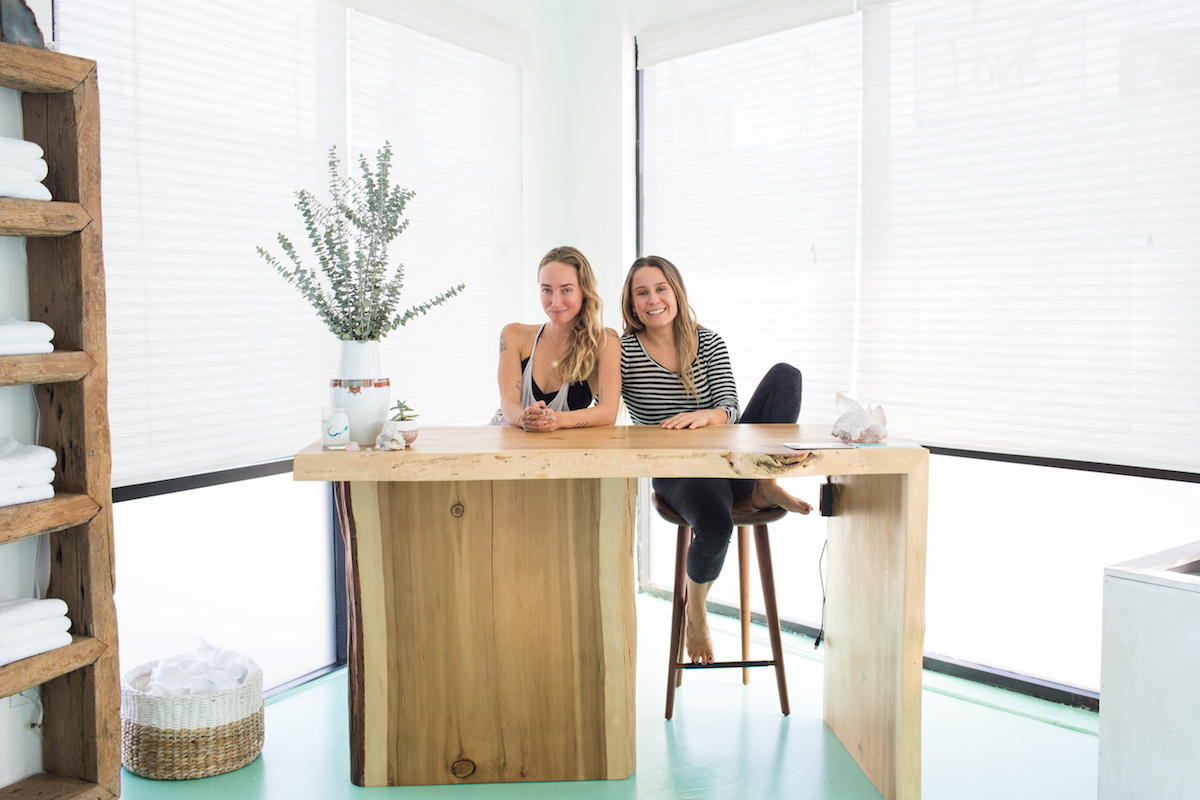 Los Angeles has countless yoga studios offering sweaty, high-intensity classes that incorporate rigorous movement and oftentimes artificial heat. In my opinion, what's harder to find is an authentic yoga experience free from the latest trends and gimmicks. Fortunately Venice is now home to an inspiring destination that celebrates the original purposes of the practice. Love Yoga is the work of my high school friend and yogi Kyle Miller, along with her business partner Sian Gordon. Sian founded the seasonal Love Yoga studio in Montauk six years ago. 
The two teamed up last fall to open a West Coast location on Lincoln Boulevard, and it couldn't be more unique. It came about in part because Kyle was sick of yoga classes focused on getting a hard workout. She wanted to return to what the practice is really about—breathing, moving, spiritual teachings and flushing out the body. I love their mission, as well as the beautiful environment they've created. The studio features seafoam wood floors, lots of light, live plants and a bright, whimsical mural. I hope you enjoy learning more about these two amazing yogis! XXJKE 
Rip&Tan: What makes Love Yoga different from other yoga studios?  
Kyle Miller: Our studio is characterized by its community—the vibrant, creative people of Venice. Our space feels airy, bright and friendly. Our classes are challenging, but completely accessible and inclusive. We think our studio stands out completely from the other studios on the Westside.   
Rip&Tan: Why was Venice somewhere you wanted to open a studio?
KM: Jeff and Sian have had the Montauk studio for six years. We all met at a time when Sian and I were both plotting our moves west. Once we got out here and settled in, they approached me seriously about joining the team and becoming a partner in Love in LA. Venice was a no-brainer because that's where our friends and lives are. We looked for locations for six months and when we found our space we just knew.
Rip&Tan: How were you each first exposed to yoga and what inspired you to devote your careers to it? 
KM: I started practicing when I was 15, just for fun at Maha Yoga in Brentwood.  Once I moved to NYC and was exposed to the teachings at the Jivamukti Yoga School, my interest in yoga deepened significantly. I quit my job at 22 and immersed myself in study. I traveled to India and studied one on one; I apprenticed with my first teacher, Rima Rabbath, at Jivamukti, and I washed dishes in the cafe so I could practice for free. For me, yoga helps me maintain perspective and has completely transformed my life. I couldn't imagine not teaching—it's a blessing I'm thankful for every day.
Sian Gordon: My parents brought me to yoga from the time I could walk and I would fumble around and try to do the poses. Yoga was never exotic to me—it was just what one did. It wasn't until I was in my late twenties that something shifted in me and it became my sole focus. At the time I was in grad school studying to become a therapist. After I graduated I left all of that behind and went to India. When I came back we opened the first Love in Montauk. 
Rip&Tan: Tell me about the type of yoga practices you offer at the studio. 
We offer creative and fun classes that are fresh.  We love moving spherically, opening, aerating, oxygenating, circulating and recalibrating. Although it is a disciplined practice that requires one's effort and energy, we don't want our students to think of class as a chore or task they have to complete. It should feel good because it's a practice for one's well-being.
Rip&Tan: The space is so beautiful—minimalist but with personality. Did you two design the space? What kind of ambience were you hoping to create? 
Design is so important to us and it's an element we thought was completely missing in the LA yoga landscape. The Montauk floor is also seafoam, so we knew that was the key element. Most studios are mauve, pale yellow, deeper wood—very dusty and dreary. We knew our color scheme would pop and the windows would flood our space with light. We're obsessed with plants, and getting to place the plants around the studio before we opened was a moment we had all been looking forward to. The olive trees out front were one of the first things we took care of. Our amazing mural is by artist Carly Jo Morgan, our friend whose work we adore. Her Topanga aesthetic and bright colors we're exactly what we wanted. Basically, our goal was to create a space that felt as amazing to be in as our other favorite businesses in Venice: General Store, Superba Food + Bread, and Gjusta.  
Rip&Tan: Where do you land on music vs. no music during class? What can people expect in a Love Yoga class? 
We are young and we love music! So do all of our teachers. Yoga teachers tend to get into music because it's such an integral part of what we do. Students can expect everything from kirtan to reggae, pop music and electro—really, truly anything.  
Rip&Tan: What is the most significant thing you've each taken away from yoga practice? 
KM: Everyone has mental agitation and suffering. The game is learning how to deal and maintaining perspective. 
SG: In every moment one has a choice: to become more conscious or less conscious. 
Rip&Tan: Who is your personal yogi muse? 
KM: My teacher Nevine Michaan of Katonah Yoga is like a sprite, full of wisdom and bubbly with energy. She inspires me.
SG: My mom. She doesn't practice as much anymore, but she is the most even-keeled person I've ever known. 
Rip&Tan: You also put together yoga retreats around the world—have you learned anything from practicing yoga in other countries that you've integrated into your practice or environment at home? 
Retreat yoga is definitely more luxurious, no one is ducking out to run to work, no one has the responsibilities and pressure of their normal life hanging over them.  The idea of really being able to settle in to the time and space of practice and to let go of everything, even if just for 60 minutes, is how we bring the retreat to the everyday. Not rushing on the mat and finding elegance and poise during practice lifts you from the mundane craziness of the everyday and gives you a taste of the serenity of retreat.  
Photos: Brittany Wood