Entertaining
Kids Entertaining: Cherry Party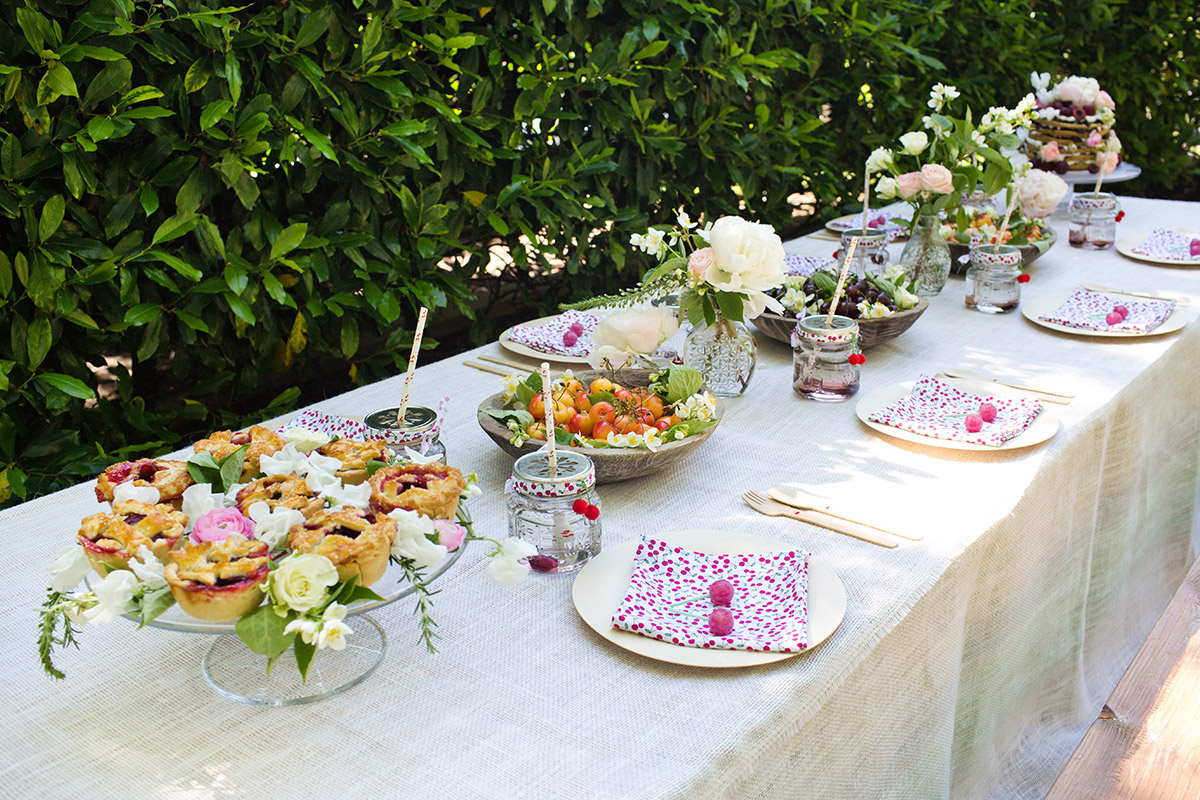 I've yet to visit Peggy North's Venice gem, Fire and Creme, and leave uninspired. And on a recent visit, I was so in love with the all adorable cherry items she had in-store, I just had to throw a party for the little ones that incorporated them. To put it all together, I asked Peggy to once again work her magic, and for our cherry-themed menu, we were treated to desserts from the lovely ladies of Sweet Laurel Bakery. For the event, they whipped up adorable miniature cherry pies. The afternoon was so sweet (I wore my favorite new Red Plaid Boy Shirt for the occasion) and the kids couldn't get enough of all the cute touches. See below for all the decor details. XXJKE
THE DECOR & ACTIVITY – Fire and Creme
Linens – A white burlap tablecloth, and napkins handmade by Peggy using cherry-printed fabric that she sourced Downtown, with adorable cherry candies on top of each.
Seating – Rustic, handmade wooden benches from Fire and Creme.
Florals – An assortment of pink and white florals from The Flower Market, including flowering branches, roses and peonies, placed in simple glass vases and used as accents throughout.
Plates and Utensils – Bamboo plates and utensils, sweetly customized per usual, using tiny fabric stickers.
Glassware – Mason jars from Acme Party Box, with cherry straws from Fire and Creme, adorned with the same cherry fabric and the pom pom cherries we made for our craft.
Bowls – Wooden bowls from Rolling Greens, placed down the center of the table and filled with an array of different colored cherries and fresh blooms.
Balloons & Garland – Cherry balloons, created using red balloons and green paper leaves, attached to floral wire strung overtop our table, with hand-crocheted cherry garland from Fire and Creme strung throughout.
Kids Craft – A Fire and Creme Favorite: pom poms. With this in mind, pom pom cherries were the perfect themed activity, and Peggy walked us through creating our own. To make, we used these pom pom makers. Such fun, and so easy to do, once we got the hang of it!