Style
Kendra Smoot's Uncomplicated Sense of Style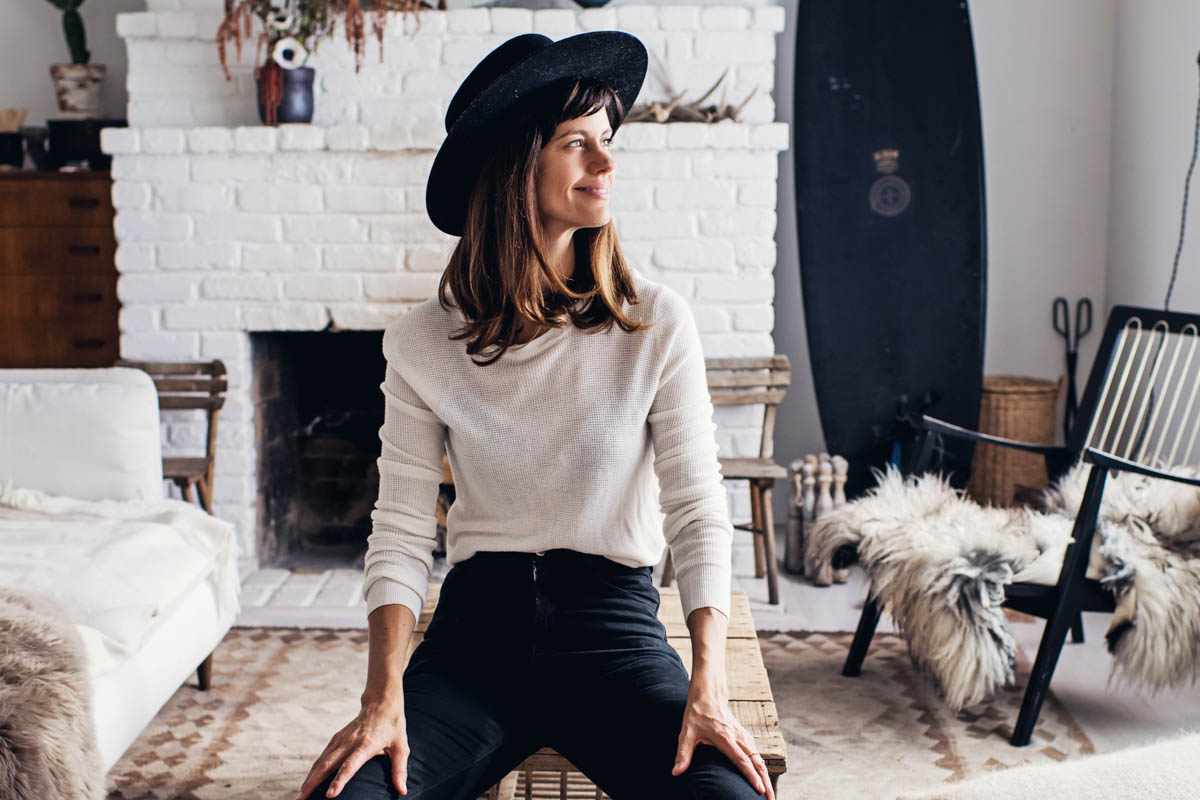 Yesterday we profiled Kendra Smoot, the Bay Area-based mother and stylist whose lifestyle is enviably and effortlessly photogenic. We've been following her career for a while and finally got the chance to talk with Kendra about her life and work. Kendra chose some of her favorite Jenni Kayne pieces to wear that fit her sense of style, one that's decidedly more casual since migrating from New York City to laid-back Marin, where our soft knits and suede mules fit right in. Kendra told us a little about her ingrained affinity for functional design, how she defines her personal style, and why waiting for something you love is so much better than settling for less. XXJKE
Rip & Tan: How did you approach styling the decor of your home? How is it different from designing a set for a client?
KS: When I work with a client I'm trying to execute their vision, and it's always for the purpose of selling something. My home is so personal, it's a place that we only bring in things that are special and that we love. I don't imagine that it will ever feel done, since I love to switch it up.
Rip & Tan: Is there a guiding principle you adhere to when styling your own home?
KS: I can be really picky! Three years after moving, we still don't have a bed frame, because I haven't found "the one." I'd rather wait for the right thing then get something that's temporary and that I don't absolutely love. It's a fatal flaw that can sometimes drive me (and my husband) crazy. On that same note, I don't mind things being a bit scrappy.
Rip & Tan: What is your favorite corner of the house and why?
KS: My bedroom. It's really spare with minimal decoration and easy to keep tidy with lots of beautiful light. I'm usually only in there to read before bed and sleep and love keeping it a very peaceful zone.
Rip & Tan: Has your taste for design changed since having a family? How do you make the beautiful functional, or vice versa?
KS: Not really. I come from a very large family so functionality is just ingrained in me. The key for me is having a lot of vintage pieces, which already are worn and if they've been around for 50-100 years are probably well-made enough to withstand wild children!
Rip & Tan: Is there's a difference between style and fashion? What do these words mean to you?
KS: Style is personal; it's an expression of one's values and aesthetic. Fashion is dictated by an outside source.
Rip & Tan: What (or who) do you most often dress for?
KS: I love to look nice every day, and my look is pretty much the same whether I'm meeting with clients or taking my kids to the park. I dress for myself—it's important for me to feel put together.
Rip & Tan: What are your guiding principles when choosing what to wear or what to buy?
KS: I've been obsessed recently with minimalist podcasts and books and they've influenced me to really pare down my closet. I just got rid of 75% of my wardrobe and am on a shopping hiatus. The things I kept and am drawn to are ethically made with natural fabrics and are simple yet special in design. I love to buy from smaller designers. I'll follow them via social media and it's amazing to watch the process and care that goes into designing and producing a garment.
Rip & Tan: Has your personal style changed since relocating from the East to the West Coast?
KS: Oh yes, definitely! More color, more casual, more sneakers, lots of hats. I've always loved prairie styles and Georgia O'Keeffe vibes—that feels more appropriate here on the West Coast.
Rip & Tan: Are there any lessons you've learned about style or clothing that you want to pass down to your children?
KS: I try to steer them in the direction of natural fibers. One of my best friends has a beautiful children's line and they wear a lot of her stuff, I think they recognize that it's a special thing to get something that's one of a kind instead of mass produced.
Rip & Tan: What draws you to these Jenni Kayne pieces? Is it the fit, the feel, the color? 
KS: I love Jenni's shoes—they are the perfect mix of feminine and practical and stylish. The tops also feel sophisticated in their simplicity and materials.
Rip & Tan: Think about a woman whose style you admire. What is it about her outfit or the way she presents herself that catches your eye?
KS: I have a friend whose style is unique and so her own—she was rocking super high-waisted pants way before that became a trend and she always has these super cool oversized wire frame glasses that she gets from Iceland. Her style is distinctive and really works for her body. I admire when a woman is confident and owns her personal style.
Rip & Tan: Describe your personal style in three words:
KS: Uncomplicated, natural, effortless.