Living
How Katie Hodges Designed This Los Angeles Haven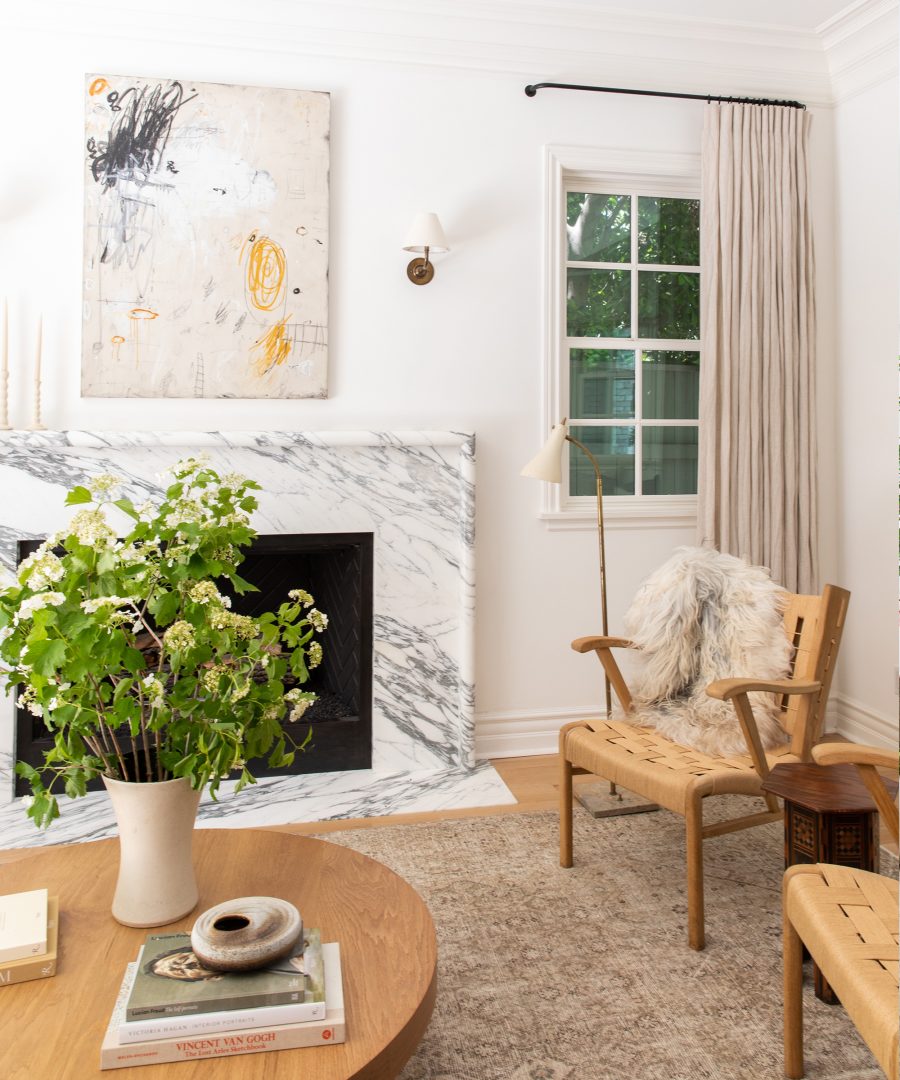 When it comes to creating spaces that are soft, subdued, and serene, interior designer
Katie Hodges
is unmatched in both her design eye and expertise. One perfect example of this is the home she designed for
Cupcakes and Cashmere's
Emily Schuman
and her family. We spoke with Katie and Emily about the ins and outs of this dream-like space, gathering design tips and a whole lot of inspiration along the way.
Rip & Tan: Tell us about your career path. How did you first get into interior design and what led you to launch your own firm?

Katie Hodges: My family and I immigrated from Ukraine when I was 6 years old, and from a very young age it was instilled in me that my career was to provide stability vs. pleasure because we need to make it "in America." As such, my curriculum was always focused on math and sciences, with little room for art and the stuff I was actually good at. Fast forward to college, I was a closeted creative studying neuroanatomy—a total mismatch!

Just as I got accepted into a prestigious program for a Master's in Speech-Language Pathology, I made a swift decision to de-rail this train and decline the acceptance. While stressful at the time, it allowed for a career "exploratory period" which, through several windy turns, led me to where I am today. From fashion PR, to Apple, to a global head-hunting company, I was on a mission to really find my little niche in the world.

It's only when I began organizing people's homes that everything changed.  I found my natural ability and sense for scale, and absolutely loved interacting with clients in their homes. Once I finished an organizing project, most clients would ask me for design advice, and from there I got my first taste of interior design and completely immersed myself in it. Hard to believe it's been almost 15 years since!

In 2015, after working for design firms, I felt like starting my own company was the next best step. I was getting inquiries to do my own projects weekly, and I missed the autonomy I had when running my former organizing gig. At the time, there weren't many young interior designers in the industry, and I saw this as an opportunity to differentiate myself from the "Million Dollar Decorator" crew.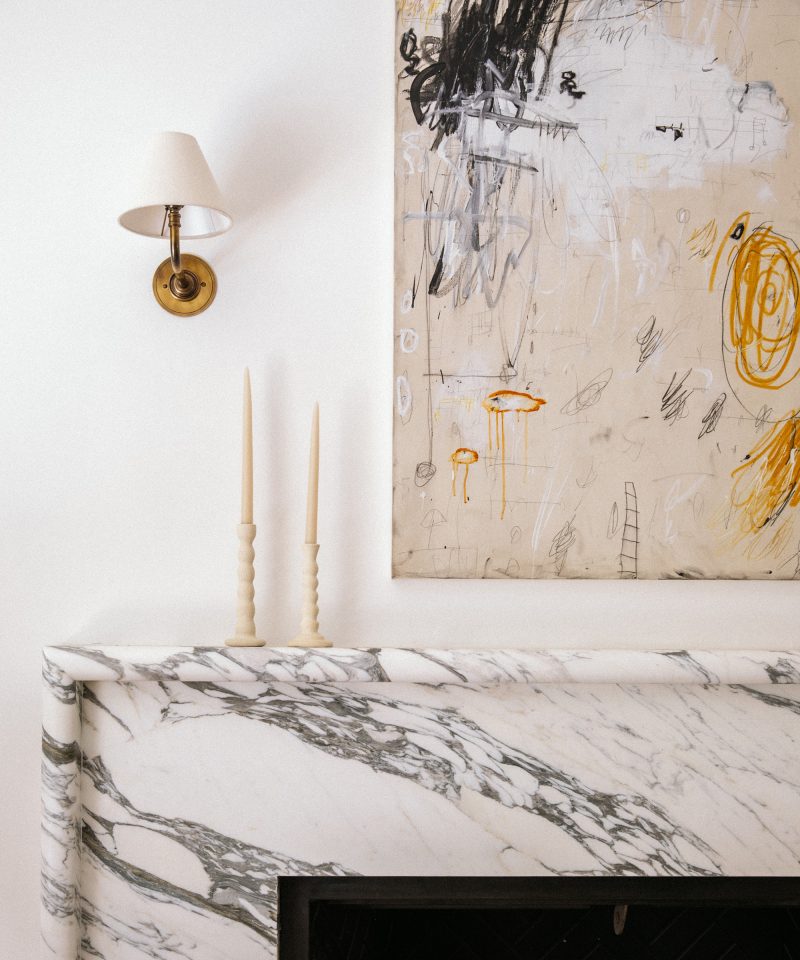 Rip & Tan: What were the initial points of inspiration for this space? With this in mind, how did you work to bring Emily's vision to life?

Katie Hodges: We ask two main questions to come to the design direction of a home: 1. What does the client want? and 2. What does the house call for?

Our initial points of inspiration came from revamping the home's interior architecture and creating an overall new aesthetic by editing colors and finishes. Surrounded by greenery, the home's architecture had a nod to New England that felt classic and a bit traditional. We saw past the heavy moldings, orange glossy floors, and 90s Tuscan fixtures to unveil the home's true beauty that was dormant within.

Collectively, we envisioned the house lighter, brighter, and with an organic color palette and a more polished overall look. Once the remodel took shape and fireplaces were in, Emily's wishlist for a mostly neutral, polished, and tranquil home flowed very naturally for us.

Rip & Tan: Were there any creative roadblocks throughout your process? What was it like designing a space through a global pandemic?

Katie Hodges: Emily and I were very aligned on aesthetic and the overall goals within the space. But as with many projects, there's often an "acclimatization period" for the client's eyes to adjust to new furnishings because it's all new and may not be the mainstream things typically seen. It's part of our job to expand their horizons, and with the right partnership and trust comes a beautiful result!

We designed most of the space pre-pandemic but were just about to go into purchasing when COVID-19 shutdowns began in LA. It took a lot of flexibility and ninja-logistic skills to pull it all together in 4 months but it made it all the sweeter in the end when we pulled through successfully!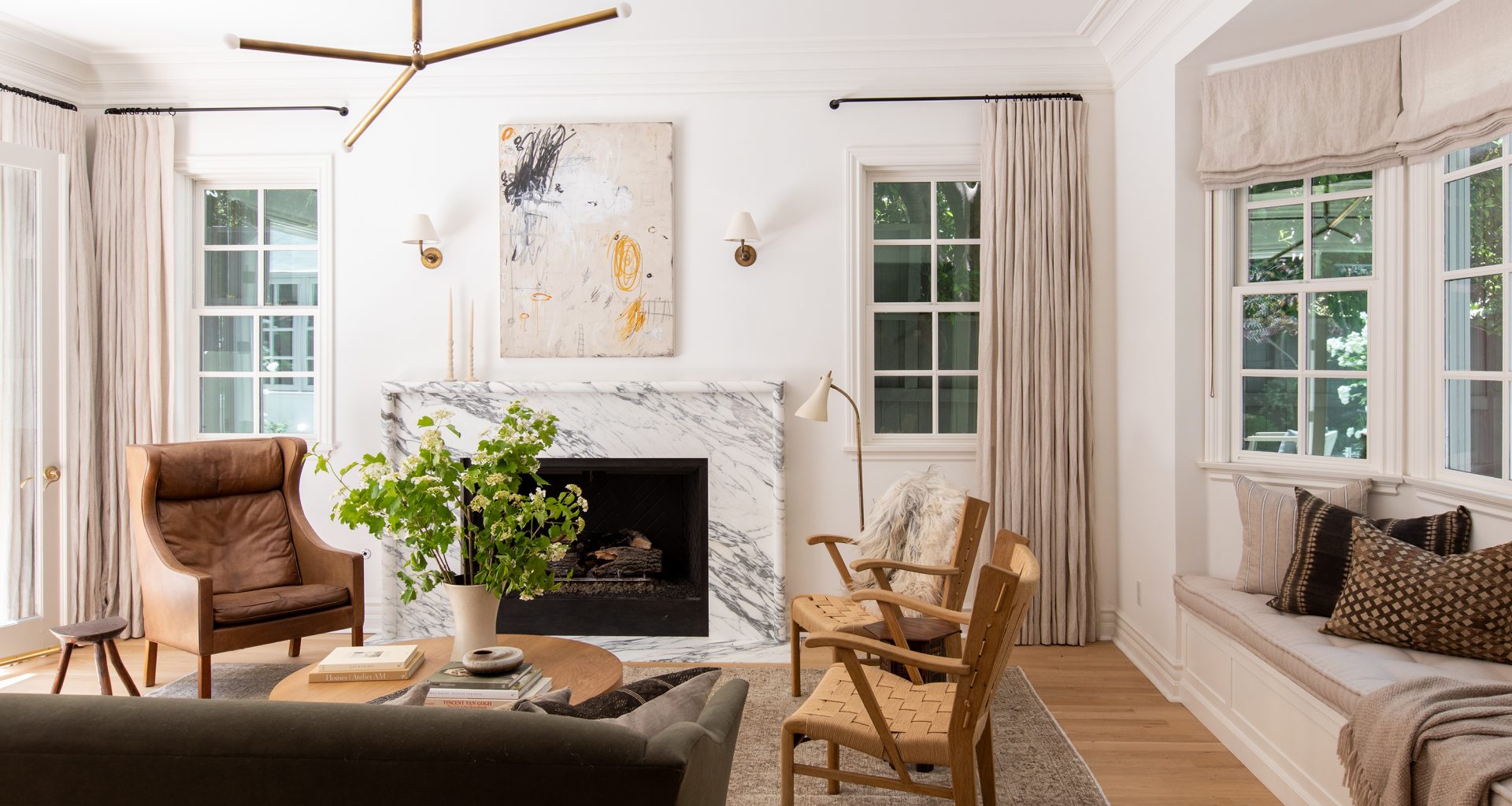 Rip & Tan: What was your overall vision for your space? How did Katie help bring this to life?

Emily Schuman: I wanted our home to feel sophisticated, tranquil, and comfortable. The property is sort of nestled amongst a lot of greenery and foliage, so every room almost feels like you're tucked into a treehouse. Katie helped elevate the space and brought so much depth with elevated neutrals with a lot of texture so it all feels really cozy.

Rip & Tan: What makes this space feel like home?

Emily Schuman: There are so many lovely spots to sit and curl up that evoke this idea that everyone who's there should kick off their shoes and relax. From our living room with our beautifully broken-in vintage chair and the window seat to the chaise lounge by the fireplace and the nubby chair in our bedroom all make you feel instantly relaxed.

Rip & Tan: Which room or piece do you love the most and why?

Emily Schuman: The light fixture in our dining room. I love that it lets the light pass through it and makes such a statement since it's the first thing you see when you walk in the front door. It really sets the stage nicely for the rest of the home.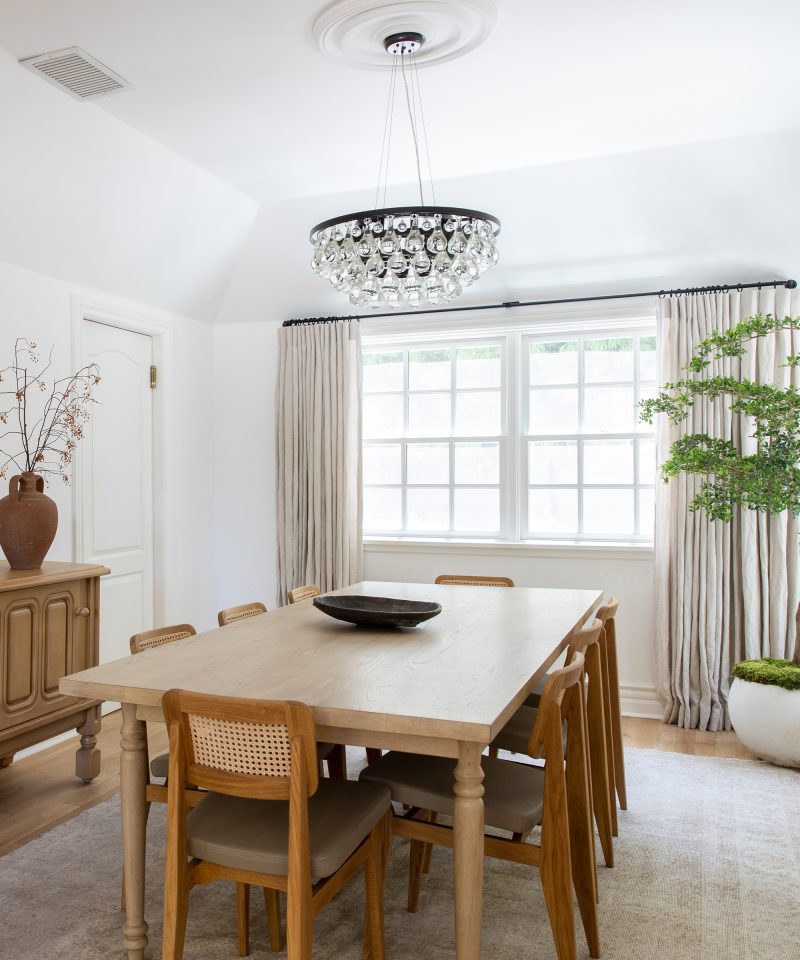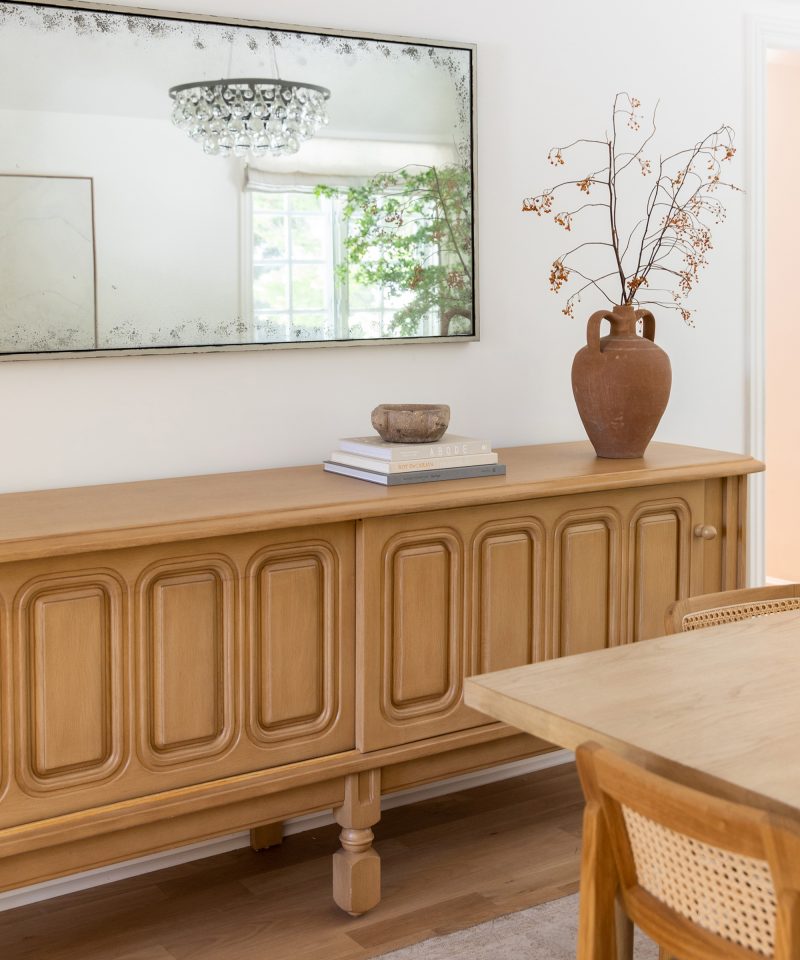 Rip & Tan: From the handcrafted bed to the ultra-luxe sofa, where did you source some of these standout pieces from? Any noteworthy items you can't get enough of?

Katie Hodges: Most of our furnishings are made custom by workrooms in Los Angeles, with my team and I overseeing every detail from beginning to end. I get so much satisfaction from seeing the nuts and bolts of the process while providing clients with well-crafted, bespoke pieces that seamlessly fit into the design scheme. Our sources are proprietary but that doesn't mean unattainable. I've toyed around with creating a furniture line and on occasion create pieces for non-clients that are really excited about a certain piece we have made before.

What I can't get enough of is vintage mid-century French or Danish furniture. The textures, shapes, and patina are all part of creating interest and bringing soul into a space.

Rip & Tan: You have quite a knack for mixing old and new with ease. What tips do you have for blending vintage with contemporary? How can we use vintage to give a space texture without it feeling overbearing?

Katie Hodges: Vintage furniture has a very wide range of styles, and we are very specific with pieces we interweave into the design scheme. A piece's silhouette and patina are usually the two most important qualifying factors and sometimes we favor one over the other. For example, the French mid-century credenza in the dining room was the perfect style, but it required refinishing on the wood to make it cohesive in the space. And the vintage Danish living room had just the right amount of patina on the leather to make it feel lived-in and soulful.

I find most often that vintage pieces may not fit within a room vs being too overbearing. This is why we often re-upholster or re-finish the piece to make it fit within a color palette or scheme of a room.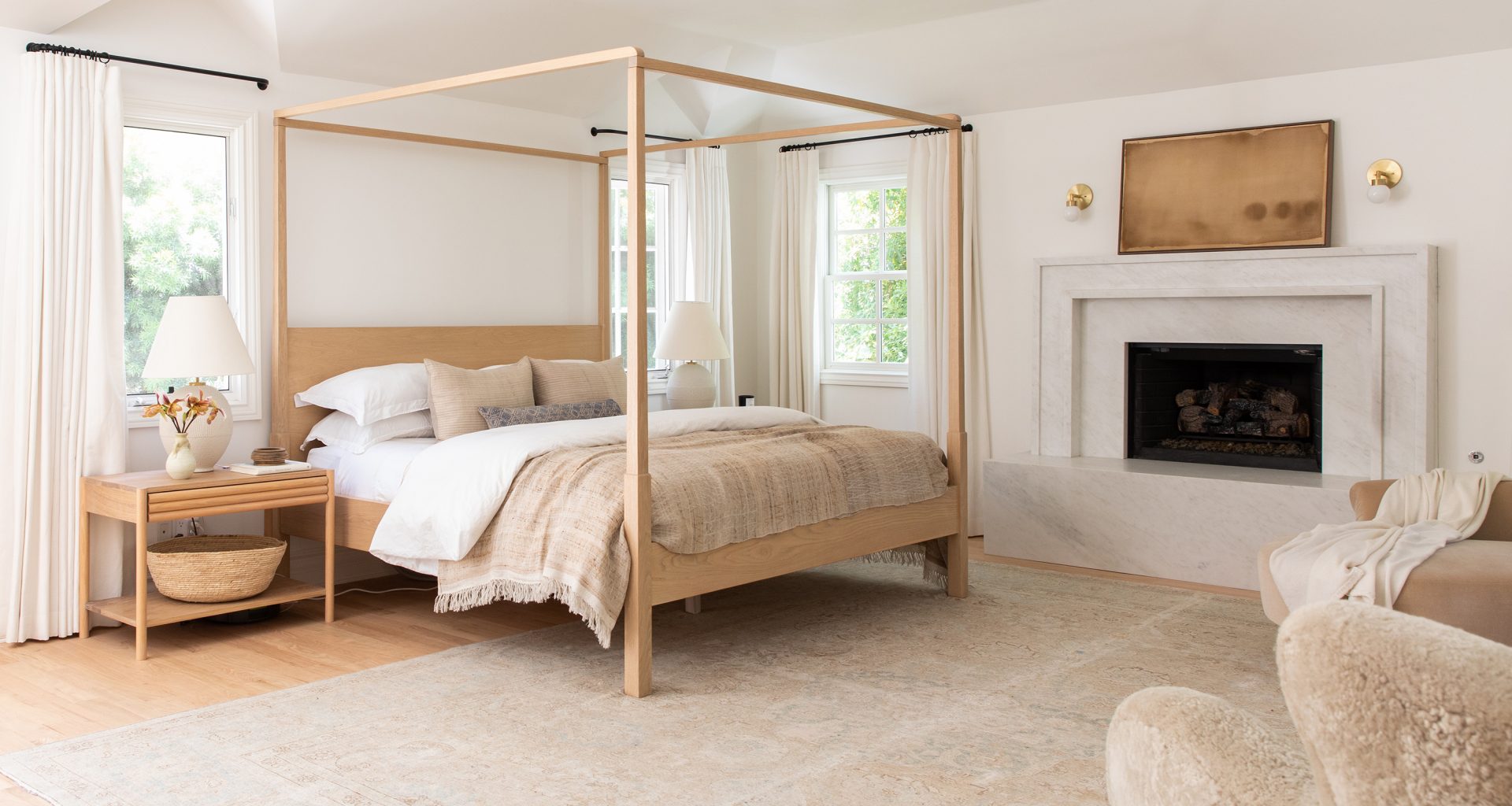 Rip & Tan: What's one thing you shouldn't skimp on when designing a space? Where can we find freedom in less expensive options?

Katie Hodges: We always do beautiful draperies—they create so much impact in a room and polish it off perfectly.

Rip & Tan: What does living well mean to you?

Katie Hodges: For me, living well isn't about drinking enough water or avoiding sugar, it's a way of being in the world that aligns with one's values and purpose. I'm happiest when my creativity is utilized, and I get to enjoy my favorite things in life: my soon-to-be husband, dogs, food, tequila, friends, and travel. If all of those things are in rotation, I am living well indeed!