Living
Juli Daoust Baker on Elevating the Everyday Normal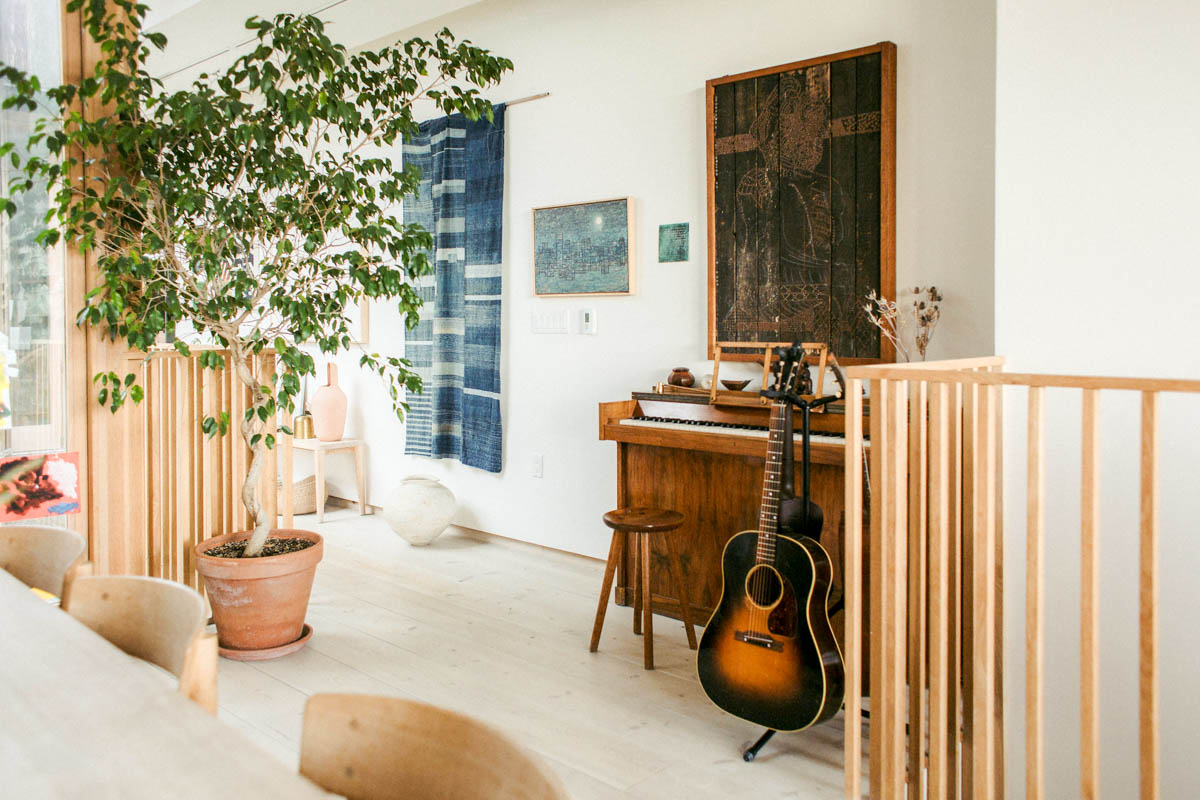 Juli Daoust Baker is one half of the duo behind Mjölk, the Toronto shop and gallery that boasts a beautiful selection of wares from Scandinavian and Japanese designers. Juli's co-founder also happens to be her husband, John Baker, and it's safe to say the two are very much in sync when it comes to their sense of beautiful, functional simplicity. The light-filled shop, nestled in a white-façade Victorian, is quietly minimal with refined, intuitive details: accents of natural wood complement antique cookware, handmade ceramics, and one-of-a-kind art objects. For residents and visitors of Toronto's Junction neighborhood, Mjölk is a haven of intelligent, livable design. Juli, John, and their children reside in the two stories above the shop, an embodiment of their shared aesthetic. We recently caught up with Juli as she showed us around her home and store, where she effusively shared the history of Mjölk's artist collaborations and what a work/life balance means to someone whose home base encompasses it all. The multitalented business owner, artist, designer, and mother left us with the question, "Why not elevate the everyday normal?" We'll consider that an invitation. XXJKE
Rip & Tan: Tell us about your background—how have your experiences shaped who you are today?
Juli Daoust Baker: It's funny, but I feel like anything before the last few years feels like another lifetime. Before my husband John and I had the shop, I was pretty untethered, dabbling in graphic design, children's publishing, art curation, and photography. The shop provided grounding and a somewhat safe space to explore all the things I enjoyed but in my own space and time. I would say, however, that my kids have shaped me the most, and that this is something I could never have predicted. My idea about kids before the reality was vague and removed but that's not how kids roll, they demand for you to be present. This shift invited a lot of uncomfortable chaos but over the past few years I have been working on myself and things are greatly improving. I can honestly say that they are making me into the person I am meant to be, as opposed to the person circumstance created.
Rip & Tan: Your family lives right above the store you own with your husband. How do you, spatially or emotionally, delineate between your life and work?
 JDB: There are a lot of amazing pros to this set up; no commute time, lunches at home, seeing our son throughout the day and our daughter when she arrives home from school, using our home for mini photoshoots, resting…
That all said, the energy of the shop permeates our home and it's certainly hard to relax on a day off because we are still accessible. We have an inherited summer house that we escape to, though the separation is then stressful because we aren't as accessible! I think we're still figuring this out, especially as our children grow and are less available, how do we carve out time with them without it being interrupted? I will say that I generally shut off from work when I am at home—I think my husband has a harder time relaxing when the shop is buzzing. Thankfully our home is so calming, with so much natural bright light, warm wood tones, and plant life. 
Rip & Tan: Tell us about your neighborhood. What role does Mjölk play in the community?
JDB: We chose our neighborhood for various reasons. Although it would have made sense to put our shop in a popular furniture retail location, we knew we were going to be a destination shop anyway so it was important to invest in a building that we could also live in. We chose the Junction because it had a gorgeous and reasonably affordable building available—historically significant because it has the last tin facade in the city—and the area was becoming very family oriented.
Along with some other prominent businesses, I think our presence has certainly increased the desirability of the neighborhood. Eight years ago, there were many closed store fronts and only a handful of restaurants and no pedestrian traffic. Now there is, dare I say, a nightlife, and the days are busy with locals and visitors. I believe the neighborhood already had good bones and we simply added to it. We offer a refuge of beauty and calm.
Rip & Tan: You've collaborated with international designers to develop exclusive collections, which are then produced by local artisans in Toronto. Tell us about this process. How you choose which artists to work with? How does a cross-cultural team of makers and designers influence the end result?
JDB: This started with Eero Koivisto, our original champion. Swedish architect firm Claesson Koivisto Rune designed our first collaboration piece, Ceremony, which we then crafted locally. It was a challenging piece because it used three materials, so we needed to work with three different local makers. It was surprising to get such a nice sensibility from three makers and the product set us on a path of ritualistic objects.
Claesson Koivisto Rune then introduced us to Luca Nichetto who designed our second piece, and then a whole collection. What is interesting with Luca's project is that we have three pieces—a set of vases, a glass and brass/copper tea light holder and a glass and metal lamp—that are made in collaboration with a glass maker in his hometown of Murano, Italy. So now we are working with two localities—I find this pairing immensely satisfying.
We then worked with Anderssen & Voll from Norway. I think we were simply friendly with them and on a visit to Oslo we proposed working together. They designed a beautiful gardening collection, so we again worked with our local metal worker, and a local potter.
Working with Oji Masanori was something that had to happen, as we have shown his designs in the shop since we opened and he was our first exhibition. Currently in production from this collection are a pendant light and meat cutting board.
Our most recent project was with our Winnipeg-based friend Thom Fougere, who designed a fire tool set that we put into production. That piece, along with a visit to the Hancock Shaker Village led us to exploring shaker design. We were already in talks with Hallgeir Homstvedt about putting a few of his shaker explorations into production so the show came together in a natural way.
I guess in the end we've naturally progressed from one design to the next, through relationships that were established or new introductions. There's a real flow to what we do. We're taking a break this year but we have people in mind, just no product void to fill.
Rip & Tan: Do you have any rituals or routines you employ to make time for yourself? 
JDB: After nearly six years with small kids I am just starting to focus on myself. Currently I have a morning yoga practice. Whether I have 5 minutes or 30, it's quickly becoming an important part of my day. This is a work in progress but I am seeing it affect other aspects of my day, whether it be a few moments of breathing deeply or being more mindful of my thoughts and actions.
Rip & Tan: Your apartment is small but doesn't appear compact—how do you maximize space?
JDB: In designing the upstairs, it's open concept and minimal, with big bright windows. I think the key thing is surrounding yourself with both essentials and objects that you really enjoy. That they have a tactility, are pleasing to the eye, are useful (even if it is just to behold). If not, it's better to just not buy it.
Our bedroom is about sleeping, so keeping it really simple is key. Our rooms are quite small as well—just enough room for a bed, bedside tables and a small chair. Of course, our kids' rooms are driving us nuts as they accumulate all the teeny tiny treasures and they are still works in progress as we adjust to their growing needs.
Rip & Tan: You carry some stunning tableware and kitchen tools—can you tell us a little bit about how the aesthetics of a table influence the atmosphere of a meal?
JDB: Naturally, the tools you use and the tableware you present food with will change the way a meal feels. We try to light a candle at dinner every night, which sets the tone and brings us together. Because we have small kids who want to do everything themselves, we've been serving meals family style so they can choose what to put on their plate and how much. Using pleasing serving dishes elevates the experience…though we have a lot more dishes to do! All I know is when we go for dinner in Japan they serve many dishes in a variety of serving ware and it's always a memorable experience.
Even if you don't entertain, why not find a piece that looks and feels pleasing—a Japanese lacquerware bowl and wood spoon for your morning cereal, along with a porcelain mug of coffee elevates the everyday normal. 
Rip & Tan: Your store is decidedly influenced by Scandinavian and Japanese design—what draws you to this aesthetic?
JDB: My attraction is fundamental, it's hard to really explain. I am drawn to natural materials, timeless forms, and simplicity.
Rip & Tan: How would you describe a Canadian aesthetic?
JDB: The nice thing about Canada is that it's very diverse, so there are no hard and fast rules. The thing is, Canada is naturally influenced by its proximity to the USA, and our design heritage is anchored in the Victorian British aesthetic. I guess this is why it's challenging to pin a look down. It's a bit eclectic.
I think the Nordic aesthetic works well here due to similarities in climate and the natural landscape though it's not commonly drawn upon in everyday households. I think everyone could stand to invest in more lighting, pale wood furniture, textures…and lighting some candles during the winter!
Rip & Tan: Describe your favorite corner in your home. What about it makes it special?
JDB: I am not one to pick favorites! In our living room, I enjoy sitting on the Spanish chair, as it's very comfortable and has nice wide arm rests for my cup of coffee. It's low enough to the ground where I can still engage with the kids playing around me, and it's a good spot for reading a magazine. Our kitchen table is also a nice place to have a chat, especially on the Børge Mogensen bench. Once the sun goes down and the kids are in bed, I put my PJ's on, climb under the duvet and watch my stories in my cozy bedroom.