Living
Jenni Kayne on Pregnancy, Listening to Your Body, and Letting Go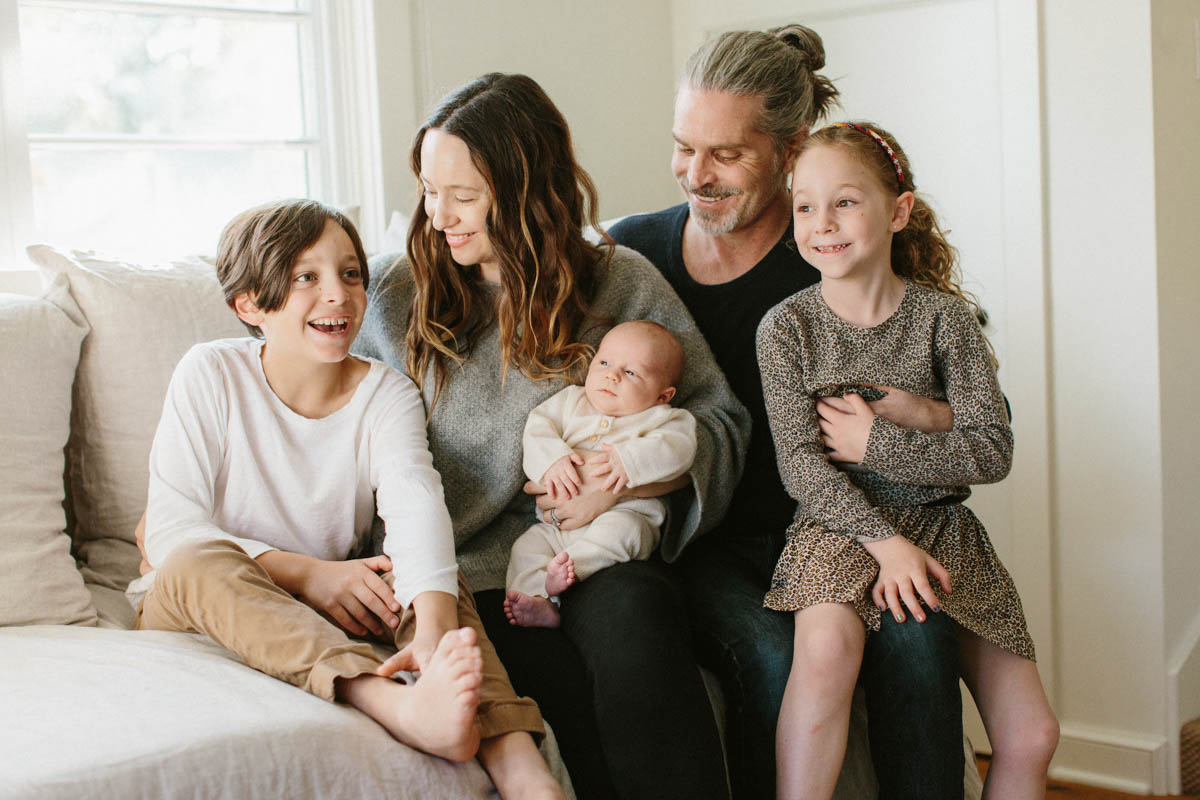 Milestones, memories, and all of life's firsts—these are the special moments that make the experience of motherhood so transformative. From pregnancy to postpartum and beyond, starting a family is one of life's greatest joys. Amidst all the bliss and joy of new parenthood, there are, of course, challenges, but creating a peaceful atmosphere to bring your little one home doesn't have to be one of them. 
As Jenni grows a family of her own, her focus and attention has evolved right alongside. Beauty, simplicity and function become paramount, and the act of paring things down, essential.  With the arrival of her third child, baby boy Trooper, we're celebrating with a baby gift collection full of simple, thoughtful pieces straight from the heart.
We've interviewed countless women over the years, and the common thread between them all is the quest for balance. What we've learned is that the picture of balance is completely up to you, and the same goes for pregnancy, motherhood and raising a family: women are redefining modern motherhood by defining it for themselves. Jenni opened up to us and explained how she defines that meaning for herself and her family and shared some sage wisdom on finding a doula, breastfeeding, and making time for yourself. We also took a tour of Trooper's new room, which Jenni designed to feel open, airy, light and bright. "As a mother," she told us, "you learn that you can't control everything. But you can learn to take a minute, slow down, and appreciate what's around you." As we talked motherhood, pregnancy, and more, pausing for gratitude was easy to do when surrounded by the warm and personal touch that is unmistakably Jenni Kayne. XXJKE
Rip & Tan: What advice would you give to a first-time mother?
Jenni Kayne: Let go. You can't control everything. Enjoy every minute and don't be in a rush to get to the next stage. Most importantly, stay in the moment and be present for your kids. Take care of yourself, because when you're in a good place mentally, physically, and emotionally, you can be a much better parent. 
Rip & Tan: When you first became pregnant, what were the biggest changes you had to make to your daily routine?
JK: I was 25 when I was pregnant with Tanner, and that's when I got really into what I was putting in and onto my body, because I knew it was going to him. I wanted to give him a healthy environment that he could thrive in. I made a lot of big changes, from the cleaning products I used to my beauty products and even my kitchenware—I swapped out non-stick cookware for cast iron and stainless, because I was horrified when I heard Teflon could be found in breastmilk.  
Rip & Tan: How did you care for your body post-pregnancy? 
JK: During and after pregnancy I'm very mindful of my pelvic floor—it gets stretched out during pregnancy and helps to support your organs and maintain your bodily functions. I worked with Allison Oswald, my physical therapist, on exercises that would strengthen my pelvic floor and learn to relax the muscle to help through labor and keep it strong all the way through post-pregnancy. I have always done weekly acupuncture to stay balanced and centered, but I have found it's especially important postpartum, because your body is so depleted from growing and feeding your baby that you need a little help to rebuild.
Rip & Tan: Are there any myths or misinformation about pregnancy that were dispelled for you during any of your experiences?
JK: I think it's really important to listen to your body and make sure you rest when you're tired and notice what you need. I found that when you're pregnant, you can actually still do most of the things you did before—within reason, of course.
Rip & Tan: What should women look for in a doula? 
JK: Someone you connect with and whose energy agrees with yours. It's important to have trust and faith in the person you choose, because your doula will your advocate through your pregnancy, labor, and, depending on your needs, through the postpartum stage. To me, giving birth is a very intimate, private, and special experience—you'll want someone there who is going to make you comfortable, help you find your strength and stay true to yourself. Someone you can be honest with and feel totally comfortable with. Find someone with a lot of experience, whose beliefs are aligned with yours.
Rip & Tan: Many women find breastfeeding uncomfortable or impossible—what advice would you give to women struggling with the choice to breastfeed their babies?
JK: I think breastfeeding is the biggest gift you can give to your child—and to yourself—if you can make it work. Breastfeeding gives your child the best nutrients and antibodies to protect their health, not to mention the benefits to your body post-labor. When you breastfeed, the oxytocin released in your body bonds you to your baby and helps your uterus contract and return to its size quickly—at about six weeks postpartum, compared to 10 weeks if you don't breastfeed. There's lower risk of breast and ovarian cancer, as well as postmenopausal osteoporosis. Plus, the act itself helps you bond, connect, and get to know your baby's needs. That being said, it's always hard in the beginning. Even with my third it was difficult—it didn't matter that I knew what I was doing, because Trooper didn't! He was just learning, so being patient and giving it time is really important. If you are struggling, there are so many great lactation specialists out there. I recommend having one within the first few days for support, even if things are going well. They are so knowledgeable and can give you advice and teach you little tricks to help everything go smoother. However, if breastfeeding is not working after you've given it a shot, listen to your intuition. Don't be too hard on yourself. One thing I've learned from being a parent is that we can't control everything, including. There are milk banks, which are expensive, but available, if you do choose to give your child breast milk for the first few months.
Rip & Tan: What are your go-to beauty products while pregnant?
JK: My skin needs were different with every pregnancy. With the boys, I found that my skin wasn't breaking out as much as I was when I was pregnant with Ripley. Definitely stick to what's right for your skin type, but it's important to make sure everything you put in and on your body is clean and natural. Most of my products are natural and chemical-free, so I usually stick to my normal routine, save for cutting out any product with retinoids. 
I always use a natural deodorant, but if you don't, you should try it, because conventional deodorants contain toxic and potentially dangerous ingredients. Agent Nateur makes a beautiful one with shiva rose and sandalwood that I love.
Finding the right body oil or body butter to avoid stretch marks is key—it really only works if you lather it on every morning and every evening, no matter how tired you are. It's definitely worth it.
I would lather The Balm by Nucifera when I was still wet out of the shower, and then layer a thicker cream like the Belly Butter by Urb Apothecary or Evan Healy's Whipped Shea Butter with Olive Leaf.
Rip & Tan: What are your maternity wardrobe essentials?
JK: Slip dresses with a cardigan or collared shirt layered on top. You really can't go wrong with a collared shirt! An oversized one will take you through your pregnancy and beyond. There are great options for maternity jeans now—I liked the Current/Elliott jeans at Hatch when I was pregnant with Trooper. I also love a fitted knit dress layered with an oversized knit or coat.    
Rip & Tan: Are there any must-read books on pregnancy or motherhood you look to as a resource?
JK: Erica Chidi Cohen was my doula, and she just wrote Nurture—it's the best pregnancy book and I think it's really the only one you need. My favorite book on the postpartum stage is The First Forty Days.

Rip & Tan: Do you have an opinion on revealing the sex of the baby? Do you like to keep it a surprise? 
JK: When I was pregnant with Ripley and Tanner, I wanted to know because I felt like I wanted to be as prepared as possible—I'm a classic Virgo. With Trooper, I was going to keep it a surprise, but then I broke my leg. I had to have surgery, and after all we went through, I felt like I needed to bond with him, and knowing the sex was a part of that.
Rip & Tan: How did you choose your baby's names?
JK: With Tanner, we found it in a book of baby's names the day we were going to the hospital to have him and we loved it. We knew we wanted to name our second one Ripley, whether it was a boy or girl. Same with Trooper. After I had my accident and we both made it through the surgery, we knew it was the perfect name for him.
Rip & Tan: Do you have wellness advice for pregnant women?
JK: Take naps when you can! I took lots of long baths. Pregnancy is a time to nourish and take care of yourself. I rely on meditation, acupuncture, and massage to feel my best. Overall, try not to be stressed or anxious and remember to stay in the moment.