Living
Introducing Our New Series on Motherhood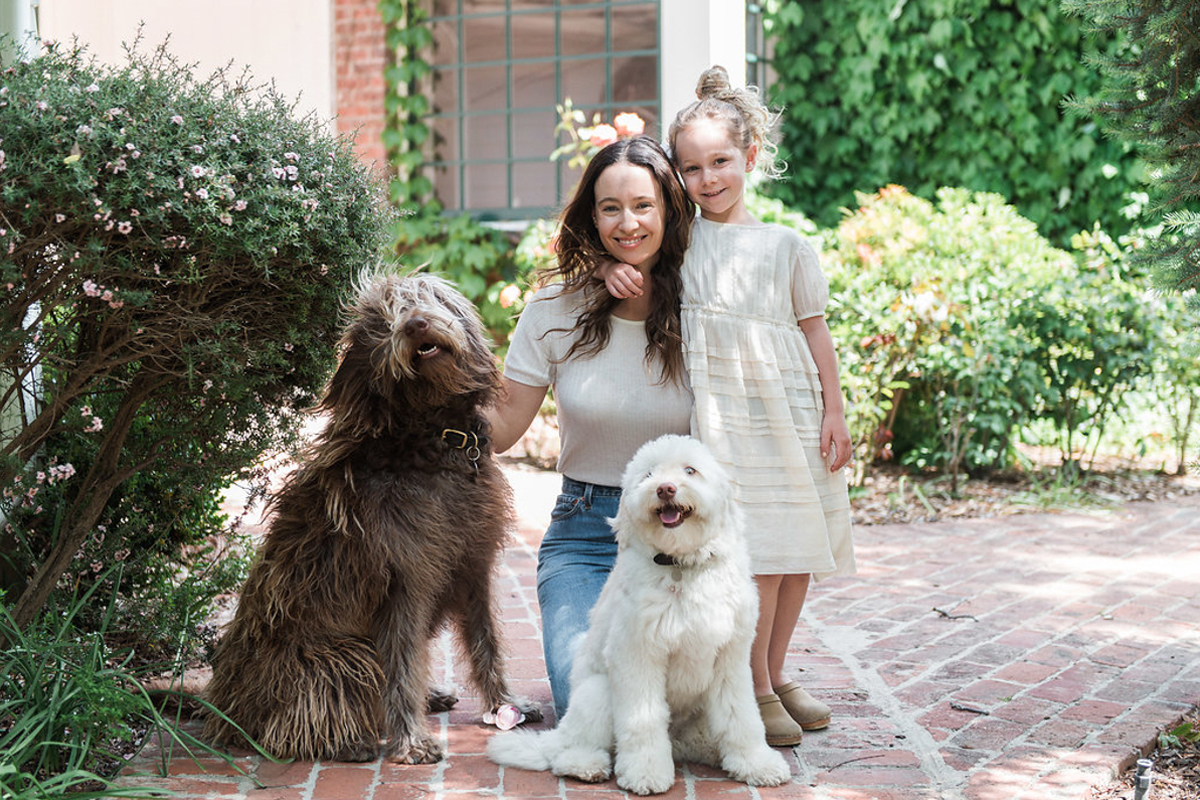 This week I launched my Mother's Day gift guide and shared the delicious details from our Mother's Day-themed edition of In the Veggie Kitchen, but I couldn't stop there! I also wanted to take a moment to celebrate a few of the talented and stylish mothers I know, whose work we've featured here on Rip & Tan in the past.
To that end, stay tuned next Friday for an interview with designer Beatrice Valenzuela (whose sandals we'll soon be carrying!), followed by conversations with Rip & Tan photographer Nicki Sebastian and florist and chef Barrett Prendergast of Valleybrink Road. Not only are the photos of each mom with her kids gorgeous, but I think they've shared some really great advice and insight that any busy woman (not just moms!) will appreciate. I also gave the Q&A a test run myself, after a fun shoot with my daughter Ripley and our dogs, Chachi and The Dude. Check it out below! XXJKE
Rip & Tan: What are your kid's full names? How did you choose these names? 
Jenni Kayne: My daughter Ripley is named after a family friend who mostly went by "Rip". Rip was a boy but we loved the name for a girl too! My son Tanner's name was the opposite; we got it out of a baby book the day I was going to the hospital. Even though we were weighing different options until the very last minute, I love his name. It was meant to be. 
Rip & Tan: What are some things you love most about being a mother?
JK: I love everything about being a mother. Kids are a lot of work but they really make your life fuller. I love seeing my kids grow up and helping form who they are. I also love the fact that you get to relive your childhood through them. Experiencing the outdoors, celebrating holidays, watching movies; it's all so magical when you can see it through the eyes of your kids. 
Rip & Tan: What surprised you? What challenges were you not expecting? 
JK: Hormones! I had no idea how powerful my hormones could be, and I didn't understand how difficult the postpartum period would be. You really have to relinquish control and give yourself time to recover and feel like "you" again. 
Rip & Tan: What do you worry about as a mother? Conversely, what do you tend to let go? 
JK: I worry about how I am going to raise responsible, normal human beings. I want to raise a man who respects women and kids who are moral members of society. In terms of things I let go of, I would say that I'm not super anxious with them in general. I let them be kids. They get dirty. They make mistakes and they learn from their mistakes. 
Rip & Tan: How do you make time for yourself and your relationship with your partner?
JK: We schedule date night ahead of time so we have a chance to reconnect, even when things are really busy and our schedules don't align. Taking trips is also huge for us. It can be hard to spending quality time alone, or with your partner, when you're caught up in your everyday routine. Even if it's just a night away, it can make a huge difference. 
Rip & Tan: How has your style or beauty routine changed since you became a mom? 
JK: Over the last few years I've started moving more towards a uniform in my wardrobe but I think it's still important to feel good. My wardrobe is simpler now, with fewer precious things, but it's still filled with special pieces. High-waisted jeans, button-down shirts, cashmere knits, our slip-on flats, and a few other staples. 
My beauty routine became 99% organic the moment I found out I was pregnant because I realized that everything I was putting on my body was going into my body too. Now I can't imagine buying conventional products; I've discovered too many amazing natural brands to ever go back! 
Rip & Tan: Who is your mom crush? Who inspires you in terms or personal style and/or parenting style?
JK: Linda Burrows, my best friends' mom, who sadly passed of cancer really inspired me. She was the most fun, put together, chic woman. She always had fresh baked cookies in the kitchen, everyone was welcome for dinner, and they had the best holiday parties and family traditions. She was someone who taught me that you can create your own beautiful world with your family. 
Rip & Tan: What do you love to do in LA with your kids? 
JK: I love hiking Westridge Trail, horseback riding, and going to the beach in Malibu. Noah's Ark at the Skirball Center is a great activity when it's rainy or too hot to be outdoors. LACMA too, for that matter. I also love going to brunch with my kids. It's a fun way to reconnect, and makes more sense for us than going out to dinner. Plus, we love breakfast food!
Rip & Tan: What are your tips for traveling with kids?
JK: Start traveling with them when they are younger so they are more adaptable. I always bring activities like coloring books, an iPad, etc. I also give them small presents or a surprise every few hours of the trip and use a crystal reward system where they earn crystals for positive behavior. At the end of the trip, the number of crystals they have will determine whether they get a treat of some kind. Works like a charm. 
Rip & Tan: What is your idea of the perfect Mother's Day? What would you do? What would you receive?
JK: Horseback riding with Ripley, brunch with my kids and husband, then an afternoon hike with Tanner or the whole crew. 
Rip & Tan: What advice do you have for other moms out there? What mantras or tips have helped you the most? 
JK: It's all about finding balance. Finding a way to separate time to spend with your friends, husband, and kids so that when you're doing those things you are fully focused and present. Not on your phone, working. And it helps to find something special to do with each person. For example, Ripley and I ride together and Tanner and I hike together.