Living
Inside the Sunny West Los Angeles Home of Kristina Meltzer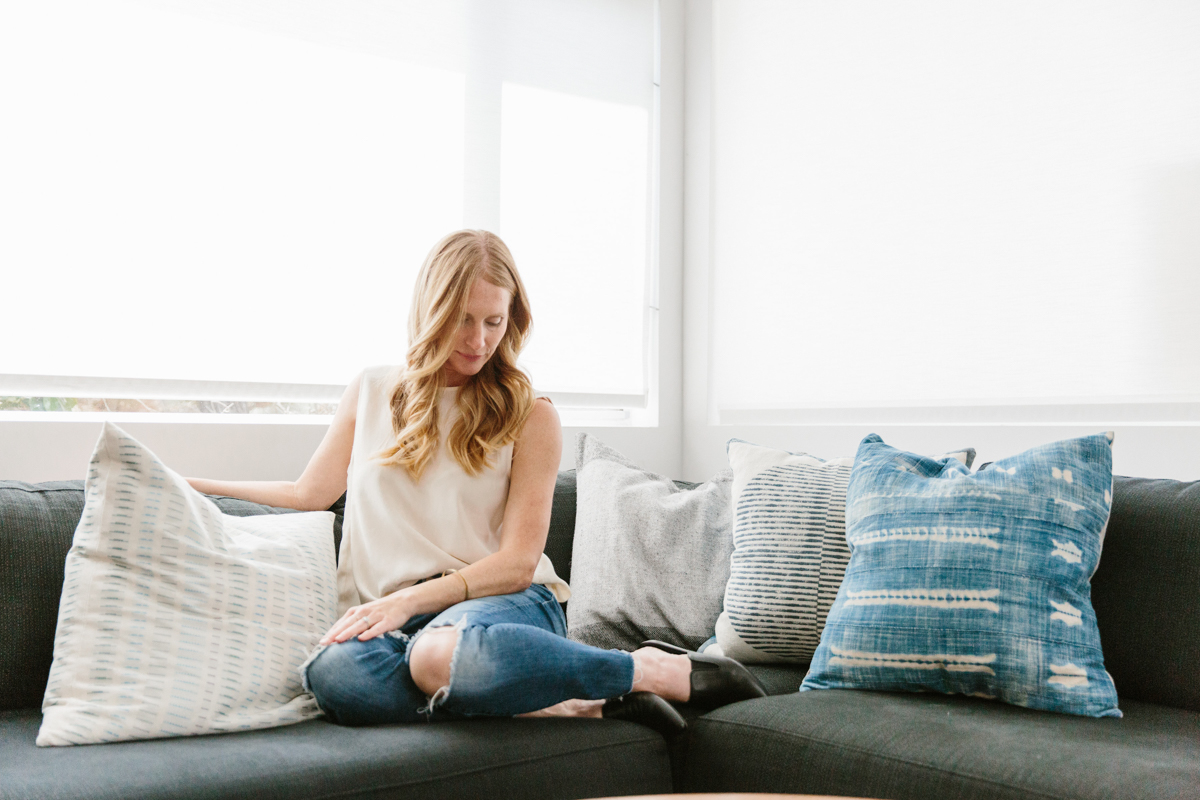 If you've gotten married in the last few years you've probably visited Kristina Meltzer's wedding site 100 Layer Cake once or twice (or perhaps many, many times). It's brimming with ideas from real couples and has the most beautiful photography. Kristina and her partners also launched a family blog in 2013 to much success, called 100 Layer Cakelet. It has the same mix of gorgeous art, vendor recommendations, and DIY ideas that makes the weddings site so addictive.
Considering how she makes a living, it's no surprise Kristina's home is stylishly appointed too. I especially love all of the potted plants that that add color and life to every room as well as her approach to making space for her three kids—there are special places to display their artwork and books, plus plenty of kid-friendly areas for lounging too. Kristina and her family moved into the West Los Angeles house a few years ago and remodeled it from top to bottom. See inside her inspiring space and read our Q&A with the weddings expert, below. P.S. take 20% off the Jenni Kayne Collection apparel and shoes, including markdowns, starting today! Code: JKSPRING20. XXJKE 
Rip & Tan: What do you love about living in Los Angeles or your neighborhood specifically?
Kristina Meltzer: There is just so much here. And I've lived here for so long it's hard to imagine living anywhere else! I love that LA is always evolving and that it's so full of creative life and passionate people and that it always feels current and fresh, but it's also a really comfortable place to raise a family. Our neighborhood is a very quiet little pocket near Venice, but away from the typical chaos of busy parts of the city. It's definitely a neighborhood in transition from the original post-war community to new, younger families, and I love being part of that. We walk to school and the park and to dinner on the weekend, and days can go by without my needing to get in the car, if I plan properly! (Thank you all on-demand delivery services.)
Rip & Tan: How did you find your current home? What type of rehab/DIY projects have you taken on since you moved in?
KM: I've lived on our street for my entire adult life, actually! A year after moving to LA (out of college) I moved into a family friend's house and rented it for 12 years. My boyfriend eventually moved in, we got married, we had our two older sons there, and came to love our little neighborhood so much. When it was time to buy a house we knew we wanted to stay, and as luck would have it a house four doors down appeared to be going on the market soon. I walked down the street and made an offer sight unseen (we'd been looking for six months and were feeling desperate) and in 30 days the house was ours. It was crazy! And a complete fixer upper. So if you count gutting a house and adding on significant square footage as rehab, we've definitely done everything! Except the front yard. One day…
Rip & Tan: How would you describe the décor? Where do most of your pieces come from?
KM: I like warmth but I also like space, so I would call my style "aspiring minimalist with family-friendly tendencies". We are of the collecting mindset, meaning that I'd rather wait to purchase pieces that I really love that we will have for a long time, as opposed to just finishing the house ASAP. Which means it's pretty much always a work in progress. And with three kids it's a constant battle against *stuff* in a small house.
 Rip & Tan: What is your favorite corner or object in the apartment?
KM: I love the little corner in our master bedroom with our rocking chair. It just feels done and it's such a nice spot to sit with one of the kids for some quiet time.
Rip & Tan: What's your approach to organizing your kid's toys/books/stuff? How do you keep the chaos under control?
KM: It's an uphill battle! I am a very passionate purge-r and I am all about cycling toys and books so only the essentials are out. But as they get older it's harder and harder to "disappear" things. The kids' closet and the baby's closet have lots of space for storage (and not much room for clothes) but it still never feels like enough. Now that our last baby has arrived I can tell you that I gleefully give away all things we are done with by the bagful. And I'm not afraid to rearrange or reorganize on a random Saturday morning when the mood strikes. The key to a calm, organized home is just less, I'm convinced.
Rip & Tan: How do you tend to entertain? Who comes over and what do you do for them?
KM: I consider our home to be ideal for fair weather entertaining. It's so much bigger than our old tiny house but still really not big. But we have a nice size yard and nice large deck and having families over for early evening drinks and dinner while the kids run wild out back is exactly our sweet spot for this phase of life. My parents entertained all the time when I was growing up and I still can't quite figure out how an adult dinner party is supposed to happen with small children.
Rip & Tan: Tell us about how 100 Layer Cake has grown and evolved since you started it in 2009. Where did you start and where are you now?
KM: Oh boy. We started as just a blog that wanted to lend a designer's eye to weddings. It was right on the cusp of wedding blogs really taking off and the timing couldn't have been more perfect. We were just three women trying to figure out what to post the next day every night before bed! It was really fun and free, but then we figured out this could actually be a job, and well, things had to become a little more structured and organized as we've grown. Now? We're thrilled to have had some really great brand opportunities over the years and it's still pretty fun to hear that people out there in the wild read our blog! My parents were just at an Outstanding in the Field dinner a few months ago and sat next to a few young couples who had just gotten married. My dad mentioned that his daughter ran a wedding blog and all the women immediately knew 100 Layer Cake and said such nice things. Sometimes I still can't believe it! 
Rip & Tan: What do you love about your job? What are some of the challenges?
KM: I love that I work for myself and that I work from home and that I can be around for my kids while they are young, even if I'm working in my office. I can make time to pick them up from school, to volunteer in their classes, and to see my baby throughout the day. It's really perfect for me right now. On the other hand, all of that is also a challenge since there's not a clear separation between home and work! It's tricky when I know I have one hour left to finish up for the week (on a Thursday afternoon) and the older kids are circling my desk like sharks. 
Rip & Tan: How has the wedding industry or wedding culture changed over the last 8 years? What are some of the most interesting shifts you've observed?
KM: I think the most interesting shift is that there really are no rules when it comes to your wedding. Sure there's a typical format for a ceremony and reception but we see huge variations in the expected all the time. And we love it! There's something to be said for classic, but your wedding is really a celebration of you and your partner, and that is different for every couple. Trends are always evolving and as a digital, agile publication, we can stay on the leading edge of those as opposed to waiting to share something 10 months after it happens.
Rip & Tan: What inspired you to launch 100 Layer Cakelet? What have you learned about creating mom/family content versus weddings?
KM: It became clear that like us, many of our readers had moved on from weddings and were now devoting their time to family life. We wanted to be able to stay relevant to this group of readers and starting a family blog seemed like a natural choice. We have so many industry friends creating beautiful celebrations for their little ones and it seemed sad that we didn't have a home for those moments on 100 Layer Cake. 
Rip & Tan: What are your goals for your career or business in the future?
KM: Honestly, I don't know. I feel so lucky that this is my work life right now, but I don't know how it will evolve since our industry and the digital space is always changing. There might be a time when it's more important for me to really be available to my kids and then a time later when I find myself with loads more time to ramp up into a different kind of work again. As long as our business is thriving, I'm thrilled with where I am right now and utterly thankful that I can call this my job. 
Rip & Tan: Tell us about your wardrobe and personal style. What do you wear every day?
KM: Um, do you really want to know or should I make up my ideal day? HAHA! I work from home, remember? I'm a jeans and tee gal at heart. Sandals, jean shorts, a blouse or tank… that's my go to outfit. Or an easy dress. Always love a dress because it requires so much less thought that a multi-piece outfit! I'm casual and California and natural if nothing else.
Rip & Tan: What is your go-to look when you want to dress up and feel a bit glamorous?
KM: Black dress, sexy heels. Done.
Rip & Tan: What wellness or beauty ritual do you cherish?
KM: Running! Or yoga, or swimming. Exercise will always be my preferred method of pampering. Which before kids was just a regular part of every day, and now is something that I make a special effort to work into my week. I haven't had my hair cut in 10 months and I'm still waiting on that pedicure I planned before Louella was born in October, if that's any indication of my priorities. Also sleep. After enduring two rounds of sleepless nights with my boys as babies, I am super-super careful with and protective of my sleep this time. It will change again as Louella gets older, but for the moment I go to bed really early, even if it means missing out on some fun social event, and it has made all the difference in my overall well-being this time around. 
Rip & Tan: What are your beauty staples? What do you buy over and over again?
KM: Coconut oil! That's an essential (also in the kitchen). Also nice shampoo, splurge face cream, and lip gloss. Always buying lip gloss but I think that's because my younger son is always running away with mine!
Rip & Tan: How do you stay healthy and grounded? 
I've been vegetarian since I was 18 (my husband and kids are too) and I really think that makes feeling healthy pretty routine. Lots of veggies, good fats, whole foods, no (okay, very little) processed stuff, and juice. I have a small addiction to boutique juices and other non-essential fancy-healthy foods. As far as being grounded, exercise has always been my thing.