Living
Inside the Silver Lake Hillside Home of Cleo and McShane Murnane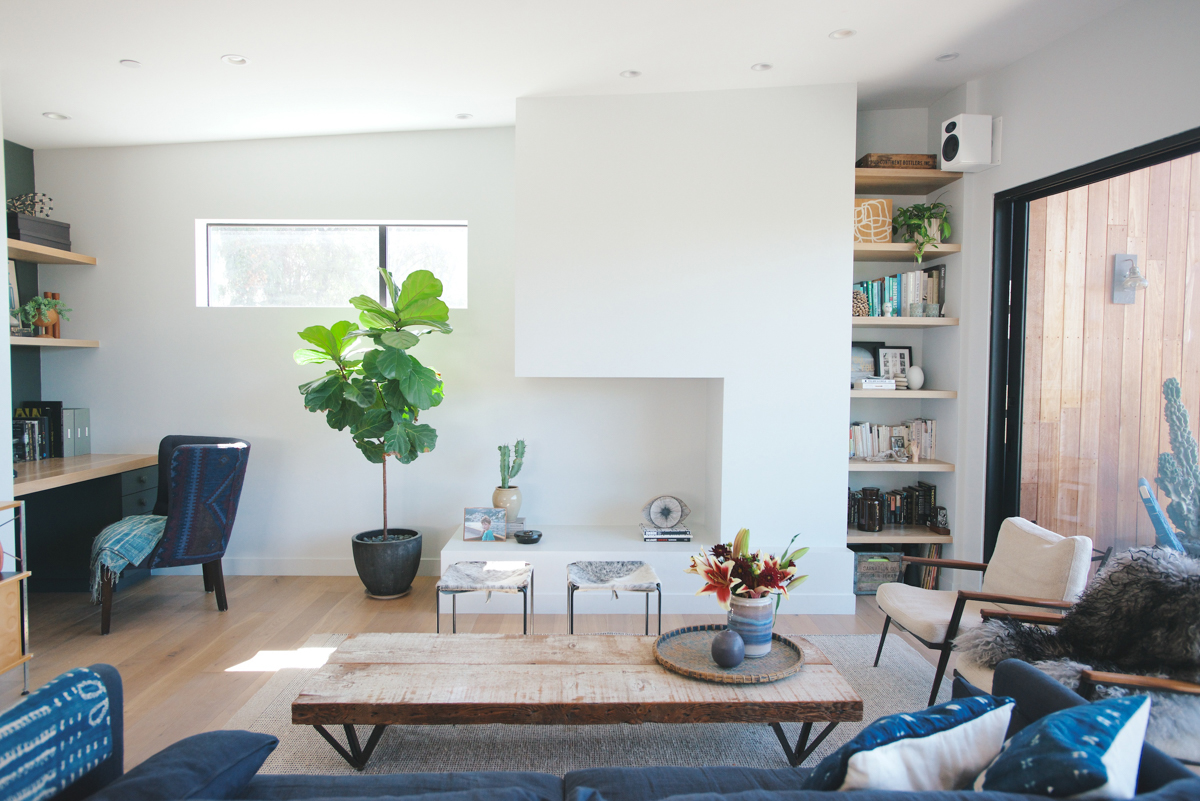 Cleo and McShane Murnane's Silver Lake hillside home was years in the making, but as founders of the graphic design and architecture firm, Project M Plus, building and designing it was a labor of love. The home is minimalist inside and out, with surprising features and textural décor touches that give it intimacy and warmth. And the panoramic views of the Hollywood Hills and San Gabriel Mountains are beyond moving.  
Cleo and McShane were kind enough to share their space with us today—we also couldn't pass up the opportunity to talk to Cleo about the couple's creative work as well. I hope their home and words inspire you on this Monday morning! XXJKE
Rip & Tan: Tell us about your journey in brand design, marketing, identity, and strategy.
Cleo Murnane: My first job was at the Guggenheim Museum. I studied fine art and art history at university so at the time, this was my ultimate dream job. The reality is I used very little of my arts education in my early career, sitting behind a desk in galleries and museums. I wasn't disciplined enough to get a studio, so I enrolled at Parson's and found graphic design. Now, fifteen years later, I'm designing interiors and branded environments. Our studio is currently working on a hotel, an upscale market, a couple of restaurants and cafés—all places where branding meets design and architecture.

Rip & Tan: Can you share a bit about your process when creating strategy and collateral for your clients?
CM: It doesn't matter if we're working with a billion dollar company or a startup—I believe a project is only as good as the creative brief. Taking time to engage the client, understand their intent and build a relationship with them is essential to our work. This initial phase has become one of the most satisfying, creative and defining parts of my day to day. For me it's more about giving clients the right questions rather than the right answers. If you listen closely, the project will reveal itself to you.
Rip & Tan: How did Project M Plus, your collective of designers and architects, come to be?
CM: We came into this organically. McShane Murnane, our Director of Architecture, is my business and life partner. We found ourselves both freelancing for large clients while starting our family. We needed help managing these larger projects and each hired an assistant and grew from there. Now we're a full-service 360 brand design and architecture studio with 12 employees. Over the past 8 years my role as evolved too. I now act as Creative Director for both the design and architecture divisions. It's a privilege to work with my husband on a diverse range of commissions and practice in all fields of design.
Rip & Tan: How would you describe the energy and atmosphere in your studio?
CM: We have a relatively flat company, without the hierarchy everyone respects each other and their specific role or skill set. Given the depth of our services, we're a small tightly knit organization. To that end, we do our best to hire only extremely talented and resourceful people. Every week one person gives a PechaKucha presentation on a design or cultural topic of their choice. The format is 20 slides in 6 minutes. This is a small window into where they're coming from creatively or who they're inspired by.
We're growing out of our space, but instead of building more desks, we've created an experimental workroom and library. It's flex space, so our team has more options for where and how they want to work. It has a photography studio and a place to build large scale architectural models. It's a place to pour ourselves into something other than our monitors.
Rip & Tan: If you had to, could you choose a brand package or initiative of which you are most proud?
CM: I try to see the potential of every project without regard to scale or scope, often working with other designer friends and friends of friends so every project is very personal. Honestly, I'm most proud of our house. While other girls dreamed of their wedding day, my personal fantasy was always to design and build a house. After starting our company, it quickly became a professional endeavor. We faced every challenge you can possibly imagine. The learning curve was steep and so was the land, plus we had very limited funds to play with. Yet, this project catapulted our business in ways we never expected. As often is the case, the most challenging projects are the most rewarding. It's a gift to have a daily reminder of what you can do when you put your heart into something.
I'm also proud of my work with Caruso on the Americana at Brand. I met Rick Caruso when they were building, walking the construction site in a hard hat with the task of branding the property and putting Glendale on the map. At the time Brand Blvd. was a bleak strip of car dealerships. I launched a 3-year campaign with photographers Bonnie Tsang and Jennifer Young in 2010 where I hand-picked emerging tastemakers like Joy Cho, Julie Sarinana, Emily Henderson, Clare Vivier, Elizabeth Antonia, Jihan Zencirli and Dustin Lancaster to bring this destination into the greater cultural fold of LA. It was very well received, plus I forged some great friends along the way. 
Rip & Tan: What is the most rewarding part of your work?
CM: It sounds so clichéd to say, but I've always just wanted to work for myself. There are challenges, of course – I'm always working, looking for new projects, and networking. It takes more effort to relax into that creative headspace and I sometimes envy my designers with their headphones on just designing. But at the end of the day, this work is ours and moves us.  
Rip & Tan: And working with your husband?
CM: He has taught me a lot about architecture, but also about also about listening. In conversations, he draws to illustrate every point. Now, it's difficult for me to have a talk without a piece of paper in front of me. I have an enormous amount of respect for him and his work, so I feel privileged to have a window into his world. I love that we build small monuments together and get to leave something behind. Together we try to make them thoughtful and truly beautiful.